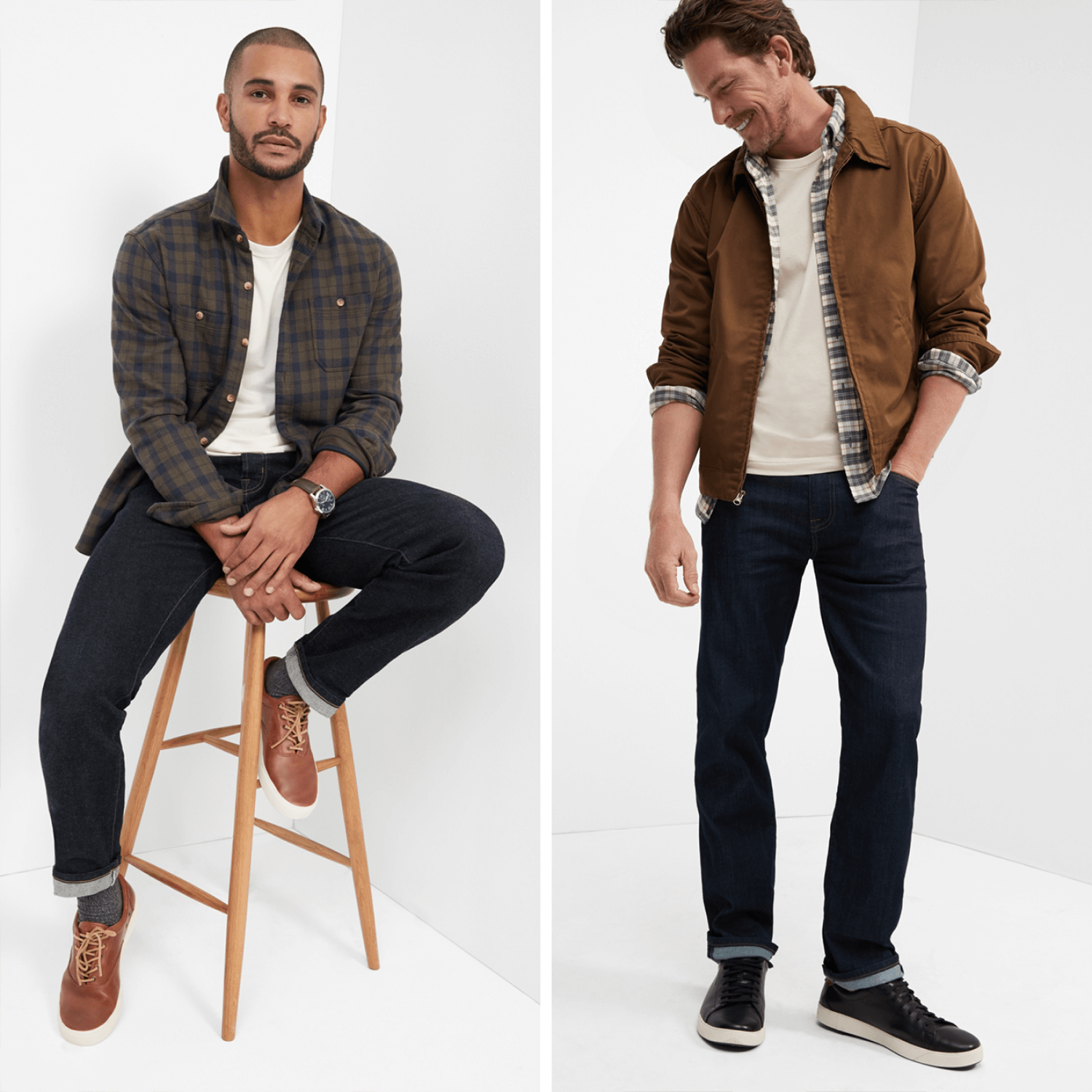 1. Dark denim: your new true-blues
Meet the dark horse of your jeans lineup: fall's black, charcoal and deep-blue denim washes. Cool and crisp (just like the season), dark denim has the power to dress up your look, but in practice they're just as versatile as any old pair of jeans. Treat them like a neutral and pair them with plaid shirts and tees, then pile on the layers when temps start to really dip. And just like any season's jeans, fit is key—you can leave that part to our Stylists.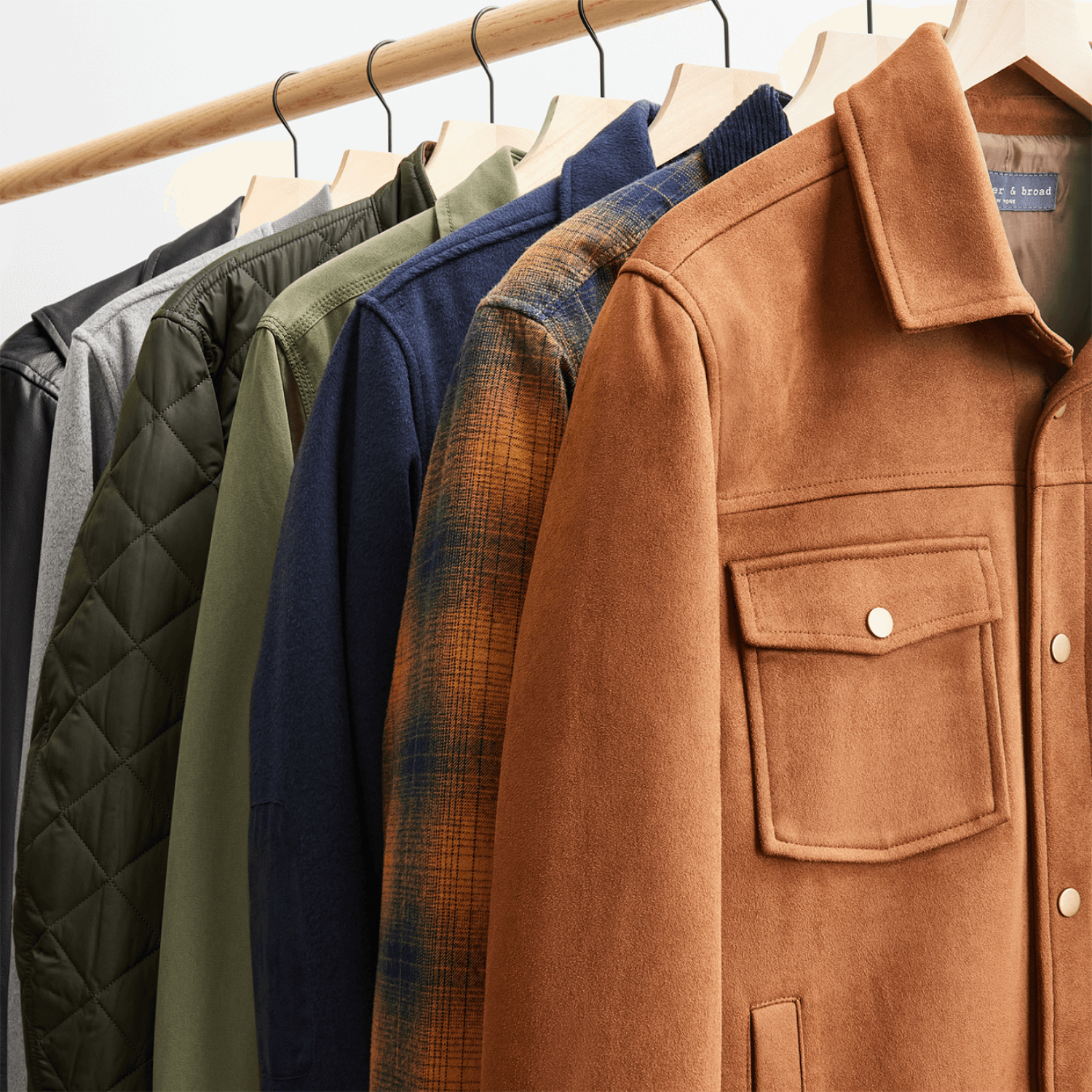 2. Shackets: ultimate layer players
When fall hits, you're going to need a lightweight layer. A shacket (the love child of a button-down shirt and a lightweight jacket) is just what those not-hot-not-cold fall days ordered. Throwing this versatile hybrid over a tee and jeans requires next-to-zero effort, but the result? Instantly classed up. Take your layering to the next level by adding a flannel shirt to the mix. And with a wide range of fabrics suited for every activity (think tech-y styles for campouts or suede options for date night), you'll have no problem shacking up virtually any fall outfit.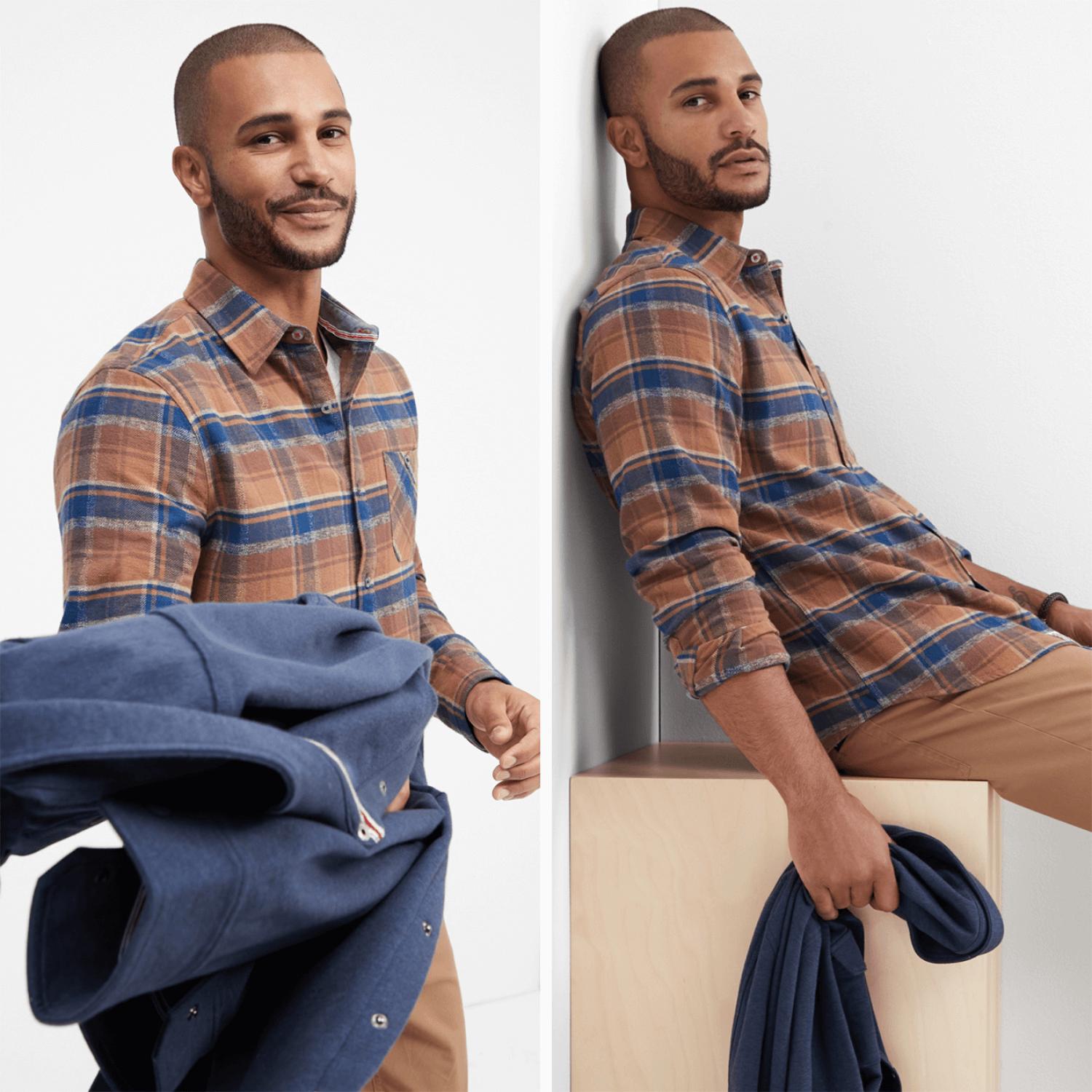 3. Flannels: let the coziness commence
Flannel shirts have been keeping folks toasty for hundreds of years now—and for good reason. Cozy for swaddling up in on weekends, polished enough for the office and durable for those fall camping trips you have planned, a trusty flannel earns its staple status. Cut in a whole spectrum of plaids, there's a get-noticed shirt for every vibe. Take your pick from muted tartans, bold buffalo grids, classic black watch…whichever checks you choose, they'll give your fall style the pop of print it calls for.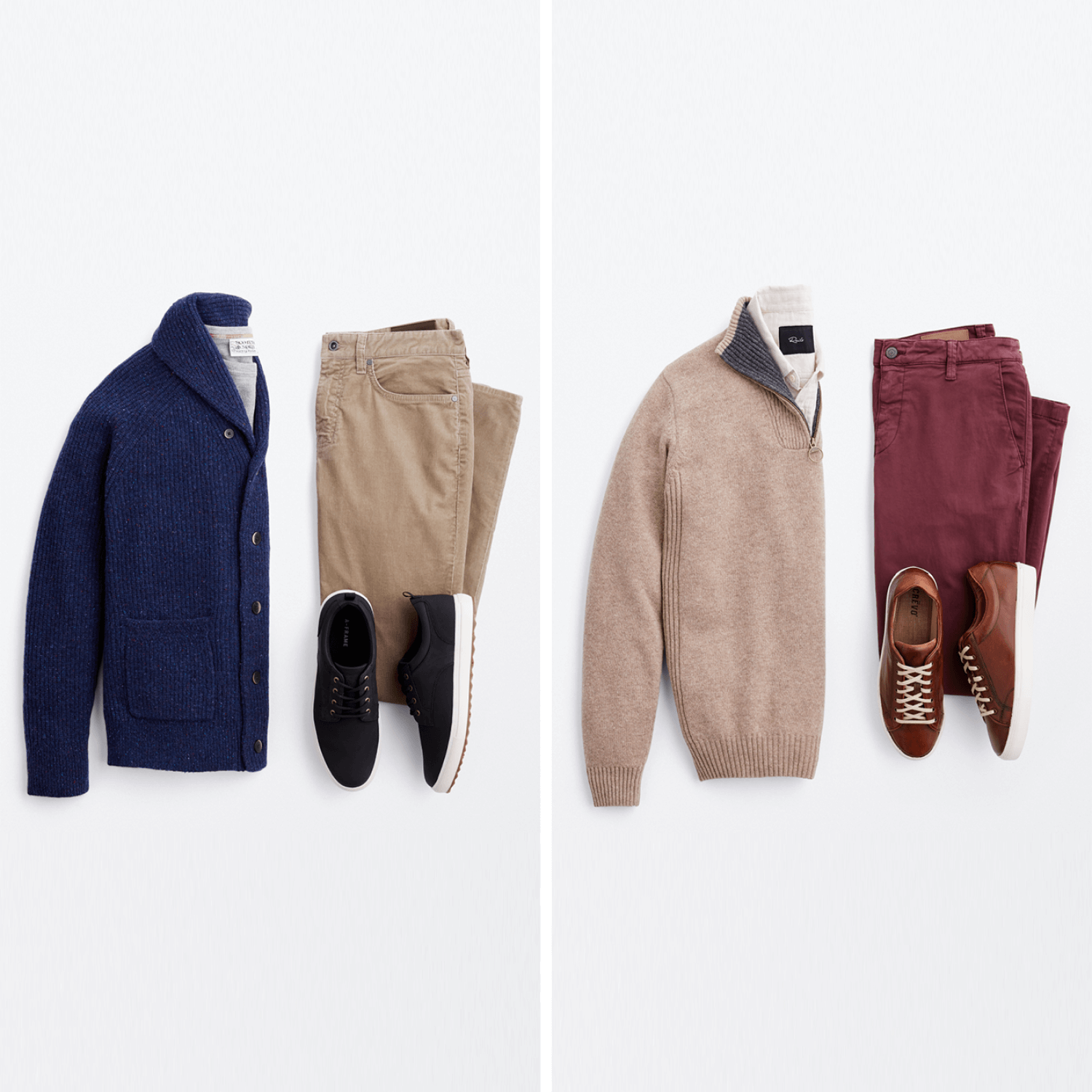 4. Knits: slip into sweater season
Fact: no fall checklist is complete without a cozy sweater. A step up from your average sweatshirt (but every bit as comfortable) it's a staple you'll reach for season after season, so it's well worth an investment. Dress up a quarter-zip with a crisp, collared shirt underneath. Treat a cardigan like a lightweight jacket layered over a crewneck tee, then add crisp chinos and fresh sneaks. When in doubt, lean into sweater weather.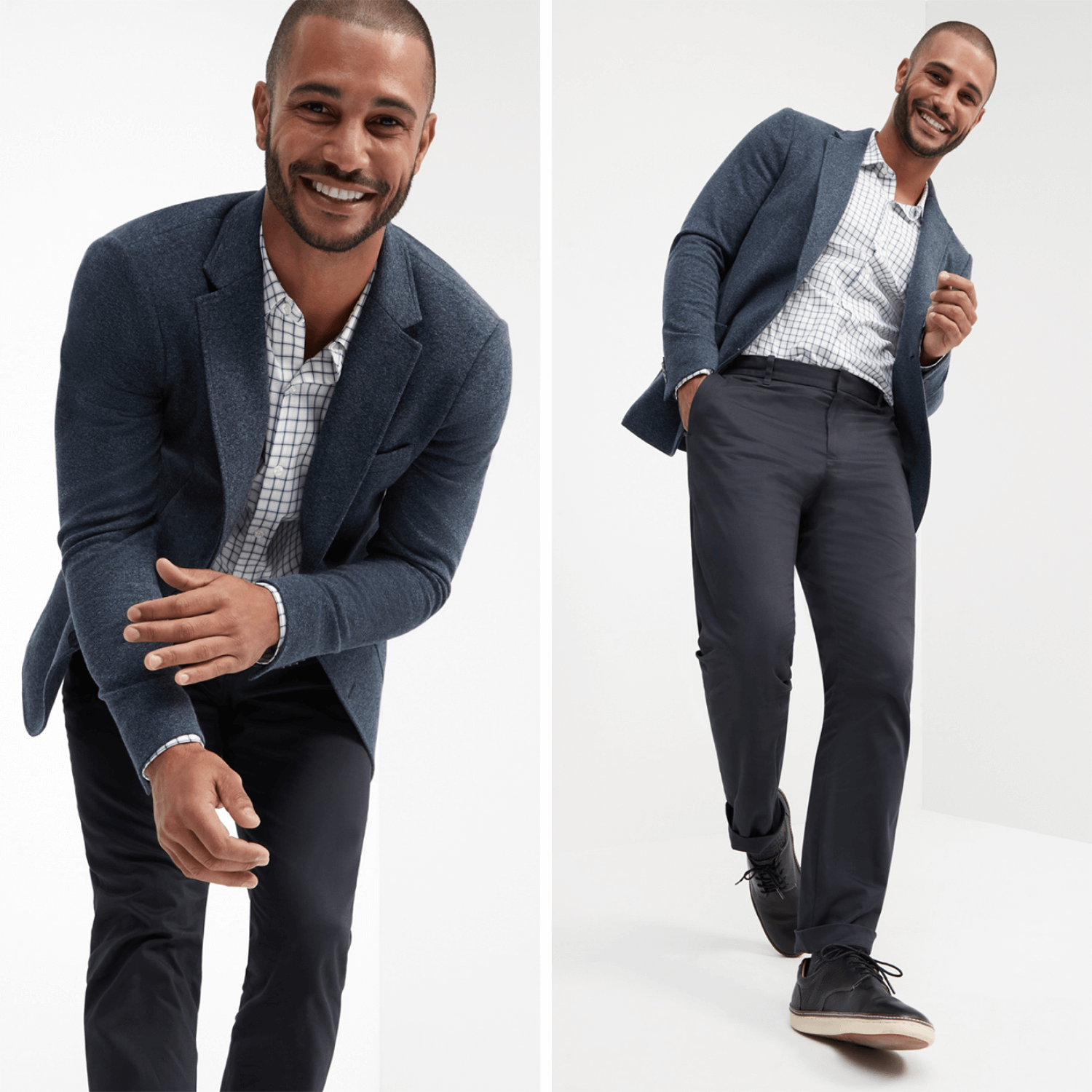 5. Blazers: a closet classic
A perfect-fitting blazer is a year-round staple, but autumn is when you'll really get some outfit mileage. Mix and match a tailored sports jacket with everything else in your fall style arsenal—from trousers and button-downs for your 9-to-5 to crewneck sweaters and dark denim for your 5-to-9. You wouldn't be wrong if you called it your secret style weapon.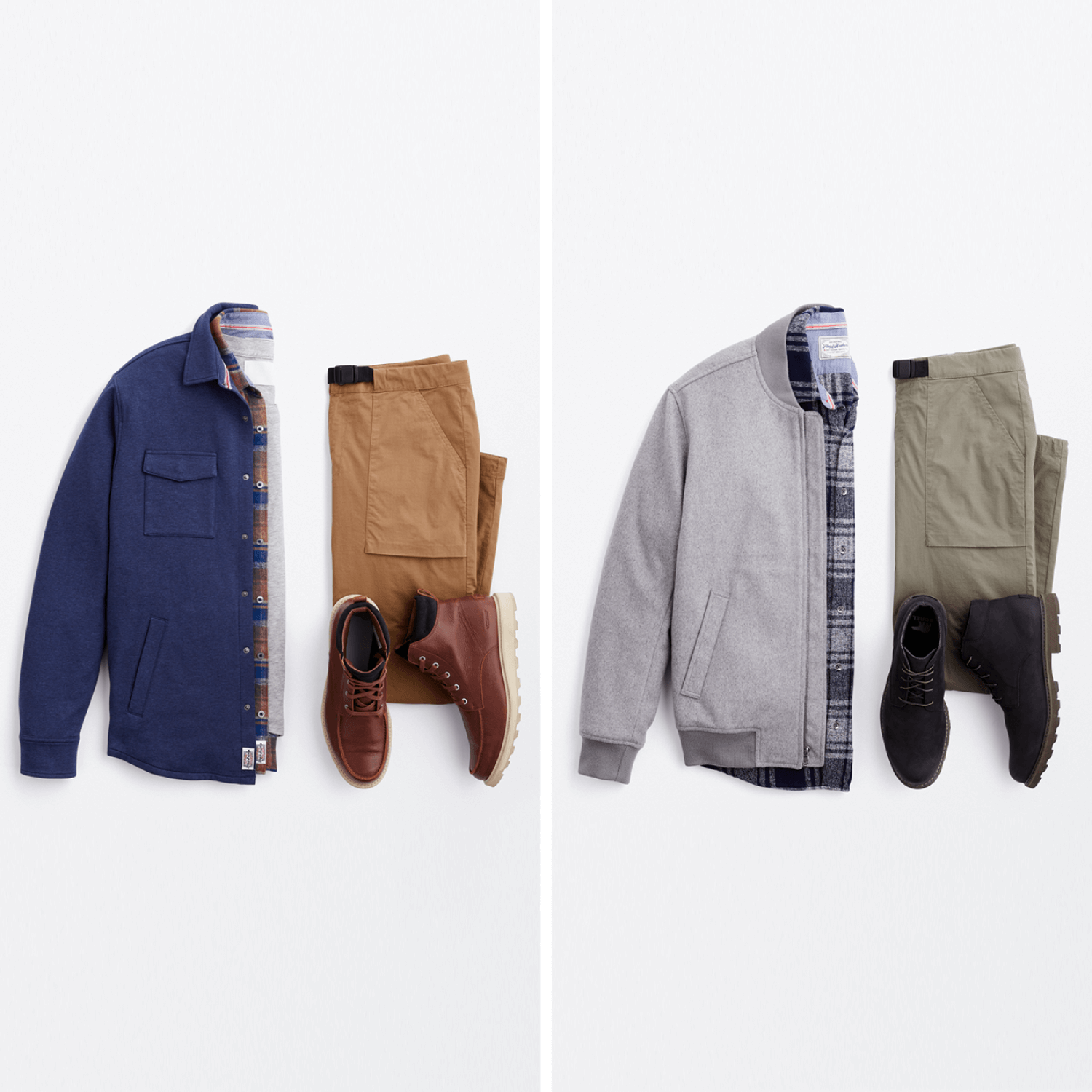 6. Utility pants: your wardrobe's workhorse 
Every now and then, your jeans need a break. Allow us to present a style that's up for the job: the utility pant, complete with signature patch or cargo pockets and durable, chino-weight fabrics. These practical pants blend seamlessly with fall's fellow laidback styles, making them a natural choice for days when A.M. errands lead to P.M. brewery hangs. You can't go wrong by pairing cargos with a flannel and lace-up boots—just don't forget a jacket to tie it all together.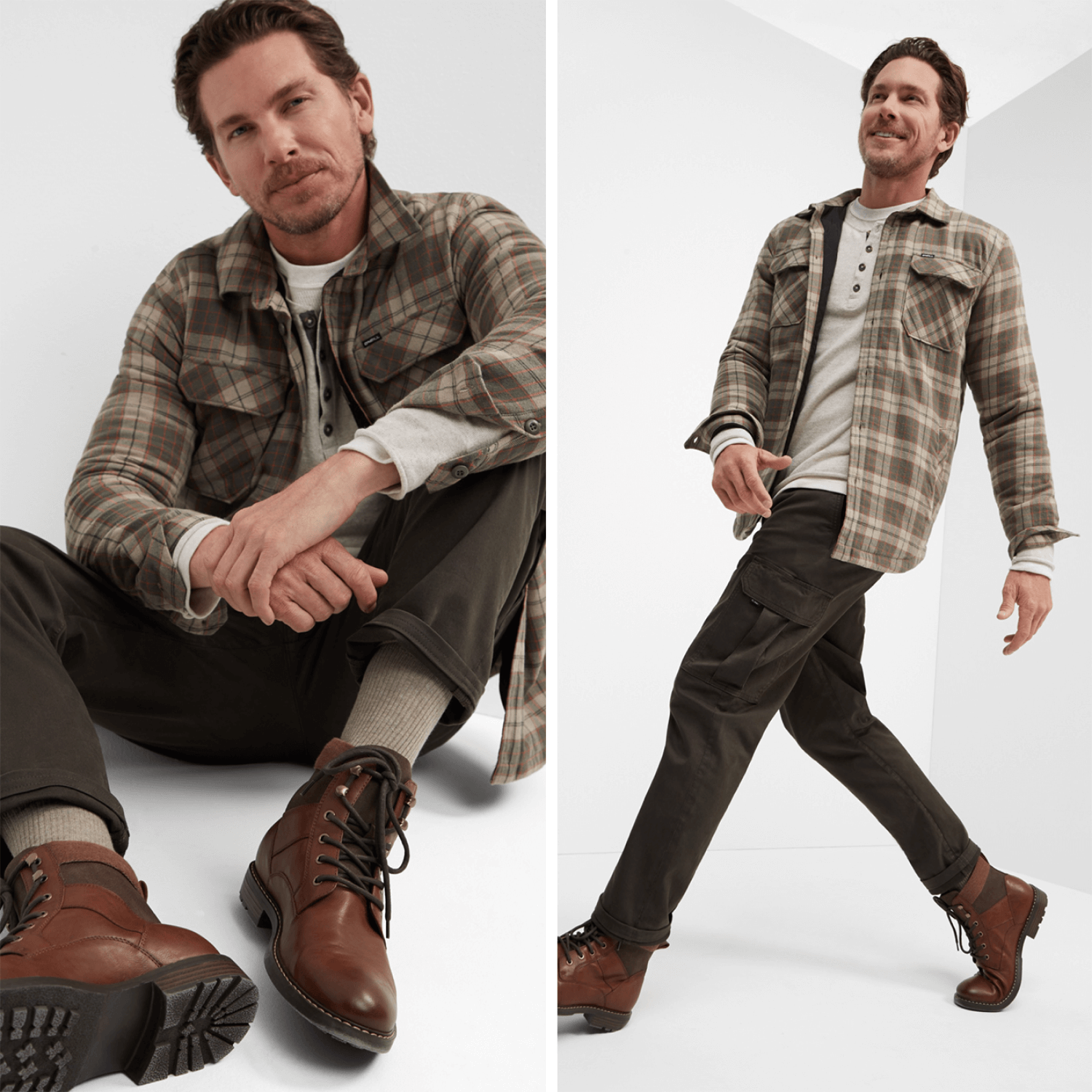 7. Boots: put your best foot forward 
Simply put, boots are the golden child of fall shoes. They're good at pretty much everything, from lending denim a rugged edge, to giving your suits a fresh POV. From chukkas to moc-toes and even sneaker-boot hybrids, there's a wide range of styles to choose from, but just one pair should have you set for the season. One of our fave styles: trusty leather lace-ups to ground everyday flannels and chinos (bonus points for cuffing your pant leg), or sweaters and jeans for a nice dinner out.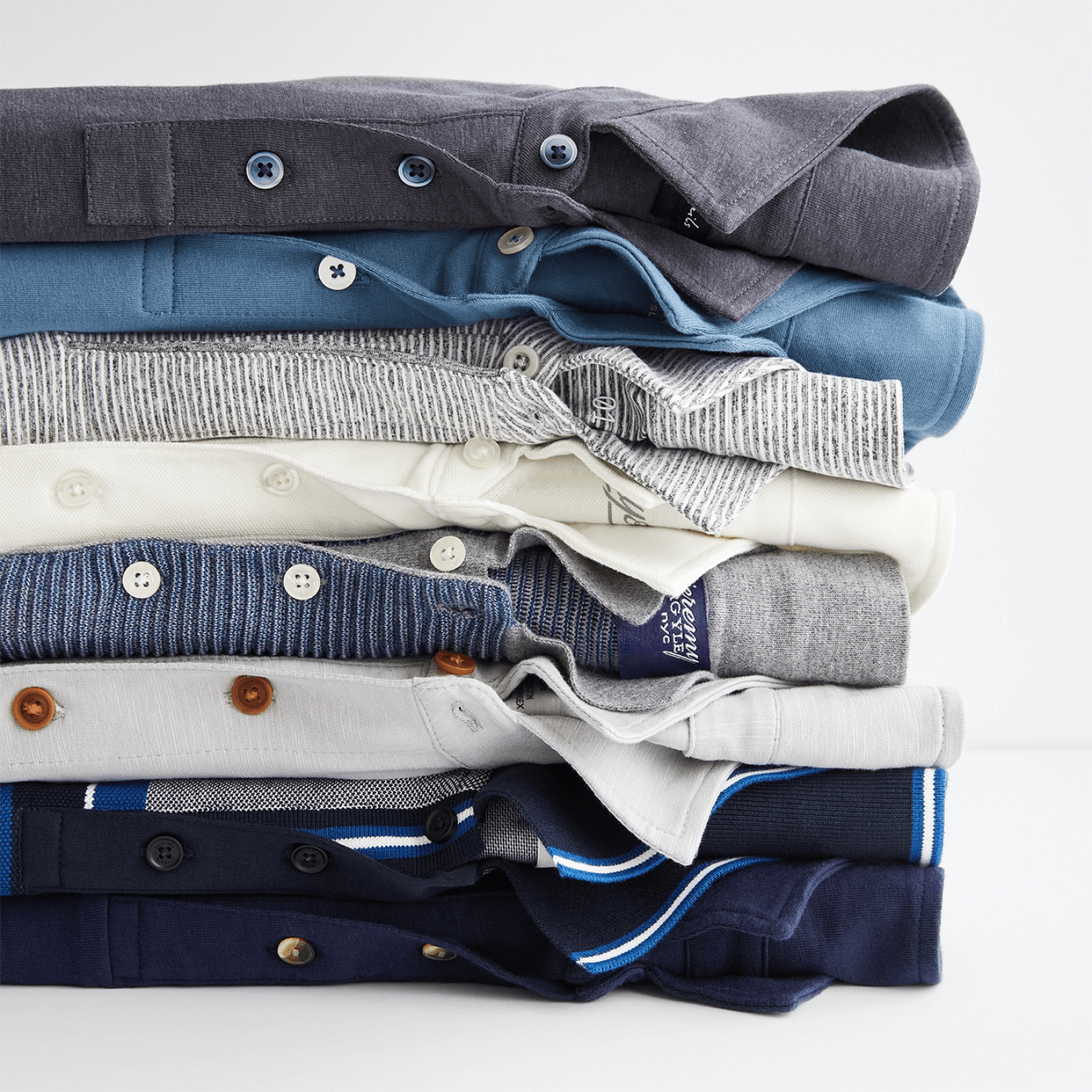 8. Polo shirts: tried and true 
It doesn't get more classic than a polo shirt. You can't go wrong wearing the iconic collared shirt on its own, but for fall, it's an ideal layering candidate. So having one (or a few) well-fitting polos in your wardrobe is the perfect foundation for a slew of fresh fall outfits: Dress up a polo under a suit for work. Keep it casual under a shacket for a family trip to the pumpkin patch. Wear it under a quarter-zip to hit the driving range…see what we mean? The polo possibilities are endless.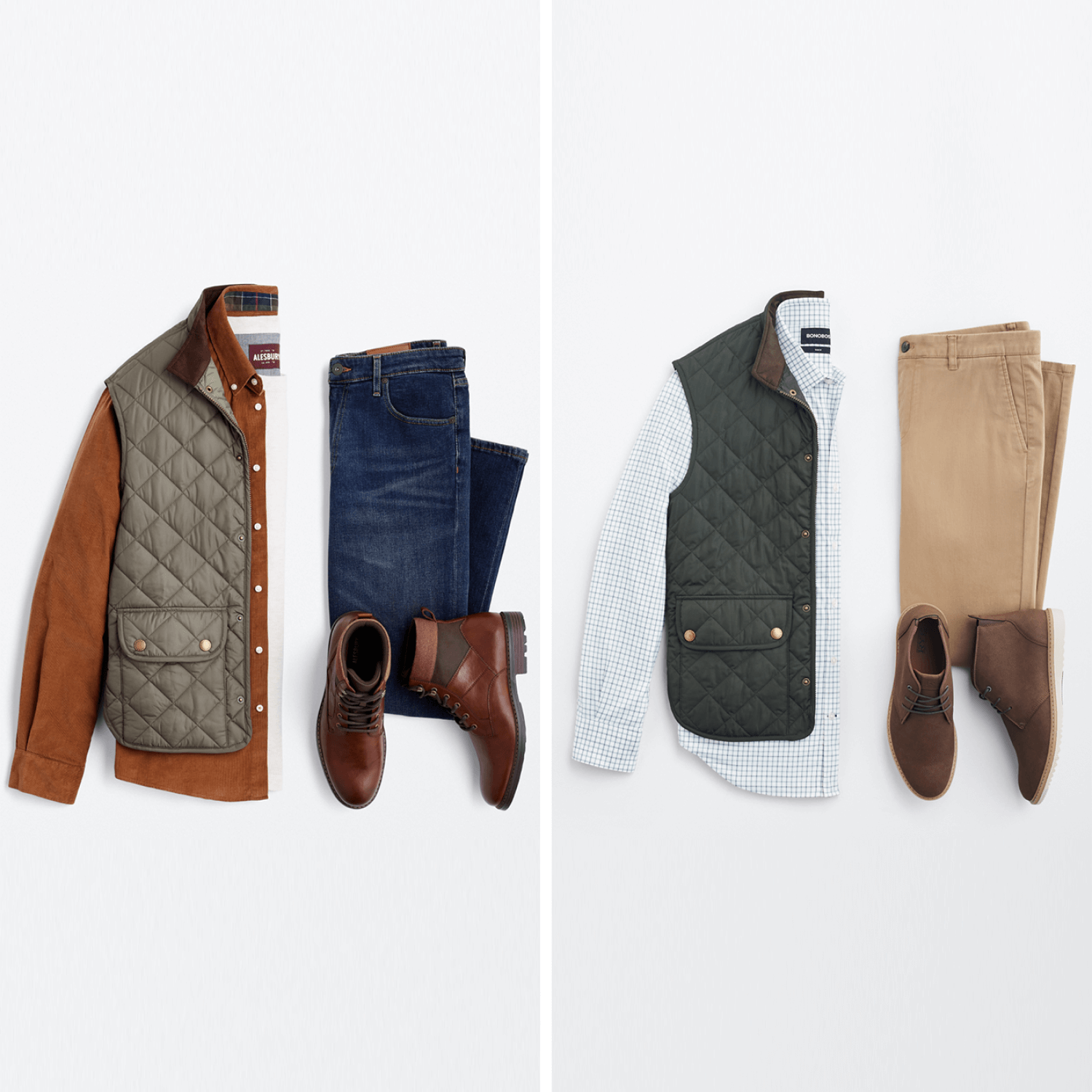 9. Vests: top it off 
No sleeves? No problem. You can still stay warm (and look cool) throughout the season with a quilted vest in your closet. The outerwear wonder is timeless, versatile and adds depth to your look without adding unnecessary bulk. When the weather dips later in the season, you'll have no problem slotting it under heavy-duty coats and jackets. For now, keep it simple: use it to top a long sleeve button-down, add some chinos or jeans and bring it all home with boots.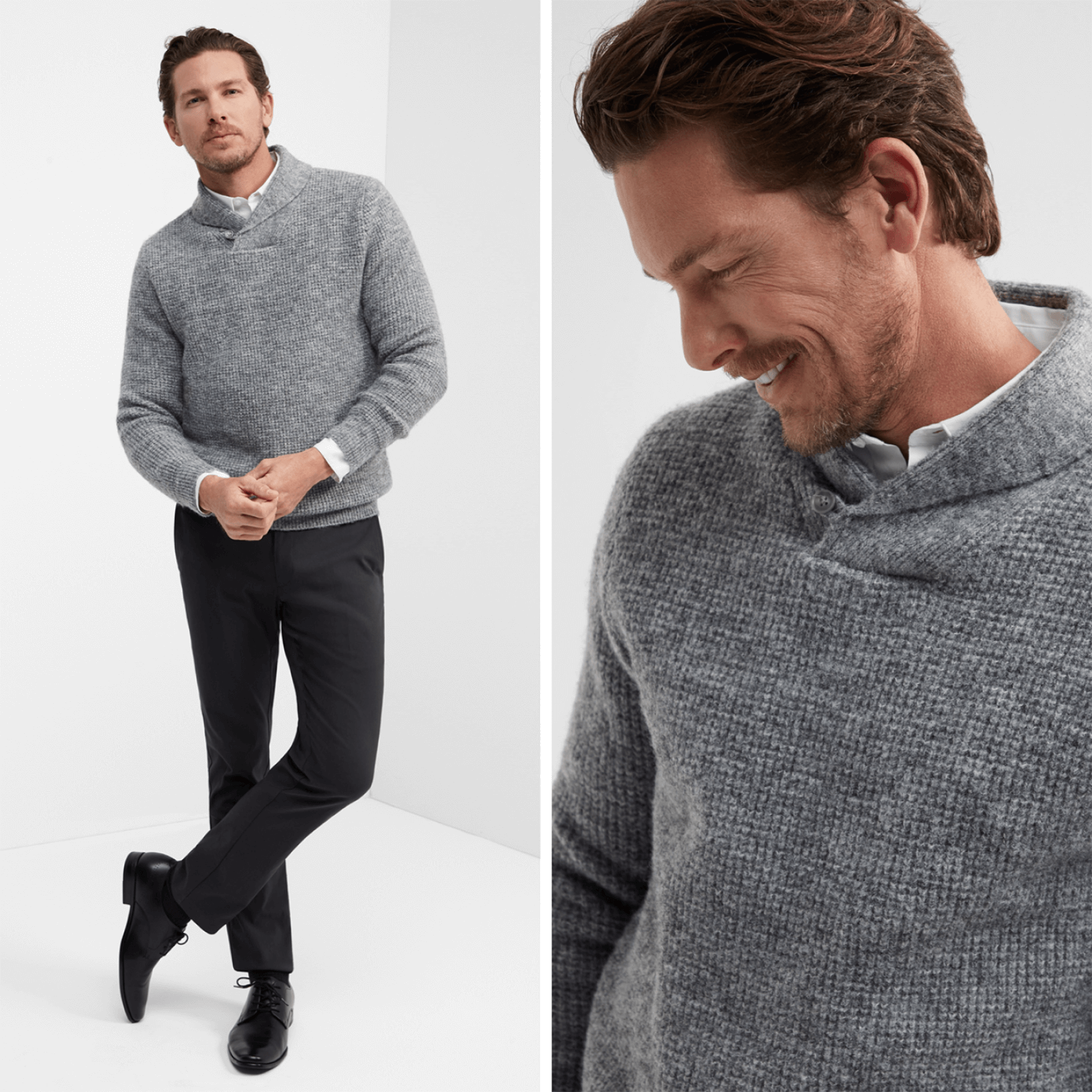 10. Workwear: boss-status style
Autumn's arrival means many changes: cooler temps, colorful foliage…and a return to office for many. That means it's time to brush up your Monday-Friday rotation, and fall's next-level tailoring, sharp suiting, polished oxfords and more 9-to-5 styles are up to the task. We like to build an ambitious roster of work outfits with just a few elevated essentials: a textured pullover sweater, timeless button-down and tailored trousers make for a solid presentation. Lace up in a polished pair of loafers and you'll be dressed to impress. 
—
Get styled by Stitch Fix this fall
Let our Stylists help sort out your fall style, whatever you have going on. Take your style quiz, schedule a Fix and get ready to receive an array of autumnal styles that fit your unique taste. Try on your new fall outfits in the comfort of your own home. Pay for what you love, and send back the rest. Shipping and returns are always free, and there's no subscription required. You enjoy the season's activities, we'll take care of the shopping.