Layering is the name of the game when it comes to cold weather or overactive air conditioning. Tossing a hoodie over your favorite t-shirt is one thing, but how do you layer up and look professional for work at the same time? One of the best combinations is a light or midweight sweater over a tailored button-up—and we're here to show you just how to do it.
Here's how to layer a sweater over a button-up (and look good doing it):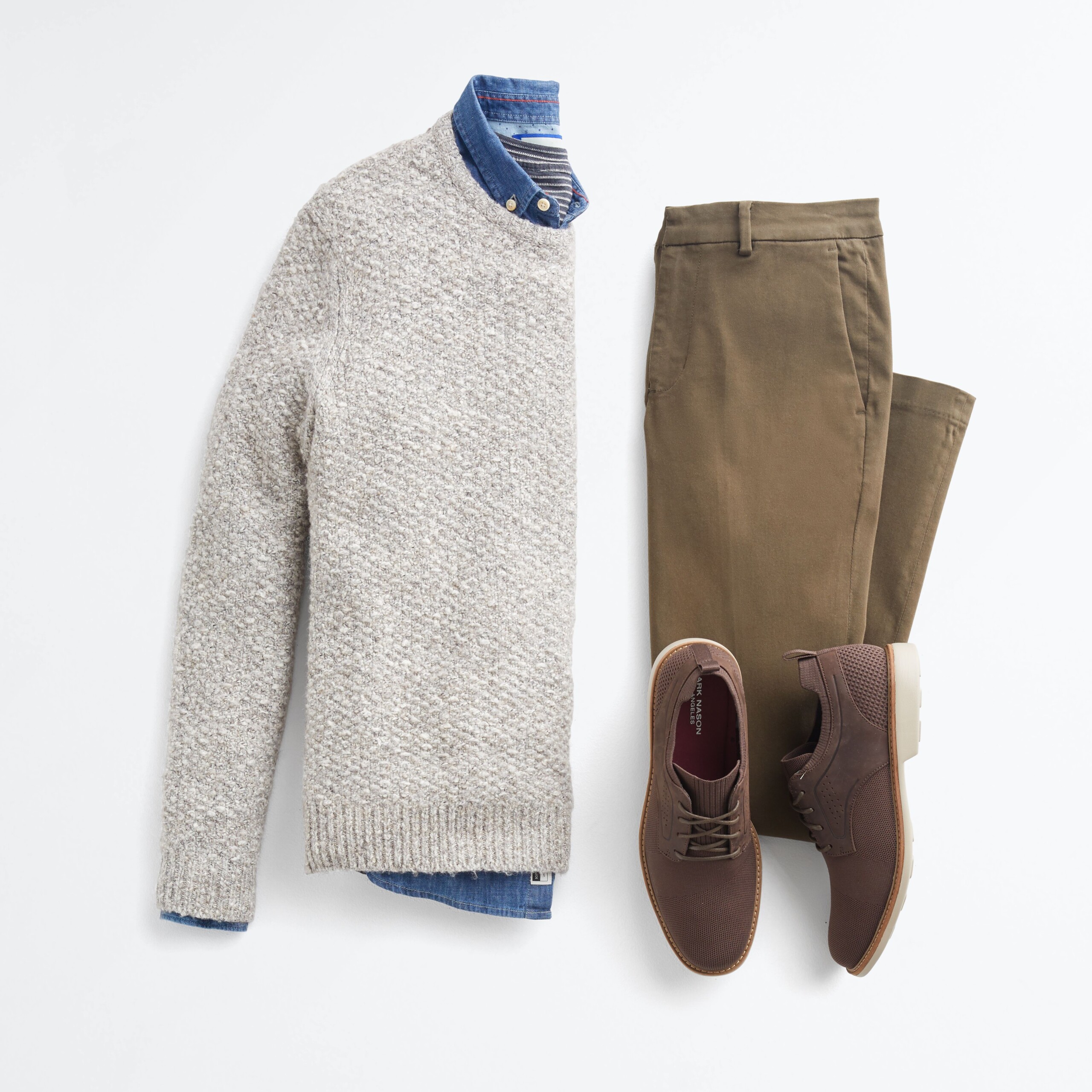 First, choose a fitted button-up
A shirt that fits closer to the body allows for easy layering, as there's less fabric that could crumple and add bulk (especially if you iron it). Look for a style with stretch for a more comfortable range of motion through your shoulders and chest. 
Next, choose a regular fit sweater
A slightly looser-fitting sweater will fit better over a shirt and lay more smoothly on top of additional fabric. Feel free to choose a crew, v-neck or henley according to your preferences, but stick to your regular size and lengths—no need to size up, since you'll want elements of the bottom layer to show (see below!).
Now, prepare the bottom layer
Once you've chosen your layering pieces, don your button-up first. Fasten the buttons all the way up to the top—including the button at the collar—and button your sleeve cuffs as well. Make sure everything lays smooth by tugging down the hem and sleeve cuffs. 
Then, add the sweater
Layer your sweater on top of your button-up. To avoid rumpling, tug the hem of the shirt at the front, sides and back so that it lays flat beneath the sweater. Then, gently tug the sleeves of the button-up so that they lay flat as well. Finally, untuck the collar of the shirt to have it rest on top of the sweater collar. 
Add the finishing touches
Once you're all layered up, there are a few last steps to keep things looking sharp:
Roll the cuffs

of your button-up

over

the cuffs of the sweater so that the print of the shirt cuff is visible. If you prefer not to cuff, simply scrunch the sweater sleeves up a bit to show off the cuff of the shirt.

Layering with a tie? Select a v-neck sweater; then tuck your tie between your button-up and sweater so the knot and top section of the tie are visible.

If you'd like to unfasten the top button of your shirt, go for it

—

but keep it to one button.

To tuck or not to tuck: Keep your sweater untucked, but feel free to tuck in the button-up.
Try a printed shirt with a solid sweater
As you get started in the layering game, the easiest combination is a printed button-up and a solid-colored sweater in a shade that matches one of the colors on your shirt. Feeling bolder? Try a printed sweater (we love plaid for cooler months) layered over a solid button-up or chambray. Even more adventurous? Experiment with some subtle print-mixing.
—Laurie
There you have it—the perfect way to pair this dynamic duo. Are you ready to get layering? These polish pieces are waiting to make their way into your closet. Take your style quiz so you can request a coordinating sweater and button-up in your next Fix. We'll have you looking sharp in no time. Keep what you love and send back the rest. Remember, shipping, exchanges and returns are always on us. It's as simple as that.