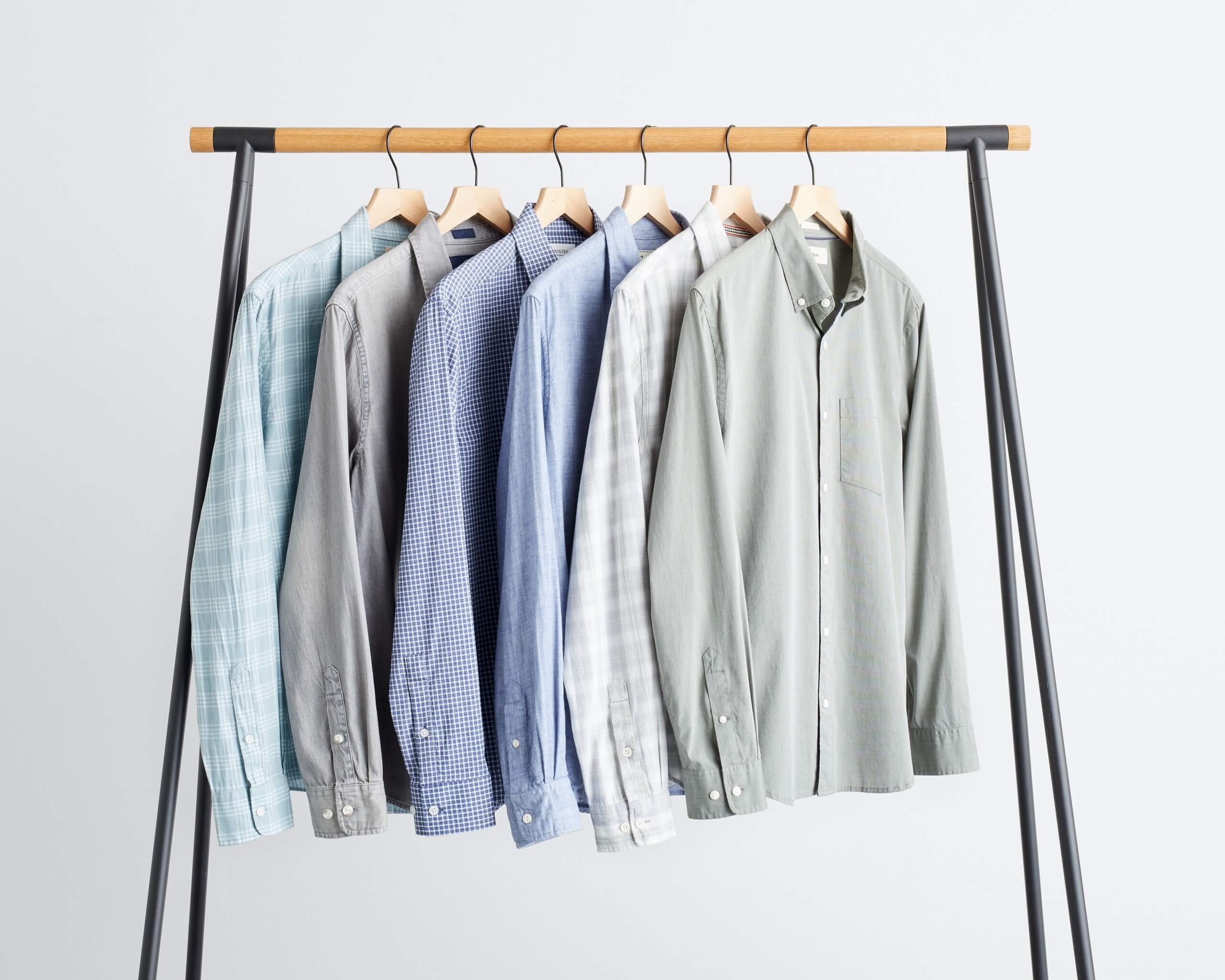 A Brief History of Shirt Sizing
Although considered a luxury today, custom-made shirts used to be common. Before the Civil War, shirts for men were generally made by tailors (for families that could afford it) or at home (for those who could not). However, the wartime need for mass-produced uniforms led to the development of standard sizes, which eventually formed the basis of standard commercial sizing scales for men.
Men's clothing, in particular, was well-suited for mass production: Styles were relatively consistent for men compared to women. And sizing was relatively "easy." The influence of military production meant that men's clothing was sized based upon a few points of measure. Pants, for example, were sized by inseam and waist. Shirts were sized by a single measurement—the chest—and from that number the other proportions were deduced.
The result, however, is a less-than-perfect standard being used for a variety of different body proportions. Broad shoulders? Six-pack abs? Forget about it. So we wondered: Could we help men find a better-fitting shirt?
The two current most popular fits for the modern button-up are slim and regular. But these aren't defined or regulated by any governing body. In fact, different brands define slim and regular according to their own standards. So, we sorted through a world of slim and regulars to see if we could make sense of it all.
The Stitch Fix Case Study
It's well established that garment manufacturers have been producing ready-made shirts for over a century with only one point of measure as their guide. And over the years, many factors like vanity sizing have further muddied the waters. So can we truly trust a tag that says "slim" or "regular"? And if not, can we solve the sizing problem ourselves to ensure clients of Stitch Fix Men get the right fit, regardless of the brand and label?
Seeking answers, our technical designers formed an uncommon alliance with our in-house data scientists.
What exactly makes slim & regular shirts different?
To approach this problem, the team identified more than 40 key measurements on each shirt to analyze. Despite the fact that the measures varied across brands, some commonalities stood out. And it was these crossover variables that allowed the team to create a standardized scale to assess the differences between slim vs. regular shirts.
Does matching clients' fit preference pay off?
If sizing is varied, do guys really identify correctly with either fit? And if they request a slim fit, are they actually satisfied with the cut they receive? What the team found during a client satisfaction experiment was eye-opening:
"We were amazed at how discriminating men are in assessing the fit of clothes," says Technical Design Manager Yasha Morehouse. "Without consciously realizing it, they reacted differently to measures that were within ¼-inch of each other. Even things like the placement of buttons on the front of the shirt were important to them."
But what was the key finding? Aligning all styles and brands to a standard scale improved satisfaction. A discovery that, in our opinion, serves as a strong message for the retail industry at large: standardized definitions of size and fit could, ultimately, make shoppers happier.
"We were amazed at how discriminating men are in assessing the fit of clothes. Without consciously realizing it, they reacted differently to measures that were within ¼-inch of each other."
What's Next?
The next step was to use our new standardized scale to assess sizing across all our different brands and labels. This arms our personal stylists with the knowledge and fit consistency to pick the right shirt for each individual client. The results: game-changing.
We even realized we could use our findings to inform the design of exclusive brands. Introducing Hawker Rye shirting: a collection of button-ups and tees we think are perfect (hey, even science says so). It's the result of months of analysis, the assessment of dozens of points of measurement, real customer feedback, and the blood, sweat and tears of our data scientists and technical designers. Thanks, guys.
Finding your perfect button-up doesn't have to be a battle. Take your style quiz and let your style expert put their knowledge to work when you ask for button-ups in your next Fix. Keep what you love and send back the rest. Shipping and returns are on us.