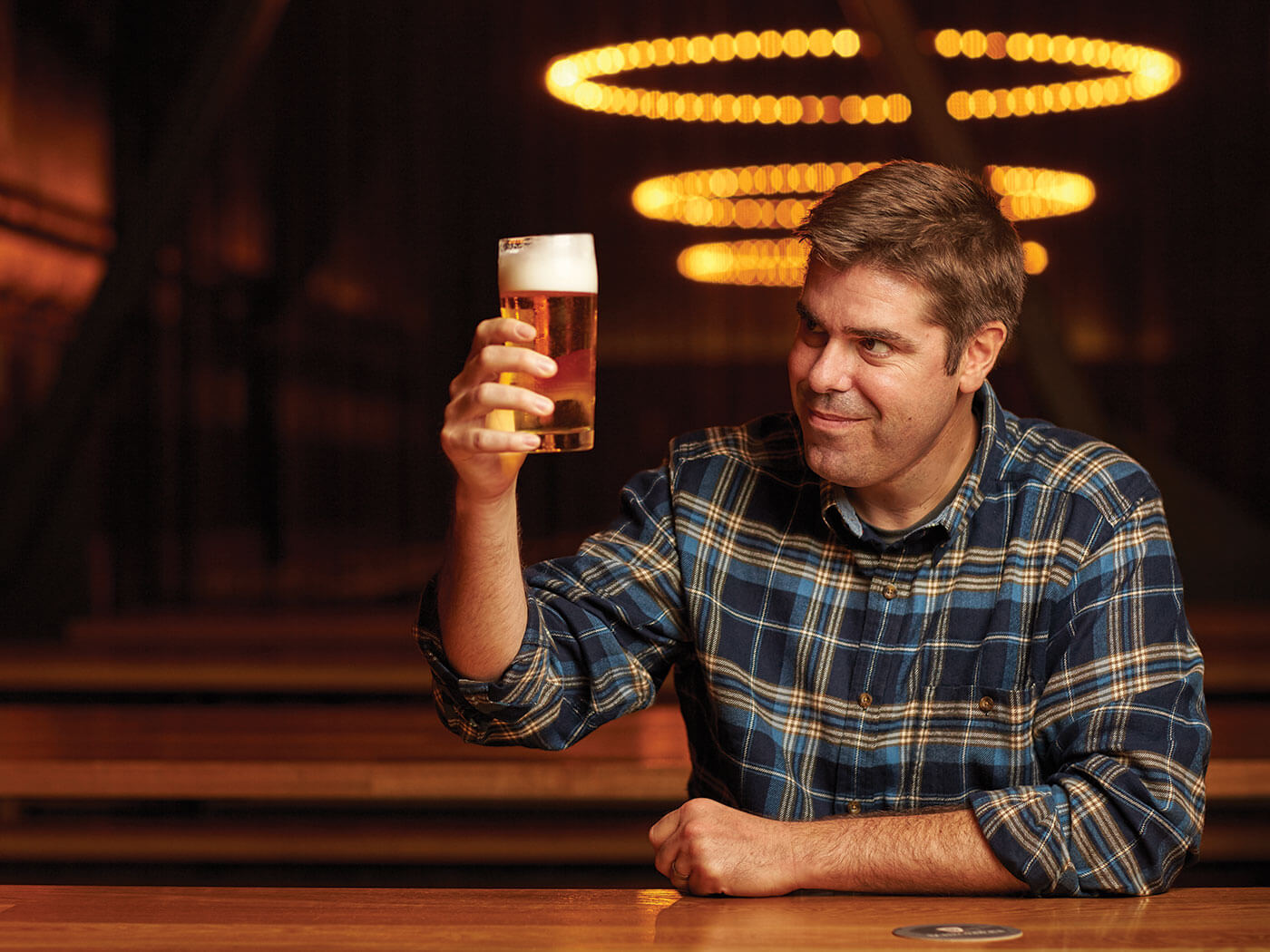 How'd you get into brewing beer for a living?
"You know, I really like flavor. I love making food and figuring out how flavor develops in food. And I really like drinking beer and figuring out how flavor develops in beer. I was homebrewing for a while in college, and then moved out to San Francisco and spent the first 2-3 months sitting in brew pubs drinking all the local beer, wondering what I was going to do with my life. And it just hit me: 'Hey, someone's gotta brew this stuff—it should be me.'"
So what did becoming a cicerone entail? And what's it mean to be a "master" of beer?
"The program really fell in my lap because it was stuff I'd been training for and studying already from a very holistic approach: beer styles, beer history, brewing, beer flavor, food and beer pairings, and draft systems—all the things I've been obsessed with for the past 10 years.
The cicerone program mirrors the Court of Master sommelier program—with levels that lead up to a 'master' status. But really, what the 'master' distinction proves is that I know how to learn about beer; it doesn't prove that I know everything about beer. Because you can never know everything—I'm constantly studying, beer is constantly growing and diversifying. And so it keeps me on my toes."
I'm constantly studying, beer is constantly growing and diversifying—it keeps me on my toes.
So how many master cicerones are there in the world?
"There are 11. It's an international program, but it developed in Chicago in 2007-2008 and so it's an American-based program, however they offer tests around the world now. There's a master cicerone from Canada, two from Scotland. But most at this point are based in the United States. And I passed in the second cohort—there were two of us—so I just call myself the third."
So it's the holidays. What's the history behind brewing a special beer for the season?
"More than 150 years ago, most beers had a perfunctory function—they were a source of hydration and they kept you from drinking well water with the plague in it. Beer was something that everyone needed to drink all the time because it was the only safe beverage. It could be 2%-3% alcohol—so not everyone was walking around drunk. But if you had money, you tended to have the higher alcohol stuff as a luxury product. They'd drink the weak stuff during the day, and then at night, they'd take a few nips of the strong stuff.
However, most small houses would brew a special luxury beer for the holidays to celebrate. It also helped through times of fasting. So, for example, monks would brew a strong doppelbock as a way to survive the hunger pangs—it was sweet, it was full of calories, it was full of breadiness.
So the idea was: holiday beers could often be stronger than 2% alcohol. And they were richer and maltier and full of flavor. Now the modern, American version of this is 'Let's put every spice in it just because we can.' I mean, these things sell and they're fun & tasty, so why not?"
Back in the day, beer was something that everyone needed to drink all the time because it was the only safe beverage.
Are there certain ingredients that qualify as "holiday beer ingredients?"
"Craft beer is exploding. We've got almost 5,000 breweries in the United States. Three years ago, we had 2,000 breweries. We've got so many breweries and so many new beers that the walls are being torn down for what that—and holiday beer—can be. But typically, it's flavors like allspice, nutmeg, cinnamon and cloves. Generally, holiday beer is more about strength than the spices."
Holiday beer is more about strength than the spices.
Are there rules for serving holiday beers—like specific kinds of glasses or temperatures?
"It depends on the beer. The warmer anything is, the more aromatic it is. So if you have a lot of alcohol in your beer, you don't want it too warm because it'll burn. But you also don't want it so cold that all the flavors—like malt or spices—get shut down. So we're talking 40-50 degrees, 55 maybe for some of the bigger beers.
The best glass for all beverages is essentially a wine glass or snifter. The stem allows you the option to change the temperature—simply put your hand on the bowl to warm it up. Plus you can see the beer without looking through smudge marks. Holiday tip: For parties with finger foods, hold the stem of the glass so you don't get fingerprints all over it."
Are there types of food that go especially well with holiday beers?
"The main thing you need to worry about is matching the intensity of beer with the food. Holiday beers tend to be higher in alcohol, but alcohol comes from malt, so they have more body, richness and sweetness—like your favorite holiday desserts, sweet potatoes and all the roast beef or turkey. They're generally not good with appetizers and salads (but who eats that during the holidays anyway?).
Beyond that, think of the color as a reflection of how the food is cooked. Roasted foods, for example, have flavors that harmonize with the flavors in a darker beer (that beer got dark because it was roasted).
The main thing you need to worry about is matching the intensity of beer with the food.
Is beer an acceptable host/hostess gift?
"Definitely not. It's terrible. No… it's perfect! It's different from the bottle of wine everyone's getting. It's an affordable luxury, so for $20 or $12 you're getting an amazing bottle—whereas the same price for wine is questionable. There are also a bunch of beers now packaged in 750ml bottles with mushroom corks, the labels are hip. Host Tip: If you want it drunk at the party, bring it cold. If you want them to hold onto it and savor it after the party, bring it warm."
What are some recommended beers to bring?
"One of my favorites right now is called Avec Les Bons Voeux—it's French for 'with our good wishes.' It's brewed in Southern Belgium and it's a stronger version of their saison with spices. It's delicious and it looks like Champagne—it's fizzy and comes in a 750ml bottle. Another one is called Rodenbach Grand Cru. It's so good and cuts through so many holiday foods. It's barrel-aged in wide barrels the size of this room for up to two years. So it's a very special beer. Other favorites include English winter-warmer styles like Jubelale from Deschutes Brewery, Fuller's Vintage Ale and Samuel Smith's Winter Welcome—they're sippers, perfect by the fire, with hints of dates, raisins, honey and toffee."
Raise a glass to holiday beers, read more about Rich's job and tell us your favorite bottles in the comments.