How To Clean Leather Shoes
With proper care, leather shoes can be worn for years, but keeping them clean is crucial. Use a horsehair brush (as needed) to remove dirt from the nooks and crannies. To make your shoes really shine, you'll want to polish them. Apply a small amount of the paste with an applicator sponge, then use a buffering cloth to rub in the polish. Wipe away any excess and let it dry. Easy, right? If you wear them frequently, you should do this every two weeks or so.
If you do opt for shoe polish, always make sure the color matches.

Remember to brush off your shoes

before

applying any polish.

Wet shoes can be stuffed with newspaper to absorb moisture—repeat as needed.
How To Clean Suede Shoes
Suede is effortlessly cool to wear but notoriously difficult to keep clean. Unless you plan on never getting them wet—accidental spills included—you're going to need a waterproofing spray. We suggest a silicone-based one that will help keep the brushed texture soft. Suede doesn't really need polishing like leather, but the occasional spot cleaning may be necessary. A dry soft-bristled toothbrush works wonders in gently removing dirt.
Always, always, always make sure your protective spray is the right color.

Let your shoes dry overnight so they fully absorb the spray.

You can use a suede brush to re-fluff the leather after cleaning them.
How To Clean Canvas Shoes
From the newest streetwear kicks to minimalist classics, sneakers need love, too. You'll be glad to know that this material is the easiest of the bunch to keep looking fresh. If they are made with canvas, simply throw them in the wash. Yep, that's it. If they are particularly dirty, you can spot treat them with a stain remover before putting them in the wash. Afterward, they should be good as (almost) new.
Run the washer on cold and then air dry—you don't want your sneakers shrinking.

We recommend a mild detergent to help prevent against fading.

These steps also work on most running shoes.
How to Clean the Insides of Shoes
Let's be honest here. Shoes can also lose their shape over time or start to smell. You can prevent both problems with two simple tools. First, use a shoe horn when slipping your feet in and out of your shoes. This is more useful with leather shoes—canvas pairs are fine without. This prevents the backs from creasing and damaging the leather. And second, invest in a shoe tree. These maintain your shoes' shape, absorb moisture and help deodorize all in one. They're inexpensive, so it's good to have a few on hand.
Get unvarnished cedar shoe trees, otherwise, you'll miss out on most of the benefits.

Clean any debris out the shoes before using the shoe tree.

Always wear socks with your shoes, canvas or leather, to prevent odor.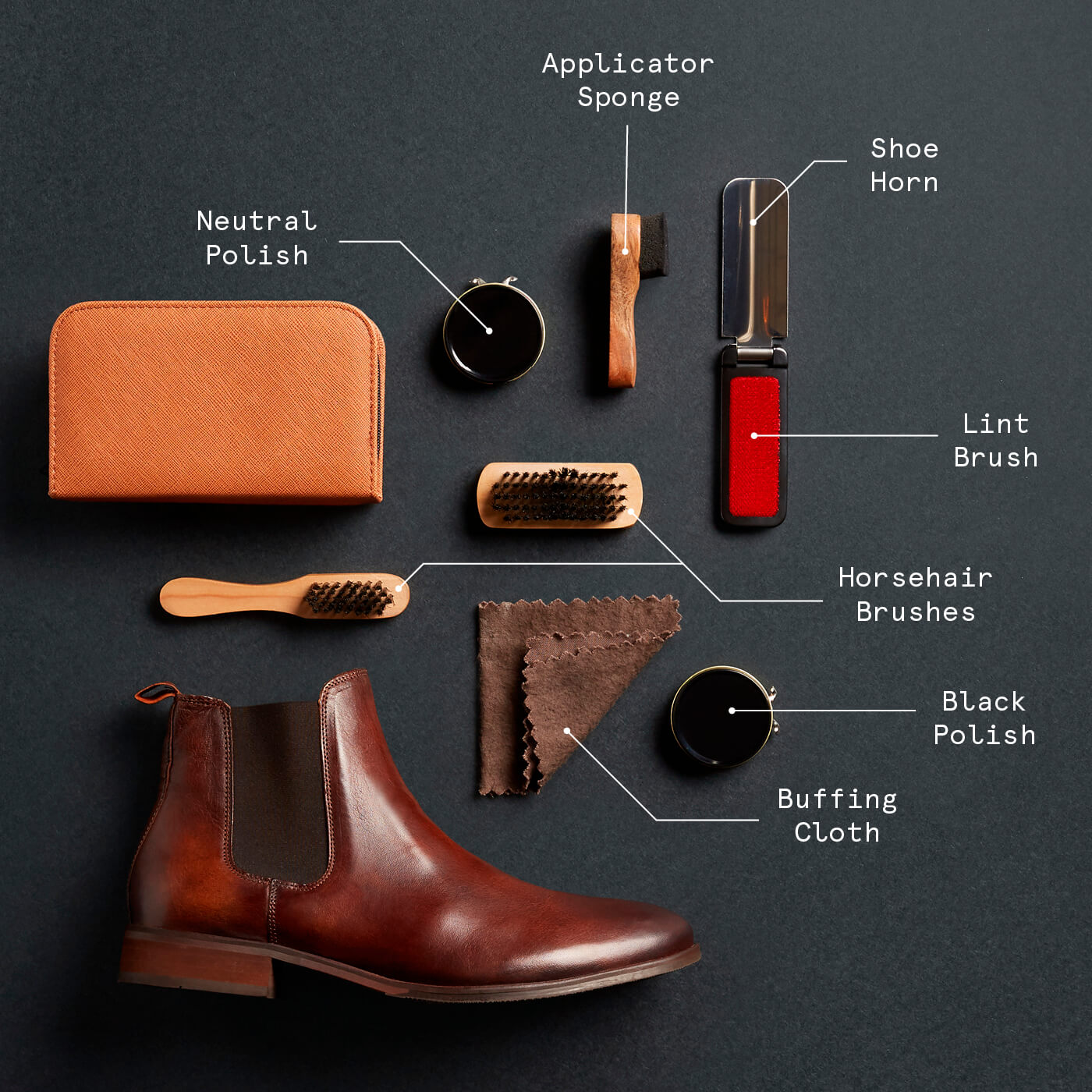 Shoe Cleaning Supplies
Now that you know how to get to cleaning your kicks, here's a quick list of some supplies that you'll need to keep your footwear in shape.
Buffing cloth
Shoe polish (we recommend black and neutral)
Horsehair brush
Lint brush
Shoe horn
Applicator sponge
If you're ready to step out in style, take your style quiz and order a Fix. Let an expert stylist do the legwork. They'll send you footwear classics that will put the exclamation point on all of your ensembles. Remember, you're never required to schedule more than one Fix at a time, and shipping and returns are always free.