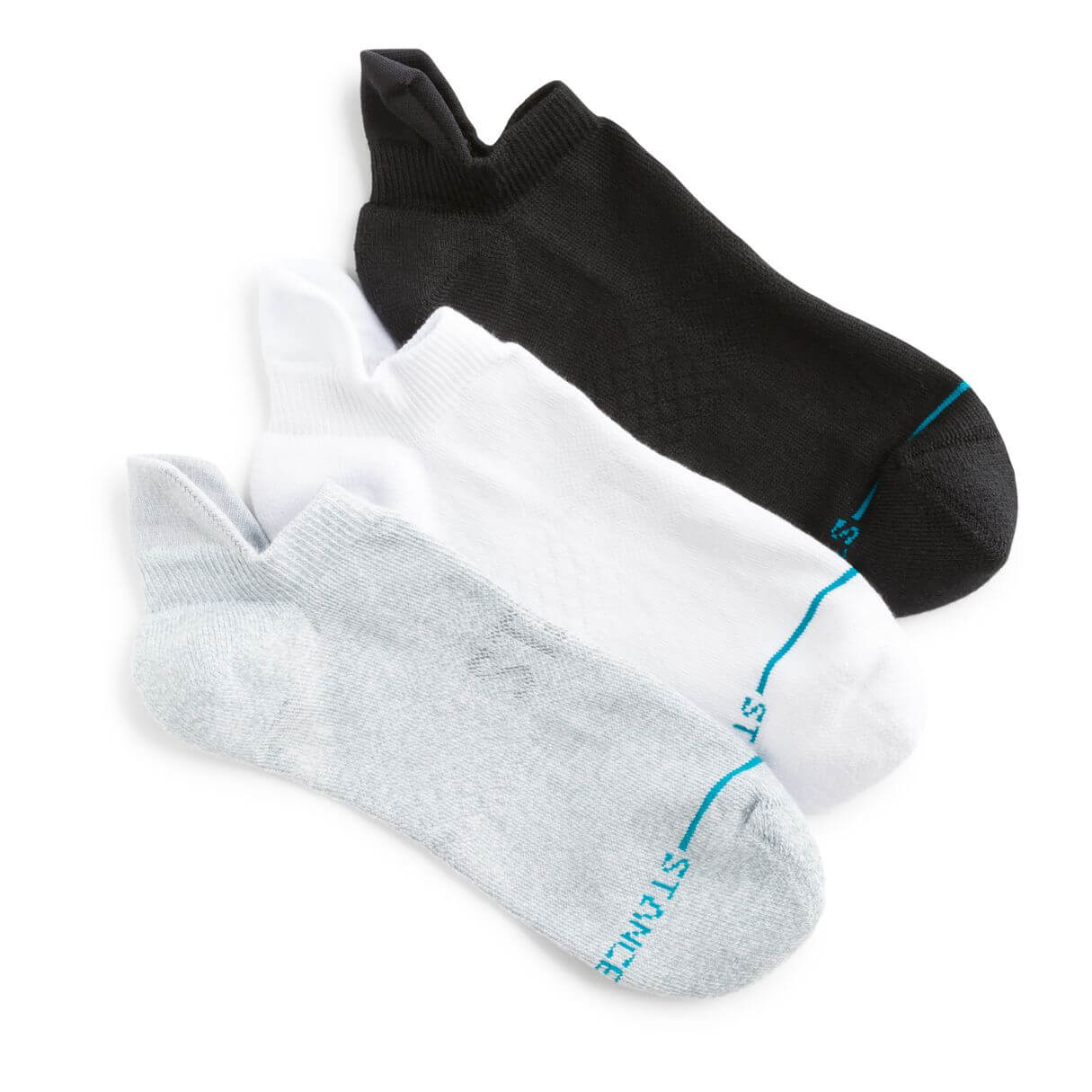 The Long & Short Of It
First off, make sure you're picking the right size. In general, sock lengths fall into three categories:
Low-cut socks: These hit at the ankle and are designed for athletic activity. Even lower-cut socks can help you achieve a "no show" look, but in either case, color isn't that important.
Mid-calf socks: The all-arounder. These are by far the most popular and most versatile length of sock. Mid-length socks are suitable for work, casual events and semi-formal functions. Because of their ubiquity, you'll have no trouble finding a color or pattern that works for you.
Over-the-calf socks: This more traditional length goes all the way up to your knee. The added material means you'll be choosing this more expensive option for special occasions, mostly.
Find Your Sock Flair (in ascending order of bravery)

Non-boring neutrals—they exist
Sock styling isn't a black and white issue. These days, socks come in a range of nuanced neutral shades, so save your black and white pairs for the gym—or better yet: destroy them in a symbolic pyre. Here are some versatile colors that aren't too showy or distracting:
Gray

: There are way more than 50 shades. From ash to charcoal—and everything in between—gray socks are a simple way to add contrast to your trousers.

Earth tones

: Taupe, brown, tan, off-white. The beige family might not scream scintillating, but trust us—it's infinitely more interesting than a pair of white crew socks. And these colors will work with pretty much anything.
Stylist Tip: Roll the cuff of your trouser up slightly to show even more sock. This works for both dressier pant styles and denim.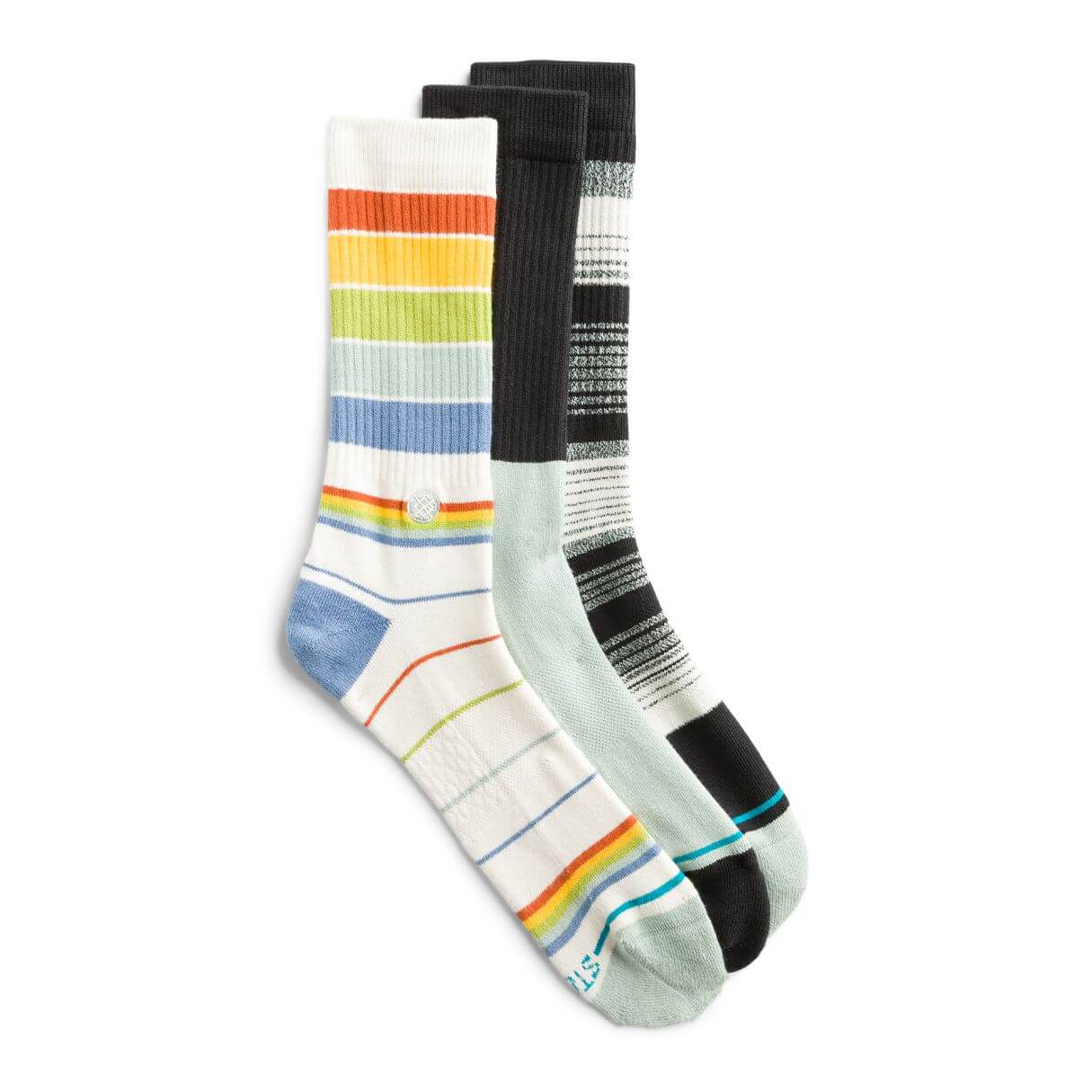 Let there be bright
All it takes is a bit of sock-confidence—and perhaps the aroma of burning tube socks in the air—to ready you for stage two. Bright-solid socks rock, especially coupled with semi-formal attire at a fun event (like a wedding or holiday party). Most of the other male guests will be clad in suits, so socks let you differentiate your outfit in a personal way. Here's how to do it:
Contrast is key

: If you're wearing a light-grey suit, don't wear light-grey socks. Similarly, complementary color theory (remember the

color wheel

from art class?) is useful when matching your socks with a dominant hue in your wardrobe, e.g. socks in the orange/red range are a good accent for a baby blue shirt.

Match your clothing, not your shoes

: First, match your socks to a color in your shirt or tie. Then select shoes that work with your overall outfit.

Consider the season

: It's not written in stone, but colors like lime green, yellow and lavender are better for spring and summer. Cooler weather, cooler colors. You can wear green and red during the holidays, but no candy cane striped socks, ever.

Detecting a pattern here?
While patterned socks might seem daring, the concept is actually very classic. It's hard to go wrong with patterns, but a good rule of thumb is: Your sock choice should complement and not compete with your outfit.
Here are some patterns that are perfect for tricking out your footwear:
Stripes: If it's good enough for

Where's Waldo

, it's good enough for you.

Gingham: Did you know gingham is plaid with two colors? Let's just call it checkerboard.
Plaid: The golfer's delight. If you don't already own some plaid socks, you should.
Polka dots: It's not clear what dots have to do with oom-pah-pah music, but you can enjoy this pattern without liking the accordion.
Paisley: Not just a solid name for a fancy cocker spaniel. This pattern adds color and sophistication all at once.
Herringbone: You know it's fancy when you're casually referencing animal parts in the name.
Mix & match (sock level: advanced)
In this era of hoverboards and robotic jar openers, even socks are ripe for innovation. Why not absolutely slather your feet in the future? Of course you shouldn't pair a white tube sock with an argyle dress sock—the socks on your feet should always be the same brand, length and thickness. But even mismatching can work for an edgier wardrobe. The pair shown above? They're from Stance and actually come in a mismatched striped print. Cool.
If you're able to find an aesthetic union between two different socks that works with your outfit, we say go for it. It's 2016. Besides, if JGL is wrong, who wants to be right?
Now that you've got the scoop on socks, are you ready to add even more style to your closet? Take your style quiz, order a Fix and then relax as you wait for the items to arrive. You are never required to schedule more than one Fix at a time and shipping, returns and exchanges are always free. It's really that simple.