Keep scrolling to see not-so-ugly sweaters you can wear this holiday.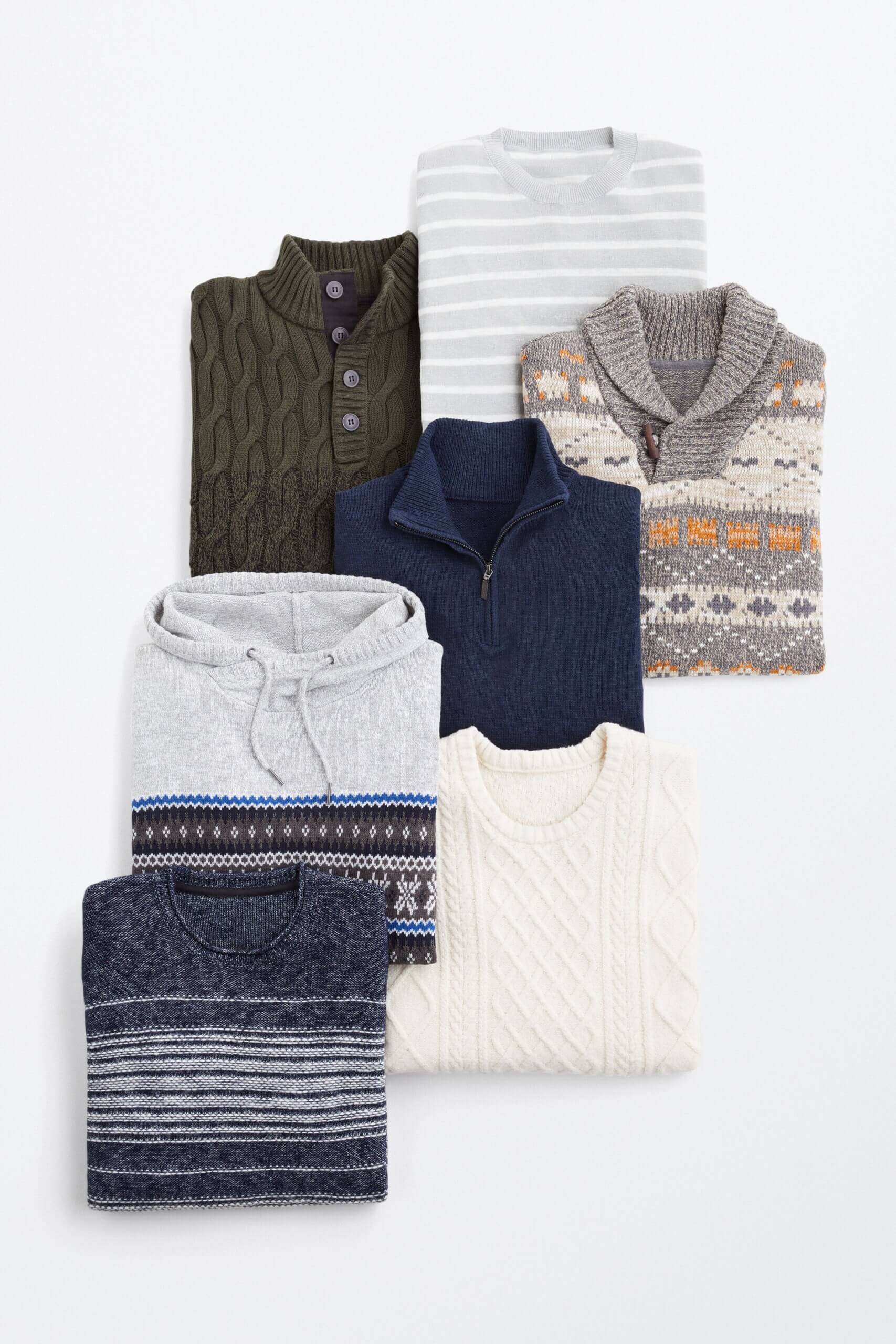 Crewnecks
You've definitely heard of them and probably have a few in your closet. The crewneck pairs easily with everything, and you'll find countless options from cotton to cashmere, patterned to cable-knit and more. Falling on the casual side of its v-neck cousin, this style tends to give a boxier silhouette—great for slender guys trying to add a little more heft to their physique.
V-Necks
Think crewneck with a little more polish. The "V" in v-neck refers to the shape of the neckline which comes down to a point. It's an ideal layering piece, especially when worn over a button-up—perfect for the office. Similar to the crewneck, you'll find no shortage of fabric options, and as an added bonus, the v-shape has a subtle slimming effect.
Turtlenecks
This style has shaken off its stuffy reputation and undergone a contemporary makeover. Few items in your closet can do as much—casual enough for going out, but smart enough for a dressier occasion. The t-neck is modern while still giving off a distinctly retro vibe. Not to mention, the high neck adds extra warmth, so leave your scarf at home.
Mock-Necks
Turtleneck not right for you? Try its sibling, the mock-neck. It still adds structure but with a decidedly more relaxed air. The main difference between the two is the lower fabric height at the neck. The extra breathing room gives you a greater range of movement. You can also find half or full-zip versions that can be worn like a jacket.
Full & Half-Zips
Maybe you like the idea of a sweater but need a little extra ventilation. These sweaters can be worn like a cardigan or pullover, so they're great additions to your layering arsenal. Mix it up with a collared shirt and you have an instant office-ready outfit. If you're looking for something with a little more flexibility, this is the style for you.
Did any of those sweater styles catch your eye? Be sure to take your style quiz and request a Fix full of winter sweaters must-haves. An expert stylist is happy to lend a hand and carefully select five items that suit your preferences. You can try everything on without leaving the house. Shipping, exchanges and returns are always free. Get ready to bundle up in this season's comfiest and coziest.