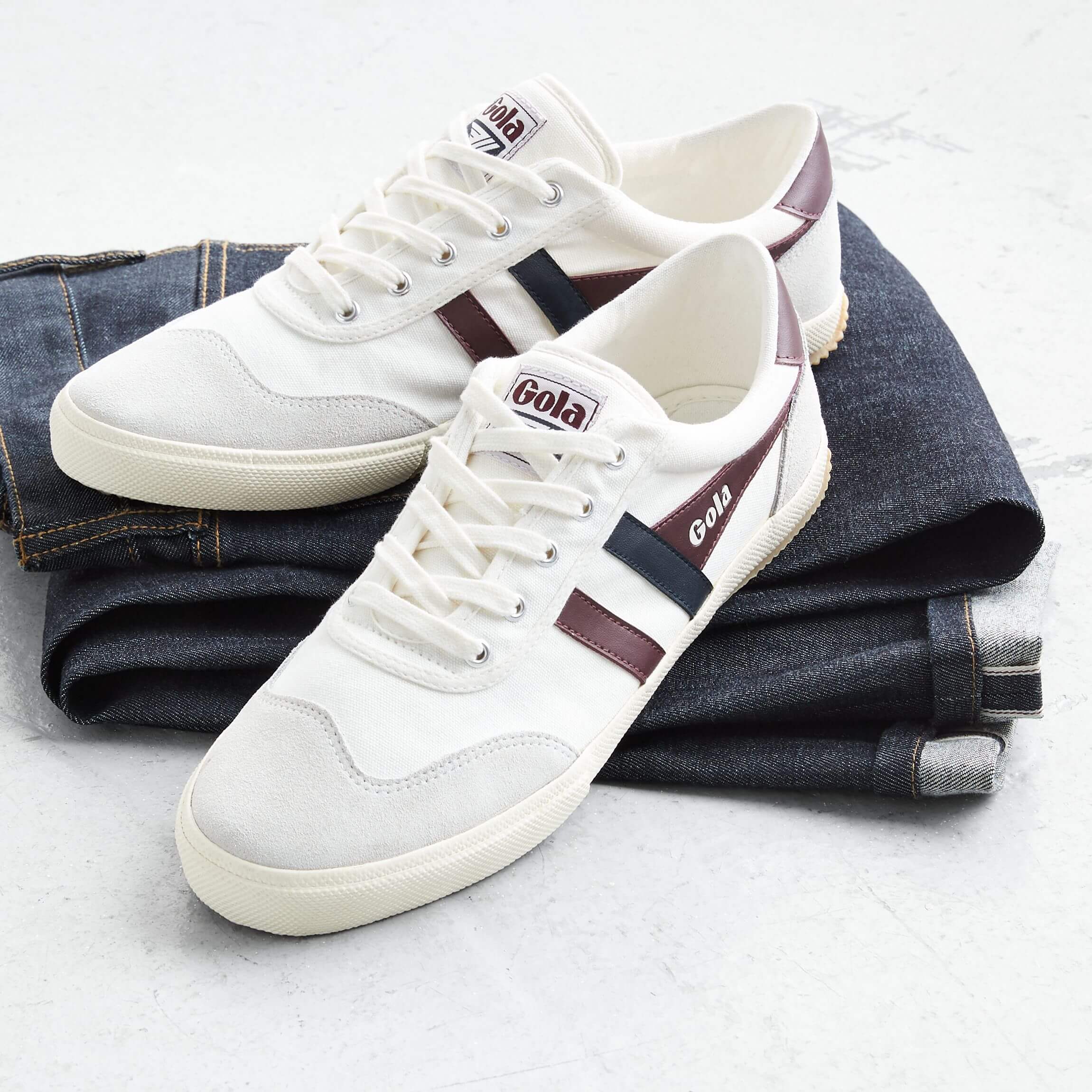 Keep scrolling to find out how to kick your jeans-with-shoes conundrum to the curb.
Check these bite-sized tips:
What's the occasion? Start by picking whether you need dressy or casual pairings.

Find your true fit. There is a fit, style and wash that works best for you—and your occasion.

Learn how to cuff your jeans. It's a trendy tweak that's easy for any guy to pull off.

Bring it all together with a dressy or casual style of shoe.
Then watch our video on what shoes to pair with your pants. 

Pick Your Occasion
Start by thinking about the setting. Are you trying to look dressy or casual? Every occasion calls for a specific sartorial choice, so let's think about how to make that decision.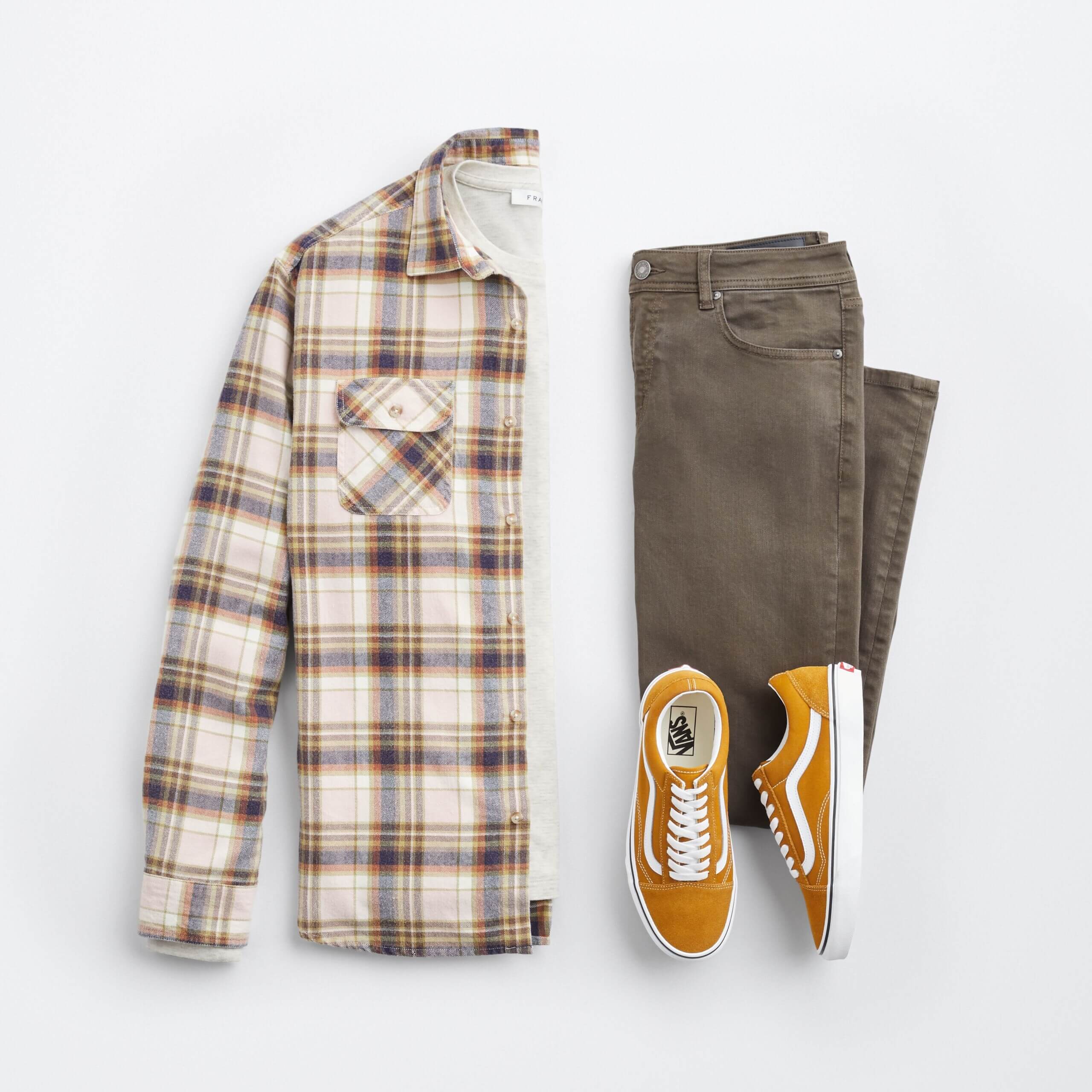 Casual
Casual doesn't mean careless—aim high even with a low-key look. The elements of any wardrobe should complement one another, even in a dressed-down style. You'd never wear a pair of patent-leather Oxfords with faded, ripped jeans would you? (Would you?) Right.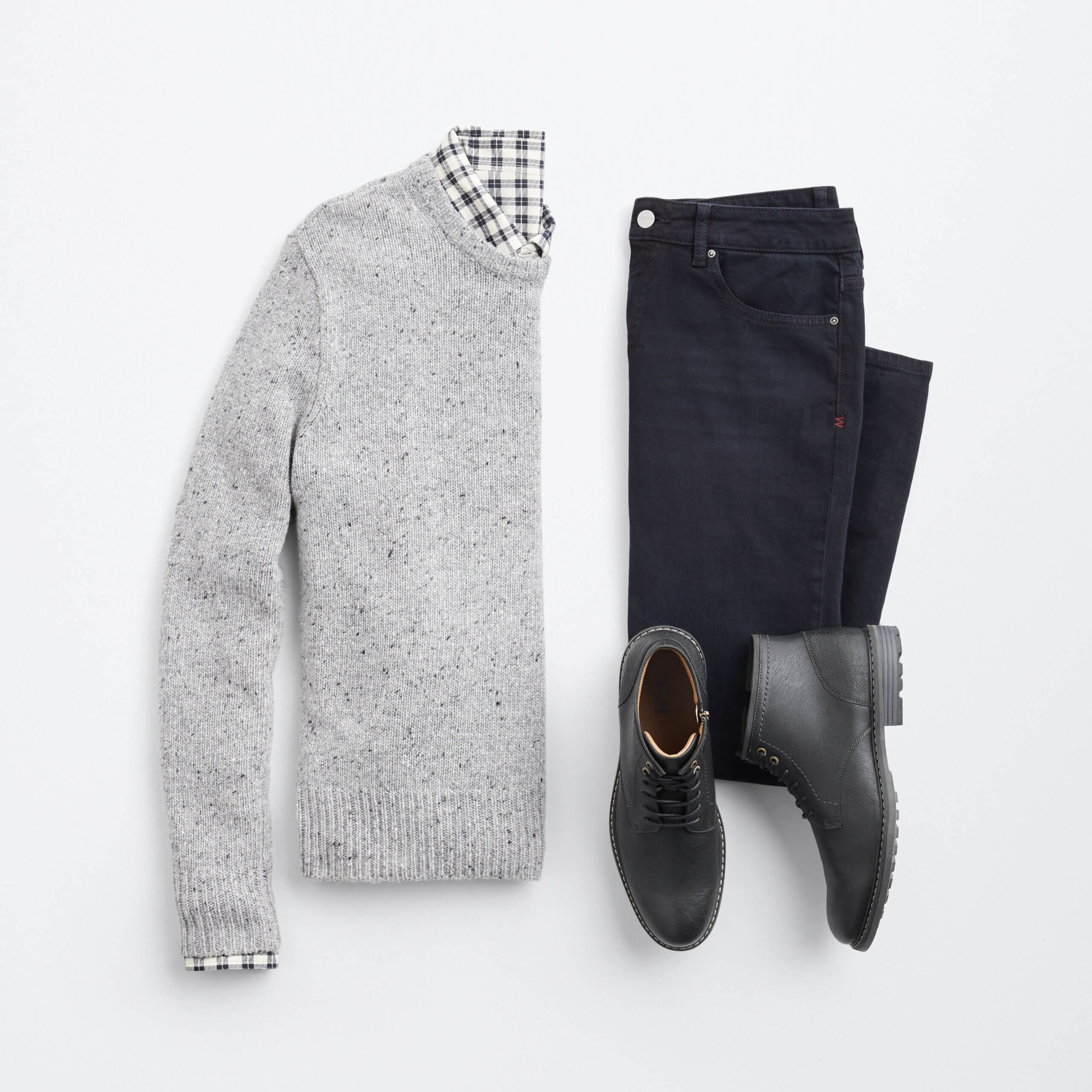 Semi-Formal
From the casual workplace to a night on the town, a semi-formal outfit is appropriate in most day-to-day situations. In order to class up your jeans for this look, simply wear a collared shirt or sweater with loafers, boat shoes, boots or even clean white sneakers. For those slightly nicer occasions, feel free to tuck in your shirt to give you that extra edge.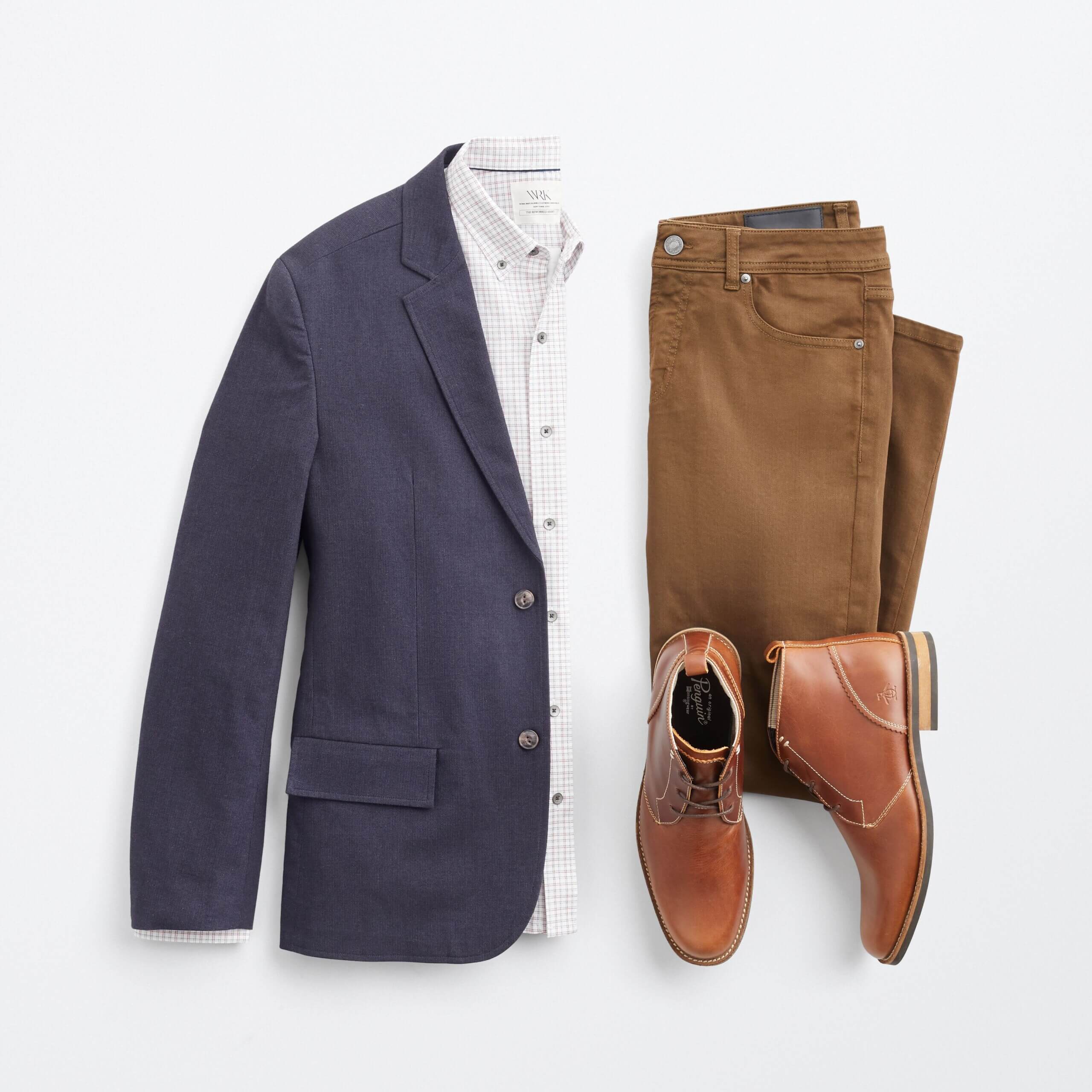 Dressy
Somewhere to go? It's time to kick it up a notch, but put down those winklepickers—and is that a monocle? All you need for a dressier look is a darker-wash jean to pair with either leather or suede shoes. They're the perfect foundation to a collared shirt and blazer combo.
Choose Your Ideal Jeans
Finding the perfect pair can be daunting, but take it step-by-step. First, you need your inseam. Then find your fit, find your wash and, if you're up for it, embark on a cuffing adventure or two. (We recommend two.)
Find Your Style
Straight, slim, skinny. Pre-WWII nicknames or jean styles? If you're confused, keep your pants on. Most jeans are classified by the "fit" and by "leg" style. Different brands use different terms, but here's a breakdown of some common ones:
Slim

fit is typically tapered in the waist, with a low-to-medium rise. This works well for dressier occasions.

Regular

(or Classic) fit means they're cut at the natural waist, have a straight thigh and leg. This cut comes in most styles and works well for a wider variety of body types.

Relaxed

jeans often have a high rise, are wider in the thigh and legs, and work for both athletic and husky men.

Loose

fit jeans usually typically sit low on the waist, and are baggy in the butt and thighs.

Skinny

leg jeans generally have a lower rise, slim thigh and leg. Best for guys with svelte gams.

Straight

leg means just that: the jeans are straight through the hip, thigh and leg.

Bootcut

jeans have a leg that's wide enough to fit snugly over your boots. (Go figure.)
Whatever pair you choose, here's a rule of thumb: respect your inseam lest you get unsightly "stacking" around your ankles. Go a size shorter (or take it to a tailor) if this happens. And, when dressing for an occasion, aim for something more tapered. Never go with baggy jeans with dress shoes. Ever.
Pick a Wash
Casual looks can be achieved with any wash—pair them with a tee or untucked, collared shirt and you're off to the races.
But if you need to look smart, skip the distressed or ultra-faded detailing. Only Jon Bon Jovi has a free pass on sporting shredded bottoms at a cocktail party. For the rest of you, pick your ideal fit in a darker wash: blue, dark grey or black.
Pick the Right Shoes for Your Jeans
As Jim Carrey famously exclaimed in the 1994 film The Mask: "It's shoe time!" (We think that's what he said.) Picking the right shoes doesn't have to be torture. A few well-selected styles can go a long way.

How to Wear Boots with Jeans
Chukkas, work boots, and cowboy boots
Time to channel your inner lumberjack. Boots and jeans are both ruggedly refined, so pairing them together is a natural fit. Try to find a pair of jeans that are slimming but not too tight, skinny jeans will look disproportionate with a bigger style of shoe.
Any wash can work well with boots—they can be dressed up with a dark wash, or dressed down with a faded or distressed style. Chukkas and work boots look good with a rolled cuff, and if you're the type of guy who owns cowboy boots, opt for boot cut jeans so they will fit over the top of the boots.

How to Wear Casual Shoes with Jeans
Sneakers, casual loafers and boat shoes
Sneakers scream casual, but they aren't your only option. Lace-up or Chelsea boots will add some "grown-ass man" street cred to your ensemble.
If you opt for distressed or faded denim, then make it the centerpiece of your outfit. Keep things minimal on top and pick an edgier shoe or some classic Chucks in bright white or black. This may not be a moment for boat shoes or slick leather chukkas, for example. Wear those with your favorite solid-color denim.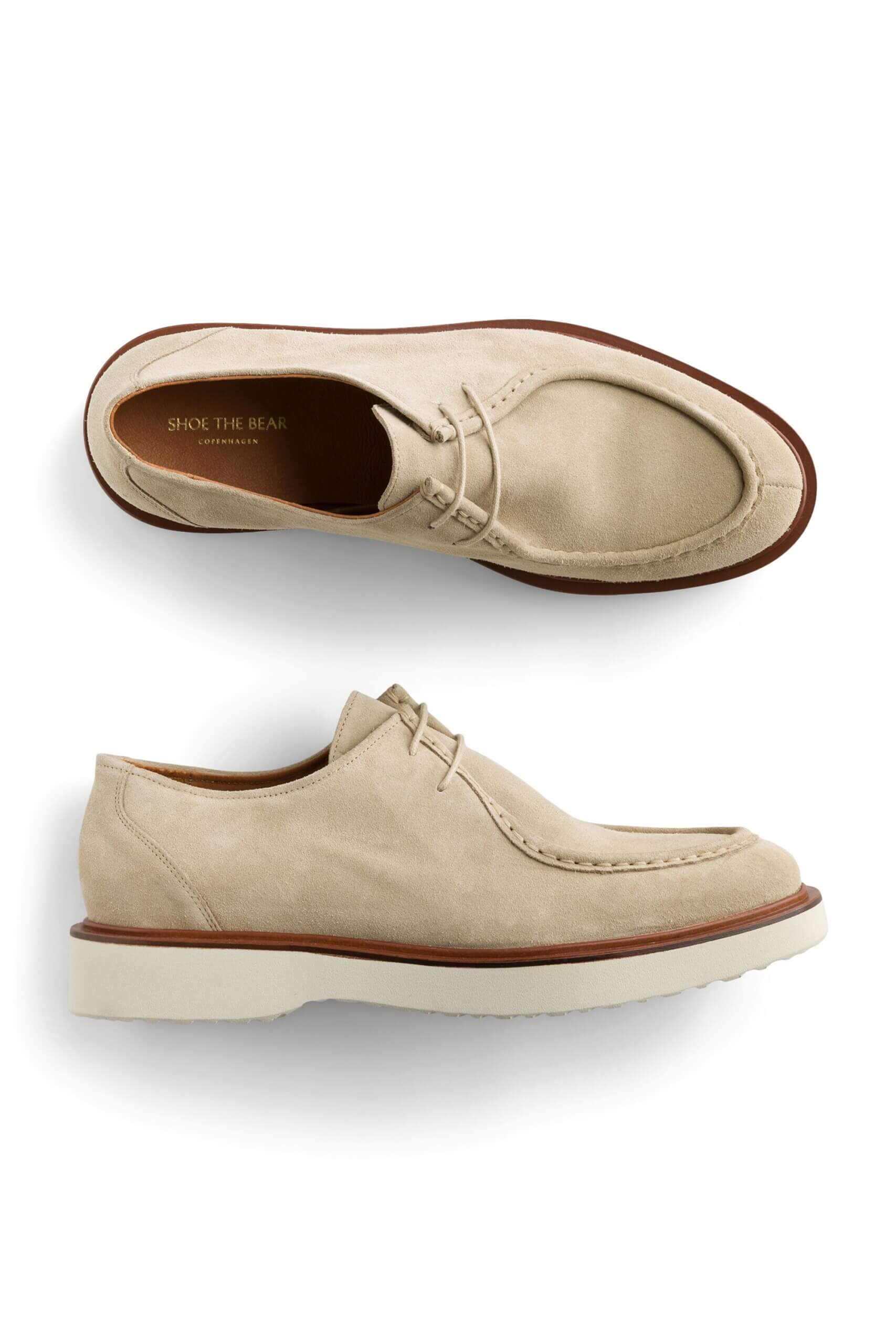 How to Wear Dress Shoes with Jeans
Loafers, oxfords and other dress shoes
Picture you. Picture you in a tapered, slim-fitting pair of dark-wash jeans. You look dope. And that means you'll need an equally dope dress shoe in leather or suede to finish the job.
Make sure the length of your pants rests just on the top of the shoe—never let the hem drag on the ground. A subtle cuff is a great way to show off a Secret Fancy Sock—if you're into that kind of thing. (We are.)

How to Wear Dapper Shoes with Jeans
Monk straps, brogues, tasseled shoes
You know what they say: fashion favors the bold. (Or something like that.) If you're the type of guy who is always trying to stand out from the crowd and look fresh—this is the style for you.
Pair your jeans with a pair of monk straps, brogues, or tasseled loafers for a look that will seriously turn heads.

How to Wear Formal Shoes with Jeans
Plain toe, whole cut, and anything patent
Like the famous Bob Dylan song, The Times They Are a Changin', it's time to break the mold when it comes to your black dress shoes. Just because you have black formal shoes, doesn't mean you have to reserve them for your suit or tuxedo.
But, like all dressy options, you'll want to make sure you wear a slim fit with a very dark wash or even black.
There you have it—the definitive guide on how to wear shoes with jeans. That wasn't too bad, right? Now go forth and confidently wear jeans for any occasion from casual to dressy. Just remember that lighter washes are more casual, while slimmer and darker jeans are more appropriate for dressy environments—and from there, you can personalize your shoes to match your own unique style.
Ready to take these tips to your closet? Simply take your style quiz and order a Fix. You'll have a five piece Fix picked for you by an expert stylist. Or head over to Stitch Fix Freestyle™ to instantly buy pieces curated for your style and size. Shipping and returns are always free for even more peace of mind. It's that simple.