Our Stylists are here to make it easy and help you navigate the shifting seasons with versatile summer to fall transition outfits. Here, they're spotlighting 6 essential pieces that work in summer (now) and fall (later) depending on what you wear with them. 
The whole idea is to get as much mileage out of the items in your closet as possible to create summer to fall outfits. 
"We suggest thinking about lightweight tees or button-downs in neutral colors that can be worn as layering items," says Alicia Lloyd, our Styling Team Supervisor at Stitch Fix. "Repurposing what you have from one season to the next can give you more opportunity to wear your summer pieces, but styled in new ways with a blazer, flannel, or oversized denim jacket."
Is that the first hint of a fall breeze we're feeling? We better get to it.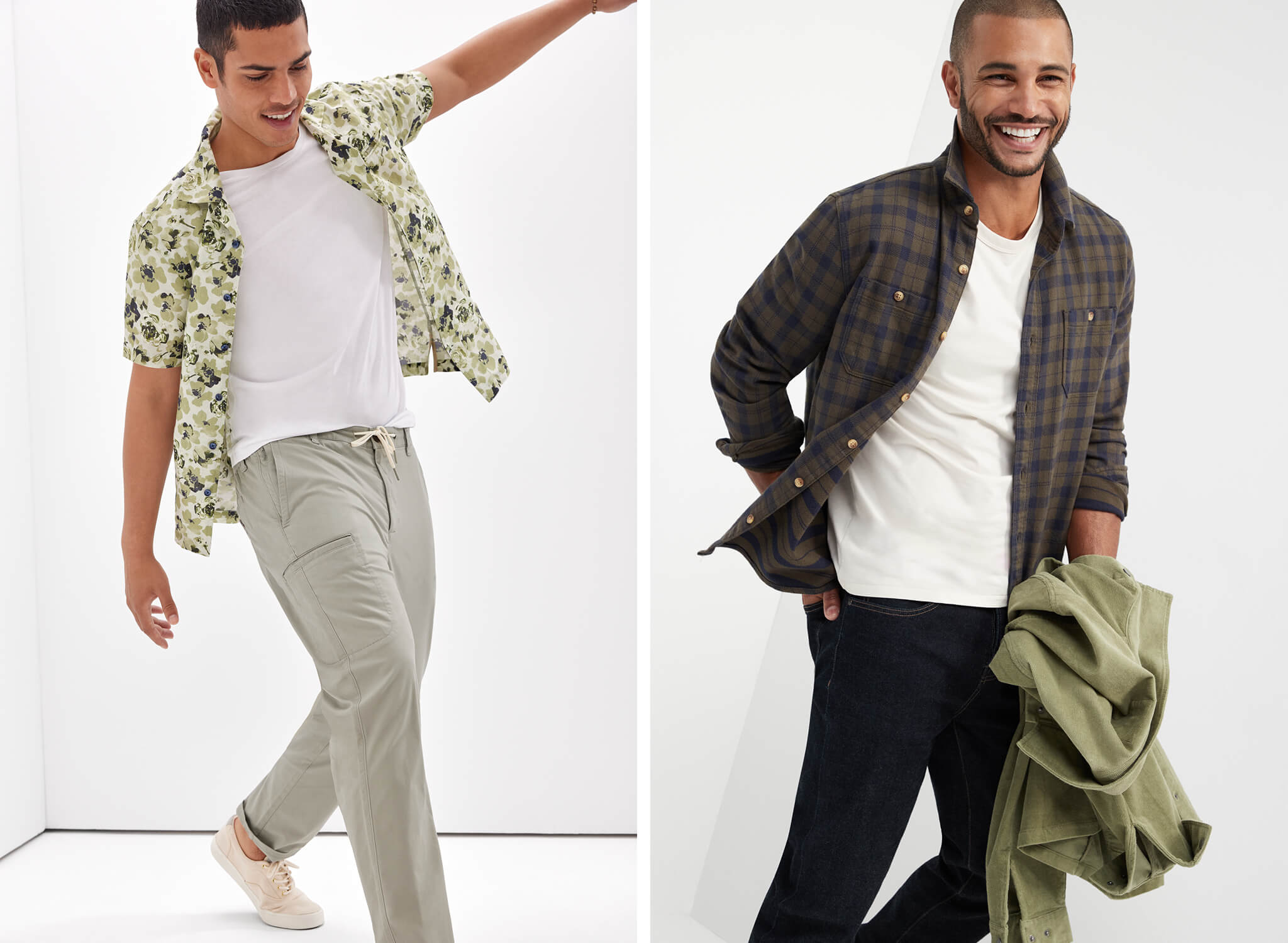 1. The white t-shirt
Now: It may be the most foundational item in your closet. You've got to have a couple go-to white tees—our Stylists can help you find the best-fitting ones for your build. 
Wear one under a printed SSBD (short-sleeve button-down) while the weather's warm.
Later: Your go-to base layer under flannels, sweaters and jackets. Keep a fresh stack of white tees on standby.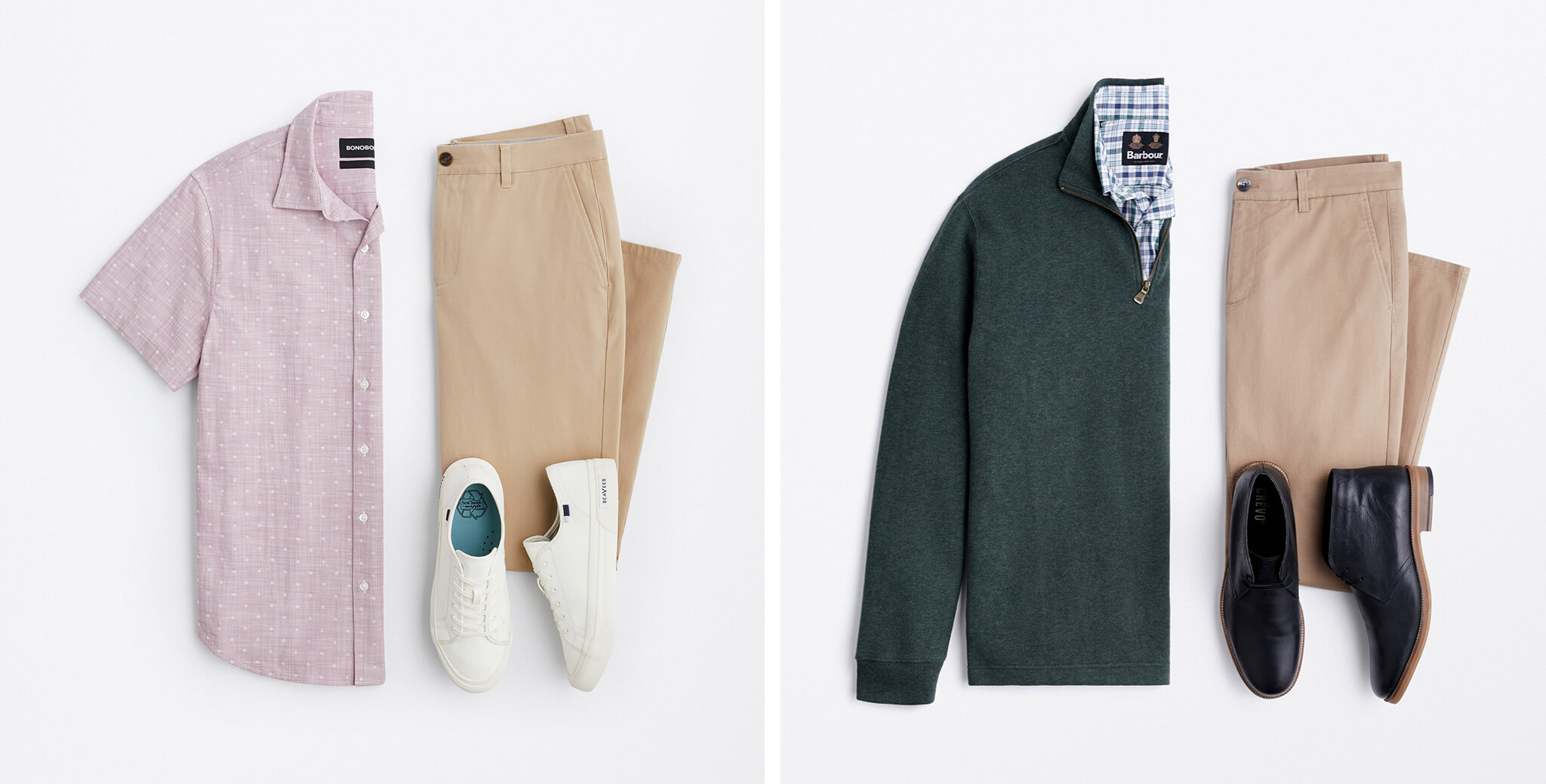 2. The khaki pant
Now: When you're not wearing shorts, lightweight khakis are a solid option for summer with an SSBD and white sneakers.
Later: Dress up khaki pants for fall with a quarter-zip sweater and button-down shirt combo. Add polished boots (we like a black chukka boot), and you're covered for dinner out.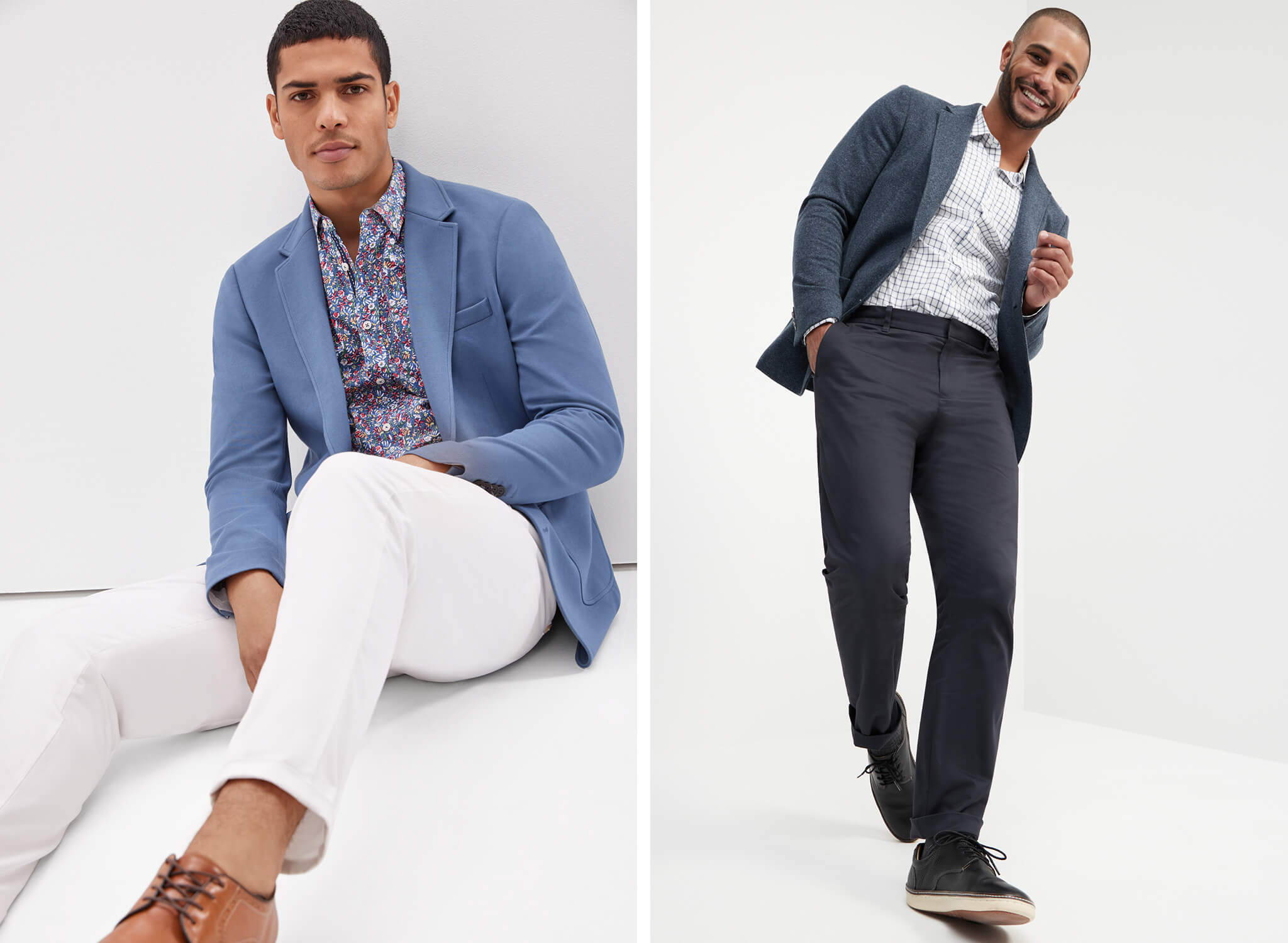 3. The blue blazer
Now: A classic blue blazer is a wardrobe essential all year long. Pair it with white denim (or your fave light-colored pants) and a printed shirt for those late summer weddings.
Later: Things feel a little more buttoned up come fall, so we recommend leaning into a no-fail slim-cut blazer and a crisp shirt. The fit will all be on point thanks to your Stitch Fix Stylist.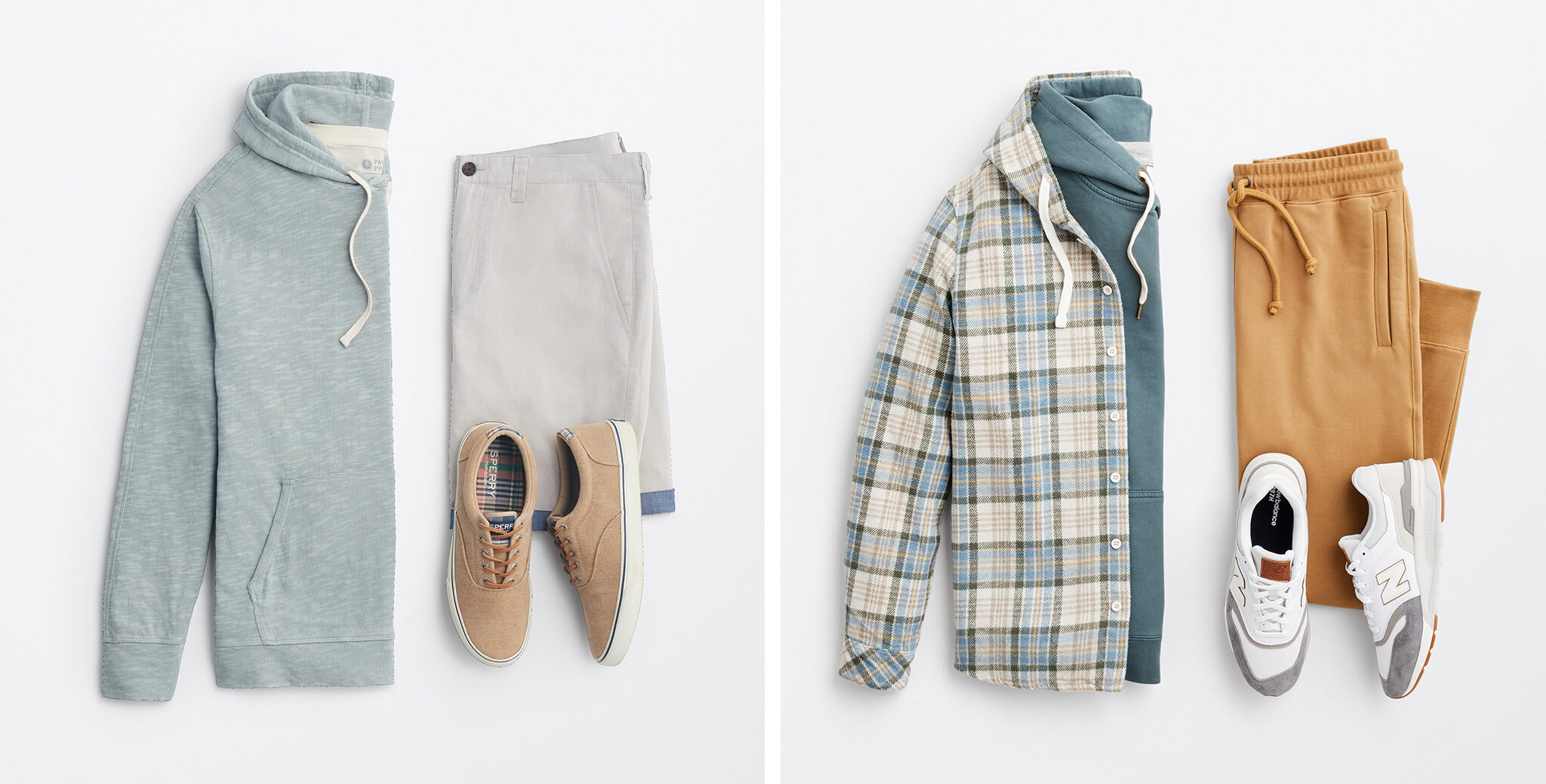 4. The hoodie
Now: Hanging out on the patio post-barbecue? Grab a hoodie. Early gym session? Grab a hoodie. In the summer we treat this staple like outerwear—a light layer to have on hand when the sun's off-peak (or the AC set to low).
Later: In the fall, treat a hoodie as a mid-layer under a jacket. For more casual weekend vibes, pair it with sweats or jeans.
5. The denim
Now: Does it get simpler or more classic than a t-shirt and jeans? Change things up just a little bit with a graphic tee and retro sneakers.
Later: Denim is an almost-everyday staple that you can wear with cooler-weather layers, such as a plaid shirt and easy jacket. Opt for a sleeker shoe, like the "snoxford" (a versatile sneaker-oxford hybrid).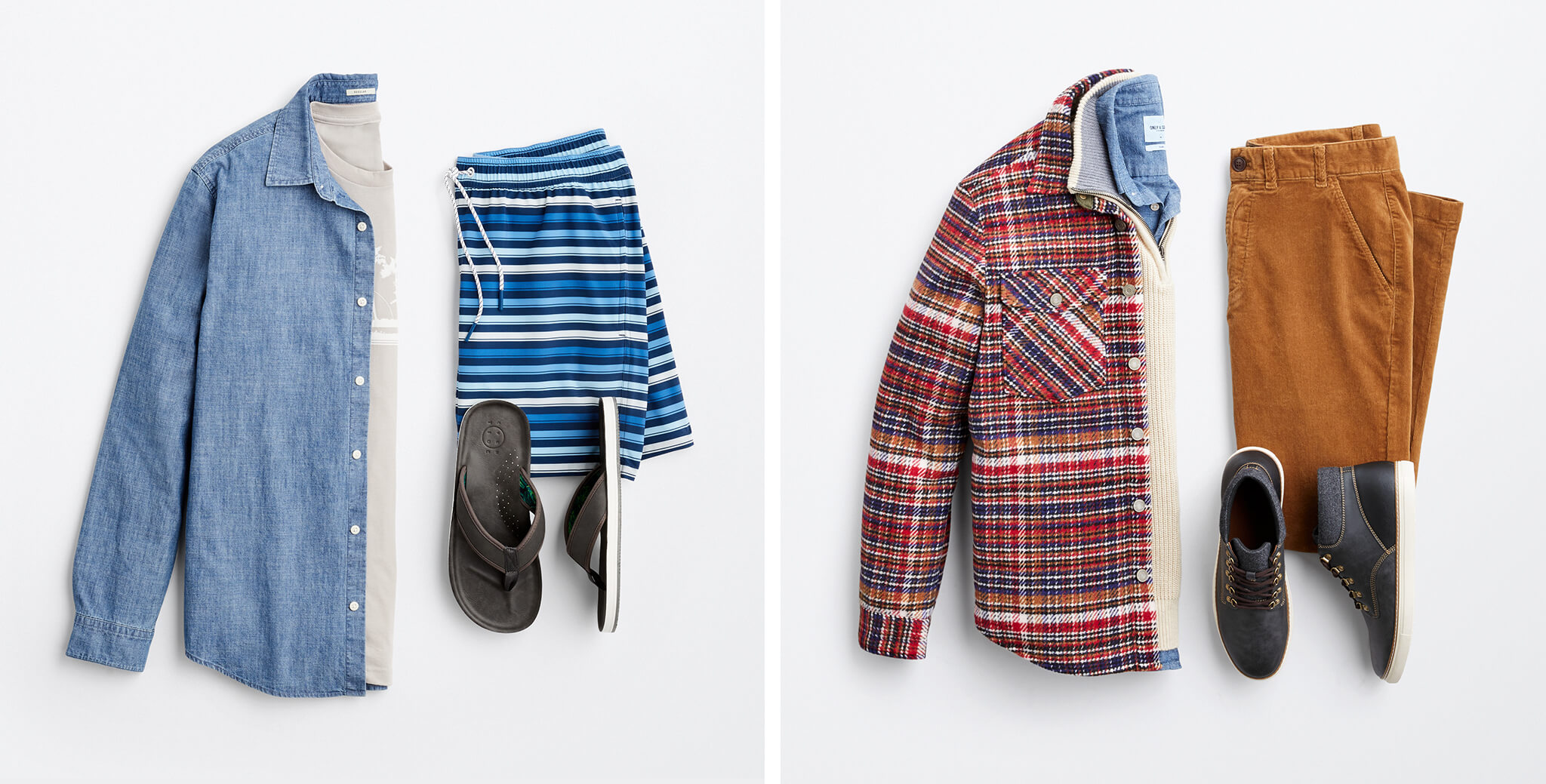 6. The chambray shirt
Now: Traditionally, chambray is a lightweight fabric so it lends itself well to summertime 'fits. Top off a shorts and T-shirt combo with an open chambray button-down to make it feel put together (this even works with swim trunks).
Later: Chambray brings a new texture to the mix when layering with sweaters and "shackets" (a shirt-jacket hybrid). To round out the rugged-leaning look, ask for some trusty, comfortable fall boots and corduroy pants in your next Fix.
Get styled by Stitch Fix for the seasonal transition
Let our Stylists help you find summer to fall transition outfits and get the most out of your wardrobe. Take your style quiz, schedule a Fix and get ready to receive an array of versatile items that fit your unique taste (and build). Try on your new clothes in the comfort of your own home. Pay for what you keep, and send back the rest. Shipping and returns are always free, and there's no subscription required.