Keep reading for how and why you should be leaving feedback.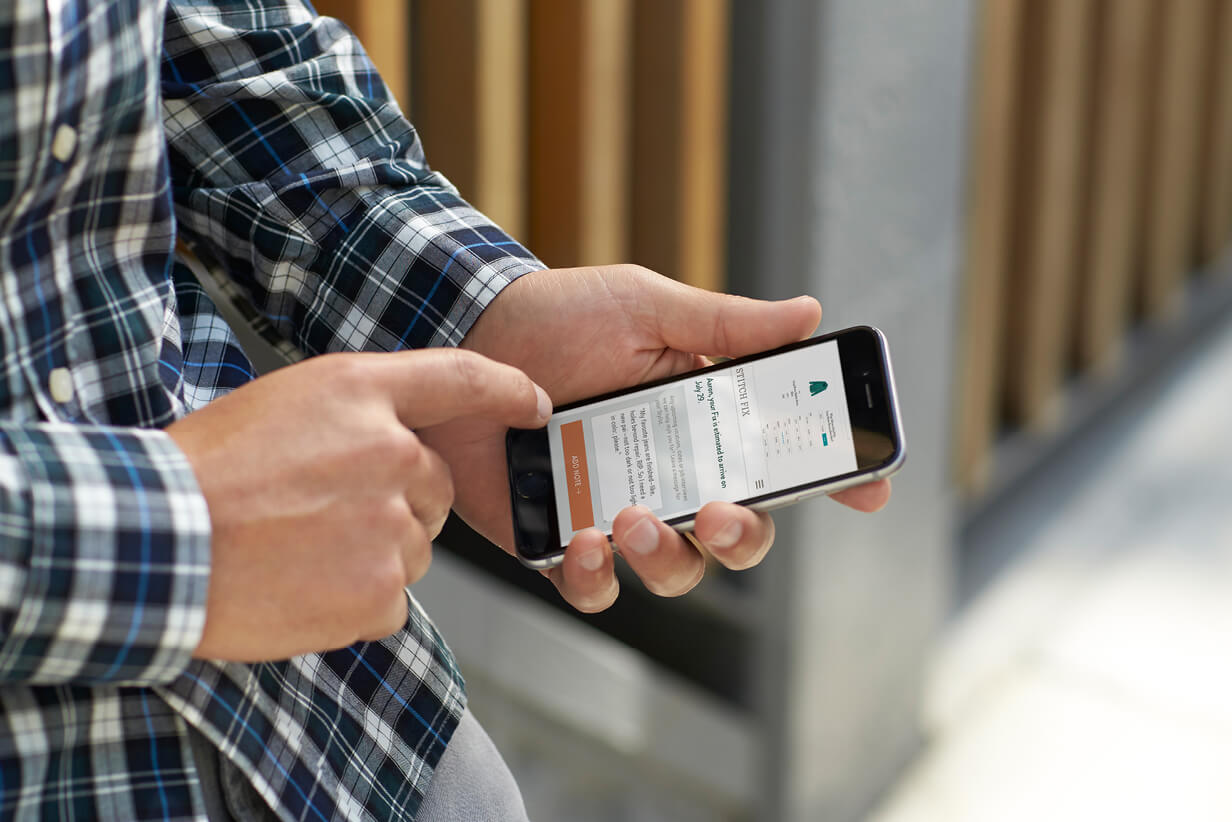 HOW TO LEAVE FIX FEEDBACK
There are three places where you can (and should) leave Fix feedback before and after your Fix arrives at your doorstep.
1. In Your Style Profile
When you fill out your Style Profile, we leave a section at the end for you to free write anything and everything you think your Stylist should know. Only like to wear shades of blue? Tell us there.

Other things to mention here:
Where you get most of your clothes

Any fit quirks you think we should know (like, you always like to cuff your jeans)

Your color preferences

What you need the most of (ie: shirts, jeans, etc)
When to update it: Update this section at least every 2-3 Fixes. Better yet, update it before every Fix.
2. In Your Fix Note
Now let's get Fix specific. Before every delivery is sent out, you can tell us exactly what you want from head to toe or just give us the one item you need to see in your Fix. It's always helpful to see where your head and your closet is.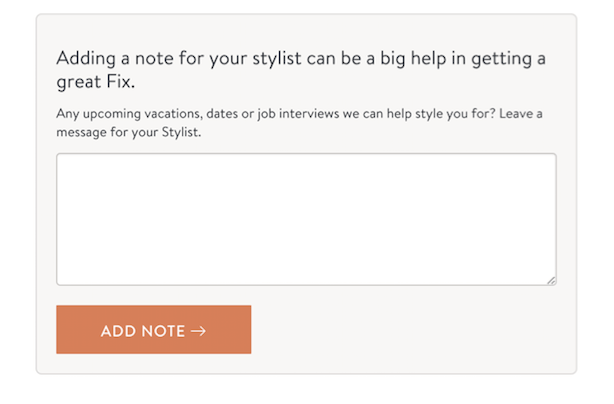 Other things to mention here:
What you liked and didn't like in your last Fix

The 1 or 5 pieces that your closet really needs

What occasion you need to get dressed for
When to update it: Update your Fix Note before every Fix. It's either a little or a lot, but anything you share is helpful to us.
3. In the Checkout Process
The checkout process is the time to give it to us straight and tell us how we did. Tell us exactly what you did and didn't like–don't spare the details. We can't read your mind (but wish we could), so tell us the fit issues you had with that shirt or what you really thought of those jeans we sent. Be constructive, be honest and share everything.
For Each Item, Feedback Goes Here:
Overall Feedback Goes Here: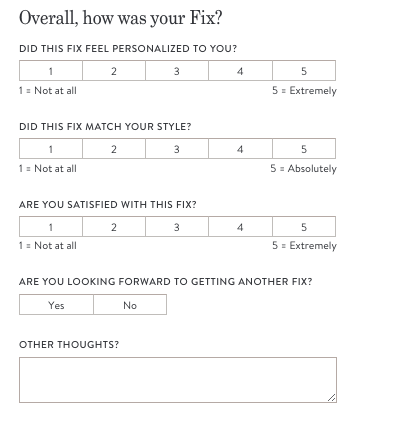 WHAT TO INCLUDE IN YOUR FIX FEEDBACK
Fill out all of the selections for each item you receive! Those jeans too pricey? Let us know! The more we know about your preferences, the better we get to know you!

Comment on color! If you're just not a fan of the color or print of a certain item, tell us in the comments.

In your overall Fix feedback, tell us how you liked this Fix. Did you feel like it just wasn't

you?

Get specific and tell us how—was it the colors that were included or was the fit not the greatest. Give us the scoop!
When to update it: Every time you check out your Fix. The more we know, the better your Fixes get over time.
Ready to put your skills to the test? Take your style quiz and schedule a Fix. Five styles picked just for you will come straight to your door. Or, instantly buy items that catch your eye using Stitch Fix Freestyle™. Keep what you love and send back the rest. At check out, let your expert stylist know your thoughts on each piece. Shipping and returns are always free for even more peace of mind.