Capsule wardrobes are making it easier for ladies (& men) to get dressed everywhere! Capsule wardrobes are made up of timeless pieces that are the foundation or building blocks of any outfit—think a perfect pair of jeans or a trenchcoat. Still wondering how to accessorize a capsule wardrobe?
Here are three pointers to accessorize a capsule wardrobe: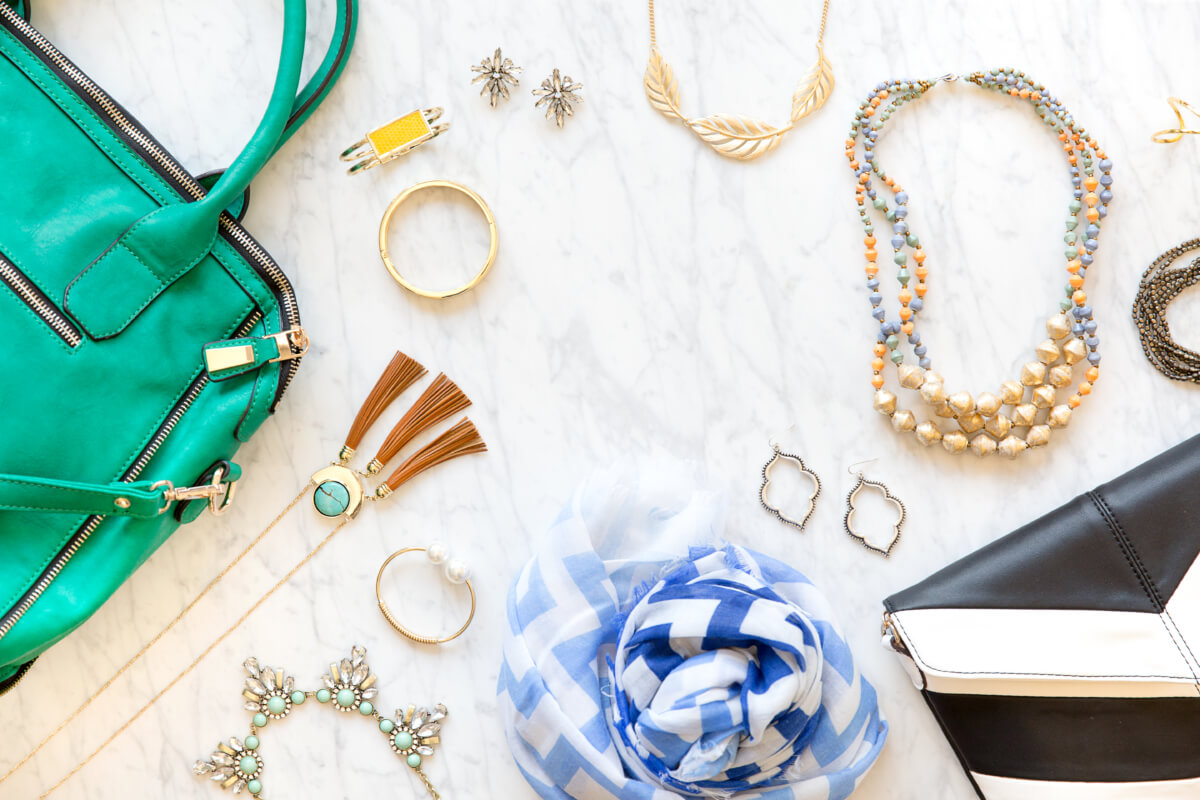 1. Pick a Metal (or Multiple!) 
When it comes to accessorizing your capsule wardrobe, jewelry should be your first stop. Just like you built up your capsule wardrobe, build up your jewelry chest with pieces in your favorite metal (think gold, silver & platinum).
Here are the perfect jewelry pieces to add to your capsule wardrobe: 
Simple stud earrings, think a faux (or real) diamond or round metal beads.
16 or 18′ inch necklace in gold or silver.
One sleek bangle.
A classic watch with a leather or metal band.
2. Find the Perfect Handbag
You have a closet full of essentials, but what about the essentials that you have to carry on the daily? Add a perfect handbag (or two) to your closet.
Here are the best handbags to add to your capsule wardrobe: 
One good place to start is adding a large, versatile tote for the workweek.
A small, crossbody can get you through the weekend (or a night out).
If you're feeling a little more daring, try a handbag in a bright color—like cobalt blue, mustard yellow or even, fuschia!
3. Add a Belt to the Collection 
Take a style cue from the boys and pick up a black and brown belt to go with all of your capsule wardrobe outfits.
Here are the best belts to add to your capsule wardrobe: 
A thin, black belt to wear with an all-black outfit.
A 1-1.5″ thick brown leather belt to wear with skinny jeans and a striped shirt.
Scarves can be belts too! Take a silky thin scarf and thread it through your belt loops of your favorite jeans!
When it comes to accessorizing a capsule wardrobe, look for accessories that either add color to your capsule wardrobe or blend in seamlessly!
—Elizabeth
Now that you've got the scoop on accessories for your capsule wardrobe, are you ready to build out your options? Take your style quiz, order a Fix and ask your stylist for a stellar handbag, belt or jewelry in your favorite metal (or metals).. You're never required to schedule more than one Fix at a time and shipping and returns are always free.