Read on to see what style expert Gisella B. is most excited to see in our style arsenal this month.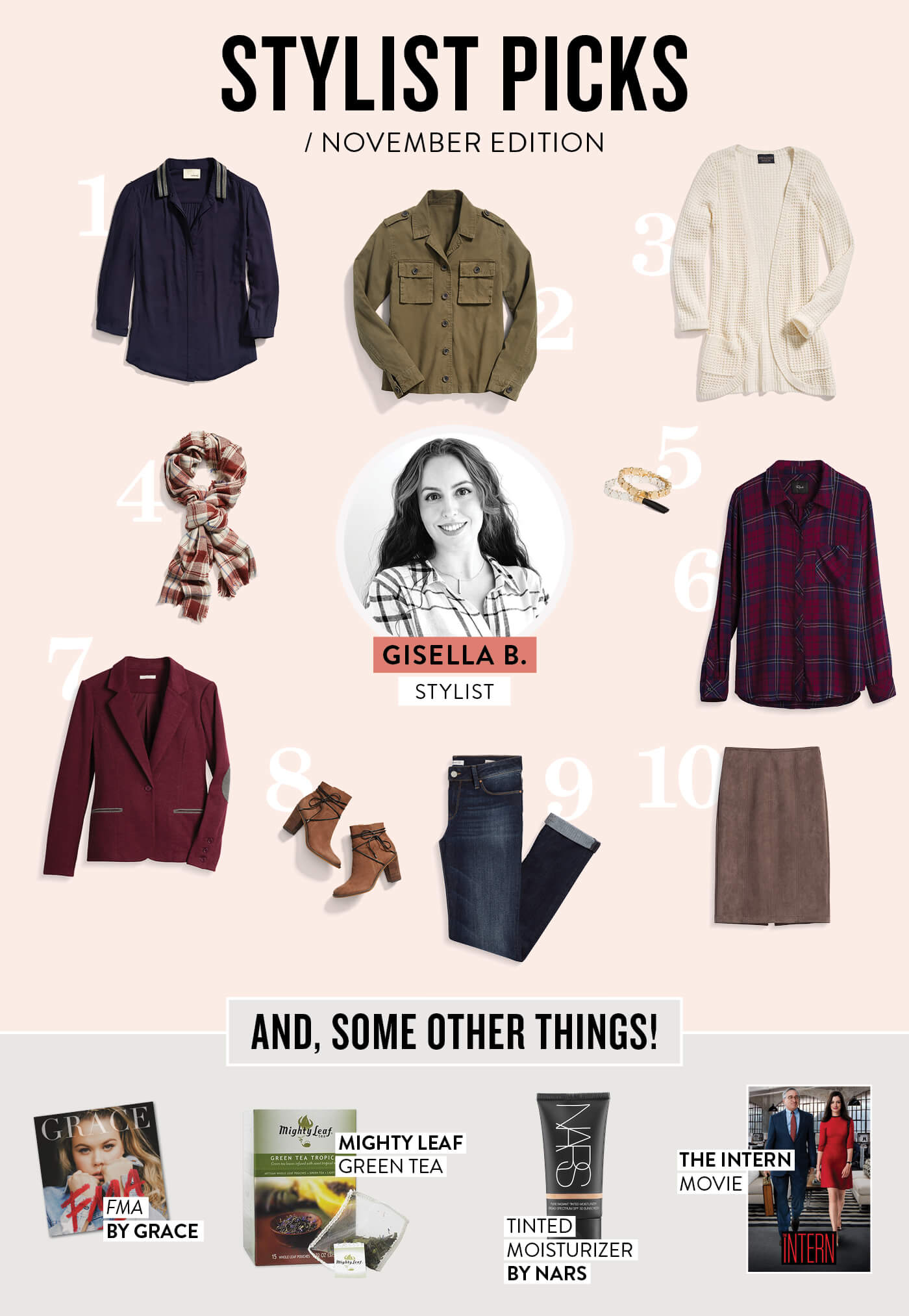 Distressed Boyfriend Jeans: Distressing paired with a relaxed fit adds effortless appeal to your look.
Oversized Cardigan

: I'm into tossing one over a dress with tights to play with length and proportion.

Soft V-neck Knit:

It's the perfect, every day (and comfy) go-to top.

Ankle Booties:

These are my absolute staple shoe. I'm wearing them with everything this season.

Boyfriend Blazer: I love the loose fit of a boyfriend blazer. Plus, it gives me room to layer a sweater underneath.
Natural Stone Bracelet:

This is where my bohemian side comes out. I love what a natural accent can do to change a look.

Textured Scarf:

It's time to break out your scarf collection! Chunky knit scarves add texture to any outfit.

Plaid: I might be more bohemian and edgy than preppy, but this classic print is a must-have for my closet!
Fitted midi skirt: Whether it hits an inch past your knees or five inches, I die for this look. A classic yet chic look for business or out & about!
Olive Cargo Jacket: Can't you tell that I love layering? An olive green cargo is a classic for wearing with a basic tee and denim or throwing on over a casual dress.
More Things Gisella's Crushing On:
This album instantly puts me in a good mood with her upbeat songs & Amy Winehouse-influenced vibes! It's the perfect way to start my day. 
Green Tea by Mighty Leaf
Green tea keeps me energized throughout the day.I've been drinking it for years but I recently found this amazing blend—it's the best!
NARS Pure Radiant Tinted Moisturizer
I don't wear much makeup—but when I do I reach  for Nars Tinted Moisturizer. It adds an extra-special glow to my complexion.
I just recently watched this movie and fell in love! It's a feel-good film and perfect to pop in at the end of a long day.