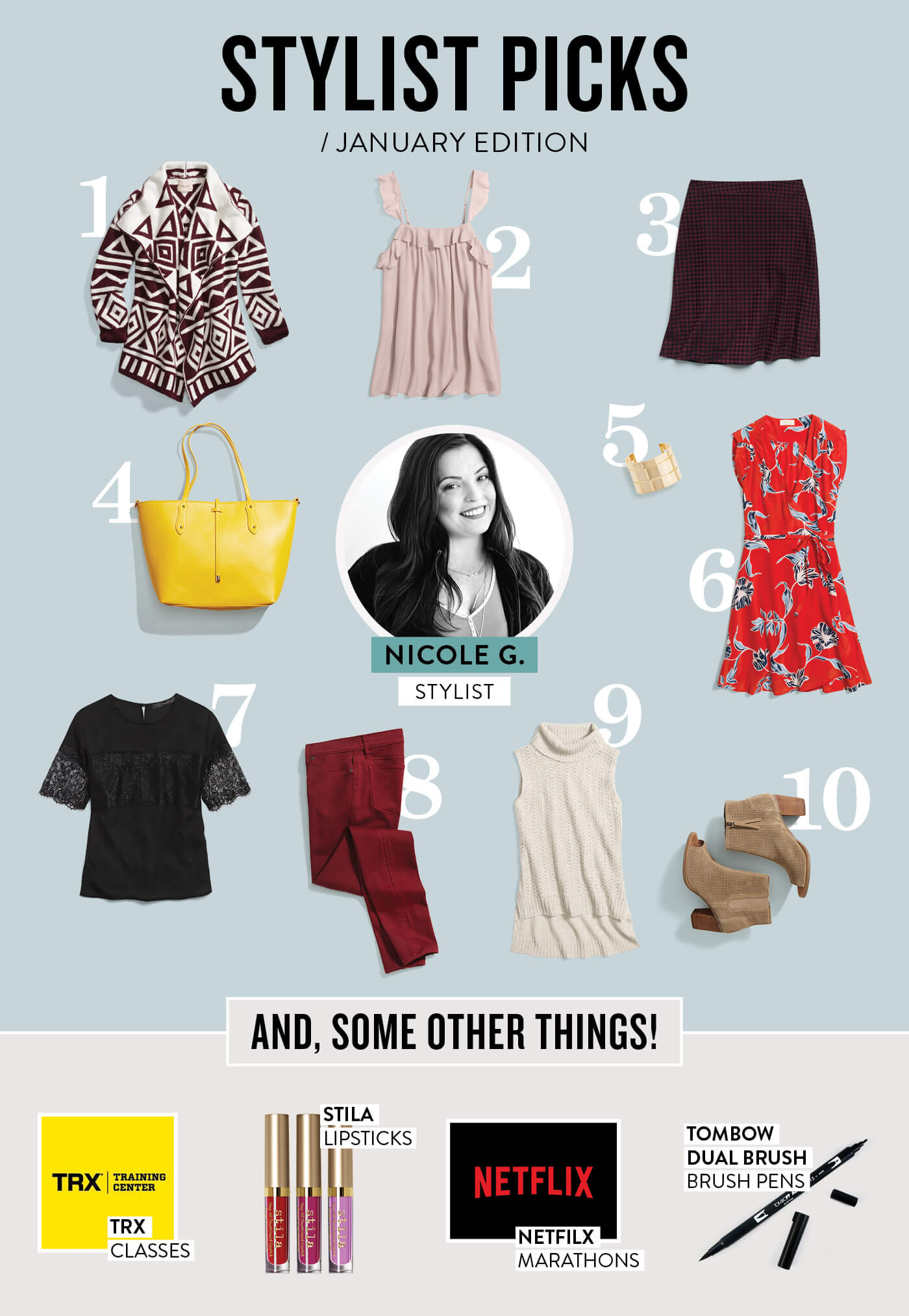 Printed Cardigans: Whenever I spot a printed cardigan, I can't help myself! They're awesome for layering over solid dresses or with a T-shirt for an easy casual look.
Feminine Blouses: I love to mix in light, airy silk blouses paired with structured blazers whenever I can.
Patterned Skirts: For work or play, a high-waisted skirt is my go-to. 

I buy shorter tops so I don't have to worry about tucking them in. 

Bright Totes: I love a bold cobalt or rich mustard handbag for a daily dose of color.
Bangles: I keep a decorative bowl full of bangles on my dresser. Whether you've got thicker styles or some colorful mixes of gemstones, an arm party makes any outfit look put together.
Wrap Dresses: They're incredibly flattering and I love that they can be dressed up for business casual with heels and a blazer or dressed down for chilly fall weekends with tights and brown boots.
Lace Detailed Tops: Lace is a timeless, romantic option that will never go out of style—it can instantly dress up casual pieces like a pair of light wash denim.
Colored Denim: Burgundy or emerald denim can brighten your winter look. I wear mine with classic blouses or longer sweaters for an unexpected pop of color.
Fitted Sweaters: When it's too chilly to wear a silk blouse, I wear a light, fitted sweater instead. For extra personality, I layer on a printed scarf or other accessories.
Stacked Heels: Stacked heels make it easy to stay comfortable for many hours—the thicker heel gives more support and they're on-trend for the season.
More Things That Nicole's Crushing On
Not only are our Stylists fashion experts, they're multifaceted women (and men) with a million interests. See four things Nicole's obsessed with now—from TRX Classes to hand lettering!
TRX Classes: These strength training exercises help me stay strong mentally and physically. I take them three days a week!
Stila Lipsticks: They stay put all day and don't dry out your lips. My favorite shades are Baci and Patina.
Netflix Marathons: I love British comedies like Cuckoo or catching up on older episodes of The League.
Hand Lettering: I started calligraphy about a year ago for some relaxation. After work, I sit down, watch TV and start practicing with words I hear on TV. My favorite word to write is elephant—lots of loops!
What are your favorite picks for January? Let your Stylist know in your Fix Note!