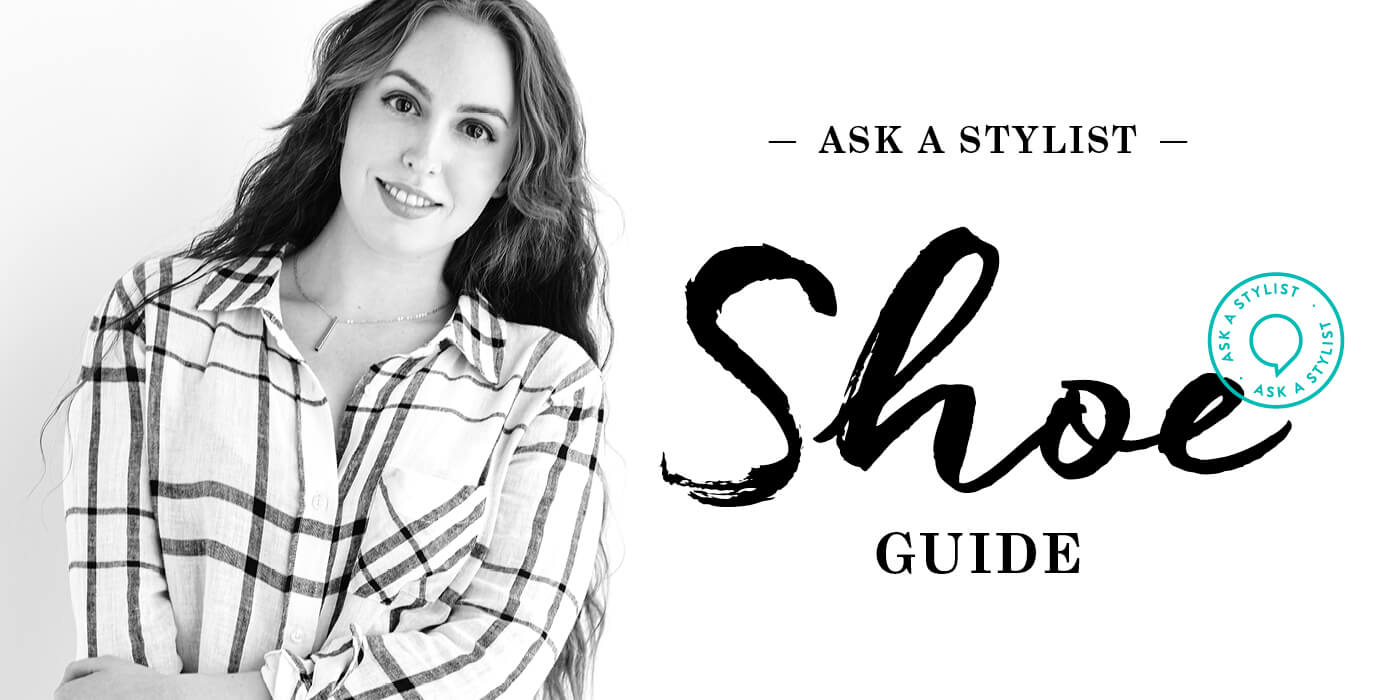 Keep reading to see what other inquisitive ladies are asking our Stylists about footwear style.
What shoes can I wear with boyfriend jeans?
"Boyfriend jeans are all about the baggy look which perfectly sets the stage for a pair of low-top sneakers."—Anne
How do I treat a scuff on a wood heel?
"If you have a light scuff on your wooden heel, gently erase the scuff with an eraser. The scuff should come right off!"—Christina  
Any tips for breaking in new shoes?

"Break in a pair of shoes by doubling-up your socks and taking them for a spin around the house. Before you head out the door for the real test, layer up on band-aids for safety's sake."—Anne
How do I clean white sneakers?
"If you a blemish on your all-white kicks, perform a quick fix with a coat of white nail polish."—Baylee
How old is too old to wear booties?
"Age is nothing but a number! If you're completely new to ankle boots, start off with a pair of booties that fit under your favorite straight leg jeans. A pair with minimal embellishments and in a solid, neutral color will pair with nearly everything in your closet." —Jennifer
What do I wear with fringe booties?
"The key to making your booties work-appropriate is to pair them with another piece that has the same boho vibe as your boots—like a tribal print pencil skirt or chunky cardigan." —Sheri
What shoes can I wear with leggings?

"Wear a pair of pointed toe flats for a quick trip to the grocery store or for casual Friday at the office. Plus, the pointed toe works to elongate legs!"—Christina
Can I wear nude heels all year?
"Nude or skin-toned shoes are one of the most versatile pair of shoes you could own since they pair well with seasonal hues like springtime pastels or autumnal hues. Another reason why we love them? They create a long, fluid line from the hip to the toe making your leg look miles long."—Sheri  
What heels do I wear with wide leg jeans?
"Dial up the '70s vibe in the warmer months by styling a peep-toe mule with your wide leg jeans. During the winter, style a wood block-heeled bootie with your wide leg jeans and a thick sweater."—Jami
What are the best boots for short legs? 
"Ankle boots show off the length of your leg line and they are perfect for almost every occasion! Bonus tip: Lengthen your legs even more by wearing a monotone bottom half—think black jeans with black ankle boots." — Jennifer D. & Baylee
Have any lingering fashion queries? Head to Ask A Stylist to have them answered!