From cozy coats to toasty knits, see the pieces they can't wait to send you!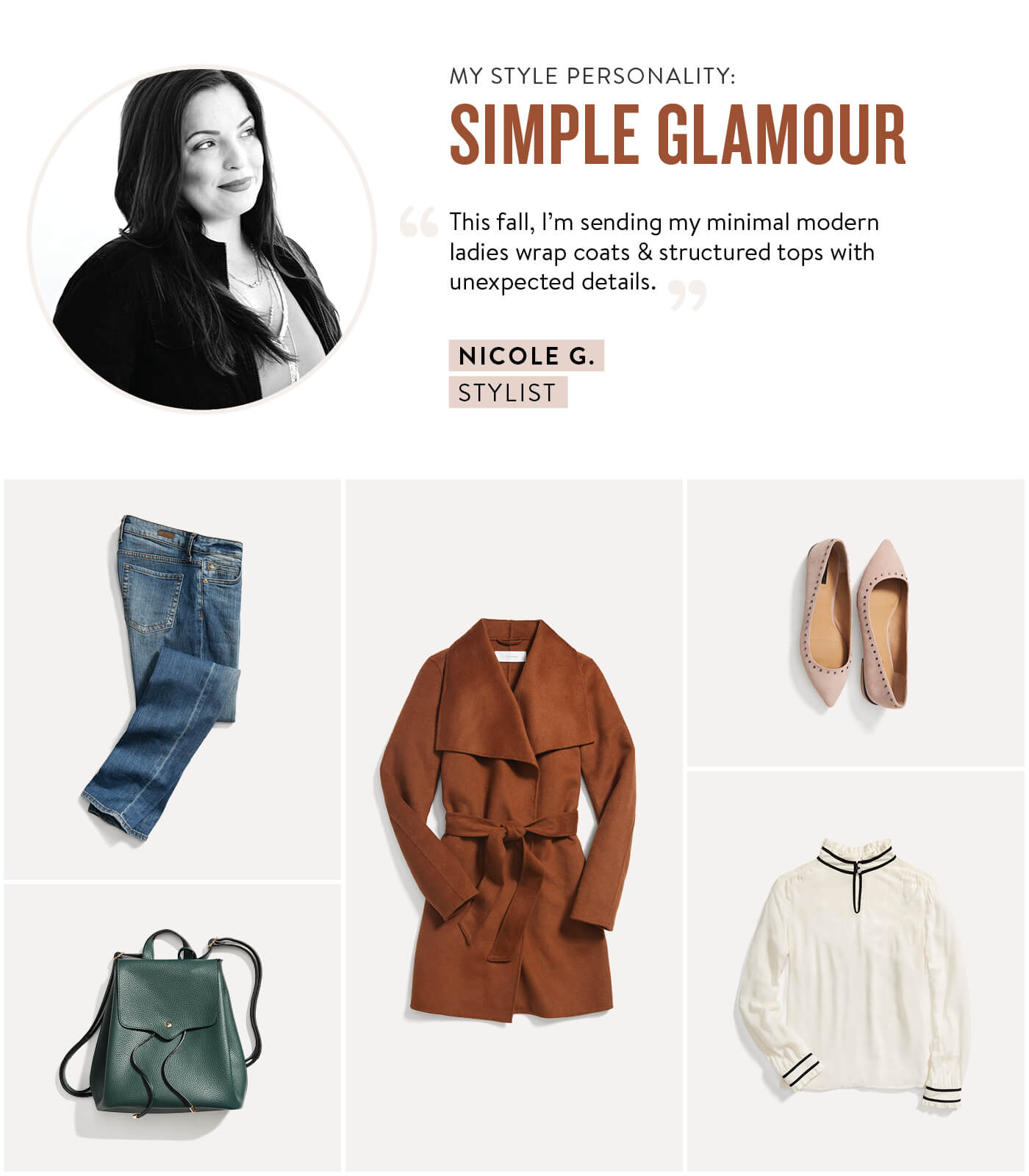 "I love timeless classics like wraps and solid-color blouses," says Stylist Nicole G. "They mix and match well with glam accents that I like to wear, like bold statement necklaces." For a polished-meets-edgy vibe, Nicole suggests layering a chic wrap coat over your favorite pair of distressed skinnies.
Do you gravitate towards simple glamour? If so, you can't stop wearing:
Silky, romantic blouses

Pointed toe or ballet flats

Structured leather bags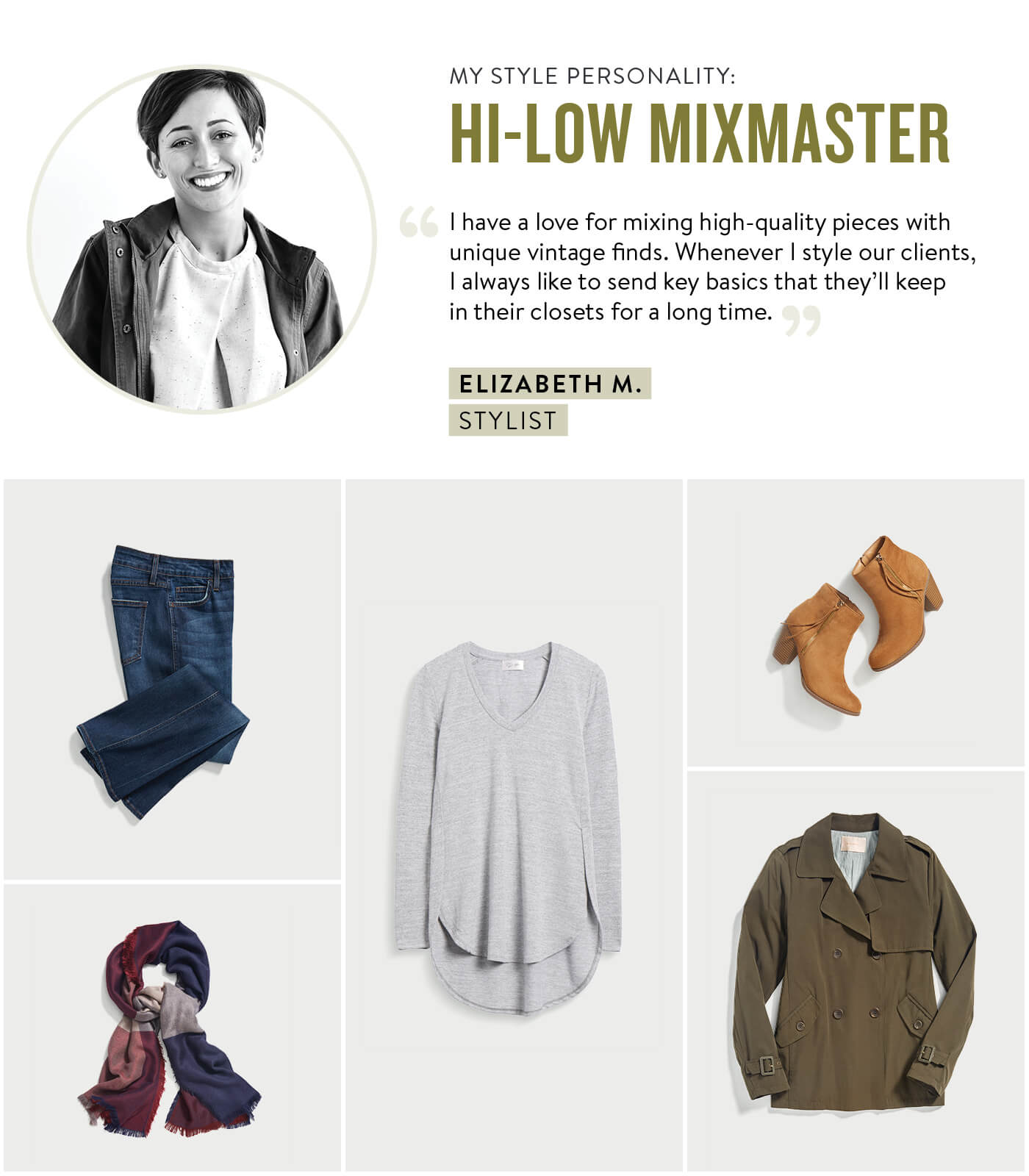 Just because our Stylists have the (seriously) fun job of reinvigorating your wardrobe, they also love finding new uses for closet classics! What's the one piece Stylist Elizabeth M.'s had in her closet for many years? "I can't go without a green cargo jacket I can wear with dresses for date nights, or even go camping. It always blends in."
Are you a hi-low mixmaster? If so, you can't stop wearing:
Casual joggers

Versatile cargo jackets

Basic tees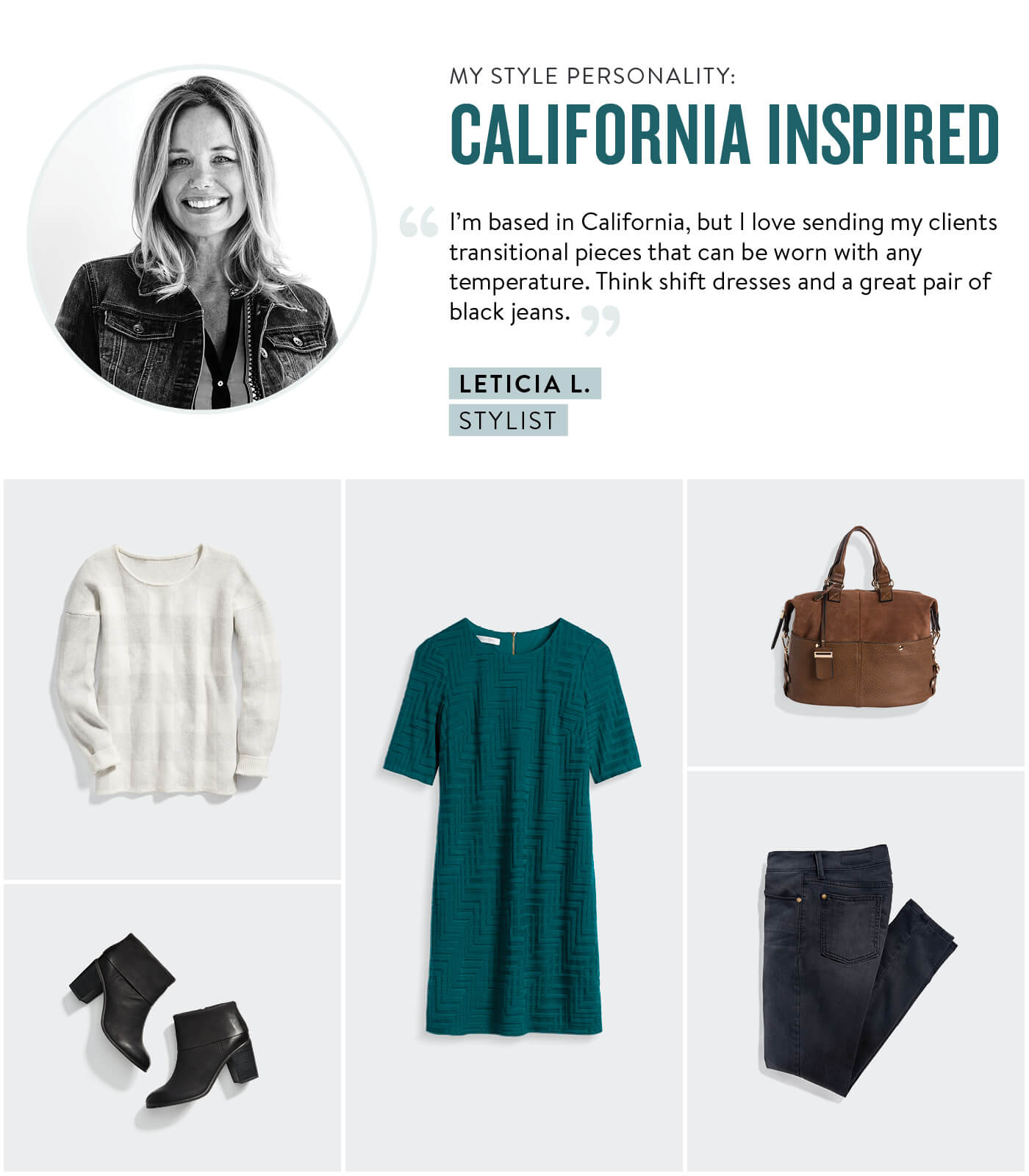 Stylist Leticia L. has nailed down her core closet staples, and mixes it up from season to season with the appropriate accessories: "I'm drawn to key transitional pieces in my wardrobe that can serve everywhere from work to night-out looks." Leticia layers up for fall with slouchy sweaters and ankle booties to combat the California chill.
Is your style California-inspired? If so, you can't stop wearing:
1. Cozy, slouchy sweaters
2. Comfy shift dresses
3. Long, pendant necklaces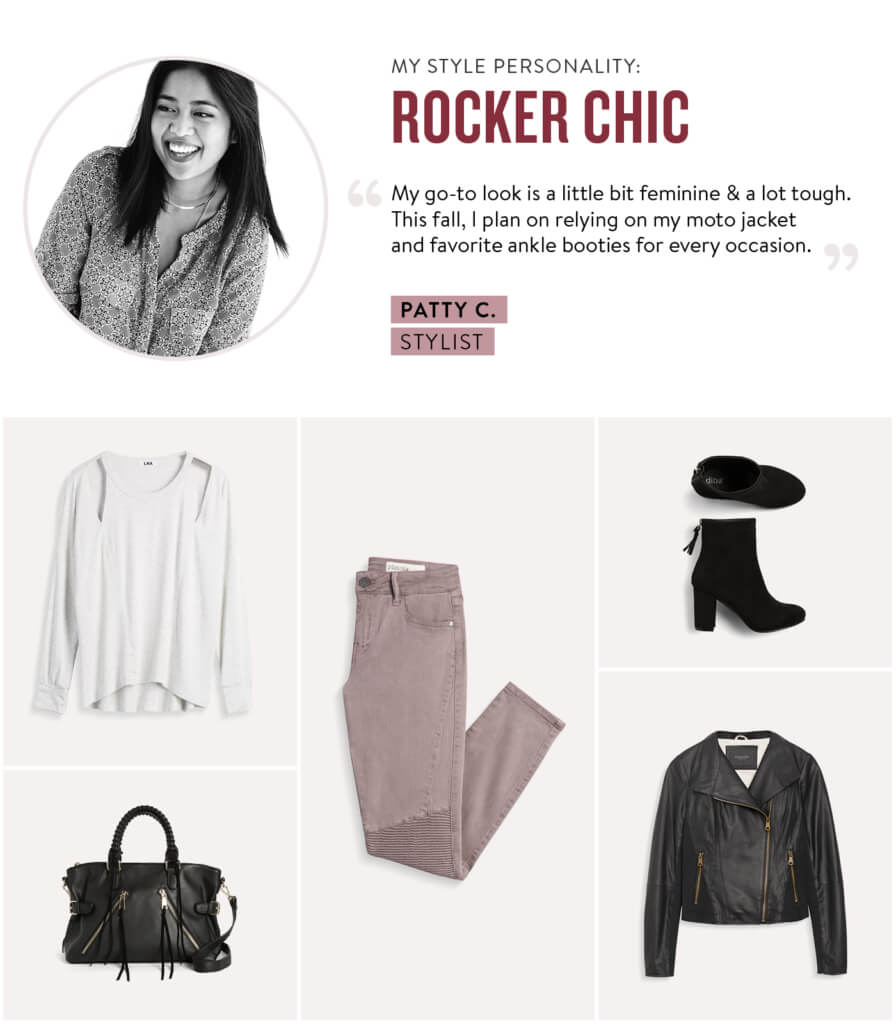 When it comes to looking tough, Stylist Patty C. likes to add a feminine twist to her outfit. "I love juxtaposing tough leather jackets with soft pastels," Patty muses. "Ankle booties are always a style staple for me, so I'll be reaching for a suede or velvet pair this fall."
Are you Rocker Chic? If so, you can't stop, won't stop wearing:
Edgy fabrics & details like leather and zipper accents

Skin-tight jeans

Black ankle booties (all day, everyday)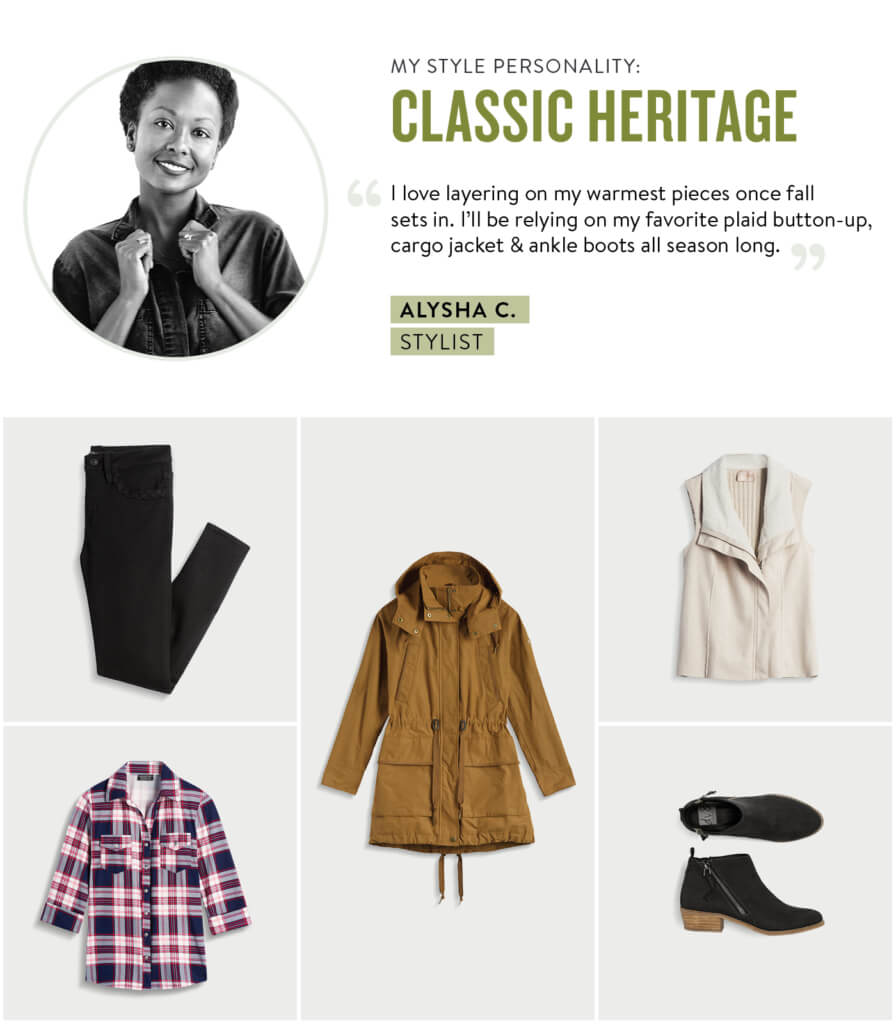 Alysha's go-to look is making us want to sit in front of a fireplace—stat. "This fall, I'm reaching for a classic plaid button-up and a cargo jacket. It's the perfect grab-and-go outfit for chilly mornings. says Alysha. "I'll also be slipping into black jeans everyday for that effortless vibe."
Are you Classic Heritage? If so, you're totally obsessed with:
Patterns like plaid and houndstooth

Structured jackets & outerwear

Cozy layers like knit sweaters and vests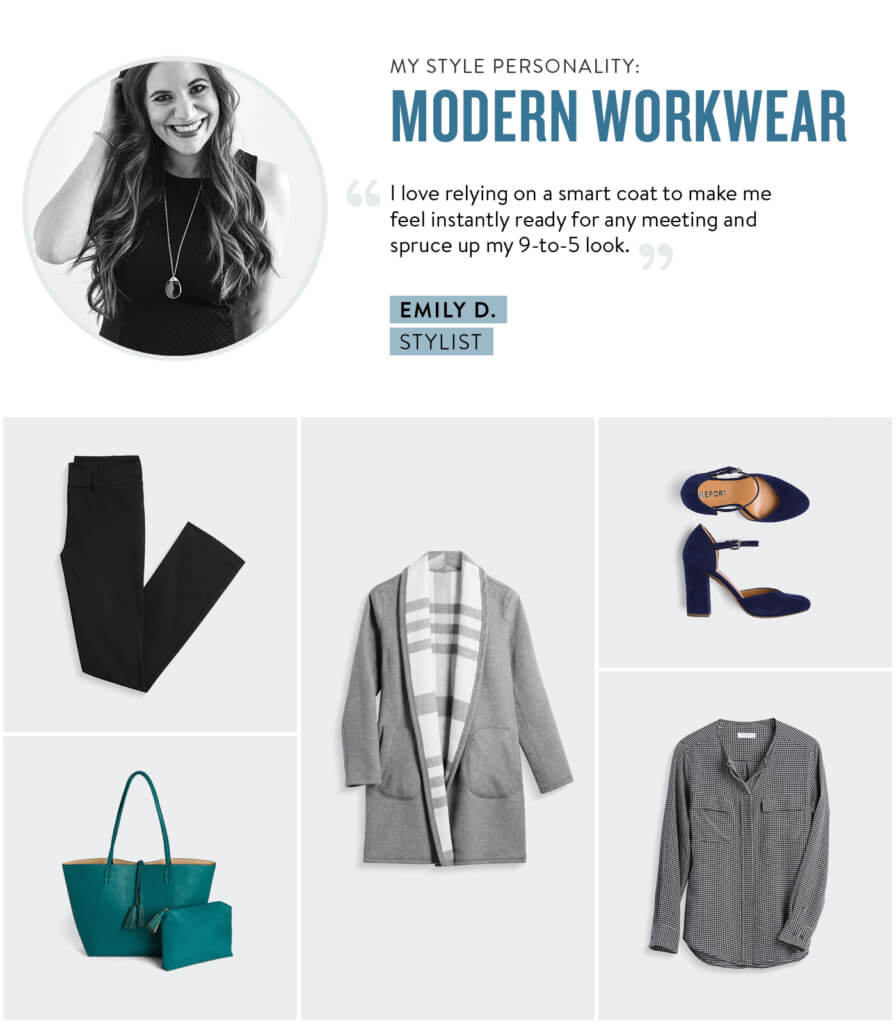 What happens when you ask a Stylist how they dress 9-to-5? This. "For my work look, I always reach for a tailored coat. Then, I pair super-flattering bootcut slacks with a silk blouse—it's so classic!" She continues, "This season, instead of a black tote, I'll be carrying my essentials in something vibrant—like teal!"
Are you into Modern Workwear? If so, you'll can't get enough of:
Simple, chic heels

Subtly patterned tops & silk blouses

Leather tote bags with minimal accents
Are any of these your signature style? Let us know! Update your Style Profile and tell your Stylist which style personality is most like you.