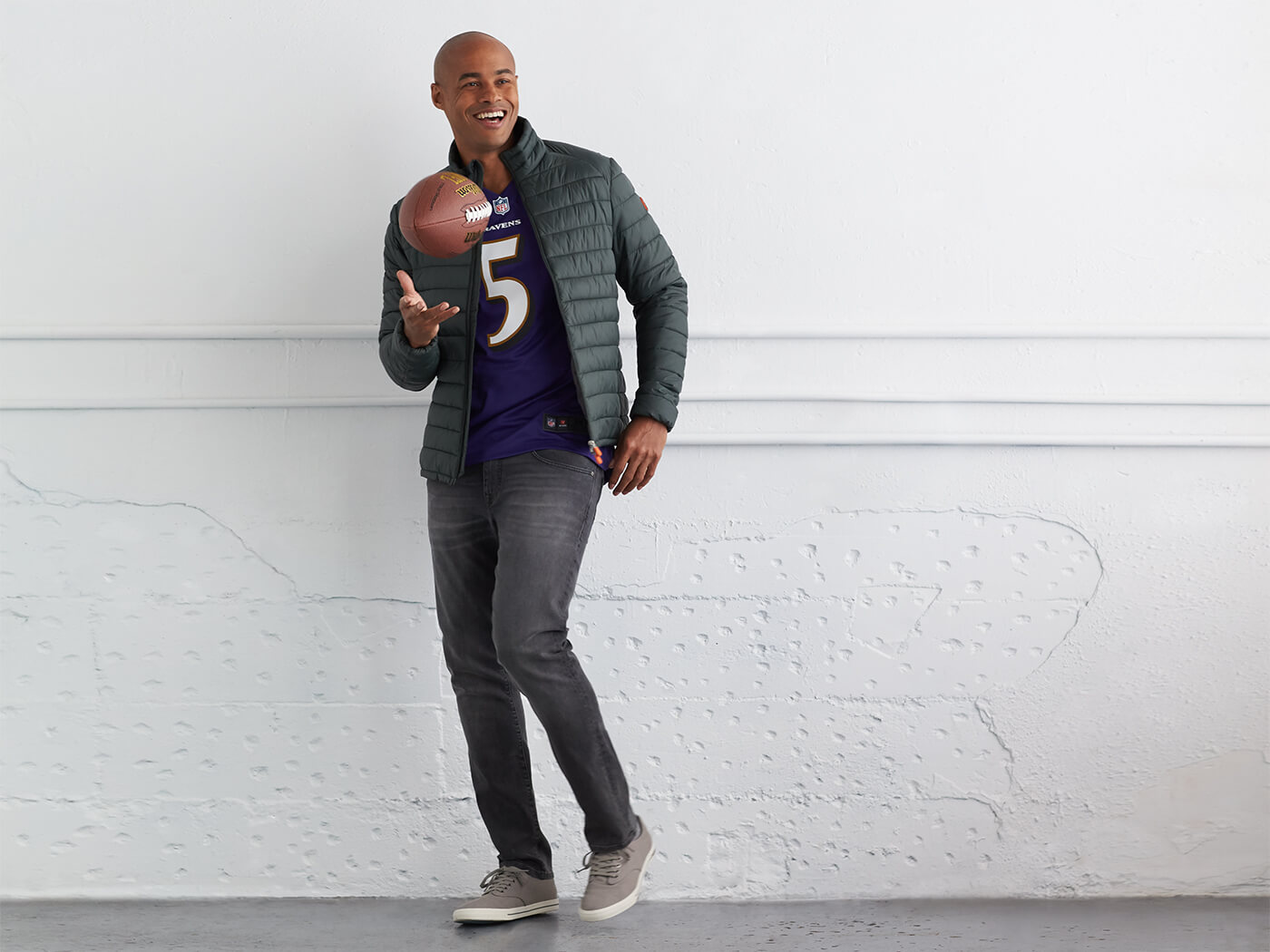 Keep reading for three ways to color coordinate your outfit with a football jersey.
Quick Dos & Don'ts
1. Avoid The Tuck
This should go without saying, but we're bringing it up anyway: Whatever you do, never tuck your jersey in. There's no wiggle room on this one. It's an instant way to be eternally banned from house parties. Stylist Brittany M. warns, "Unless you're playing on the field, just don't."
2. Skip The Skinny
Avoid skinny jeans. The oversized jersey will be a stark contrast to slim legs, giving the illusion you skipped Leg Day at the gym. And we all know that's not true, right?
3. Embrace The Undershirt
"Whether it be a white cotton tee or a fitted long sleeve—don't go bare," Brittany says, especially if your jersey has a deep v-neck. Why? Well, let's just say it'll help your squad focus on the score, not your hairy chest.

How to Pair Classic Colors
Does your jersey come in a classic color combo like red, white and blue? You can't go wrong with keeping the rest of your palette complementary—since the only clashing you want to see is on the field. You can even pull out the jersey's accent colors when building the rest of your outfit. Just make sure you're not too matchy; subtle coordination will get you more points.
A FEW JERSEYS IN THIS CATEGORY:
New England Patriots

Houston Texans

New York Giants

Chicago Bears
Heading to to a happy hour watch party? Round out your look with jeans and an unstructured blazer. Don't be afraid to class up the joint.

How to Pair Tricky Colors
When it comes to tackling tricky, bright shades, like green, orange—or this purple Ravens jersey—just take it easy. Keeping the rest of your outfit neutral is the right play. Dark-wash jeans are always a good call, but you can even try grays or natural shades so your team's colors remain at the center of everything.
A FEW JERSEYS IN THIS CATEGORY:
Baltimore Ravens

Atlanta Falcons

Minnesota Vikings

Indianapolis Colts
If you're heading to a tailgate party, you're going to need two things: beer and layers. A puffer jacket in a neutral hue will be lightweight, with maximum warmth—even if you spill a little on it.

How to Pair New School Colors
Have a color—or accent color—that's a little flashy? Level down the remaining pieces. Your shirt brings the offense on its own, so let it take the limelight. Black and gray go with pretty much everything and work best with bold color combinations.
A FEW JERSEYS IN THIS CATEGORY:
Seattle Seahawks

Tampa Bay Buccaneers

Miami Dolphins

Oakland Raiders
If you're watching the game at home, throw a henley under your jersey for a cool contrast, then finish your outfit with a black jogger pant for sleek comfort. Add canvas shoes for the touchdown.
Need a game outfit—minus the jersey? Take your style quiz, schedule a Fix and an expert stylist will take it from there. You'll receive a curated five piece Fix straight to your doorstep. Or, instantly buy items that catch your eye using Stitch Fix Freestyle™. Try it all on at home, keep what you love and send back the rest. Shipping and returns are always free. It's that easy.