See how to dress for a spring wedding, right here.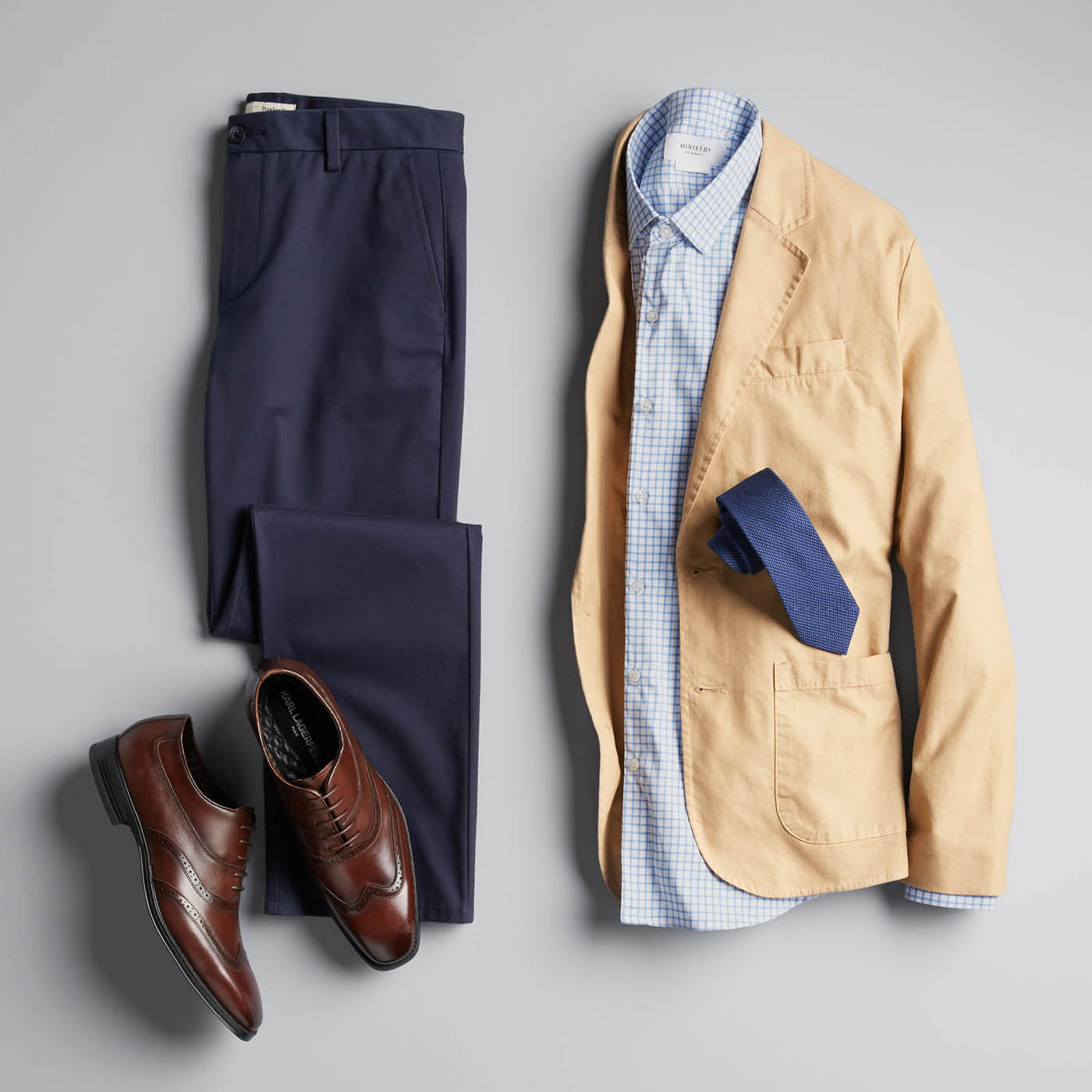 Balance Your Lights & Darks
If you're trying to keep your look relaxed but still in dapper territory, start with complementary colors in the neutral zone. Break up a matching suit with darker, dressier pieces such as a pair of wingtips and crisp chinos offset by a lightly hued blazer. Add a formal dress shirt in a subtle pattern in the same color family as your pants to tie everything together.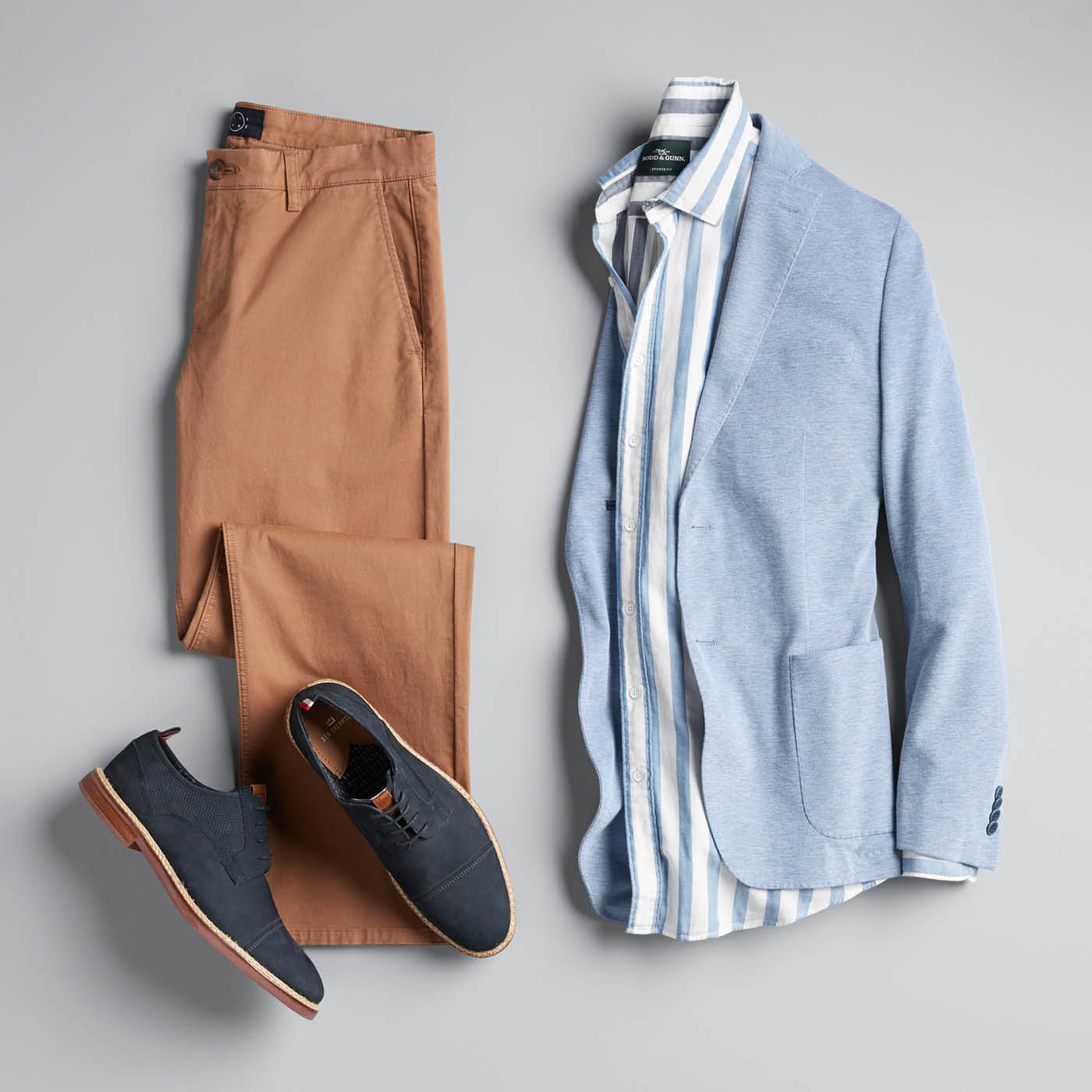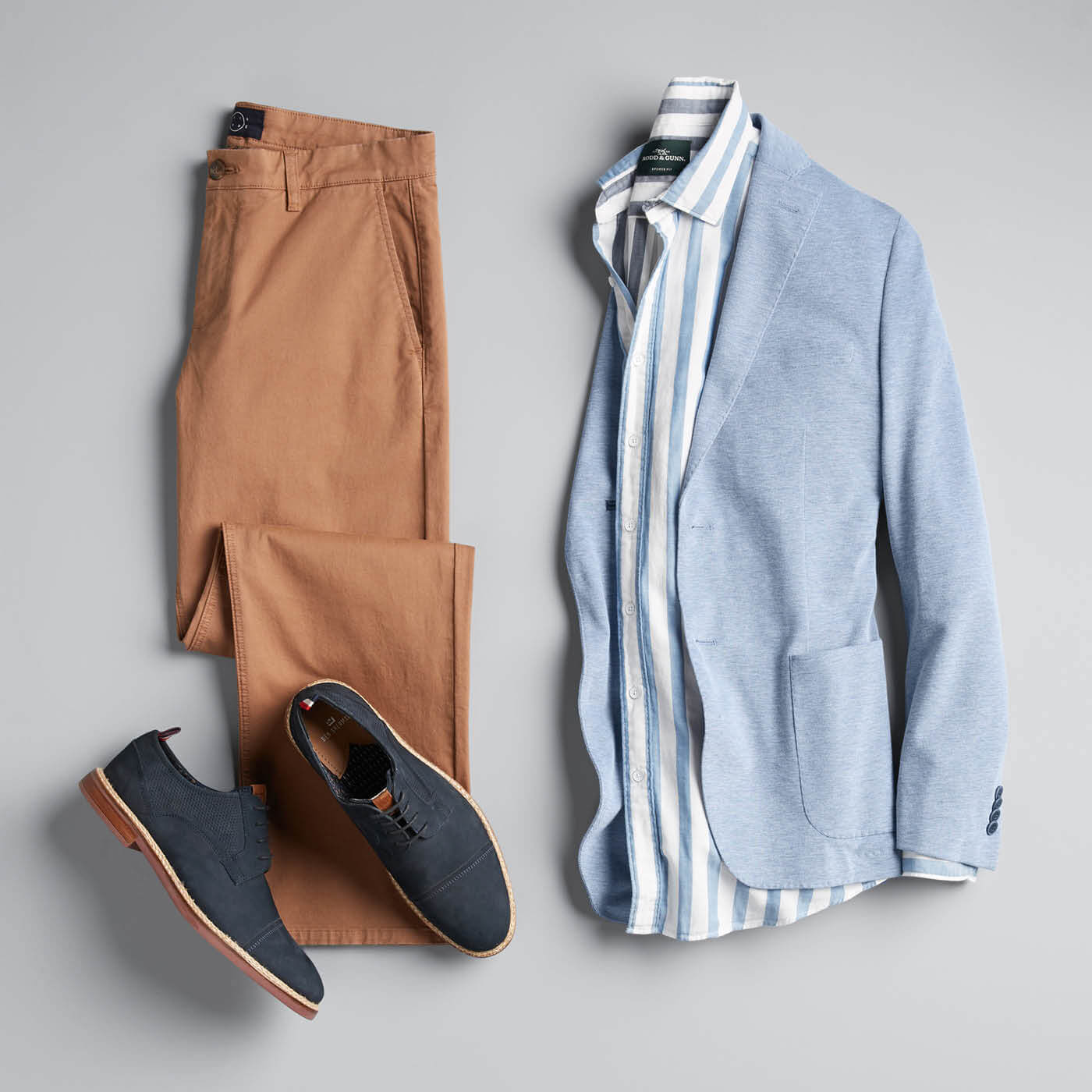 Go With a Lighter Fabric
It's the season to break out the lightweight fabrics. They will save you when it's hot, humid or even a little wet out. A cotton shirt is breathable, and an unstructured blazer (knit, cotton, linen) will take the stiffness out of your look. You'll be able to move comfortably, maybe even dance. If you're cutting a rug, some easy khakis and casual oxfords will make that conga line more appealing.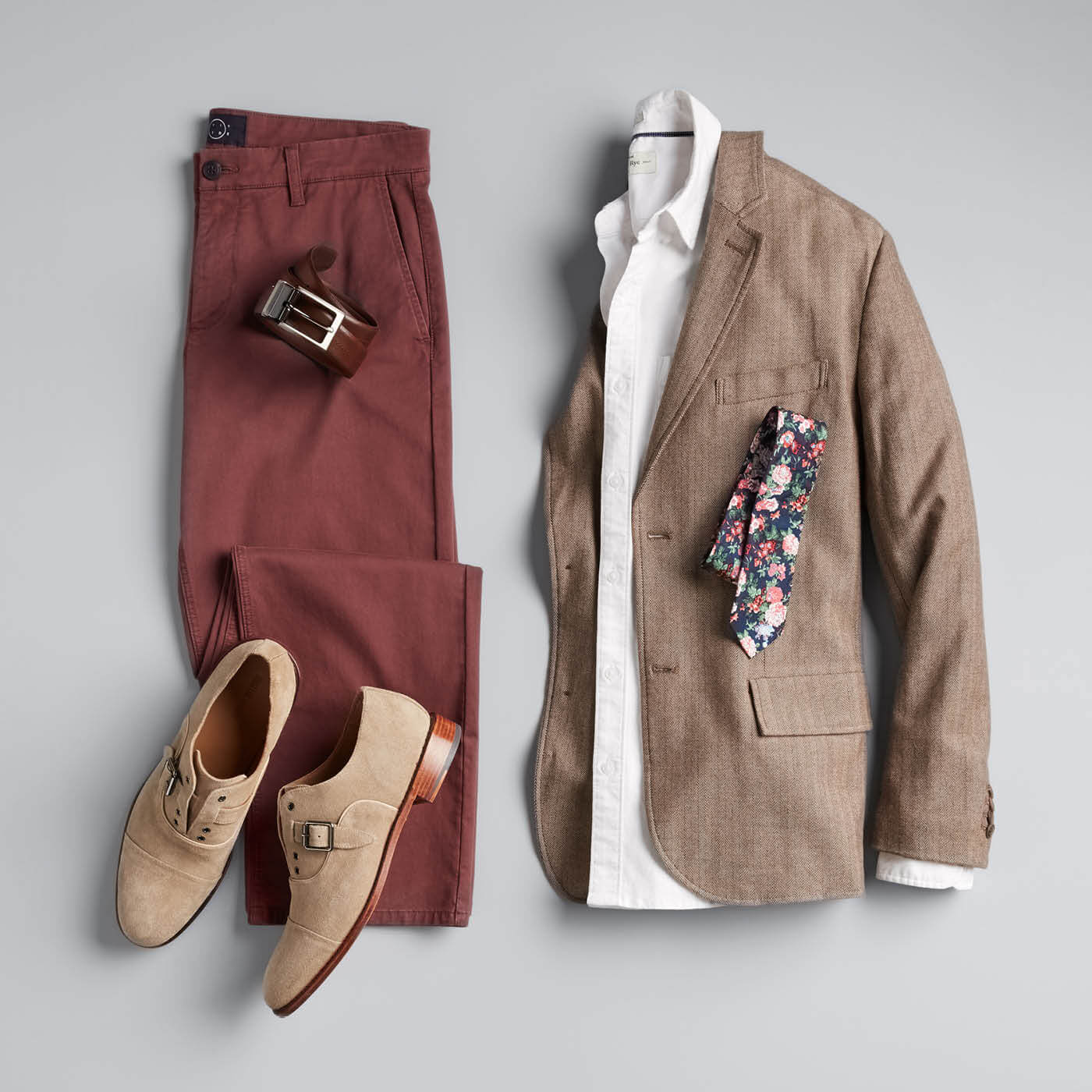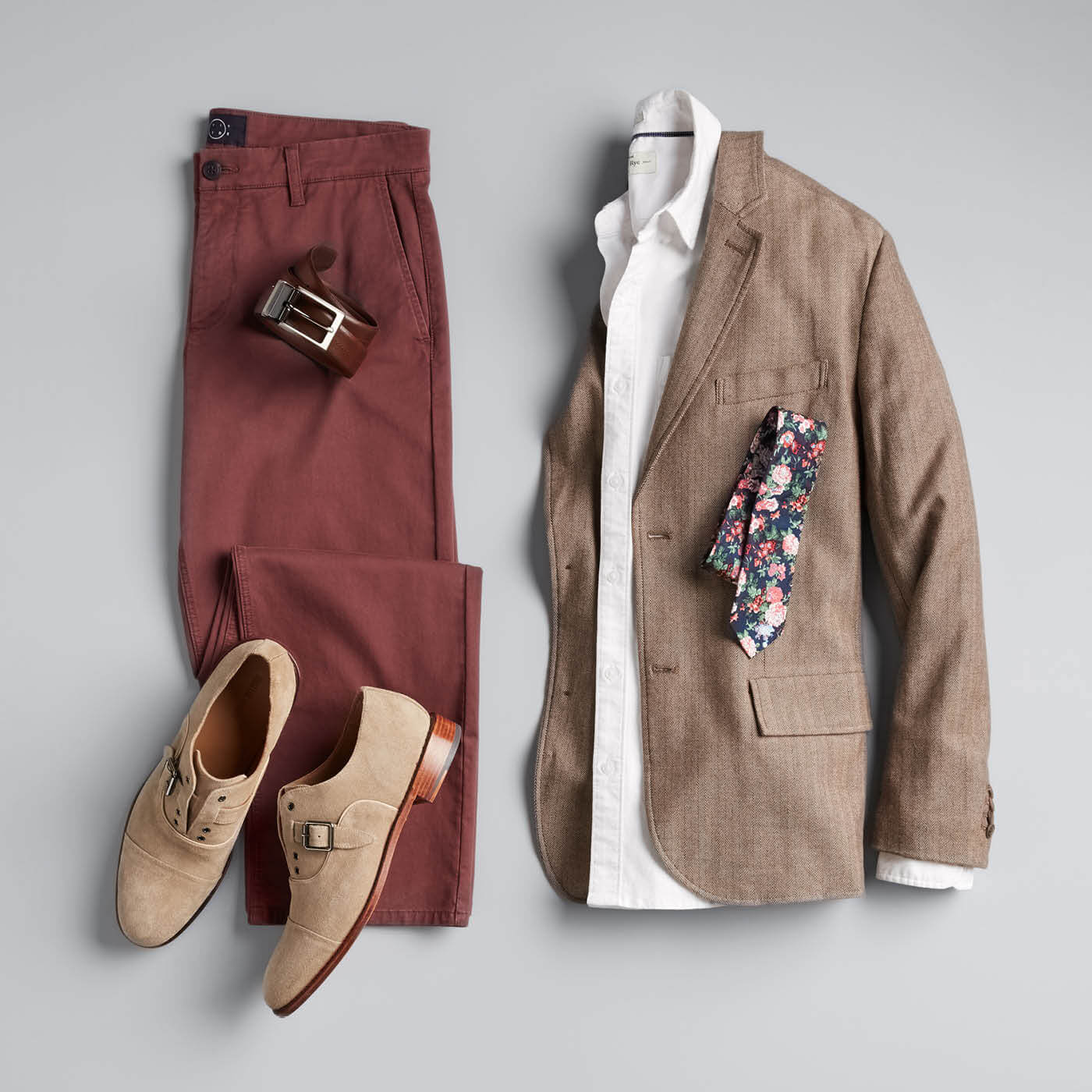 Break Traditions
Classics stick around for a reason: they're durable, stand the test of time and go with everything. And this is where the fun part comes in—because classics pair so easily, you can take a traditional piece and flip it on its head. A timeless piece, such as a herringbone pattern, mixed with colorful pants and a small but mighty printed tie brings the heat (aka, an appropriate amount of festive).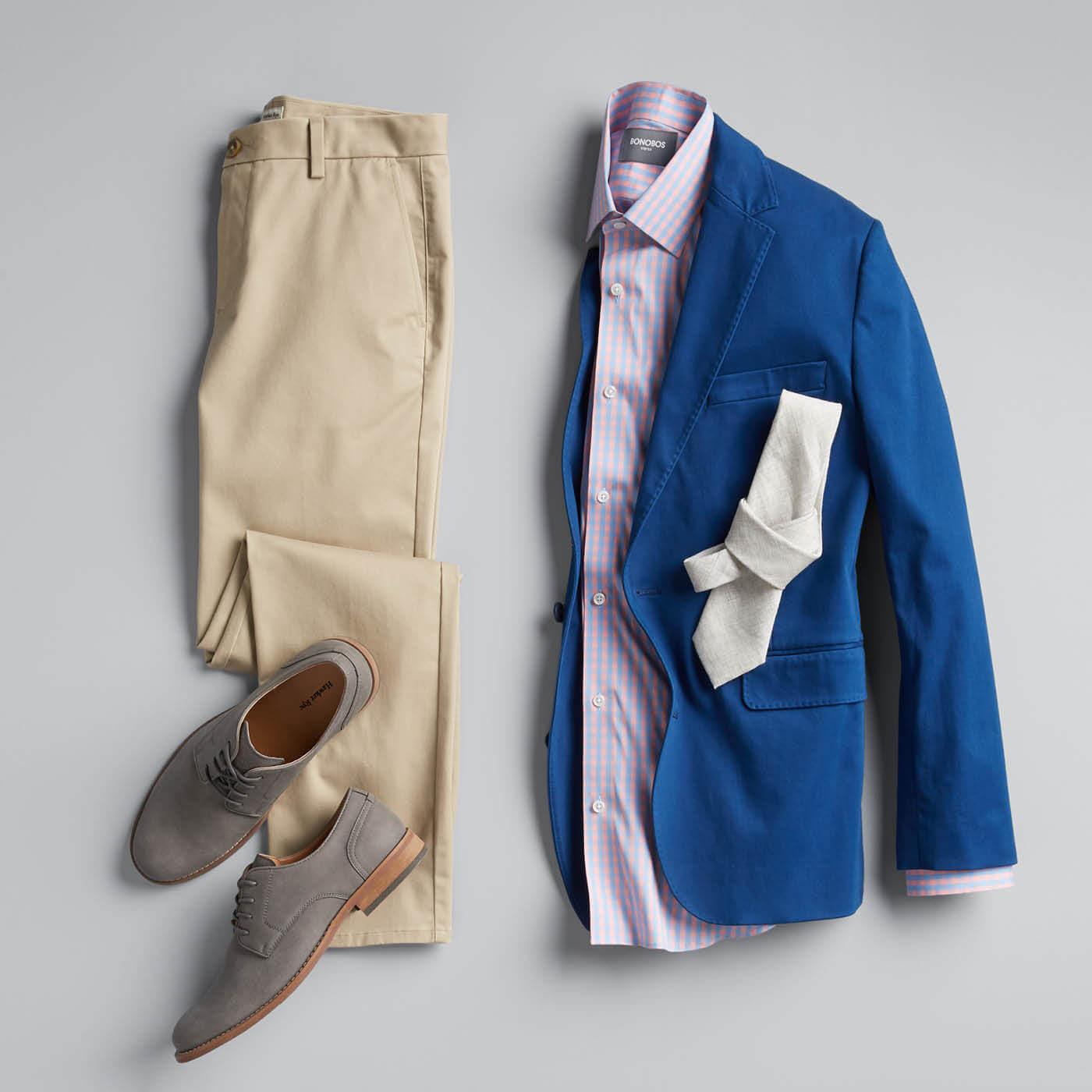 Bring on the Prep
Time warp to varsity days in living color. Start with collegiate staples: bright colors, stripes, classic khakis—and put a modern spin on it. Pick one piece to be star of the show, such as a bright blazer, and then add elements that emphasize it. A pinstripe shirt with at least one of the primary colors in it and neutral items below will make your hero piece pop.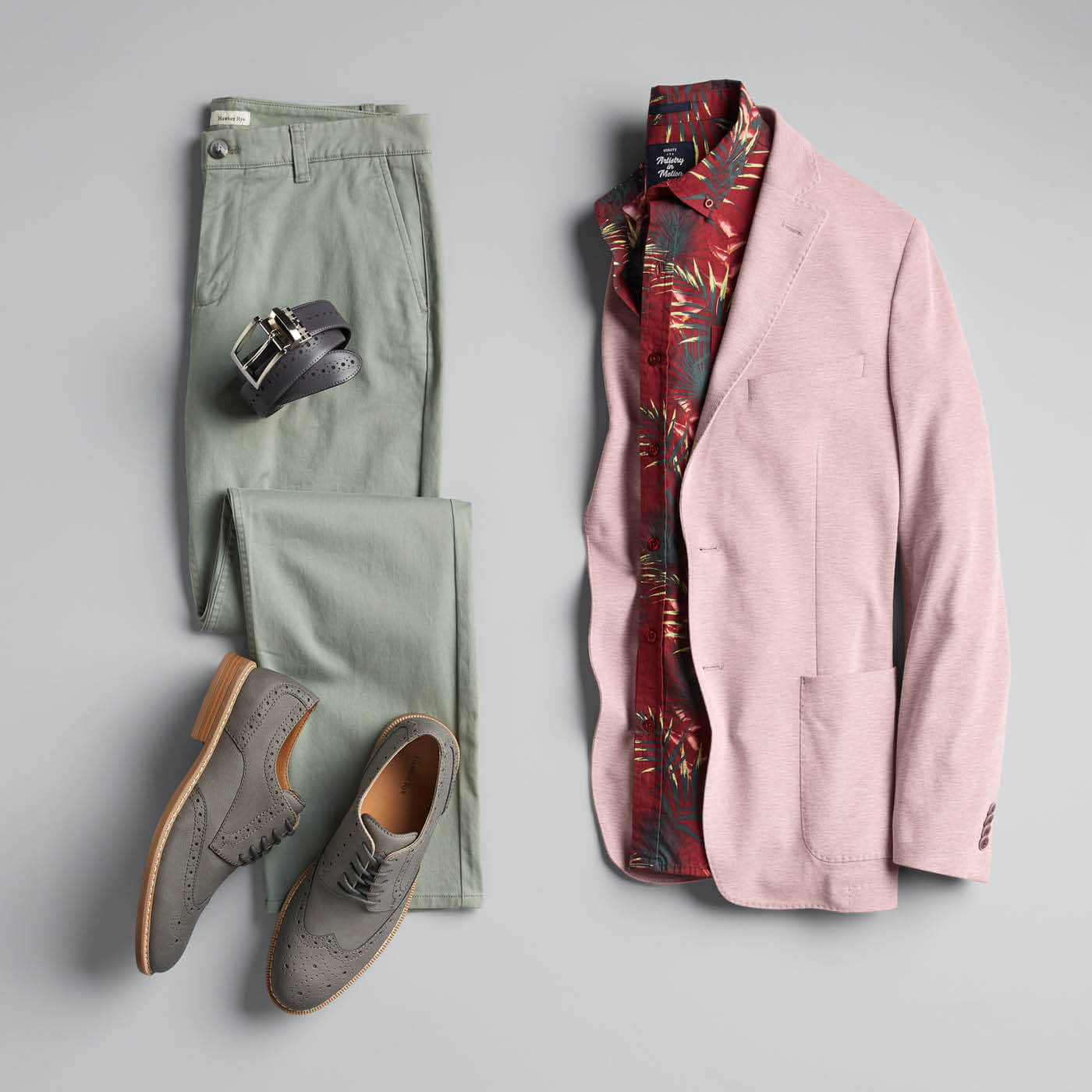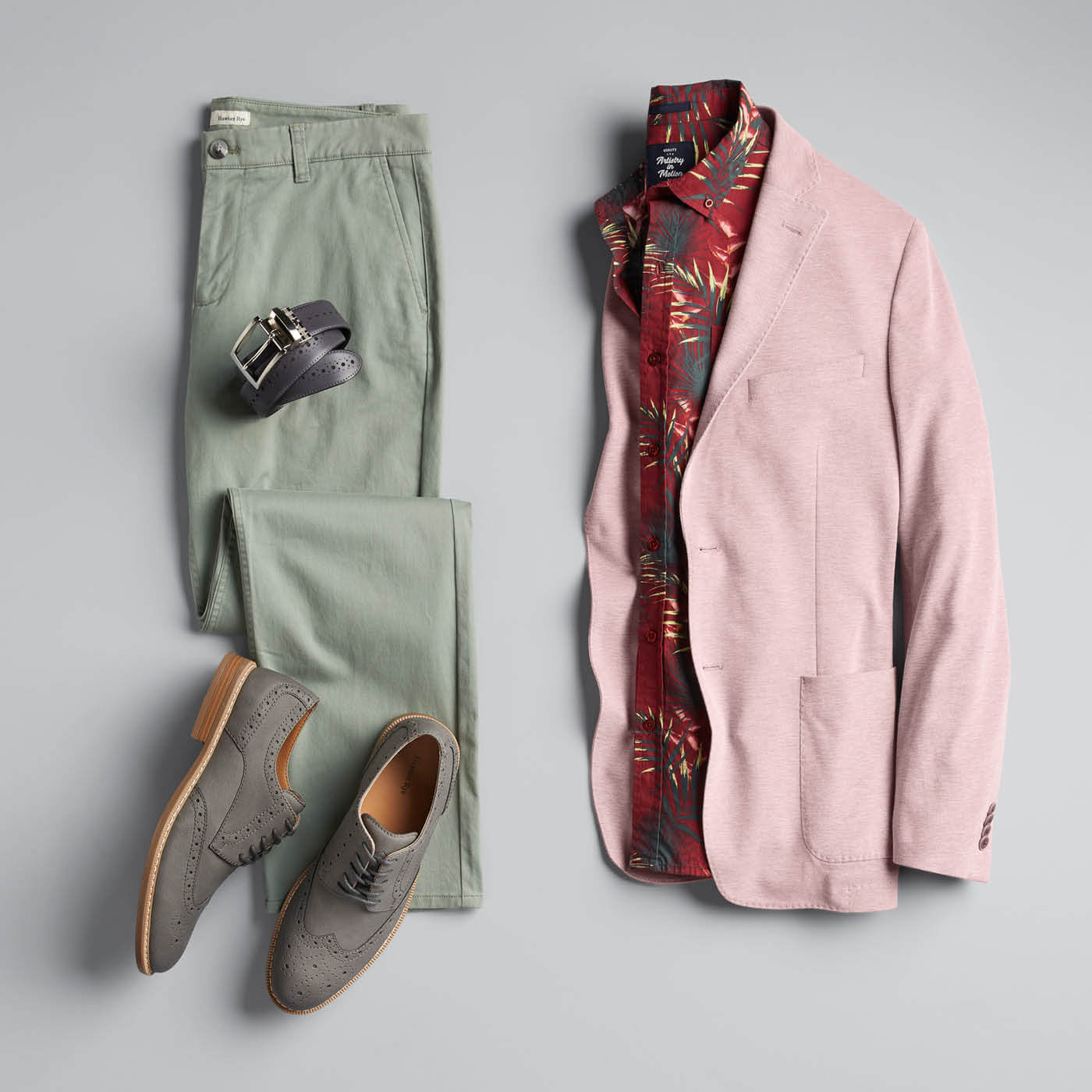 Go Pro With Colors & Prints
If you're sure the vibe is chill and ready to put a stamp on guests' minds regarding your personal style, get dressed in pieces sharp enough for the ceremony that can also turn up for the party. Go for comfort with a soft jacket (knit blazers are the way to go) in a bold color, and then layer it over an even bolder print. Since you're going for super loud up top, soften up the colors on the rest of your outfit. The dance floor won't know what hit it.
A FEW TIPS TO REMEMBER
Don't Be Afraid of Color
It's always good to test the boundaries of how far you're willing to go, in the color and style department, and spring is the perfect season to do just that. Start subtle if you're not sure about a tropical print or a hot pink shirt. There's always a toned-down version of something.
Be Overdressed instead of Underdressed
If you can't fully decipher the attire from the invite, it's better to dress a little nicer just in case. But having said that, examine the landscape—if the event is at the beach, you're probably fine without a tux unless black tie is specified. Also, ask around to get a feel for what other guests are wearing. Your goal is to avoid being the guy who looks like he forgot he was attending a wedding.
Double-Check Your Fit
The most important rule to dressing well for a wedding, in any season, is your clothes must fit you. It won't matter if you're wearing the most expensive suit and it doesn't fit your body. Fit is everything. Make sure your shirts and jackets hit your shoulders, arms and wrists at the right places. Get pants that fit your waist properly, are slim enough in the leg and hit at the right hem. A good fit equals a great look, every time.
Ready to check yes on that invite? Take your style quiz and ask your style expert to get you suited up for any kind of wedding, piece by piece. Five items will be sent to your home where you can try everything on and see what you think. Buy what you like and send back the rest. Shipping, returns and exchanges are always free leaving you time to practice your dance moves for the wedding.