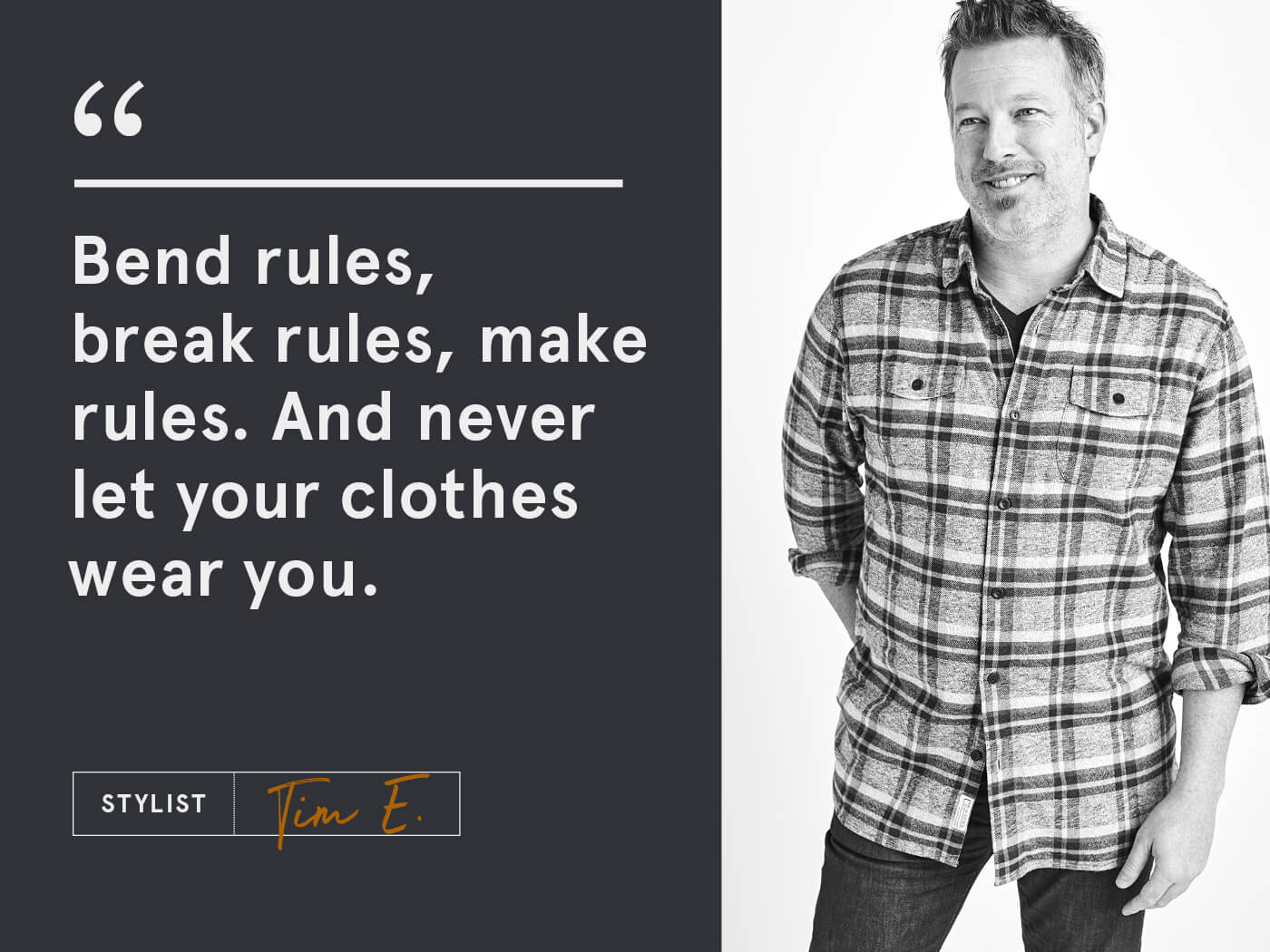 Read on for style advice and hacks you can add to your routine in 2017.
NEW-SCHOOL RULES
1. FORGET THE RULES
"Bend rules, break rules, make rules. And never let your clothes wear you. In the end, a well-dressed man should always look like himself." — Stylist Tim E.
2. FOCUS ON FINER POINTS
"Understand the importance of details. You'll stand apart every time." — Stylist Anne R.
3. SHED THE BULK
"If you haven't worn something in one year, it's time to donate it and get something new." — Stylist Sarah A.
4. GET THE MOST OUT OF YOUR CLOSET
"Think in terms of outfits, rather than individual items. Every shirt, every pair of pants should have other pieces that go with it. You can even mix & match work and casual clothes to create a truly unique style." — Stylist Heidi M.
5. WEAR PANTS THAT FIT
"Ill-fitting pants are never a good idea. Whether you like skinny or relaxed, be sure they fit properly." — Stylist Elizabeth W.
STYLE PREDICTIONS
6. DIVE INTO STRIPES
"You'll see stripes getting a new, modern twist this year, with bold colors and unique placements. It's an updated vibe that can translate across all style types, so find one that speaks to you." — Stylist Elizabeth W.
7. TURN UP THE TONAL
"Tonal outfits are when you layer several pieces in similar shades. In 2017, they'll be big in menswear! Try mixing navy with black or grey with camel brown. These colors look great together." — Stylist Ariauna W.
8. GET A SHACKET
"Shirt jackets (shackets) are super versatile, and can be worn with an undershirt or layered as your outermost layer." — Stylist Gretchen S.
9. BLAZE INTO THE WEEKEND
"Extend your tailored blazer into the weekend. Don't underestimate its versatility—it'll look great layered over turtlenecks, sweaters and even solid tees." — Stylist Gretchen S.
10. PUT SOME BOUNCE IN YOUR STEP
"Want to branch out a bit? Try some funky socks—I love the ones Stance makes. Ask your Stylist for some in your Fix." — Stylist Melanie S.
11. UPGRADE TO A PARKA
"A parka is an up-and-coming windbreaker. Stay cool and dry without looking like you're off to hike the Rockies." — Stylist Jackie G.
12. LAYER UP FOR INSTANT COOL
"Layer your outfit with vests, cool sweaters, jackets and sportcoats. A grey hoodie with raw selvedge jeans and a leather jacket gets instant cool points." — Stylist Ariauna W.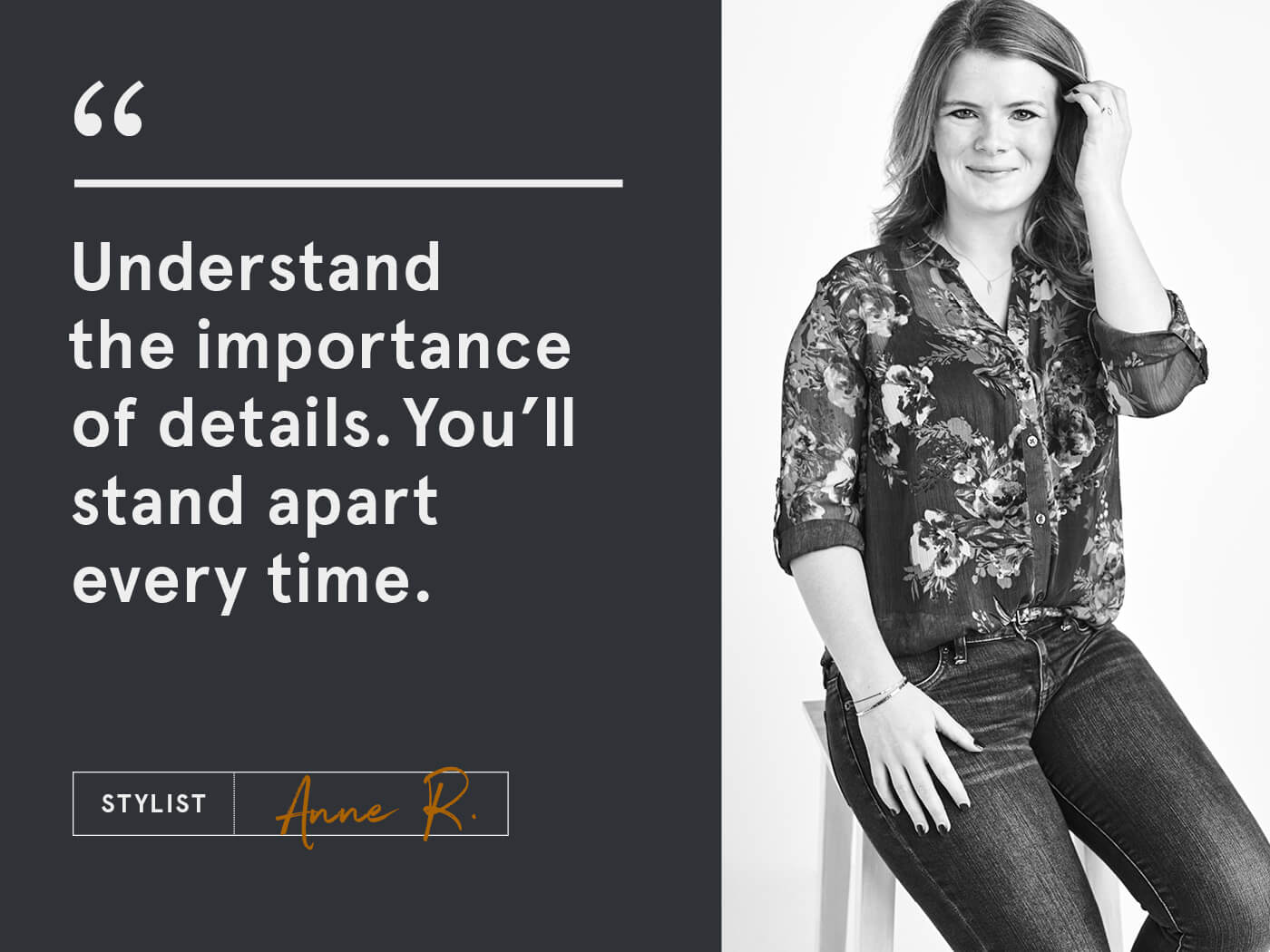 STYLE HACKS
13. De-stain with Dish Soap
"Dishwashing soap can get almost any stain out. Just scrub the stain a bit before washing." — Stylist Melanie S.
14. Win Against Wrinkles
"If you don't love ironing, invest in a steamer. If you prefer an even easier approach, hang your shirt in the bathroom during your hot shower." — Stylist Kelsey J.
15. Give Your Sneaks New Life
"Toothpaste is the key to easily cleaning white canvas sneakers without ruining their quality. Be sure to only use white toothpaste, mix in some water, and scrub with a toothbrush. Just be sure to keep it away from all the others to prevent confusion the next morning!" — Stylist Ariauna W.
16. Ditch The Moth Balls
"White sage bundles are an excellent natural disinfectant and deodorizer. Keep them in your drawers to keep your clothes smelling fresh." — Stylist Tim E.
17. Zip It Clean
"If you have sticky zippers, use a graphite pencil or neutral-colored candle and rub it on your zipper's interlocking teeth." — Stylist Heidi M.
Ready to step up your style game? Simply take your style quiz and schedule a Fix. You'll have an expert stylist curate a five piece Fix. Or, head over to Stitch Fix Freestyle™ to instantly buy pieces curated for your style and size. Try on the pieces in the comfort of your own home. Keep what you love and send back the rest. Shipping and returns are always free.