As the world opens up, so will our wardrobes. Our above-keyboard looks will no longer serve us in our offices. The days of leisure on the bottom and business on the top are over—or are they? Enter workleisure.
We know, you think we just made that up. And, you are half right. While we can't take credit for the name, workleisure is new, and there isn't even an official definition just yet. Let's give it a try, shall we? Workleisure is attire that has the comfort and functionality of leisurewear, with an appearance that is appropriate for the workplace. In other words, you look like you are wearing work clothes without feeling like you are. Go ahead. Give a round of style applause. We are at our desks, clapping right along with you.
The impact of COVID-19 in workwear has created a new normal in workplace attire. It's time to break down this emerging 2021 fall trend and all of its comfy, crisp ways. At Stitch Fix, our men's clients are starting to leave leisurewear behind and are ready for more structure as they head back to the office. Trending for fall? Timeless button-down shirts and believe it or not—suit requests are back. Get ready for everything men's workleisure offers for your days back in the office.
Now that we have established what workleisure is, let's talk about how to wear it. We have a lot to cover on the topic of going back to the office after over a year of working from home. There are many pieces within the trend to create all of your new workwear looks. Let's work it out, one-by-one, starting with everyone's new favorite, the elevated jogger. 
Joggers and Button-Down Shirts: Workleisure's Dynamic Duo
Traditionally, joggers have been associated with, well, jogging. You think of loungewear pants made of soft, cotton material perfect for lounging, running errands and working out. While those joggers are still in full effect, a fresh, updated version is the star of the workleisure trend. The slim pants that are gathered at the ankle are much more structured-looking, and making their debut in men's fall collections. Complete with zippers and often pleating, workleisure joggers have an enhanced look and functionality. 
Pair them with one of your plaid button-up shirts. After living in comfy T-shirts and henleys, the classic button-down makes a return. Our men's clients at Stitch Fix are asking for more button-down shirts in their Fixes. In fact, we've seen an increase to 22% of notes in Fix requests that include buttons after a 2020 high of 12%. Tuck in your dress shirt and finish the ultramodern work 'fit with your favorite pair of Chelsea boots. The elevated jogger will quickly become your favorite pants for all of your workleisure looks.       
Chinos: The Most Comfortable Workleisure Pants
Khakis are a business casual classic that are getting some serious competition. With more relaxed dress codes, chinos are the pants that are leading the pack. Chinos are lightweight and made from a cotton blend, making them far more comfortable than traditional khaki trousers. This, combined with the minimal design, makes them an ideal option for all of your workwear looks. Pump up your work outfits by adding colorful chinos to your ensemble. From pastel to rich fall colors, you can't go wrong by adding a punch of color to your workleisure wardrobe.  
Corduroys Are the Standout Pants of the New Normal
Remember your comfy corduroy overalls that you had as a kid? You can now wear a version of that to the office with cords. Prior to adopting our new normal workwear, cords were right on the fence of work appropriateness. Now, it's fair game for the comfortable bottoms that will be in offices everywhere. Corduroys have a rigid fabric derived from woven yarn. The fuzzy feeling fabric is used to make anything from wide-leg pants to tapered trousers—the epitome of workleisure. Pair them with your favorite rugby, and finish the look with a casual pair of sporty brogue shoes.  
Neck Detail Tops: Polished Workleisure Everyday Essentials
We all love to casually wear simple tees and shirts. Workleisure takes these shirts to new heights by adding neck details like colored piping and mock collars. Soft shirts with exquisite tailoring and upgraded features take the tops that you love to new heights for the office. Complete all of your workleisure looks by adding distinctive shirts with your favorite fall layers or as stand-alone wear.     
Bundle Up in Sweaters when you Head Back to the Office
Think of the sweater as the new button-down of the workleisure trend. These soft tops are the perfect blend of casual and professional. Adding them to a chino, jogger or cord creates an instantly smart look for days at work. Try fall-inspired color blocking, plaid patterns, tasteful textures and classic cable knit this season. Sweaters will not only keep you warm, but also stylish as we head back to the office.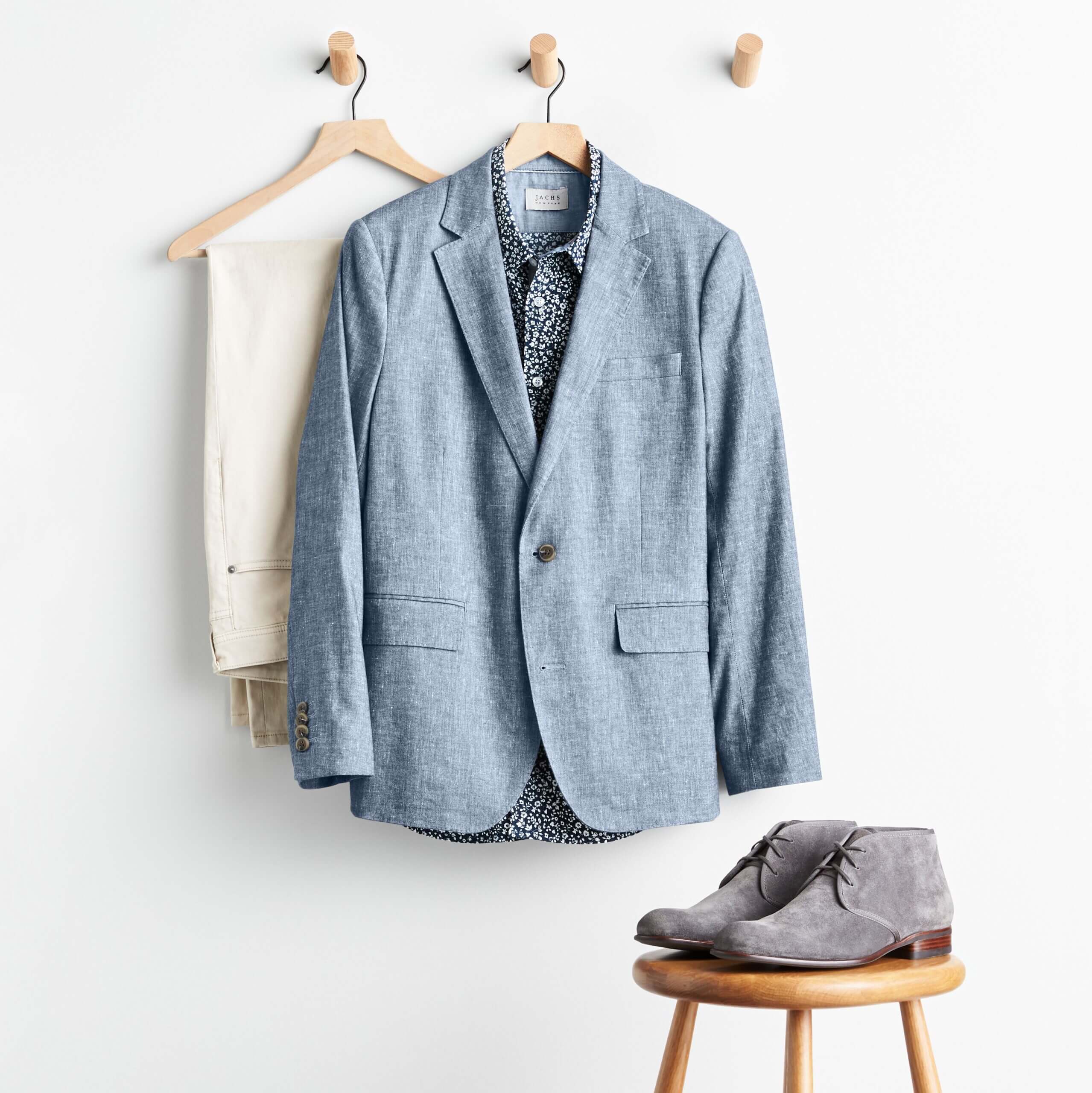 Sporty Blazers: The New Business Casual Layer Made to Move
The blazers in your closet are great, but do they have stretch? Sporty workleisure blazers have properties like cotton and spandex, making this outerwear piece easy to move in. Client request notes tell us that men are leaving leisure for structure. The men's shop in our tailored category is now outperforming the men's lounge category. Workleisure blazers have just the right blend of both. Look for options that have textured or patterned collars to give your look a unique touch. After work, transition your sporty blazers into a casual look for play simply by layering them over your jogger sets. Make sure you pull out the hood over the back of the blazer. Boom. Add a pair of sneakers, and you are set to relax in style after a long workday. 
Boxy Cardigans: The New Look on the Workleisure Block 
We don't know about you, but if we could sit at our desks with a blanket, we would. Workleisure makes this possible with the new kid on the block; the boxy cardigan. These polished layering pieces offer premiere comfort, and are a vital component of the workleisure trend. They instantly add style points to your look and immerse you in comfortability. Layer them over a front-tucked crew neck T-shirt. Add a pair of chinos and a slip-on sneaker for a look that is the essence of the new business casual. 
Athleisure Outerwear Adds a Sporty Spin for Back to the Office
The outerwear piece that gets top billing in the workleisure trend has a new athleisure spin. From the car coat to the classic men's trench coat—outerwear will have a new sporty look this season. These pieces have the ability to morph from business to casual with ease. Made from moisture-wicking and soft textiles like jersey, you will see them in classic colors like tan and army green. Wear it over a long-sleeved printed tee and tailored jogger. Finish the look with a smooth sneaker for a business-sporty vibe that is 9 to 5 ready.    
Slip-on Shoes: The New Business Casual Footwear Favorite
It's going to be hard to part from our slippers and slides. Guess what? There is a version for the office that you will see everywhere: the slip-on shoe. With its simple, easy-to-wear design, the slip-on shoe is the ideal way to pull your workleisure looks together. From canvas kicks to vegan leather loafers, this footwear trend is the quintessential way to walk around the office in style. They will also keep your feet comfortable and cool while you are standing at your desk. Who knew that fashion could also be ergonomic? 
These Versatile Boots are Made for Walking: Back to the Office
Take suited and booted to new levels by adding a versatile pair of boots to your men's workleisure looks. These durable footwear finds add a touch of edge and comfort to any work look. From a pair of classic chukkas to a rugged pair of combat boots, your feet and fashion will thank you. Rock a tan boot with your go-to plaid shirt and a pair of crisp chinos. Layer on a colored denim jacket with a textured collar to strut back into the workplace in style.   
Keep Calm and Carry On in Workleisure Suiting
With all of this workleisure talk, your suits may be getting a little jealous. They're collecting dust, and you're wondering if they will stay in your closet forever. We're seeing more Stitch Fix clients requesting suits and suit separates for fall. Tell your suits to keep calm. You can still wear them. With the new workwear norm, many workplaces will no longer require them. Employers are loosening the belt on dress codes, creating a more comfortable environment for their employees to return to. A new suit of sorts is emerging that has workleisure written all over it.
Start by setting aside the tie. Instead of staunch slacks, opt for an elevated jogger with the perfect blend of stretch and structure. Front tuck a soft-collared polo shirt into your pants and layer on a sporty blazer. Finish the look with a sleek suede sneaker, and you are ready for your first day back at the office. 
Performance Fabrications in Business Casual Classics
Workleisure looks not only feel good on, but the functionality of the endless options is off the charts. Like that of performance wear, the new business casual classics are moisture-wicking and breathable. They will keep you fresh for all of your high-power meetings, and the added stretch leaves little room for discomfort. From water-resistant bombers to flexible slacks, you will be ready for anything the workday brings your way. One thing's for sure—you will definitely have a leg up for all of your impromptu trash can basketball free-throws.    
Want to tap into the new workleisure trend? Take your style quiz, schedule a Fix and ask your stylist for work options that will keep you both fashionable and comfortable when you return to the office. You can try on everything at home and shipping and returns are always free.