Knowing what to wear with a jean jacket is key to adding a sturdy, yet stylish touch to a casual men's outfit. Much like your favorite pair of jeans, a trusty denim jacket goes with just about everything in your closet. The neutral shade, easygoing vibe and timeless style means your look is never out of season—especially in cooler temps. Follow our guide for how to wear a jean jacket, and you'll ace this menswear staple.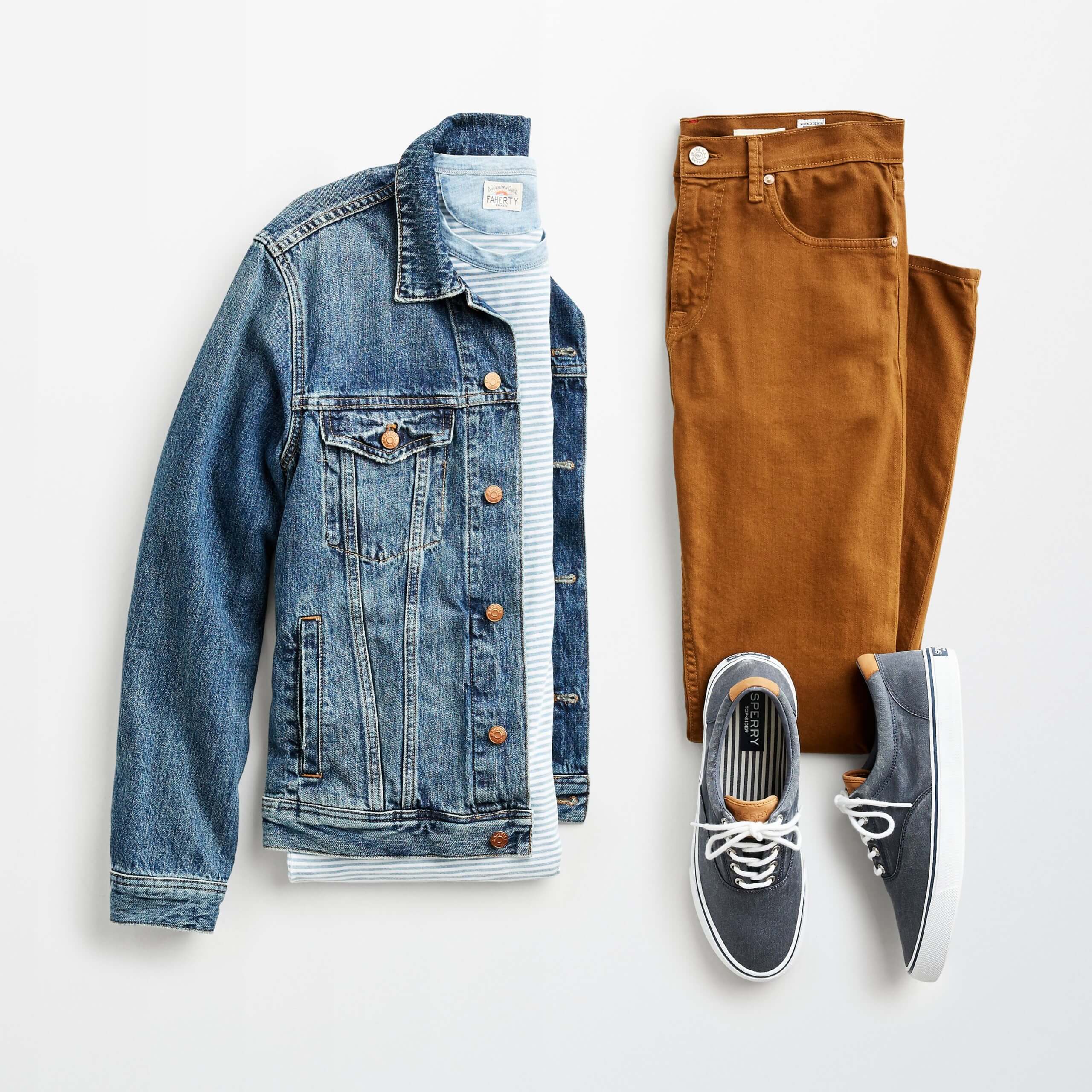 How to Wear a Jean Jacket
: Finding the Perfect Fit
Before we tackle what to wear with a jean jacket, it's important to understand the fundamentals of how men's clothes should fit. Men's denim jackets are available in a variety of washes, shapes and silhouettes. For an ideal fit, you should be able to button your jean jacket without any pulling or tightness. The bottom hem shouldn't extend too far past your beltline. Lastly, the sleeves should hit just beyond the bends of your wrists. Keep this checklist in mind for proportion and balance. You can thank us later.
It's no secret that 90s trends and the Y2K aesthetic, are back and stronger than ever. So what does this mean? It means we're seeing an epic resurgence of oversized jean jackets. The looser fit creates a relaxed appearance that's comfy and cool. When wearing an oversized denim jacket, keep the rest of your outfit balanced. A slim-fit shirt and black skinny jeans make certain you're not drowning in too much denim. Who knew a throwback look could feel so modern and look so rad?     
As you experiment with how to wear a denim jacket, remember this rule: when you button up your jean jacket, leave the top and bottom buttons undone. This allows for ease of movement and conveys an effortless, laid-back aesthetic. Want to add your own style spin on this timeless staple? Don't be afraid to pop your collar, flip your cuffs, fasten two or three buttons—or leave it open. However you wear your jean jacket, have fun with it.  
Expert Tip: When trying on a jean jacket, make sure you can cross your arms comfortably. If you feel constricted, try a jean jacket with added stretch. This fit trick ensures a more comfortable fit through the chest and shoulders and a broader range of motion.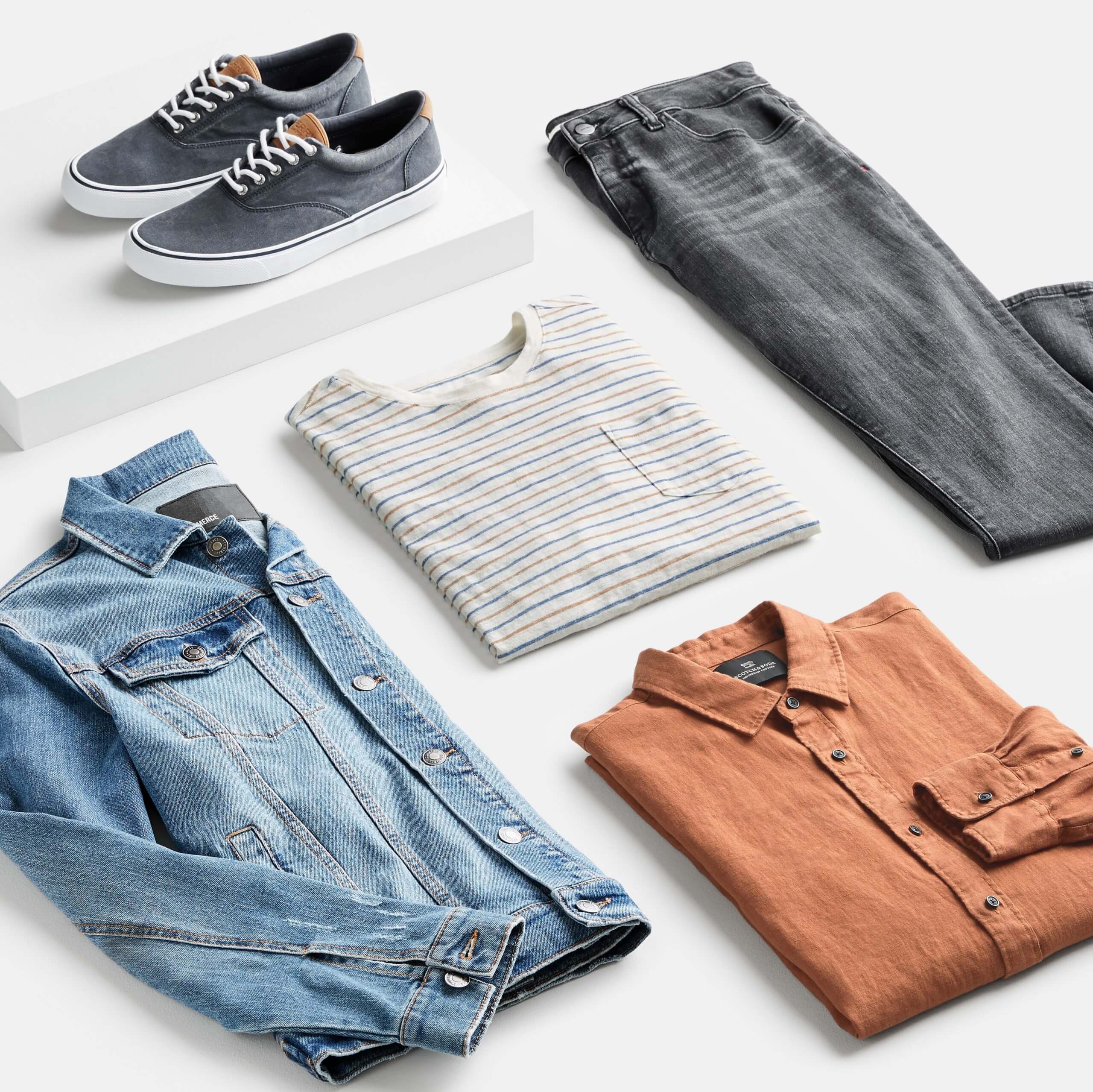 What to Wear with a Blue Jean Jacket
Ever wonder what to wear with a blue jean jacket? Not to worry fellas, we're here to help. A classic blue option is a versatile addition to any casual wardrobe. Better yet, what to wear with a jean jacket in the spring and summer seasons is easy. A light-wash version is the ultimate layer when the weather warms up and lighter and brighter hues come into focus. Toss a light blue jean jacket over a pink tee, one of our go-to summer 2021 men's fashion trends. Take a note from our men's street style guide and finish with sneakers and athletic shorts for a picture-perfect pairing.
A dark-wash jean jacket is an elevated option that works well for fall and winter. Pair this quintessential piece with a buffalo check flannel shirt and brown pants for a rugged, yet refined vibe. Curious how to wear a jean jacket all year round? Look no further than a medium-wash blue jean jacket. Style it with a crisp white T-shirt and grey jeans for a fail-proof favorite that's always on-trend.
What to Wear with a Black Jean Jacket
Not quite sure what to wear with a black jean jacket? A black jean jacket is a sublime selection for guys who are dipping their toes into the world of denim on denim. A black denim jacket pairs effortlessly with all washes of denim—from light blue hues to deep indigo shades. Layer it over a vintage band tee and finish with distressed blue jeans for an edgy feel. Take center stage––you're rocking this double denim look. 
An all black ensemble is a foolproof choice when deciding what to wear with a jean jacket. Simply layer it over a dark microstripe henley and black pants for a smooth style statement. Think of a black denim jacket as the dressiest version of all jean jackets. Wear it on your next night out with a polished white button-down and dark pants for a dapper flair. Add Chelsea boots or chukkas for extra style points.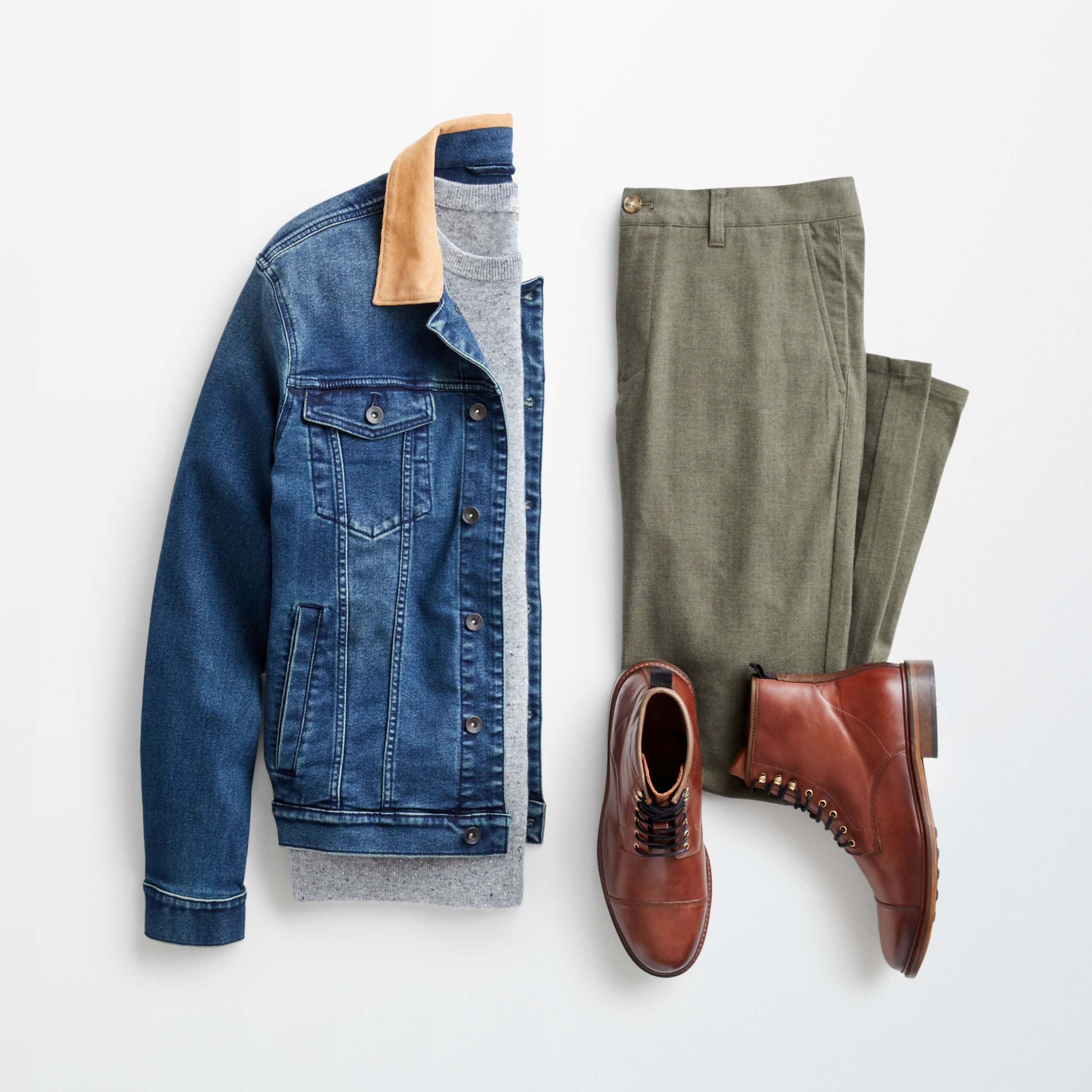 What Pants to Wear with a Jean Jacket
Understanding how to wear a denim jacket with a mixture of different bottoms gives this go-to men's layer extra longevity. No need to ponder what pants to wear with a jean jacket because we have all the answers for you. Your closet's variety of bottoms likely include jeans, joggers, chinos and shorts. Good news, guys: you can wear a denim jacket with all of these options. Let's take a deep dive and explore what to wear with a jean jacket. 
How to Wear a Jean Jacket
with Denim
At one point in time, wearing denim-on-denim was considered a fashion faux-pas. The result of this pairing is commonly known as the Canadian Tuxedo. The name derives from a 1950s incident when Bing Crosby was asked to leave an upscale Vancouver hotel. But why was the most famous singer in the world denied access? Because of the all-denim ensemble he was donning. Jeans were not considered appropriate attire for this fine establishment. Designers at Levi's jumped at the opportunity to embrace this denim-on-denim style statement. They created Crosby a custom-made denim tuxedo, and the term Canadian Tuxedo was born. 
Fast forward to the present––there's no need to avoid this combo. Here's what to wear with a jean jacket to pull off a denim-on-denim look. The trick to wearing this denim duo is to keep it modern. Make sure there is enough contrast between your two denim pieces. If your jean jacket is a light hue, pair it with dark-wash jeans. Conversely, if your jacket is a darker shade, pair it with lighter-wash denim. Another safe bet is to choose jeans in a completely different color—think black, grey, olive or burgundy. Now you know how to wear a denim jacket with jeans like a pro.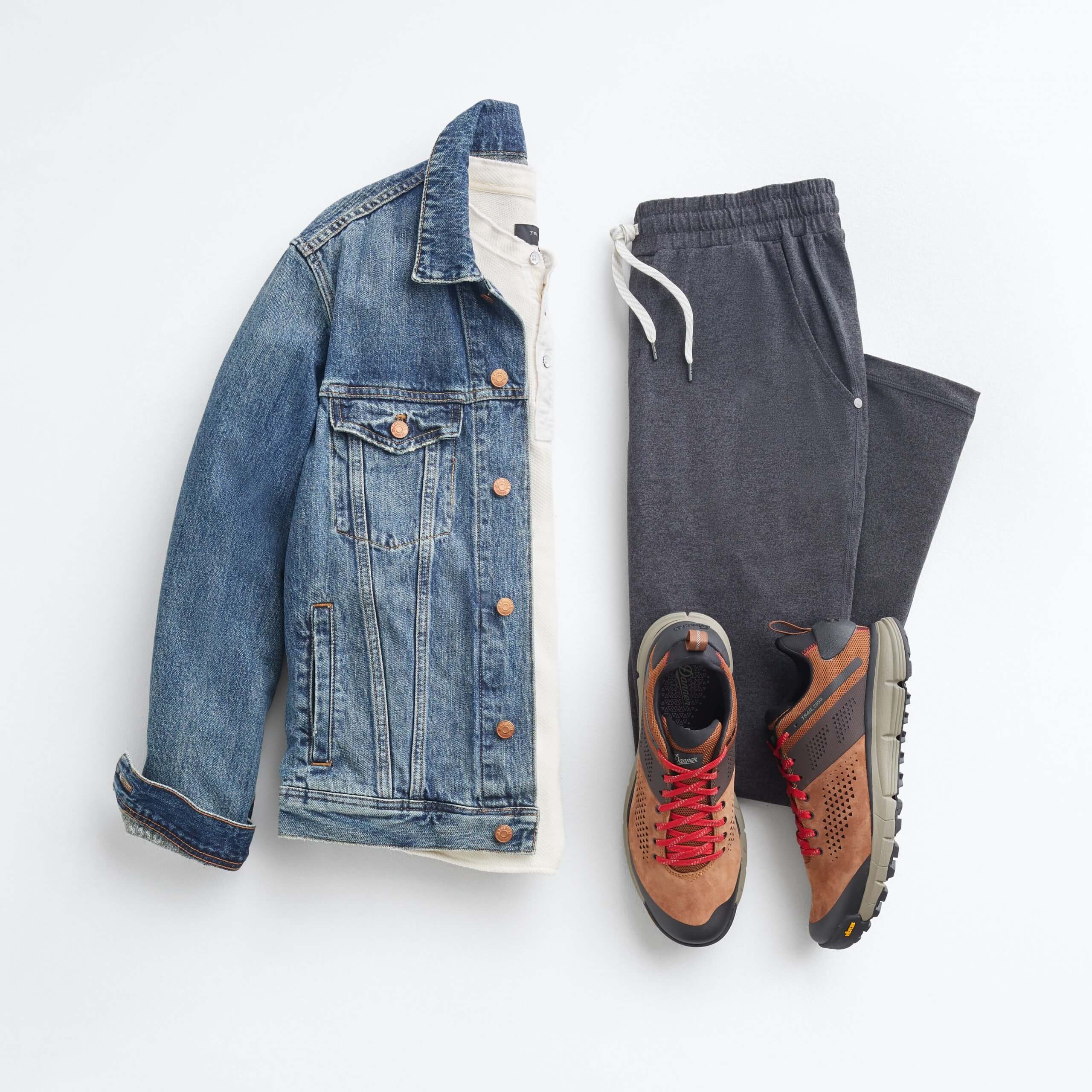 How to Wear a Jean Jacket
with Joggers 
Still on the hunt for what pants to wear with a jean jacket? Look no further than your tried-and-true joggers. These comfy bottoms are without a doubt one of our favorite loungewear essentials. Throw a jean jacket over a performance tee and your favorite joggers for your next weekend hike. Lace-up sneakers instantly elevate this sporty look. Ready to amp up your loungewear game even more? Take the jogger set trend for a spin and add a denim jacket over a matching jogger and hoodie. Let the hood peek out from the top of the jean jacket for a laid-back, streetwear approach. Add slip-on sneakers for sofa-to-street versatility. Think of this as the 21st century version of how to wear a denim jacket.
How to Wear a Jean Jacket
with Chinos 
Not a fan of the denim-on-denim look? Not to worry. Chinos are an easy answer to what pants to wear with a jean jacket. The best part? You can sport your jean jacket with just about any color chinos. Brown, tan, grey or olive are all year-round staples that give nice contrast to a classic blue jean jacket. Are you seeking a cool way to style khaki pants? The warm tone works well with the cool neutral hue of a blue denim jacket. For one effortless look, don a pair of khaki colored chinos with a grey sweater. Then, include a medium-wash blue jean jacket. No need to fret over what to wear with a jean jacket again.
How to Wear a Jean Jacket
with Shorts
Now that you're an expert on what pants to wear with a jean jacket, it's time for a warm weather-friendly pairing—shorts. Whether neutral, bright, patterned or solid, all of your closet's go-to shorts can easily be worn with a jean jacket. For your next summer BBQ, try ocean-hued shorts with a tropical print button-down shirt and canvas sneakers. Don't forget to grab your jean jacket to toss on once the sun sets. Now you know exactly what to wear with a jean jacket. 
Are you ready to make a jean jacket your new closet staple? Take your style quiz, schedule a Fix and ask your stylist for a jean jacket to expand your layering options. You can try on everything at home and shipping and returns are always free.