Read on for more Stylist Tips to help you pack for a beach trip: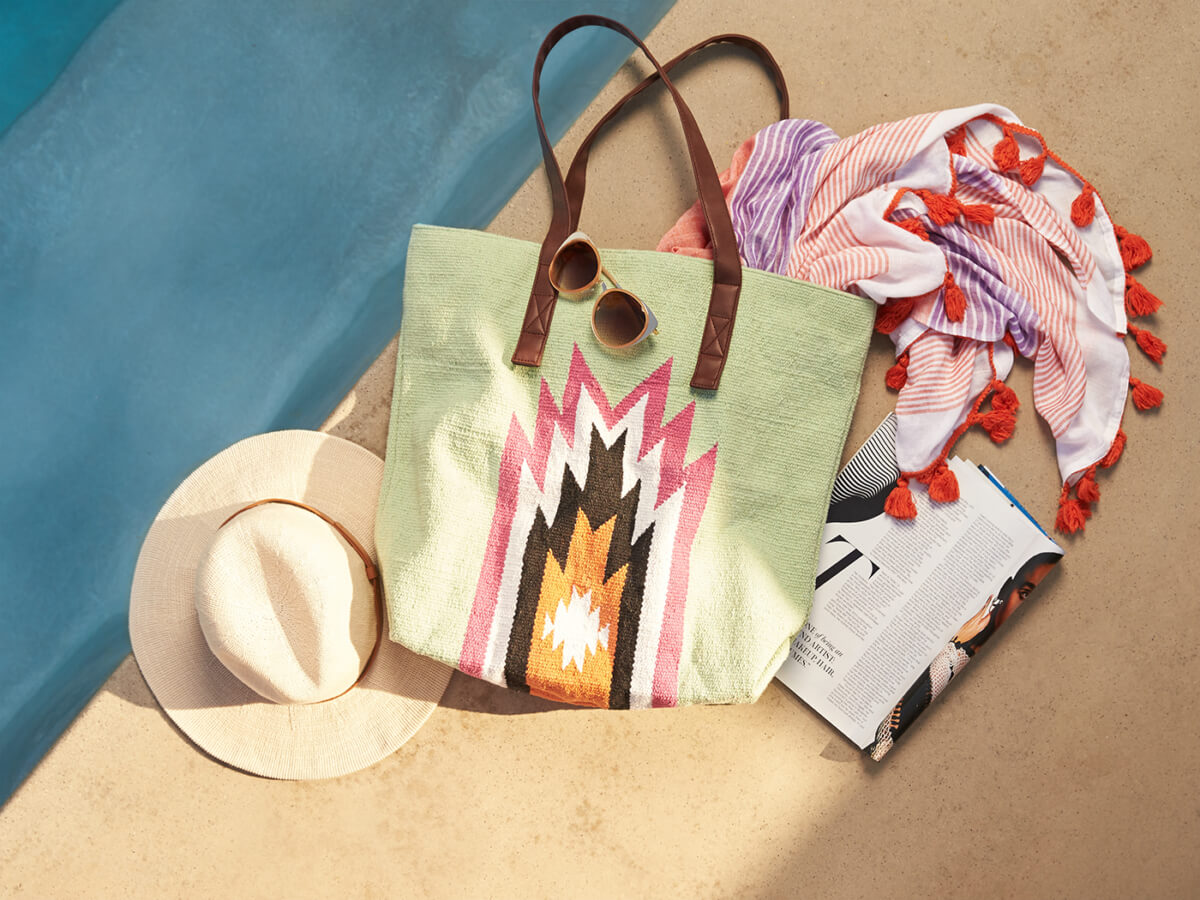 1. Save Space With A Smaller Towel
No, we're not saying bring a hand towel to the beach! Swap a bulky beach towel for a lt Turkish towel, also known as a peshtemal or hammam towel. It's less bulky than a traditional, plush beach towel and dries much, much quicker since they're made of flatly woven cotton and linen. Plus, it can double as a stylish beach cover-up.
2. Pack & Protect Your Hat
Keep hats from crumpling by stuffing them with your towel before you place them inside. Or, attach a carabiner on one of the bag straps and loop the hat's tag or band through to hang it outside of your bag. You can also use the carabiner for storing your keys, instead of letting them float around your big tote.
3. Ziploc Your Electronics
Keep your electronics and other sand-sensitive necessities shielded by storing them in Ziploc baggies. Don't worry about being able to 'gram while you're wading in the water. You'll still be able to access your phone even while it's safely sealed inside. Do your handbag a favor and bring a large Ziploc as well! You can store your wet swimsuit once you're done and avoid soaking your essentials.
4. Pack A Mini Bag For Essentials
Slip a cute clutch filled with essentials like cash, lip balm and extra SPF into your beach bag. This will make everything easily accessible, and keep you from hauling your entire bag when you hit the ladies room, grab a snack or go seashell collecting.
They say an ocean breeze puts a mind at ease. That, and knowing your beach bag is stocked with the essentials you need. Prepare for your next beach day when you take your style quiz, schedule a Fix, and ask your stylist for beach-ready accessories such as sandals and a tote bag. Keep what you love and send back the rest. Shipping and returns are always free. Easy-breezy.