We're all about body positivity here & we know everyone has a body part they love to flaunt. But, we also know that women are hard on themselves (guilty as charged!) and, sometimes, there's just that one tiny region we aren't wild about. It's ok! Our challenge to you this year? Pinpoint that area, learn to love it & style it to flatter your overall shape.
Here's how it works:
Find the figure feature you want to downplay below.

Learn more about which cuts help downplay your challenge area.

Select one or two silhouettes you'd like to try.

Then tell your Stylist in your Fix Note to get your most figure-flattering Fixes ever.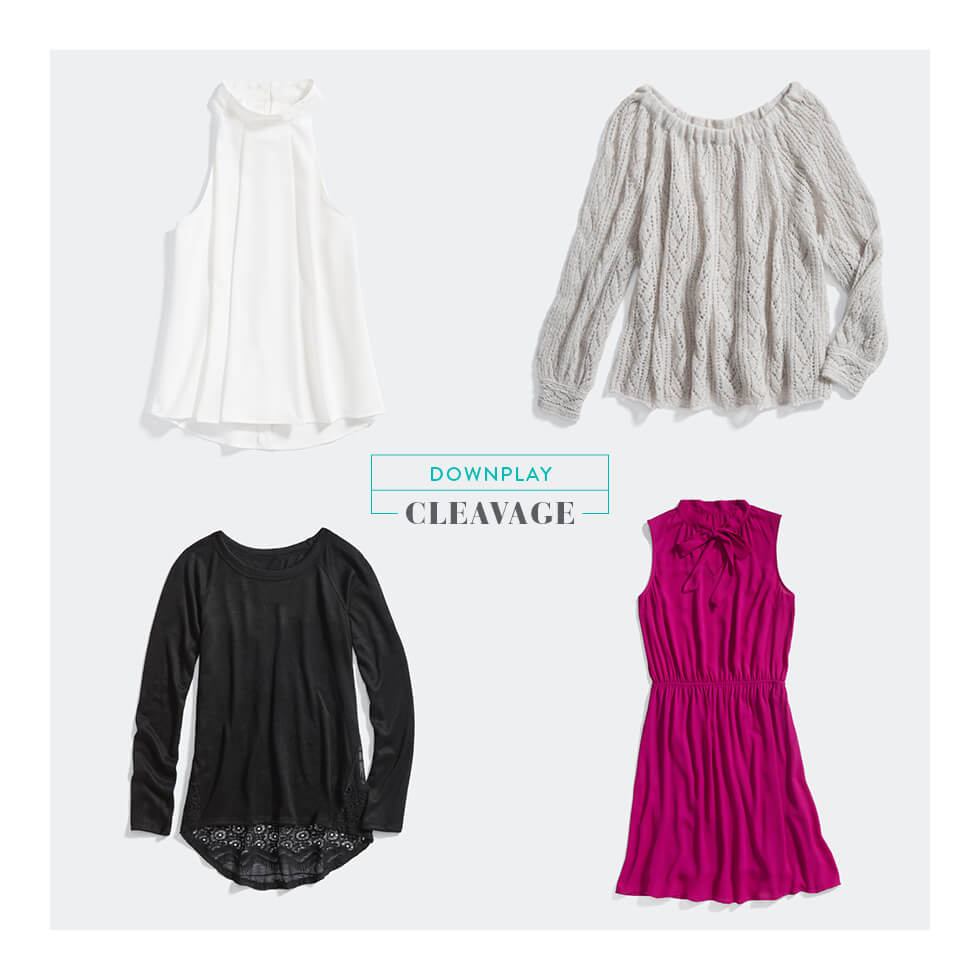 DOWNPLAY YOUR CLEAVAGE
If you're a bit more conservative in the skin-showing department, there are tricks to downplay your bust & stay stylish—from scoop necklines to a swing-silhouette top.
Trapeze top: A trapeze top swings out wide to mask a larger chest. It's also flattering around your midsection (bonus!).
Scoop neckline: A wider neckline allows you to show off skin around your collarbone without dipping too low into dangerous territory.
Loose knit top: Soft knit tops drape nicely and don't cling too closely. Ask for one in figure-flattering black.
Button-up dress: Tops & dresses with buttons give you fashion freedom to reveal as much as you'd like. One button or two—it's up to you.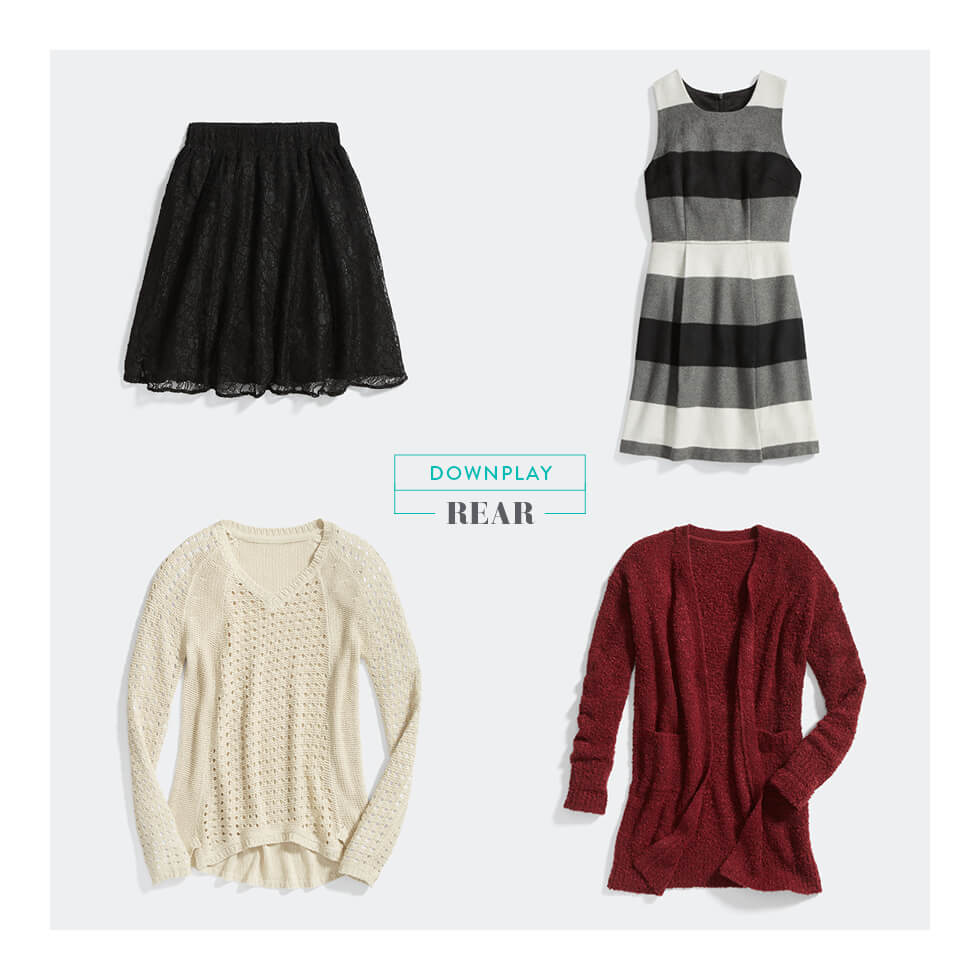 DOWNPLAY YOUR REAR
Sure, a more voluptuous behind was a trend last year. But that certainly doesn't mean you have to highlight it. From flirty flare skirts to tunic tops, here's how to downplay your derriere.
Fit & flare skirt: Flirty & flattering, a high-waisted skirt emphasizes your waist while disguising your derriere. Just make sure your hemline is moderate.
Fit & flare dress: Create an instant hourglass with this classic one-piece. Prints (like colorblocked stripes) draw attention away even further.
Hi-lo top: The waist-length cut in the front shows off your legs while the draped back provides coverage of your rump.
Draped cardigan: This elongating coverup streamlines your assets, skimming the hips & butt.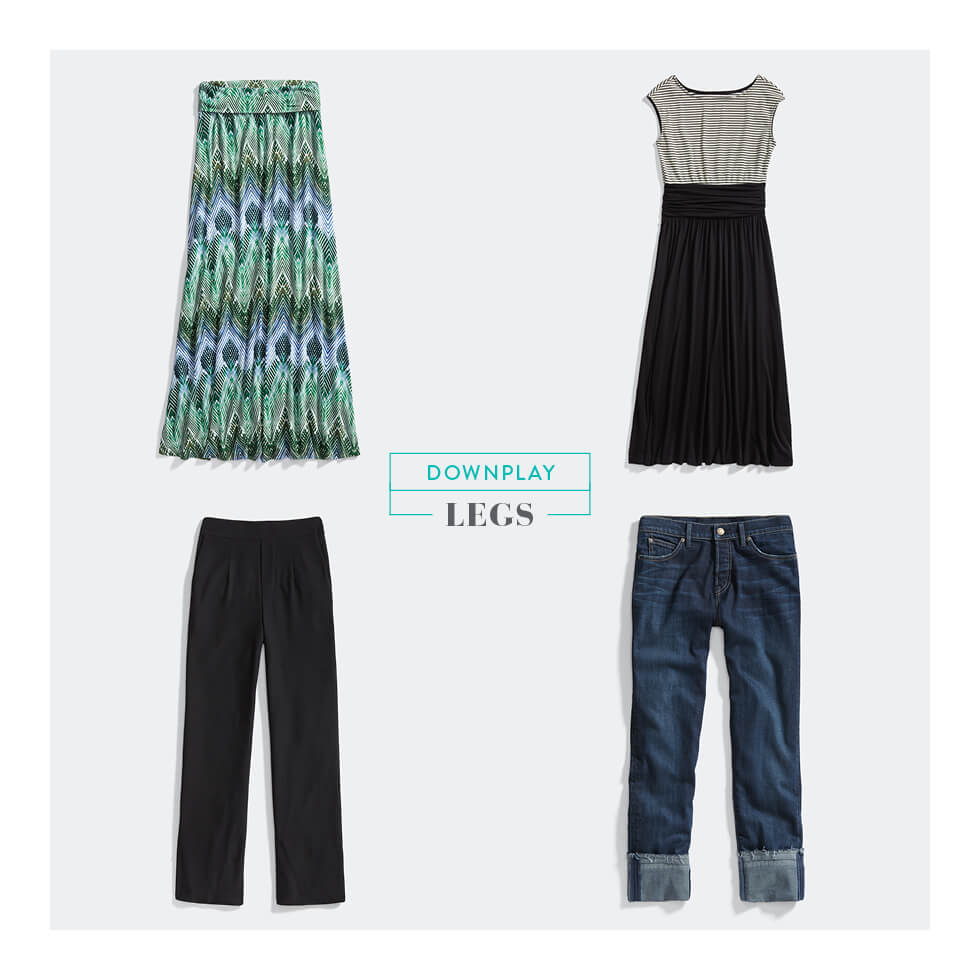 DOWNPLAY YOUR LEGS
If you're not into overexposure, take a more conservative route with these four key pieces to de-emphasizing your legs.
Maxi skirt: Comfortable & cooling, conceal your stems with a flowy maxi—your summer staple & sandals' favorite.
Midi dress: Not committed to the maxi? Try a mid-calf style midi-dress to show off your ankles (and new shoes!).
Wide-leg trousers: Ditch form-fitting pencil skirts or tapered trousers. Straight or wide-leg styles will work best for you.
Boyfriend jeans: Hang loose in relaxed-fitting jeans, like a stylish slim-cut boyfriend jean.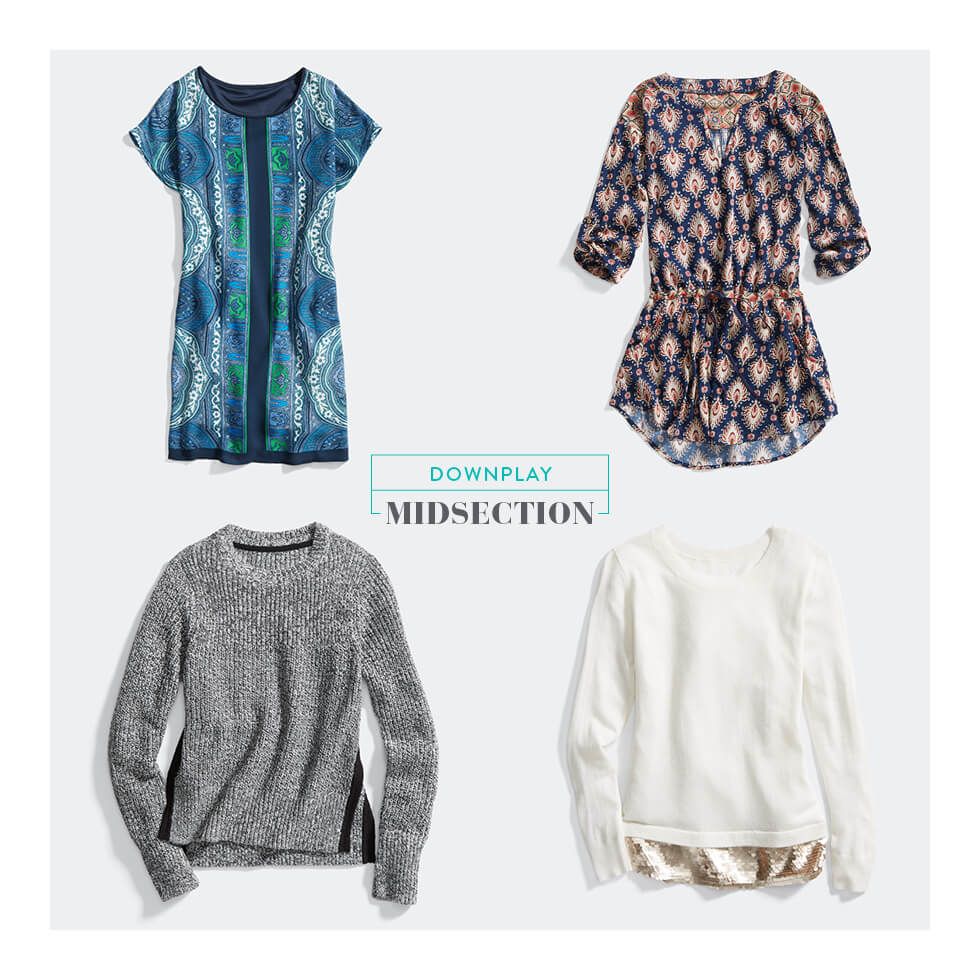 DOWNPLAY YOUR MIDSECTION
Aren't interested in emphasizing your midriff? It's what your Stylist hears most from you. Here are four styles that help conceal your midsection.
Shift dress: Draw emphasis away from your middle with printed, looser-fitting shift styles that fall away from your body.
Tie-waist tunic: A tie-waist top gives the illusion of a defined waist—just make sure to tie it at your slimmest part.
Heavy knit: Heavyweight fabrics like a marled knit sweater can conceal minor imperfections while keeping you super warm & cozy.
Built-in layers: Beat the bulk with built-in layers. You get the look of layering without the added padding or extra effort. Win!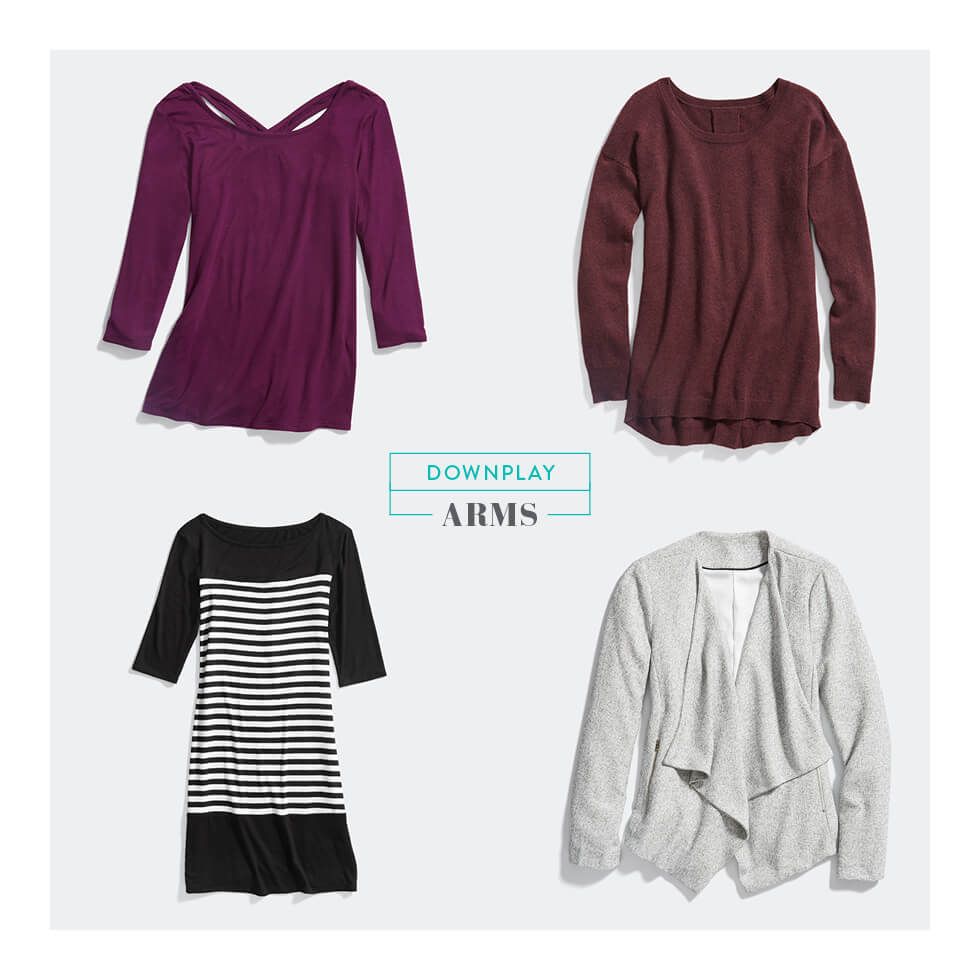 DOWNPLAY YOUR ARMS
If you'd rather keep your arms & shoulders covered, there are plenty of long-sleeved options in a variety of silhouettes—no sacrificing style here. Here are a few suggestions:
Three-quarter sleeve: For a less-confined feel, opt for a ¾ sleeve tee with a cut-out back—subtly sexy & still slimming.
Long-sleeve knit: Streamline your shape with a long jersey knit. Go with a deep hue like burgundy, navy or charcoal grey.
Elbow-length dress: Elbow-length sleeves are all-around flattering, especially on a shift or sweater dress. Wear them with knee-high boots all year-round.
Waterfall cardigan: Waterfall draping creates interest down your torso, drawing attention away from the arms & they're the perfect lightweight layer.
Did any of these tips and tricks catch your eye? Take your style quiz and tell your stylist when you schedule a Fix. Our stylists are ready to rise to the challenge and send you five curated pieces right to your doorstep. Keep what you love and send back the rest. Shipping and returns are always free.