Keep reading to see our tips for caring for your real and faux leather bags: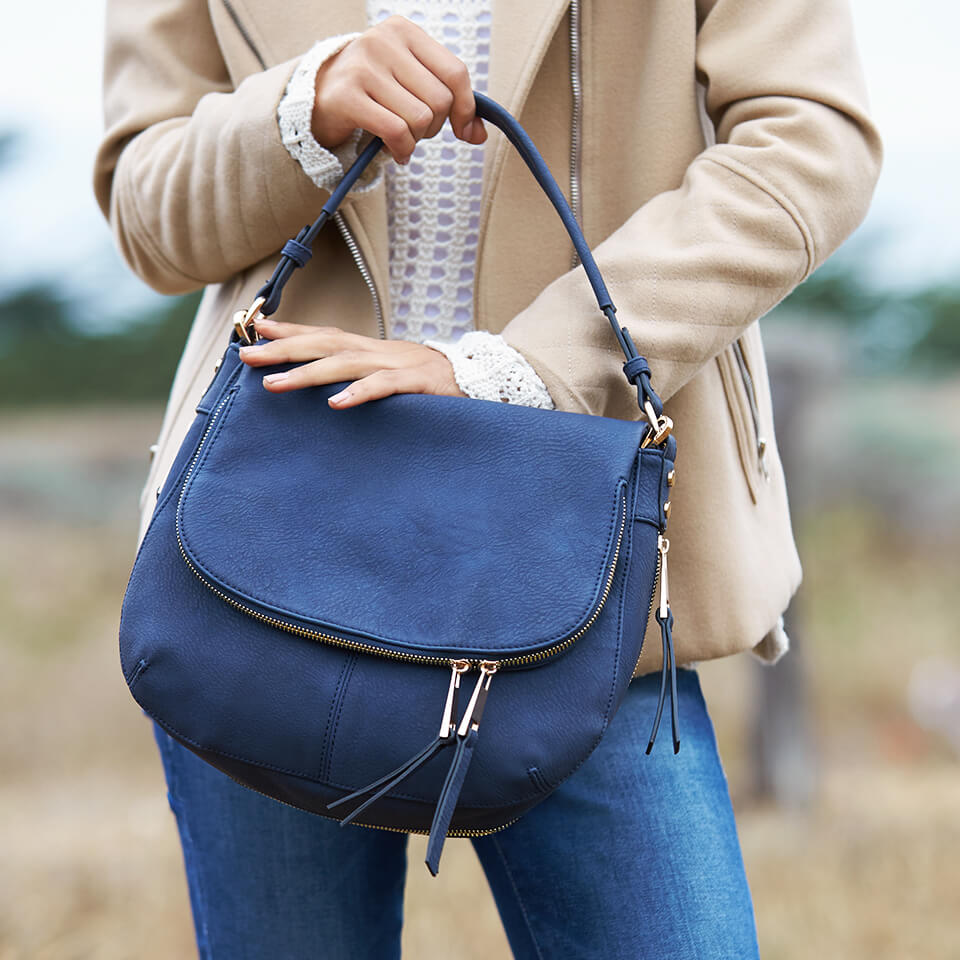 HOW TO CARE FOR REAL LEATHER & SUEDE BAGS
What You'll Need:
Baby wipes
Leather conditioner
Baby powder
Pencil eraser
Rubbing alcohol
Your Weekly Care Guide:
Step 1: Gently Clean with a Fragrance-Free Baby Wipe
At the end of each week, wipe the exterior of your bag with an alcohol-free baby wipe—it's gentle enough for your bag, but will still take the dirt off.
Step 2: Use Leather Conditioner
To keep your handbag soft & clean, invest in leather conditioner! It'll prevent unsightly cracks with consistent use.  
Step 3: Remove Oil Spots
For unexpected oil stains, treat with baby powder. Just sprinkle over the spot and let it sit overnight. Repeat as needed.
Step 4: Remove Dirt
Brush the dirt off your shoulders (or bag!). To remove dirt from real suede, use a pencil eraser to remove the scuff or stain.
Step 5: Remove Ink Stains
Use rubbing alcohol to remove pen marks. Just be sure to test this method on an inconspicuous area first.
To Preserve:
Keep your leather goods out of the sun to prevent fading and cracking. The best way to store your purse is in a dust bag in a cool, dark place.
Stylist Tip: Crumbs, random receipts, gum wrappers–no more! Keep your bag tidy by routinely clearing out stray waste. Then, use a lint roller (or packing tape) to clean the lining.
HOW TO CARE FOR FAUX LEATHER BAGS
Your Weekly Care Guide:
Microfiber the dirt away:

Once a week, dust your purse with a thick microfiber cloth to remove dust & other loose debris.

Gently clean with a baby wipe:

Just like caring for your real leather bag, wipe your faux leather bag with an alcohol-free baby wipe.
Follow These Tips For Long-Term Care
To Remove Dirt: Remove dirt from the outside & inside with a simple soap solution. Mix warm water with a pea-sized amount of mild liquid detergent, then wipe with a sponge.
To Remove Stubborn Stains: For particularly soiled areas—like ink stains or pencil marks—apply rubbing alcohol to the affected area. Try testing this method in a subtle spot first to be sure it won't take off any color.
To Clean Up: When applying cleaner, don't forget to rinse so the soap suds don't get lodged in the porous fabric.
To Prevent Odor: The best way is to let it air out. To help speed up the process, stuff it or wrap it in newspaper (it miraculously absorbs the smell).
Now that you've got the proper cleaning techniques down, are you ready to add a new bag to your collection? Take your style quiz, order a Fix and be sure to let your stylist know what bag aspects are most important to you. Are you a backpack person or perhaps looking for something a bit smaller? We've got you covered. Simply keep whichever bag(s) you love the best and send back the other pieces. Shipping and returns are always free!