WHAT TO PACK IF YOU'RE A PLANNER
You're known for your elaborate itineraries and detailed agendas. As you plan your getaway, pack outfits for these three occasions: daytime sightseeing, a casual afternoon luncheon and that night on the town. But who are we to tell you what to pack—you've been ready for weeks!
Stylist Tip: "Choose pieces that can be dressed up or down like maxi dresses, light denim and flattering tank dresses. With a few shoe swaps you can take your sightseeing outfit straight to those dinner reservations you booked months in advance." —Emily D.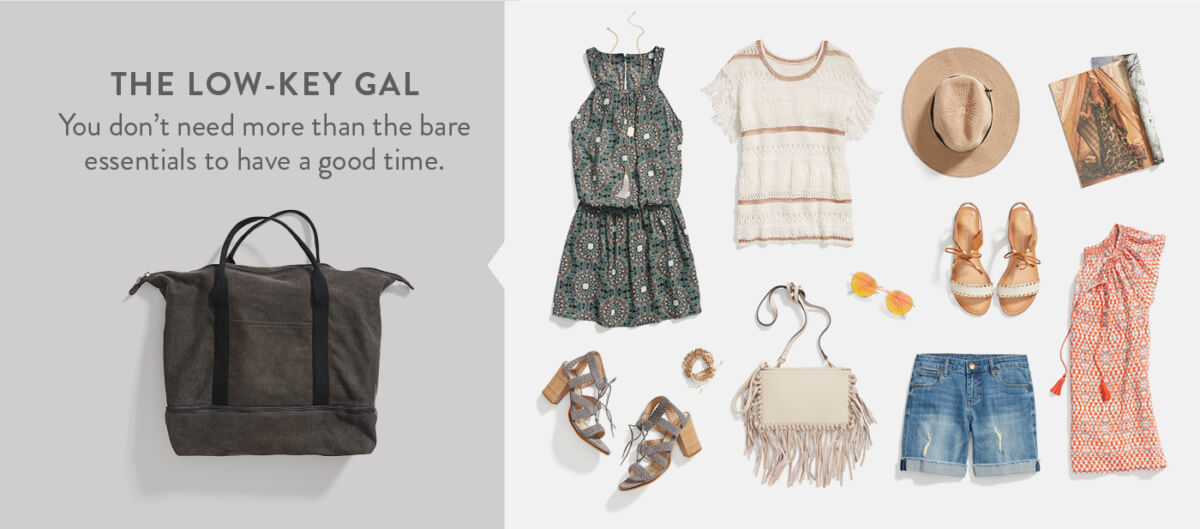 WHAT TO PACK IF YOU'RE LOW-KEY
You nonchalantly check the weather report the day before you leave and only bring the essentials. Anchor your outfits around a few basics and on-trend pieces, then dedicate the space left in your bag to accessories—they're easy ways to elevate your look.
Stylist Tip: "If you want to optimize space, bring dresses! They're the most transitional pieces when going from day to night, and the easiest to pack." —Logan P.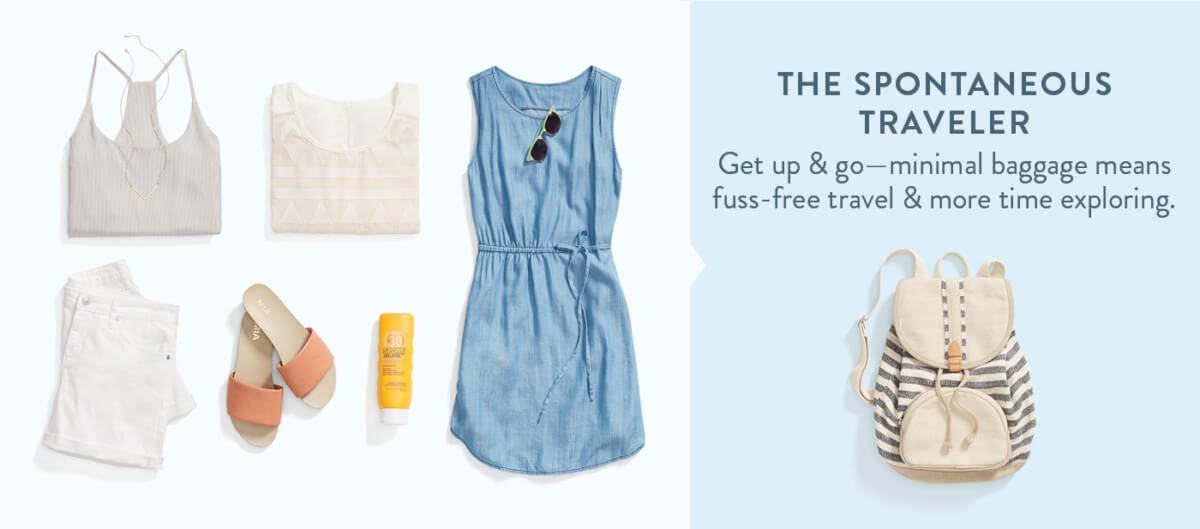 WHAT TO PACK IF YOU'RE SPONTANEOUS
Last-minute trips are your jam—you're the Spontaneous Traveler! The key to packing for Memorial Day weekend? Toss interchangeable, lightweight pieces into your backpack before you head out. Grab your favorite tee or tank, ultra-comfy white jeans and a cinched-waist sundress. Then slide in your go-to summer sandals before your run out the door—you're so low maintenance they're the only thing you'll need for an impromptu adventure.
Stylist Tip: "Mix & match neutral hues to take the fuss out of deciding what to wear while you're away! Just make sure you bring one pop of color to freshen up your palette
even if it's just a bold lip!" —Lily F.
Are you a planner or are you more spontaneous? Perhaps you're a bit of both. No matter your packing style, discover five curated pieces that are sure to make their way into your suitcase when you take your style quiz and schedule a Fix. Keep what you love and send back what you don't. Shipping and returns are on us.