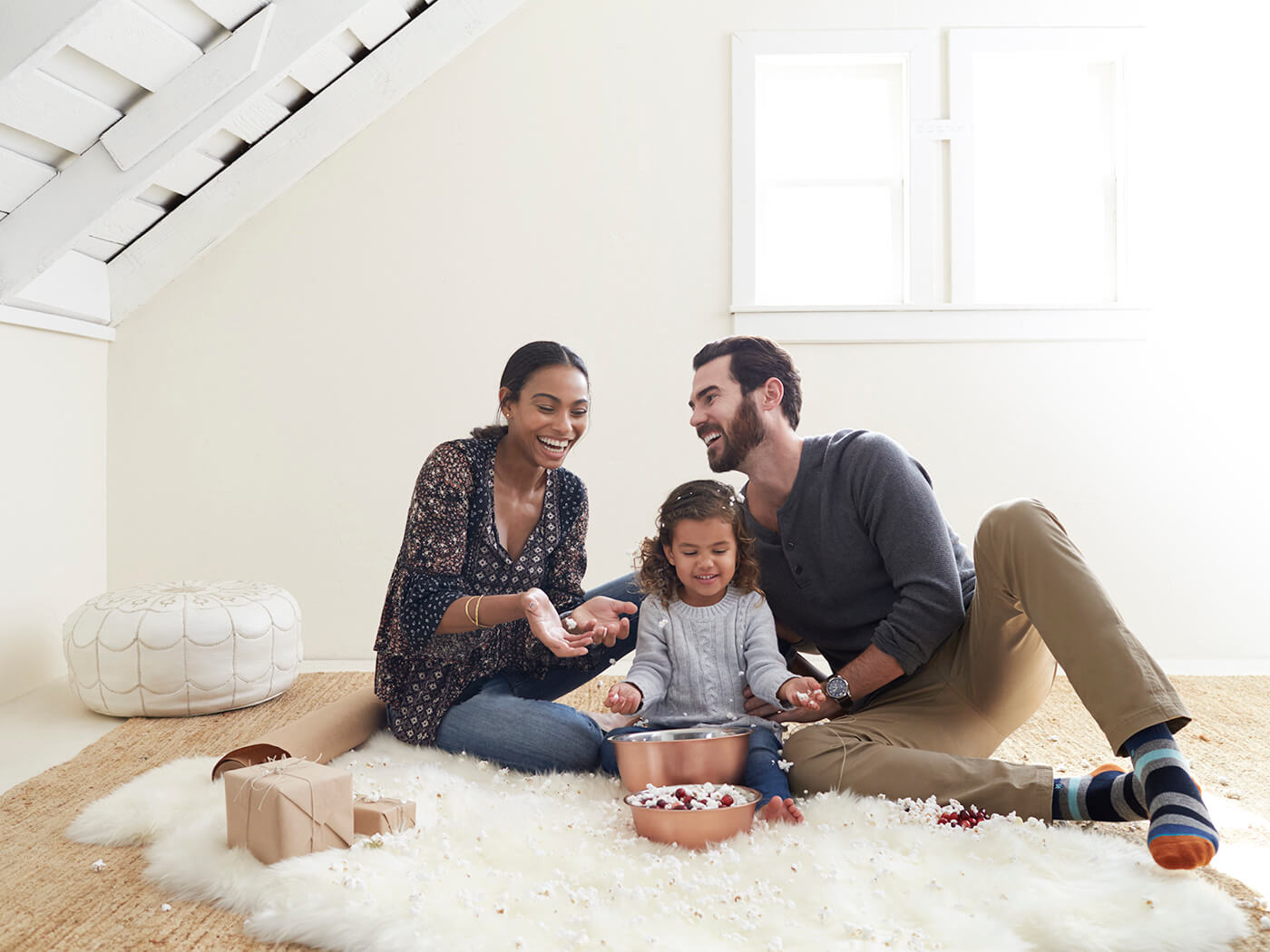 1. FUN FIRST, PICTURE SECOND
If you're using a professional photographer for your family photos, make sure they take a few photos while you settle in and get comfortable. And remember, their energy will transfer onto you and your family, so make sure you find one that you feel like can be yourself around.
"Whenever I'm taking family photos, I make sure there are mutual positive vibes. It helps us all relax and really enjoy the moment—which is what it's all about."
2. COORDINATE YOUR LOOKS
We don't mean you need to wear matching T-shirts, but consider how to make the photo look cohesive. Are you wearing your favorite cream sweater? Put the rest of the fam in darker tones like navy or burgundy. Remember that your outfits represent you and your personal style—so wear something you love.
3. LOCATION, LOCATION, LOCATION
Your location should show off the personality of your #squad. Do you love the ocean? Take your photos at your favorite beach. Are you homebodies? A cozy couch in color coordinated chunky knits can (and should!) be your go-to.
"I love to see families find a location that really suits them. It makes them more comfortable and translates into a great end result. "
4. LIGHTS, CAMERA, ACTION
Want to mix it up? Try an action shot! There's something really natural about a family goofing around and just being themselves.
5. WHEN IN DOUBT—DIY
Everyone loves to see a smiling family on the front of a card, but sometimes the perfect is in the imperfect—right? If you're using a tripod remember to find some open shade. Try under a tree or even a covered porch. This will keep squinting at bay and avoid unnecessary shadows. When it doubt, grab a selfie stick! They're perfect for capturing your loved ones in the moment, having fun and totally candid in a very real way.
"My tips? Start with a funny face pose, then an over-the-top silly pose, then move into a natural smile. This will help everyone relax and may even produce your favorite shot of the bunch."
Are you taking family photos this year? Let our expert stylists help you find the perfect outfit. Take your style quiz and submit a request note with your family's coordinating colors. If you have a backdrop or theme in mind—that's helpful as well. If not—no worries. Sit back and relax while five curated items arrive on your doorstep. Try everything on in the comfort of your home and only keep what you love. Take a peek at Stitch Fix Freestyle™ for inspiration and items you can instantly buy. Shipping, returns and exchanges are always free.