Scroll on to see the 12 fall essentials—plus, how to wear them IRL.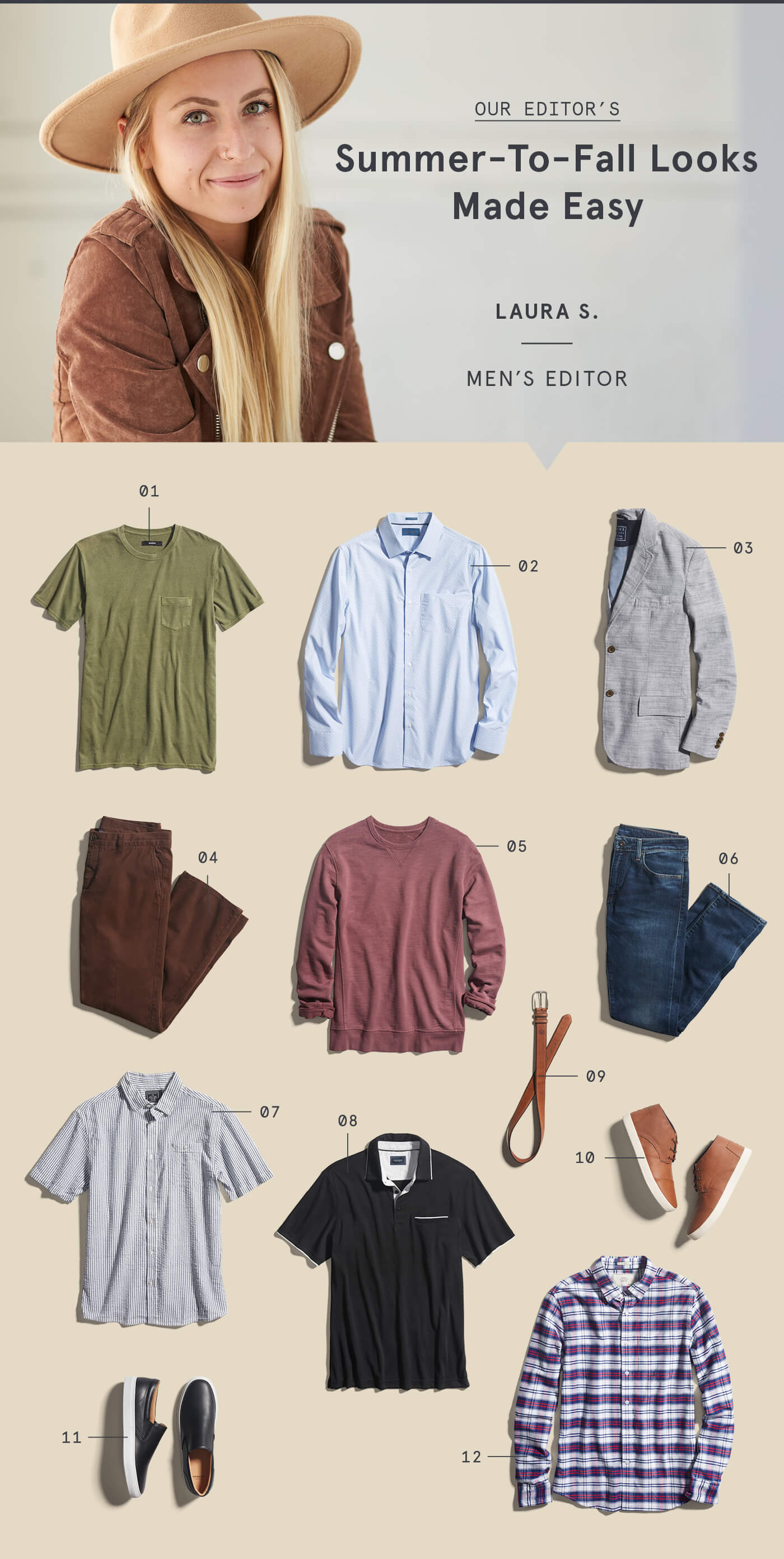 TEXTURED TEE
"A textured T-shirt is an ultra-comfy, timeless piece you can throw on any time. Try it in our favorite olive green―a bold color making noise as navy's competition."
SLIM BLUE DRESS SHIRT
"As classic as it gets. Think of a tailored, perfect-fitting dress shirt as your wardrobe workhorse―ready to wear-on-repeat under a blazer, bomber or solo"
CHAMBRAY BLAZER
"I love the versatility of chambray. It's emerged as a modern essential for guys seeking a different kind of blue. Put that fabric on a blazer jacket and voilà, you're looking smooth."
ESSENTIAL WASH CHINOS
"Every guy needs go-to chinos. Add in a soft wash with an interesting dye and your regular pairs turns into standout essentials. You can also forward your chino style with a stretch version, designed for extra mobility, comfort and endurance."
DYED CREWNECK SWEATSHIRT
"You can't ignore the effortless style of a comfy, lightweight crewneck. It works perfectly for running quick errands or functioning as a layering piece."
DARK WASH DENIM
"A must-have that really does go with everything. Upgrade to a slim cut for a wider range of looks―from a lived-in tee to polished dress shirt. It's an easy upgrade that makes you instantly sharper."
SEERSUCKER SHORT-SLEEVE
"Seersucker stays clean and crisp well past summer. Try mixing it up a bit by styling your shirt as an open 'jacket.'"
BLACK TIPPED POCKET POLO
"An updated take on the everyday polo that brings sophistication and edge. Turn your polo into a fall essential by throwing it under a crewneck or blazer."
COGNAC LEATHER BELT
"How else will you hold your pants up? Opt for one in a brown cognac to liven up your accessories."
SNEAKER-BOOT HYBRID
"Is it a mid-top sneaker? Or is it leather chukka boot? It's the best of both worlds to freshen up and expand your shoe collection."
BLACK SLIP-ON SNEAKERS
"Full of swagger and completely all-purpose. Wear them often and pair them well with chinos, jeans & suit separates."
VINTAGE PLAID BUTTON-DOWN
"It's not only reserved for holiday vibes. A traditional tartan plaid shirt is a closet necessity that can pair endlessly. Period."
Scroll on to see Laura's summer-to-fall picks in action.
WHAT TO WEAR FROM OFFICE-TO-NIGHT OUT
"An easygoing outfit that pulls double duty: flexible enough to work hard 9-to-5 and then handle wherever the night takes you."
WHAT TO WEAR TO HAPPY HOUR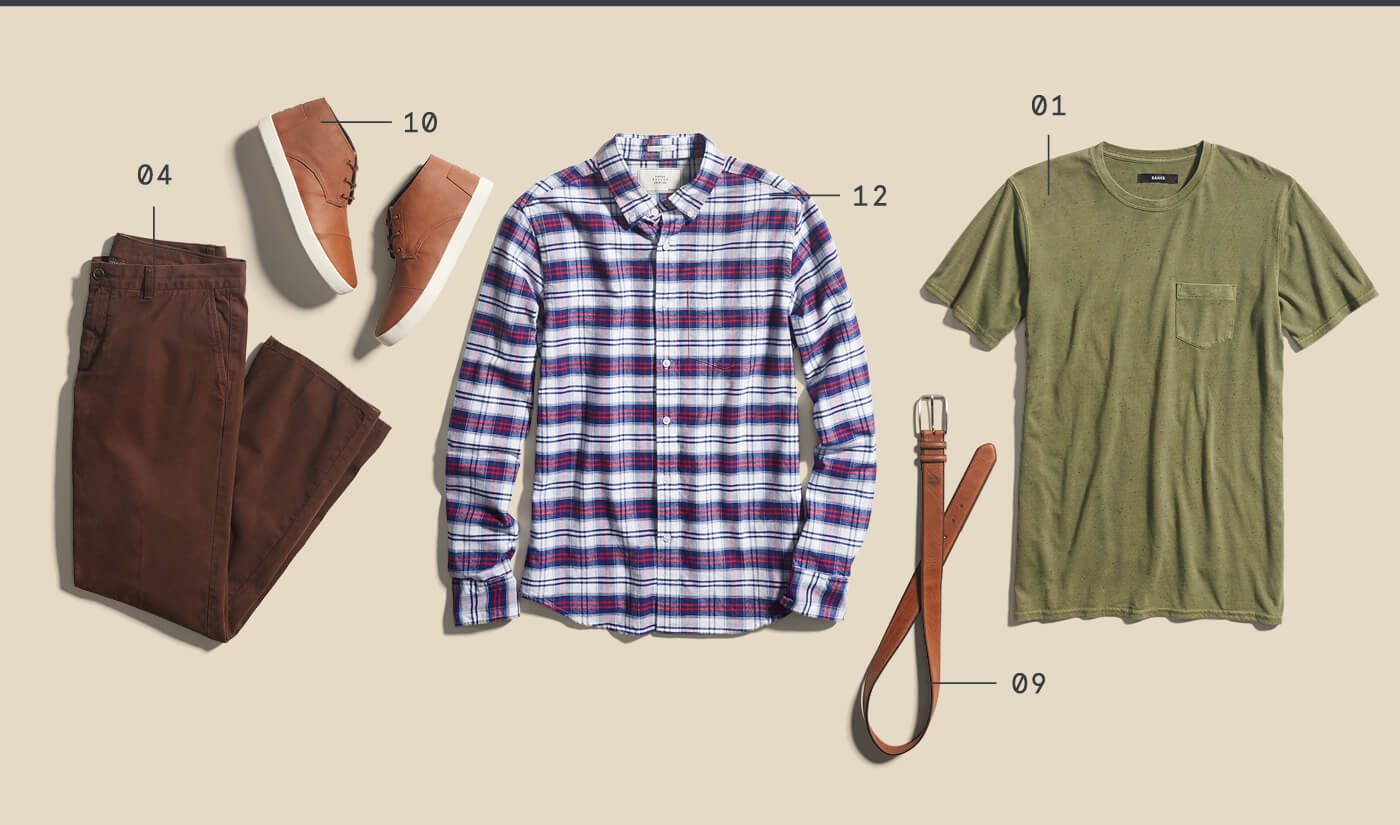 "This round's on us, but you'll be getting all the buzz. It's a ready-for-anything outfit that nails spontaneity with a unique color combo."
WHAT TO WEAR ON COFFEE RUNS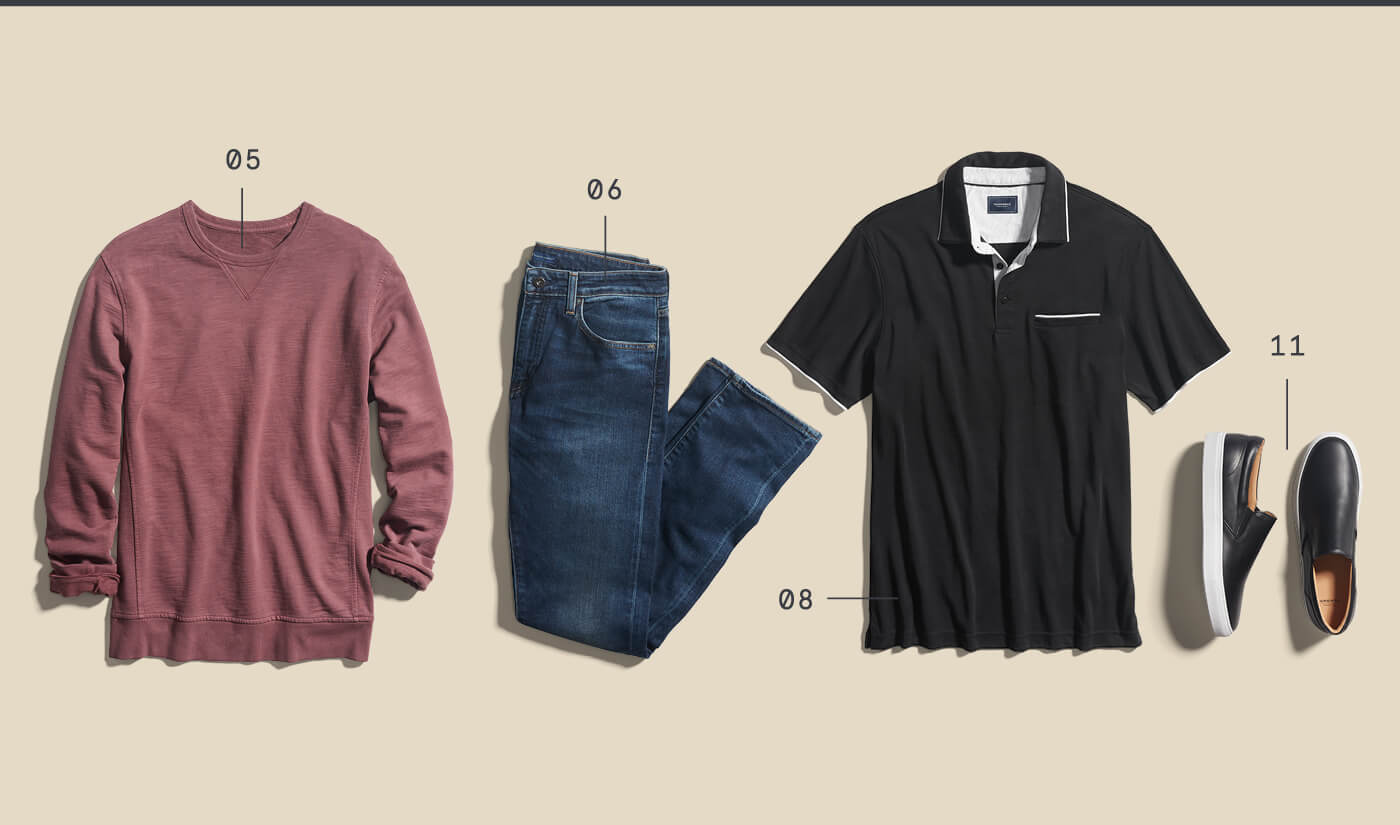 "Stay calm, neutral and caffeinated in the weekend frenzy with the pro-layering move of a light sweatshirt and sleek polo."
WHAT TO WEAR TO THE MOVIES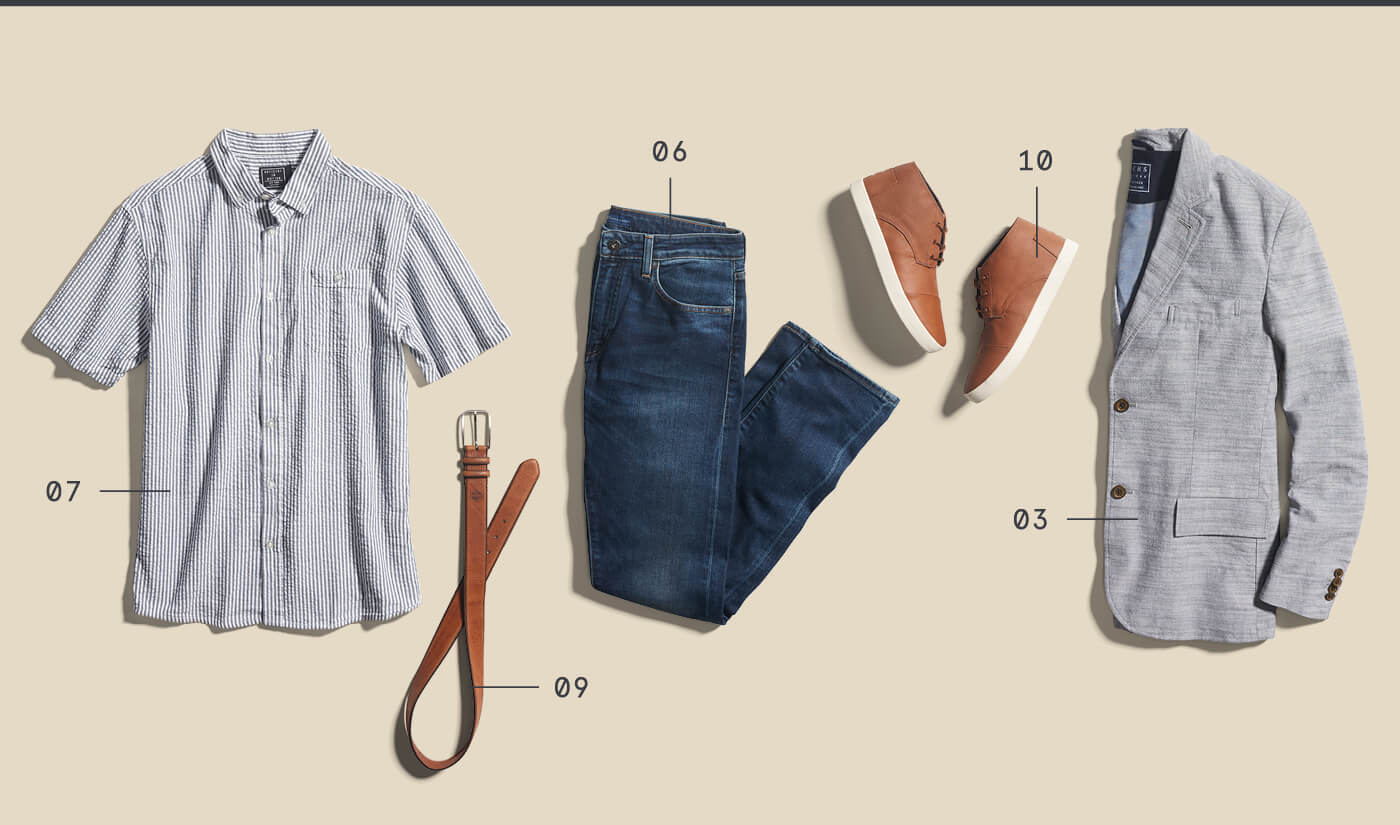 "Want to make lasting impressions a breeze? Keep it cool and elevated with a chambray blazer and seersucker shirt."
Digging our picks? Ask your Stylist for any of the looks shown.