Are you wanting to explore a new way of dressing that expresses your individuality? Or, maybe you've found yourself stuck in a style rut and are eager to try something off the beaten path. Bohemian style for men might be the next move you make to stand apart from the crowd. Take a page from the fashion books of style icons Russell Brand and Lenny Kravitz. They've rebelled against clean lines and mainstream trends looking effortlessly cool day after day. Wondering if you can pull it off, too? We're confident you can with these carefree style ideas we have in store for you.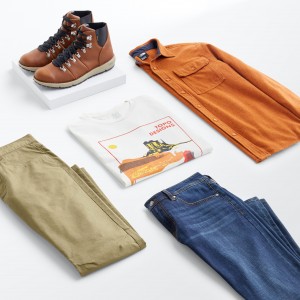 What is Bohemian Style in Men's Fashion?
Let's take a moment to define men's bohemian style and recognize the roots of this free-spirited and experimental dress code. Bohemian styles—boho for short—are associated with the free thinkers, eccentric artists and nomads of the world. A melting pot of eras and fashion statements led to today's bohemian style. From the Beatnik subculture to the hippie movement to a current desire to express individuality—the modern-day bohemian is born.
Men's boho styles encompass unstructured silhouettes, nature-inspired fabrics and mildly unkempt clothing. In short—look like you don't care what you're wearing, but make it fashion. How, you ask? Read our top tips to dressing like the disheveled-on-purpose renegade your creative self is waiting to be.  
Men's Bohemian Style: Shirts
Casual, comfortable, loose and lived-in. These are the elements to look for when choosing which shirts to add to your men's bohemian style repertoire. This space is not for the type who loves tailored and restrictive get-ups. At the forefront are relaxed pieces for writing a ballad sitting on the floor one moment, to chopping wood the next. Whatever your inner artist enjoys doing in off-duty hours, these styles offer freedom of movement and expression. Keep scrolling to discover three shirt types you need in your closet ASAP. 
Baggy Button-Ups
When we say baggy, think of yourself strolling on the beach in a lightweight button-up—Jack Sparrow style. Choose from natural fabrics like linen and cotton that allow the breeze to keep you cool. Cuff the sleeves a couple times or roll them up to the elbow to reinforce the fact that you're a chill dude. Have tattoos? This is the perfect way to show them off while embracing men's bohemian style.
Want to achieve rugged Jason Momoa vibes? Expose a bit of chest hair by undoing the top two (or more) buttons. Your current or soon-to-be significant other will be all about it. Fill the open space by layering a few beaded necklaces to seal the deal.  
Funky Prints 
Remember when we said the current boho style for men was inspired by hippies? No need to wear flowers in your hair. Wear them on your shirt. Micro florals are one of men's spring fashion trends for 2021, and we're diggin' it. Have a penchant for other prints like paisley, tie-dye or abstract? That's the beauty of this individualistic style, and we say go for it.  
If you've dabbled in wanderlust over the years and collected any worldly articles of clothing, even better. Wearing a printed shirt from your travels will be a reminder of fond memories and provide a unique look. Textiles from across the globe will give you a step up from the rest. Bon voyage, globetrotter.  
Groovy Graphic Tees 
What better way to express yourself than with a graphic T-shirt showcasing your favorite band, destination or mantra? Don't run the risk of matching with too many people on the street. Personalize your graphic tees by doing a little at-home tie-dye DIY. Or, leave them out in the sun for a worn-in feel that's a staple in men's bohemian style. When it comes to color, the more faded, the better but don't limit yourself to neutrals. Have fun adding different shades to your closet to reinvigorate your looks. Who says men can't wear pink? Not us. Put your own twist on the number one color of summer 2021 men's fashion trends.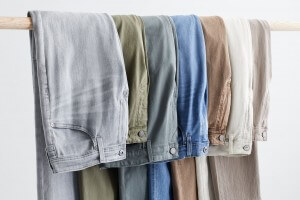 Men's Bohemian Style: Bottoms
Most other style genres contrast loose shirts with fitted pants and vice versa to balance the fashion scales. The opposite is true for bohemian style for men. Go against the grain and choose relaxed fits for top and bottom. Don't go too oversized with clothes that swallow you up, but rather, leave room for swift movement. Never miss a chance to easily bust out a Bruce Lee move if you have to. Priorities. Read on to find the choice of bottoms that most intrigue you.
Say No to Short-Shorts
Ditch the trendy upper-thigh seersucker shorts for a longer pair of cargo or chino shorts that hit at the knee. For an ideal fit, opt for a pair that fits at your waist and is relaxed through the seat and thigh. You can play with patterns here as well. Camo, botanical or textured prints are all nice options. Simple solids are nothing to turn your nose up at either. A practical khaki can be found in any quintessential bohemian closet. Versatility for the win.
The surf and sand are calling your name this summer. Head to the beach wearing one of these shorts with a loose printed button-up and straw hat for shade and extra style points. Go barefoot in true men's bohemian style and be one with Mother Nature. 
Denim for Days
When it comes to denim for men's bohemian style, ripped and rugged are the name of the game. Truthfully, the more distressed, the better. Go for the lightest wash in your collection to achieve that sun-drenched effect. If you're used to slim or skinny jeans, this is a sign to try something new. Roomy and relaxed fits are the way to go to achieve ultimate boho energy. Match them back to an easy tee and throw on a cargo jacket over top for a layered look. A printed bandana or scarf adds just the right amount of bohemian flair along with cuffing the hem of your jeans. 
Style Tip: Rather than tossing out a pair of jeans that have seen better days, grab a pair of scissors and turn them into wayfarer cut-offs. Don't worry about it looking too perfect. Use tweezers to pull at the raw hem to achieve a frayed finish.
Woven Pants for the Win
Looking for a change from your denim rotation? The men's bohemian style trend is all about embracing pants that both look and feel good. Comfortable joggers are having a major moment right now, but don't reach for a pair you'd wear lounging at home. Cargo joggers will give you the functionality you're looking for while also offering a cool factor. 
You can achieve a sharp look within bohemian attire, too. Twill trousers with a slight pleat and cuffed hem will have you looking dapper in no time. Pair them with your favorite button-up and top off the look with a charming layering piece. Take note—an array of boho outerwear choices are up next.    
Style Tip: If you're unsure if a pant offers a good balance of neatness and nonchalance, go for a drawstring waist. This will give you that laid back look of leisure that epitomizes bohemian style for men. Remember to choose woven materials like corduroy and cotton rather than knits like jersey or spandex. These styles are meant for the streets, not your sofa. 
Men's Bohemian Style: Outerwear
Oftentimes, the pièce de résistance, or outstanding item, of an outfit is what you choose to layer with. In other words, it can make or break the entire men's bohemian style aesthetic you're going for. Stay away from anything too tailored and err on the side of unstructured. Noticing a theme here?
Retro Vests, Shackets and Denim Jackets
To complete that dapper look we mentioned above, choose a vest with a vintage feel. Think of those retro vests made from tweed, canvas or even a handmade tapestry design. Not sure how to get your hands on such a piece? Ask a grandpa, great uncle or similar figure in your life if you can shop in their closet. Anything that provides a contrasting texture will add depth and dimension.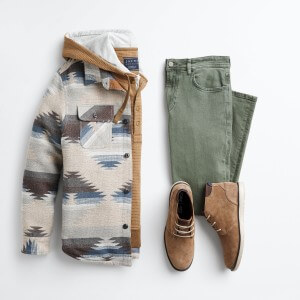 For a walk on the casual side of men's bohemian style, you have plenty of options to choose from. The men's shackets trend (a mix between a jacket and shirt) offers the most adaptable layer from the bunch. It's lightweight and easy to stack on top of hoodies and henleys, or wear under heavier coats. They come in solids as well as artisanal prints made to inspire. Bonus—shackets are seasonless and come in handy all year long.
Distressed denim jackets are no-fail options while open-front cardigans might be the surprising choice. Bundle up in a slouchy sweater and leave it unbuttoned for a cozy twist on men's boho style. For a full-on artsy feel, add leather bracelets, silver rings and a wide-brim fedora. Soon you'll be writing your next manuscript by the fire looking fly and feeling fine.  
Style Tip: Participate in No Shave November every day and grow out your facial hair. While you're at it, resist the urge to chop off your mane, too. The longer the locks, the more messy yet suave you'll look. Tie your conditioned hair back into a man bun and use beard oil to stay fresh. Your hygiene doesn't need to suffer in order to successfully pull off a "just rolled out of bed" facade.  
Men's Bohemian Style: Shoes
Unlock the final level of the men's bohemian style game with the appropriate shoe choices. Your boho closet wouldn't be complete without lace-up leather boots. Choose a scuffed up, weathered pair. You want them to look like you've walked a million miles in them, but they should be durable enough to withstand a million more. 
Suede loafers are an ideal option for the lover of the arts. You'll look debonair strolling through an art gallery in these kicks. As the weather warms up, a pair of flip flops in a natural material can be a great option. Take it up a notch with a boho sandal—they're similar to sporty slides, but with leather straps. 
Step into your newfound style centered around maximalist, vintage charm with hand-selected pieces from an expert stylist. Take your style quiz, order a Fix and request an assortment of men's boho styles to achieve your carefree, non-conformist dreams. Try all five items from the comfort of your home. Shipping, returns and exchanges are always free.