What are your style #goals? Tell us what! Then, read on for more tips to tackle the new year.
Make a Statement
1. "I want to quit saving glamorous pieces, like dresses & accessories, for special occasions—every day is one!" —Brittany H.
2. "This year, I only want to wear outfits that make me feel like an off-duty celebrity." —Mel W.
3. "This year, I want to try bold color combinations like orange and pink." —Nicole G.
4. "I'm going to challenge myself to wear clothes that show off my body." —Margaret T.
5. I want to dig out my old vintage rock & roll favorites and give them new life. —Rachel L.
6. "I'm going to dress up when the mood strikes—not just when I have an event or occasion. " —Angela G.
7. "Wear a touch more color (anything that adds a pop to black!), add more 'meat and potatoes' to my existing wardrobe capsule & wear more lipstick!" —Dana S.
8. "Any random Tuesday is a great occasion be fashionable and fun! I want to dress up more." —Courtney S.
9. "I love black but it's time for me to break away from the neutrals and wear more color." — Michelle L.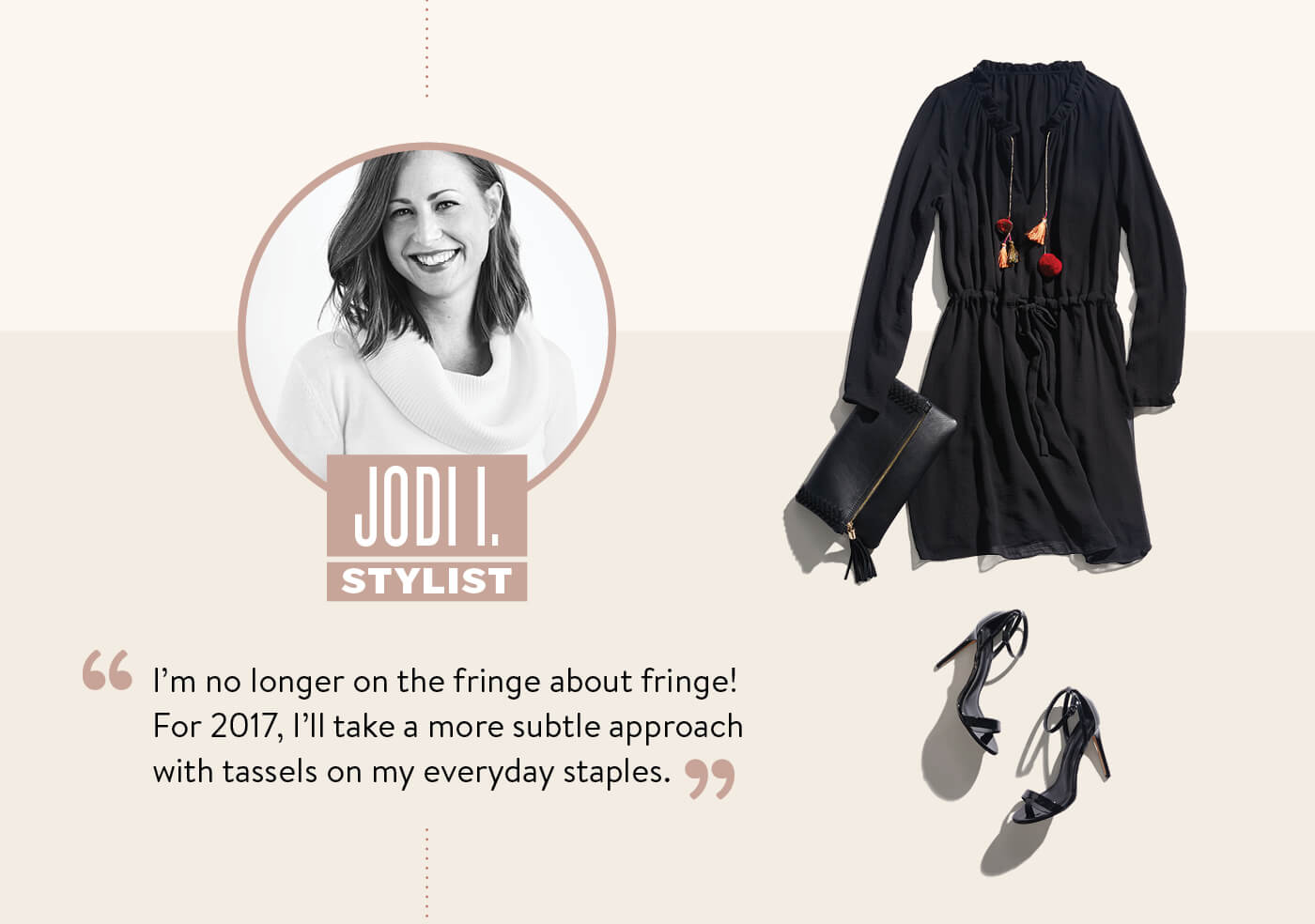 Invest in Investment Pieces
10. "I really want to invest in pieces that feel amazing yet timeless." — Heidi O.
11. "I'm obsessed with finding a pair of denim that's perfect for my body—no matter the cost!" —Logan P.
12. "My style goals include: finding the perfect trend coat (vintage or new) and buying silk blouses in all the colors of the gray scale." —Kate O.
13. "I'm on a mission to find the perfect black blazer to wear with turtlenecks & skinny jeans." — Brittany B.
14. "My style goal is closet purity. I want to keep and cultivate a wardrobe of pieces I love." — Kylie D.
15. "Invest in timeless, high-quality pieces to wear for years to come." — Julie K.
16. "I want to head in a more minimalist direction with great timeless pieces that make me say, 'Wow!'" — Lily F.
17. "I'm going to find my style muse. I'm so trend-focused that sometimes I get distracted!" — Katie H.
18. "I want to incorporate more neutrals into my wardrobe this year. My goal is to get back to modern staples." — Meredith G.
19. "I need more heels in my life!" — Laura Q.
20. "This year, I'm cleaning out my closet so that I can see where I need to invest in timeless pieces." — Kristy E.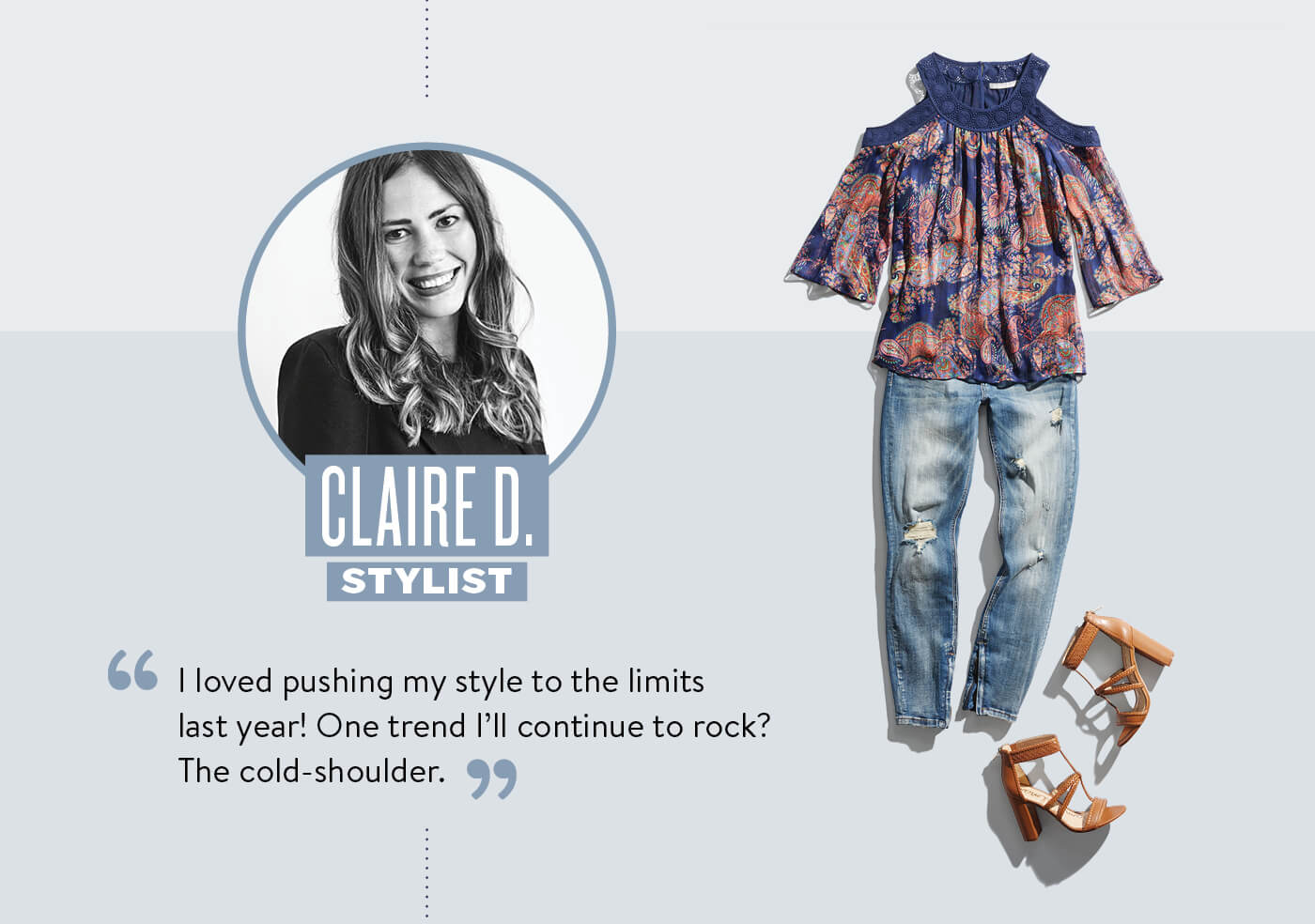 Try Your Hand At a New Trend
21. "I want to try more versatile fashion genres that lay outside of my comfort zone, like bohemian & minimalist styles." — Michelle S.
22. "I plan to go bright, frilly & girly, and not tamp down my natural inclination to be a little fancy. So what if I'm a little overdressed? I'll feel like myself!" — Alysha C.
23. "My style resolution for 2018 is to take more risks with trends and styles!" — Karen R.
24. "One of my goals is to try it before I knock it. I always see something on a mannequin or a new piece from Stitch Fix and think, 'I could never pull that off!' But if I love it, I want to try it on with other pieces in my closet." — Leah Y.
25. "I'm going to wear edgier pieces like faux leather and statement jewelry." — Cayla S.
26."I loved pushing my style to the limits last year! One trend I'll continue to rock? The cold-shoulder. —Claire D.
27. "My personal style goal is to be more adventurous with color. Wearing the color of the year, Greenery, is first on my list." — Clara M.
Redefine Your Personal Style
28. "I want to stray from my usual bright colors and learn to incorporate more neutrals & prints into my everyday looks." — Kelly G.
29. When you don't dress like everyone else, you don't have to think like everyone else. I'm taking the words of Iris Apfel to heart! — Shannon A.
30. "Add more color to my wardrobe! It's easy to get into a fashion rut with dark colors, especially when I'm running out the door in the morning & black is the easiest to throw on." — Chloe P.
31. "I'm promising to take the extra 5 minutes in the morning to complete my look—even if it's just a swipe of bright lip color." — Jordana P
32. "I want to wear more daring outfits that take me out of my comfort zone in order to change my comfort zone." — Megan M.
33. "I'm going to clean out my closet! Then I want to build my wardrobe with quality items that help me dress up every day." — Chris H.
34. "My goal is to maximize what I have in my closet by pairing new pieces with past favorites." — Rachel H.
35. "I love styling others, but sometimes I can forget to be more confident to experiment with my own personal style." — Rebecca M.
36. "My goal is actually for my clients: to focus on making each client feel fabulous by styling for their individual body shape & unique interest." — Laurie H.
37. "My style goal is to make every day count. At the end of the day, you are what you wear." — Alexandra O.
38. "Now that I'm a thirty-something, I'd like to evolve my style to be a little more refined—while still maintaining that 'city girl' edge." — Christina S.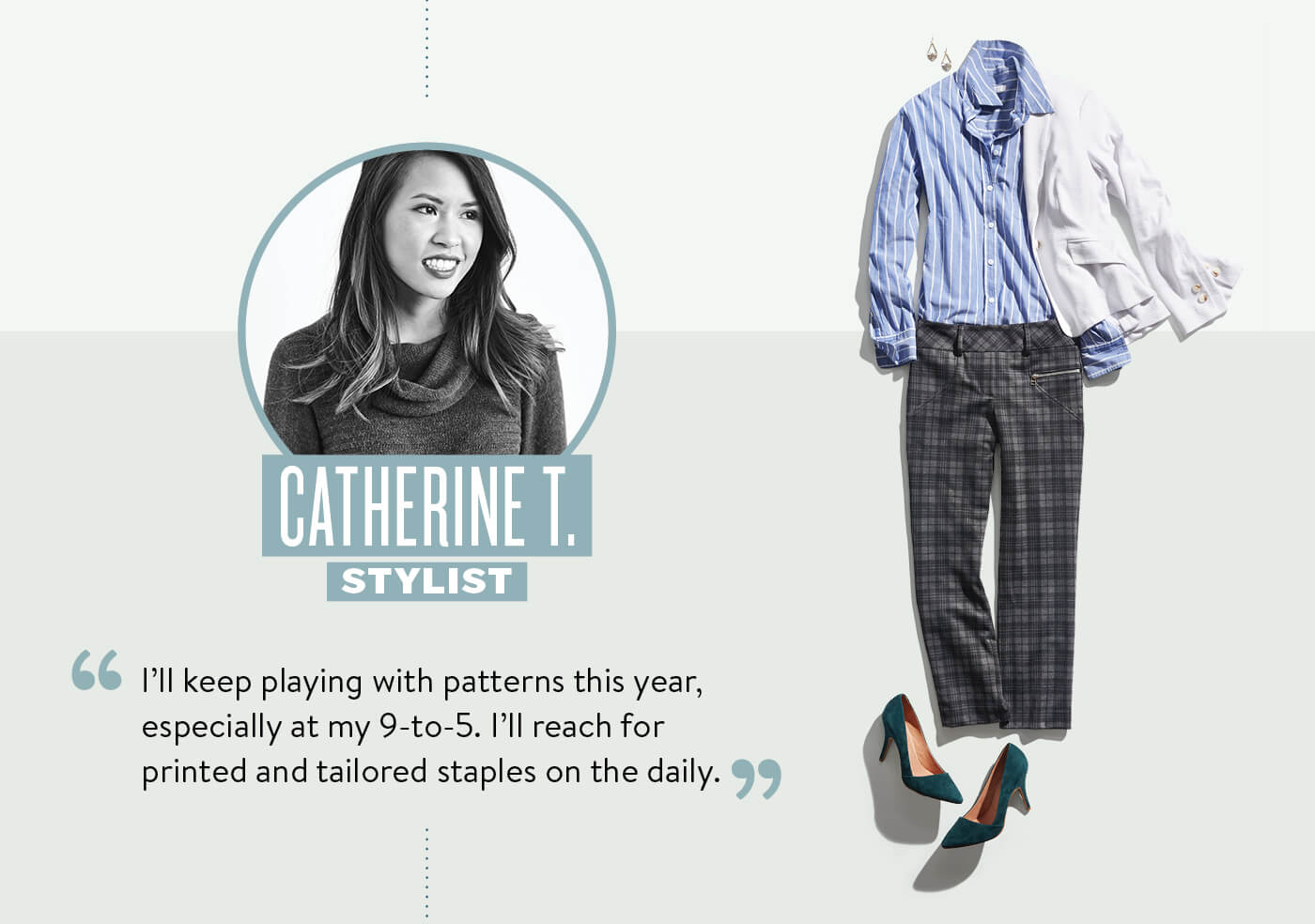 Learn The Art Of Accessorizing
39. "I promise myself to accessorize more so my outfits look polished." — Catherine H.
40. "I want to wear simple outfits that are fully styled. Whether that's adding boho jewelry to a whimsical dress or a polished winter coat over a pencil skirt and heels." — Chelsea M.
41. In 2018, I'll be challenging myself to rethink what it means to "match." — Whitney K.
42. "This year, I'm going to swap out my usual stud earrings and delicate pendants for more dramatic jewels—like large hoops (hi, J. Lo!) and lariat necklaces." — Logan P.
Slip into a New Silhouette
43. "My style goal is to incorporate more dresses & skirts into my weekly rotation. I'm stuck on jeans & I need a change!" — Nicole D.
44. "This year, I'd like to incorporate more dramatic layers into my look." — Karina W.
45. "I have a lot of casual basics. I want to add more unique pieces & accessories to help me stand out from the crowd." — Emily F.
46. "I want to pay attention to the small details of every outfit to add depth to my look." — Chelsea M.
47. "Try more fitted clothes! I love casual, relaxed pieces, but would love to wear more structured clothing." — Lisa P.
48. "I am going to wear more dresses! I love how easy you can transition from day to night with a quick shoe swap." — Tish L.
49. "I tend to wear more casual pieces (think: Jen Aniston), but I'd love to push myself to be more minimal & modern." — Lisa P.
50. "I'm going to work up the determination to wear heels more often (but also learn to bring a pair of flats just in case)." — Hannah B.
What are your style resolutions and goals? Tell us in the comments!