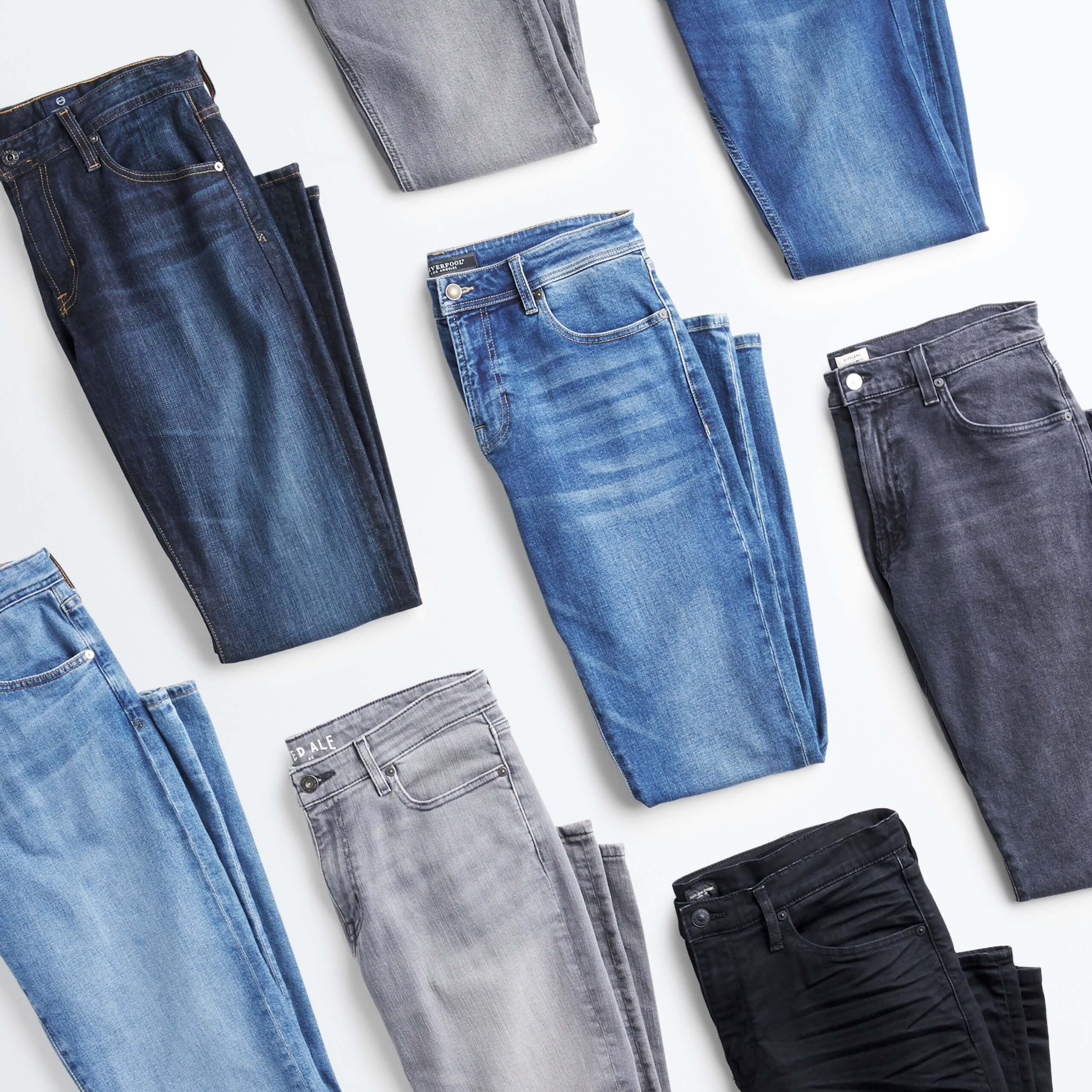 Keep reading for expert advice on finding jeans that fit, as well as before-and-after denim looks.
THE ATHLETIC BUILD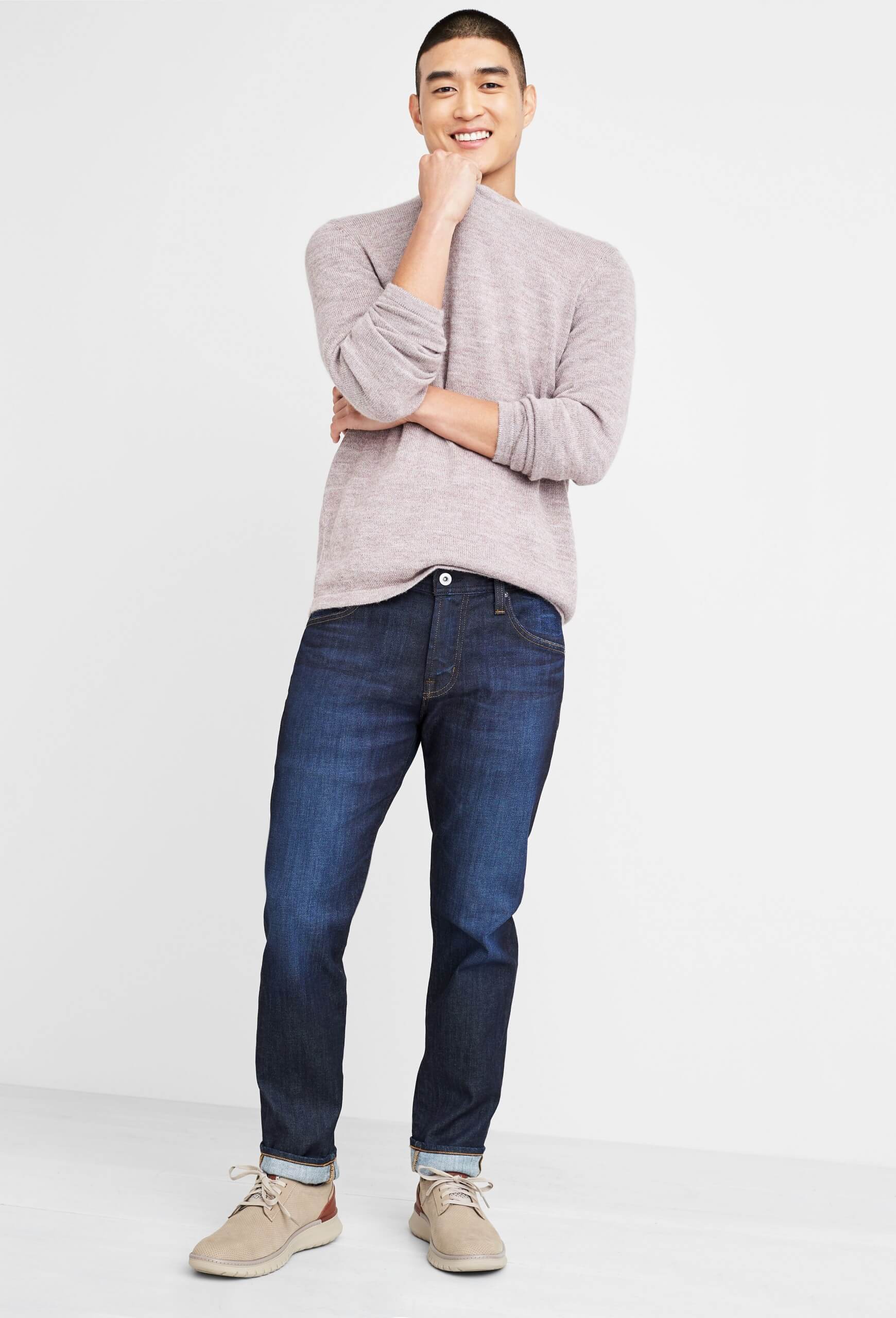 Athletic body type characteristics:
Broad shoulders

Muscular arms & legs

Narrow waist
For the guy who practically lives in the gym, you'll want a pair of denim that complements your athletic build. But you don't need to wear oversized jeans to make room for bulging muscles. Dump the frumpy look and upgrade to a more flattering cut for your calves and thighs. (Trust us, they'll thank you later.)
Stylist Talleda R. recommends a straight-leg jean for a streamlined look: "Thighs can be a tough body part to fit. A key rule is to avoid styles that are too tight. Skinny jeans can make you look disproportionate." Some added stretch is also a good idea for showing off definition—and allows for comfortable movement. (The struggle is real.)
More style tips for an athletic build:
Speaking of stretch, look for it in shirts, too. Many woven ones come in a cotton & Spandex blend, which can support your shoulder muscles.

Watch out for the basket-weave fabric found in Oxford button-down shirts. It's tighter and doesn't allow much wiggle room.

Pay attention to brands. European designers often have slimmer cuts and may feel constricted in the shoulder area.
THE SLIM BUILD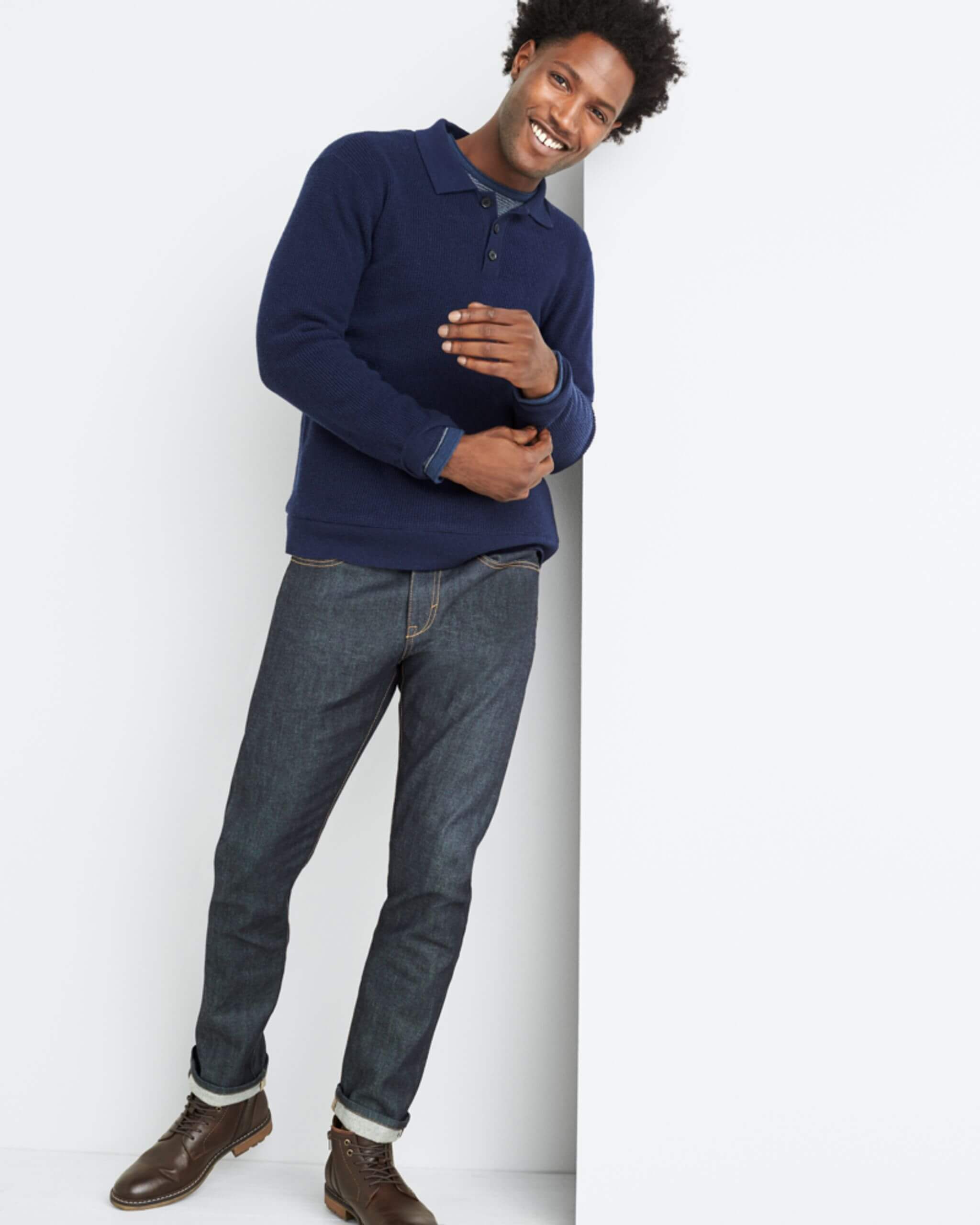 Slim body type characteristics:
Leaner, smaller frame

Shoulders & waist of equal width

Proportionate arms & legs
Not sure how to dress your slim build? For starters, stay away from relaxed jeans that are too long. Always opt for a tailored jean with just enough length for a half or full break.
To serve your slender frame, you actually have a bunch of options. Slim jeans and straight-fit styles work best for smaller builds. Skinny jeans are great as well, but avoid styles that taper in at the hem. They'll only make your legs look even slimmer.
More style tips for a slim build:
Make sure your sleeves and inseam are long enough so you don't appear to be wearing your little brother's clothes.

Clothing should drape closely to the body without billowing or slumping at the shoulder.

Stock up on slim-fit shirts. Since you likely carry less weight in your midsection, slim cuts emphasize your frame in a positive way.
THE AVERAGE BUILD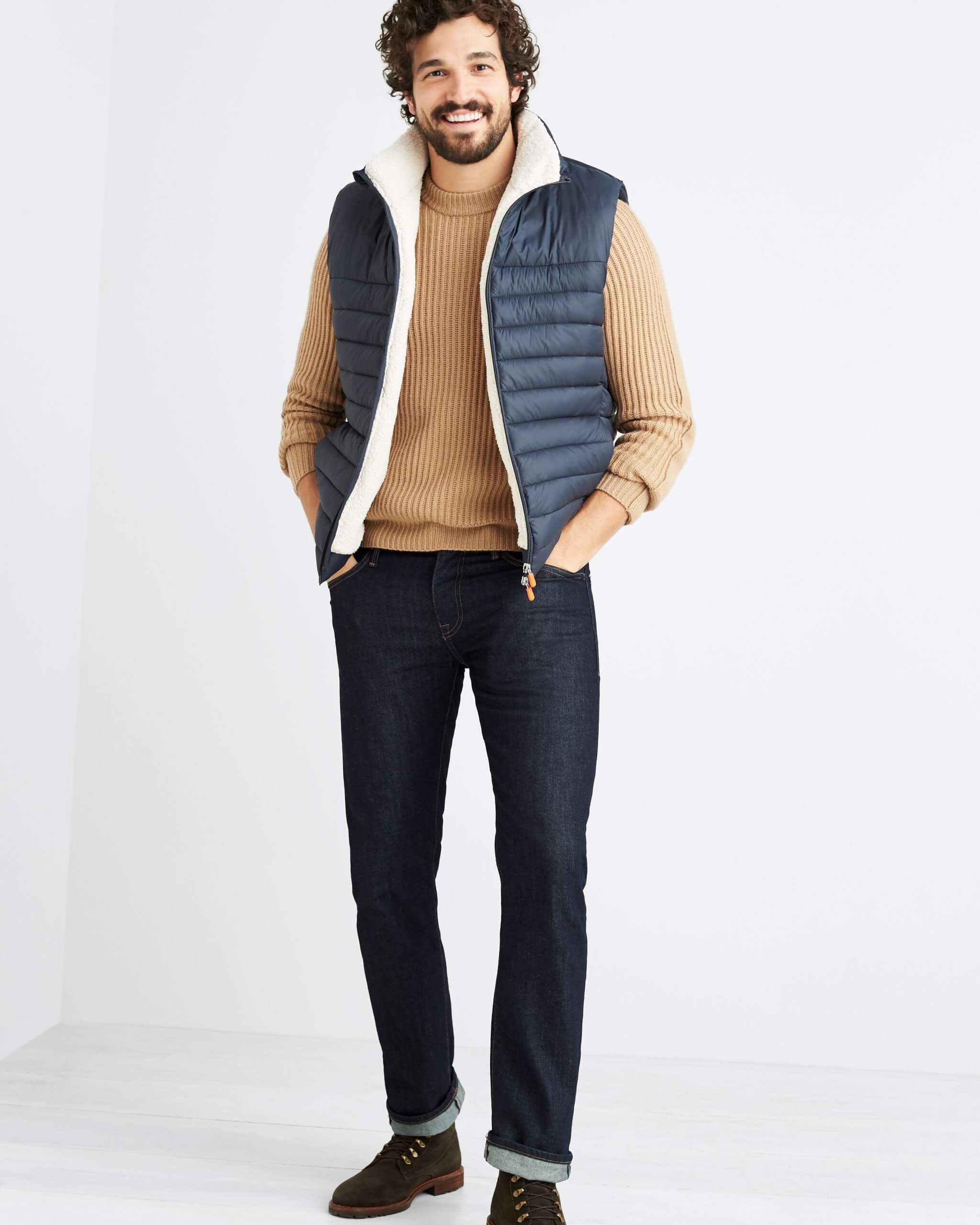 Average body type characteristics:
Wide shoulders

Narrow midsection

Lean legs
Have an average build? Vamp up an outdated style by embracing slim. You have lean, defined legs so don't hide them in dad jeans. (All of those leg curls weren't for nothin', ya know?)
Be mindful of trying relaxed-fit jeans―they can overwhelm your bottom half, especially when paired with a slim-fit shirt. Our Stylists recommend going with a low rise or a tapered pant.
More style tips for an average build:
Details are everything! Try a raglan sleeve, quilted details or military styles to create broader shoulders.

Layering is simple. Because an average guy's build has natural symmetry, you're able to layer much easier

―

than other body types

―w

ith sweaters, vests and blazers.

Experiment with bold prints and patterns. Your proportions make it simple to rock patterns or horizontal & vertical stripes without them appearing stretched out or widened.
THE HUSKY BUILD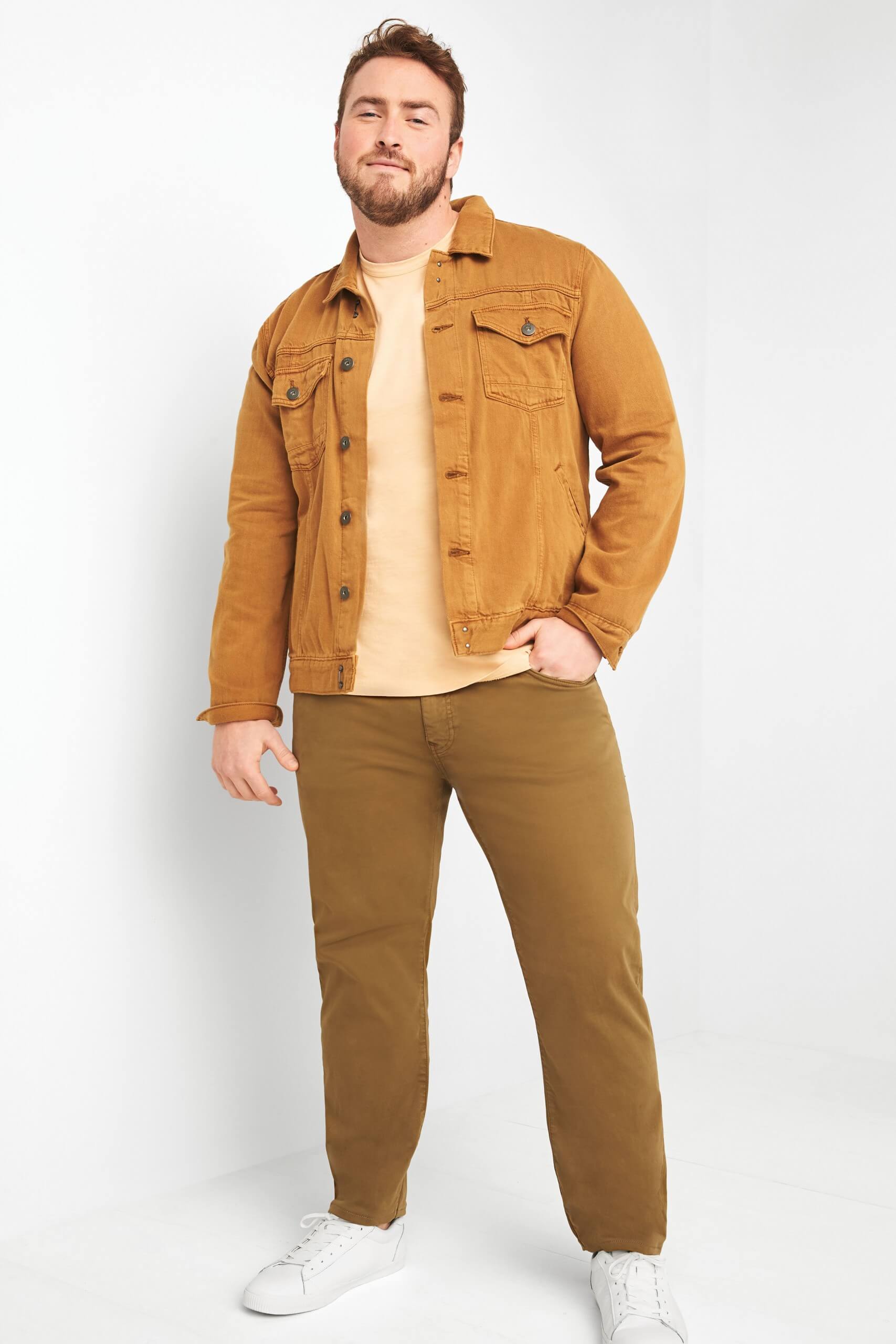 Husky body type characteristics:
Wider midsection and waist

Narrow shoulders compared to waist
We understand the temptation to reach for baggy jeans when you need a little more room. However, loose clothing can give the illusion you're actually bigger than you are. Instead, our Stylists suggest you opt for a classic fit in an updated, sleek cut to balance you out.
"The key to this build is to even out your proportions and draw attention to the top half of the body," advises Stylist Talleda R. It's best to avoid extra details in denim, like whiskering or fading. Buttons and fastenings should be clean and streamlined to avoid that extra bulk. Lastly, dodge details, like colored belts, that draw attention to your midsection. Eyes up here, please.
More style tips for a husky build:
Choose two-button jackets and shirts with a "V" to help elongate your chest.

Focus on tailored styles like structured jackets and blazers in a modern fit. They will help streamline your torso and define your shoulders.
Now that you're downloaded on the best denim styles for your build, are you ready to add a new pair or two? Take your style quiz, order a Fix and ask your expert stylist for a new pair of jeans. Let them know what washes and fits you're into and then sit back, relax and wait for new styles to arrive. Remember,  you're never required to schedule more than one Fix at a time and shipping, returns and exchanges are always free. It's as simple as that.