Read on for 6 pieces that will take you from winter to spring in a cinch.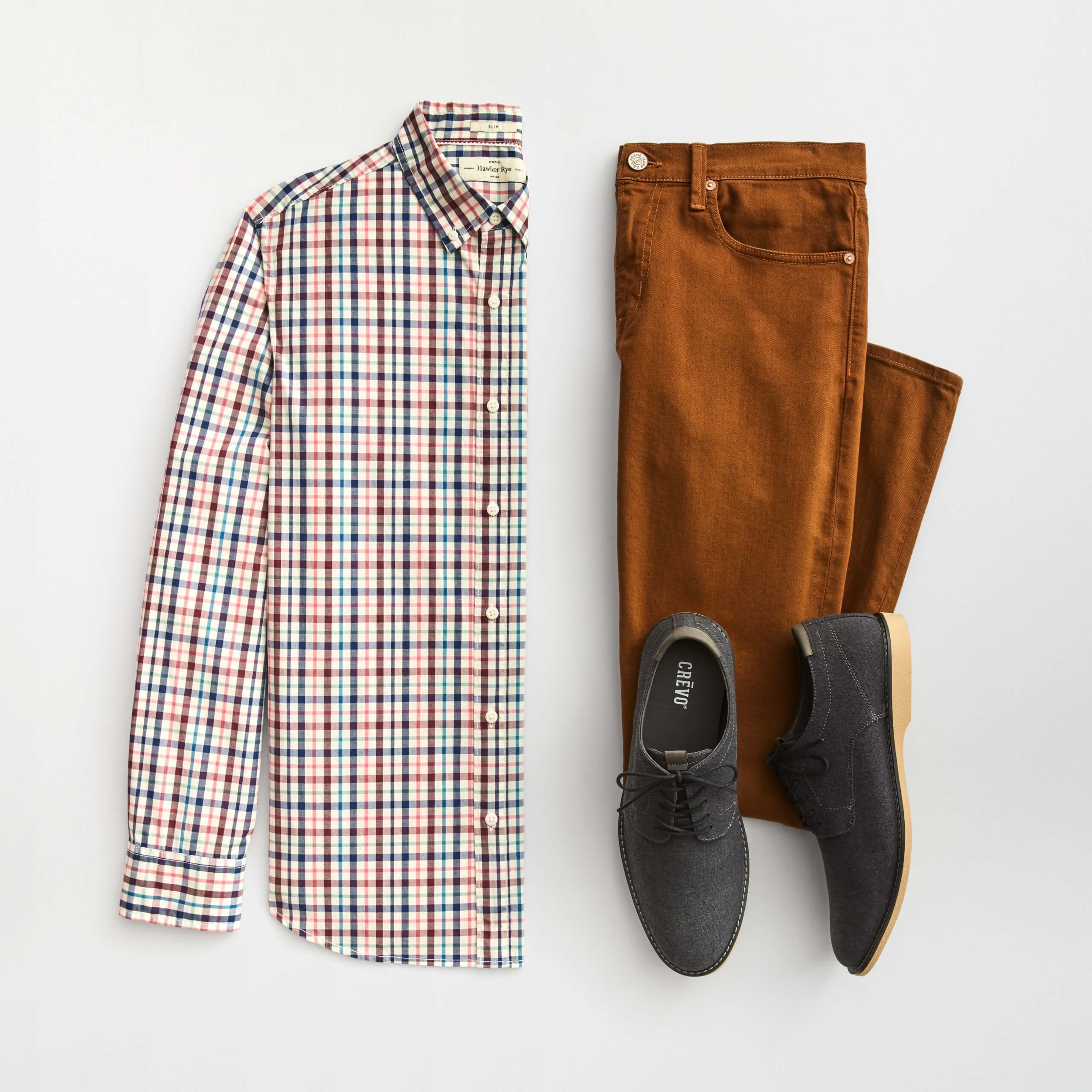 COLORFUL JEANS
You're already comfortable in jeans, so introducing a colorful pair to your closet won't feel that jarring. If you opt for something in neutral territory, such as brown, you can easily wear them with your everyday favorites, or go all in with shirts and jackets in complementary colors that stand out: pink, baby blue, yellow, pastel green. If you're new to this, a good rule to follow is to choose one loud piece per outfit, and then pair it with quiet accessories. Sartorial savant? Go wild with the rainbow.

LIGHT-WASHED JEANS
You already like the five-pocket style and the go-with-everything wearability of denim, so just swap in a lighter wash for spring. A few tips to remember: You must nail the fit. Ill-fitting jeans (or any item, really) are a no in general, but a lighter wash will only highlight or exaggerate the wrong size. Lighter washes usually have more distressing, which looks great, but reads as casual, so follow that theme with your other pieces for weeknights and weekends.

SOFT-WASHED SHORTS
Chino shorts in washed-out shades are the epitome of spring style. The colors alone signify comfort with a lived-in look while the classic cut keeps the vibe classy. Go for a length you feel good about that goes no lower than your knee cap, and make sure the fit is precise in the waist and leg. After you choose a color that works with the rest of your closet (or just ask us!), try an interesting print up top for fun.

TECH PANTS
As the days get longer, you get more active. Own your golf to drinks-with-the guys look with pants that move as much as you do. A little stretch and a lot of style should be par for the course, and you will make it happen with the right players. Start with khakis that are more sporty than dressy with stretch, wrinkle resistance and moisture-wicking technology, then add A+ pieces to complete your look—a smart polo and an outdoorsy jacket will look just as good as a hole in one feels.

SOFT-WASHED CHINOS
Same lived-in look and soft hues as its counterpart (see shorts above), but better suited for work, dates, weddings and other dressier occasions. To ease out of your winter hues, pick colors that fall within the same family as what you're used to wearing: greens, blues, browns—but the lighter, softer spring-ready variations. Follow the same rules here (and with every piece in this list): Get the fit right, mix in your favorite staples and when you're feeling advanced, level up and out of your comfort zone.

HYBRID SHORTS
This spring-summer staple has evolved in looks, materials and colors. Choose shorts that look refined but have a drawstring waistband for comfort, or flat-front chinos with performance stretch (for those impromptu frisbee games at the beach). Roll up a pair for tropical trips and weekend getaways, or just wear them around town to channel that "I'm on vacation" look and the attitude to go along with it.
Ready to dive into spring with new shorts and pants? Take your style quiz, order a Fix and ask your expert stylist for spring styles like hybrid shorts, light wash jeans and colorful chinos. Then sit back and relax as you wait for your options to arrive. Remember, you're never required to schedule more than one Fix at a time and shipping and returns are always free.