Read on to see what styles make the summer wedding cut.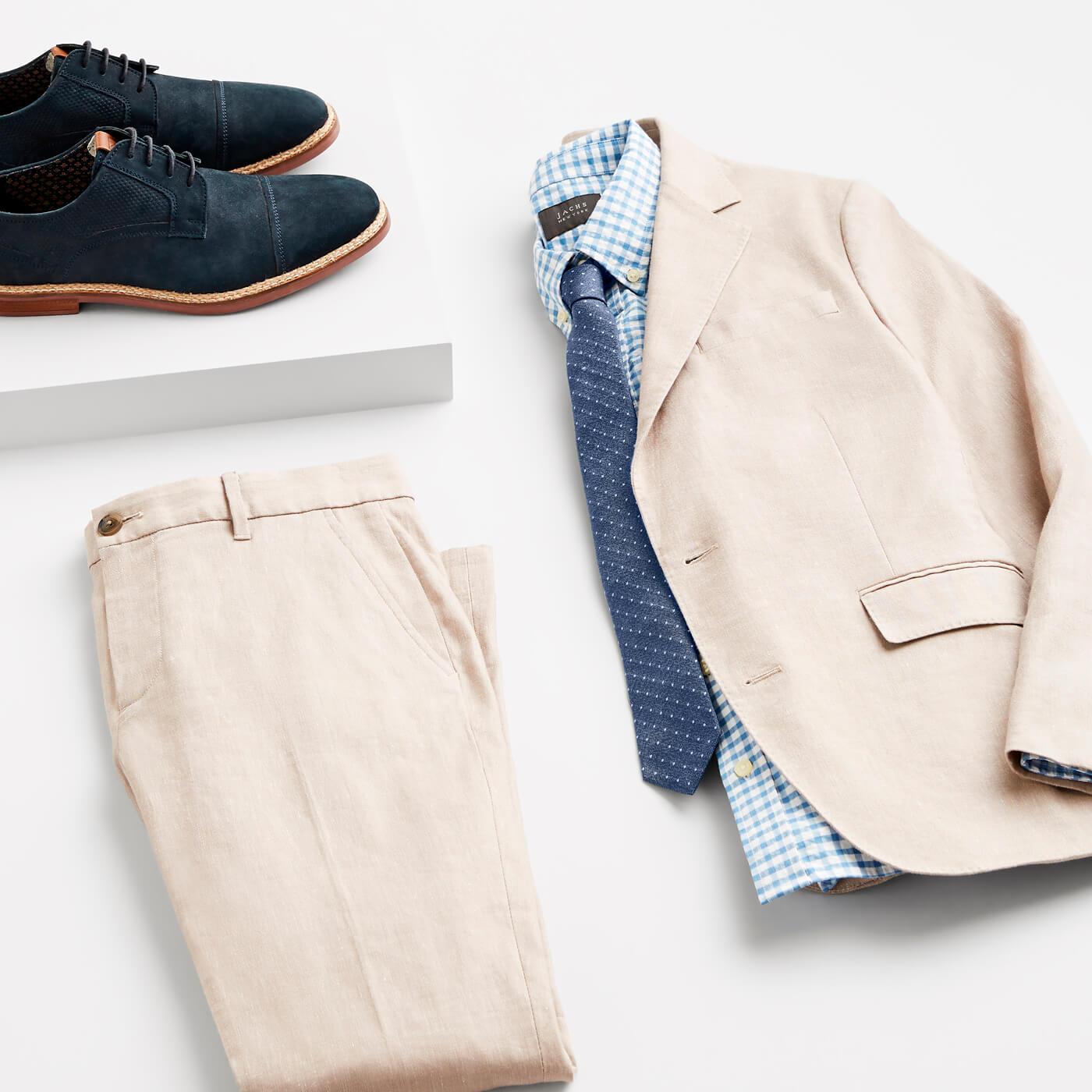 THE LINEN SUIT
You're looking to cover the most important things: adhering to the dress code, keeping cool and pulling off a stellar look. If the dress code is on the formal side, a linen suit is your best bet. Linen is naturally cooling, doesn't cling to the body and the options in suit styles have come a long way. Just like any other suit, make sure the fit is impeccable. Opt for a light color, such as tan, paired with complementary colors for the other pieces and you're all set. Even if you're roasting, you'll be the coolest guest there.

THE NON-SUIT, SUIT
Semi-formal or cocktail attire? Piece (by piece) of cake. There are a few tricks to breaking up a suit that end with a final product you can be proud of. Start with a lightweight fabric (this is key for all hot-weather looks), and keep your blazer and pants in similar colors (light gray and light blue) or within the same color family in different tones (tan and brown). Match your shirt to one of the two main colors, and finish your look with neutral shoes that match everything—even a pair of white leather sneakers could slip under the radar if they're clean and minimal.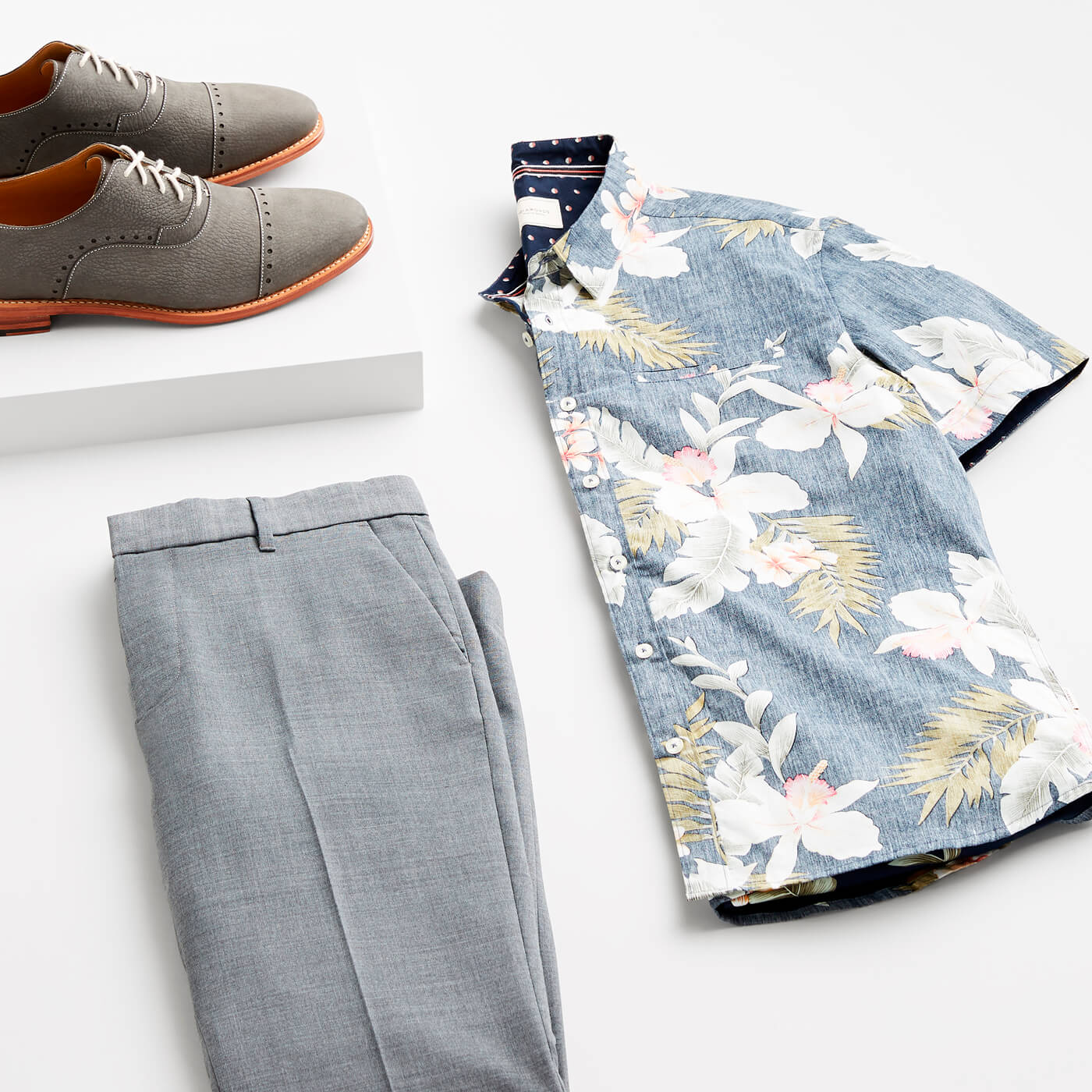 THE TROPICAL SHIRT
When you want to be the guest that looks like he'll be the life of the party (and the dress code allows for it), a hawaiian shirt is the way to go. It's the perfect conversation starter, especially if you're a plus 1, and if anything, you'll be complimented for making a bold style move. Since the pattern is already doing most of the heavy style lifting, keep the rest of your look chill with neutral suit trousers and your favorite dress shoes.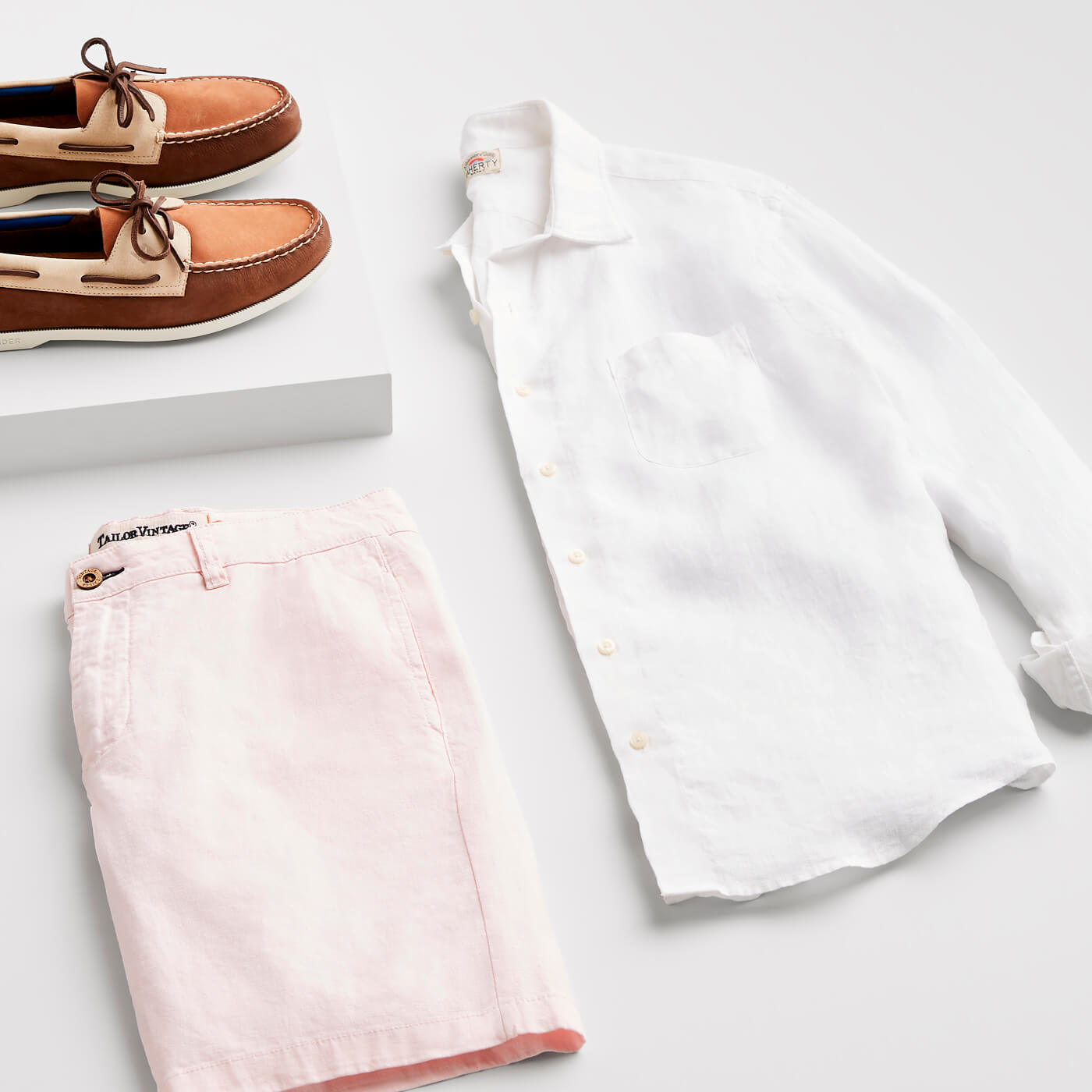 THE UNEXPECTED SHORTS
Although it may not seem like there could be a single scenario where shorts would be allowed, the rules are generally a lot looser these days. Casual beach weddings, rehearsal dinners in tropical settings—if anything, there's always the day after breakfast in the hotel. Whether it's before or after the big day, you'll still want to maintain a level of sharpness, even during down time. A white button-down shirt paired with shorts in a vacation-ready shade is all you need. Boat shoes are a classic way to complete the look (and easy to slip on and off on the sand).
A FEW STYLE TIPS TO REMEMBER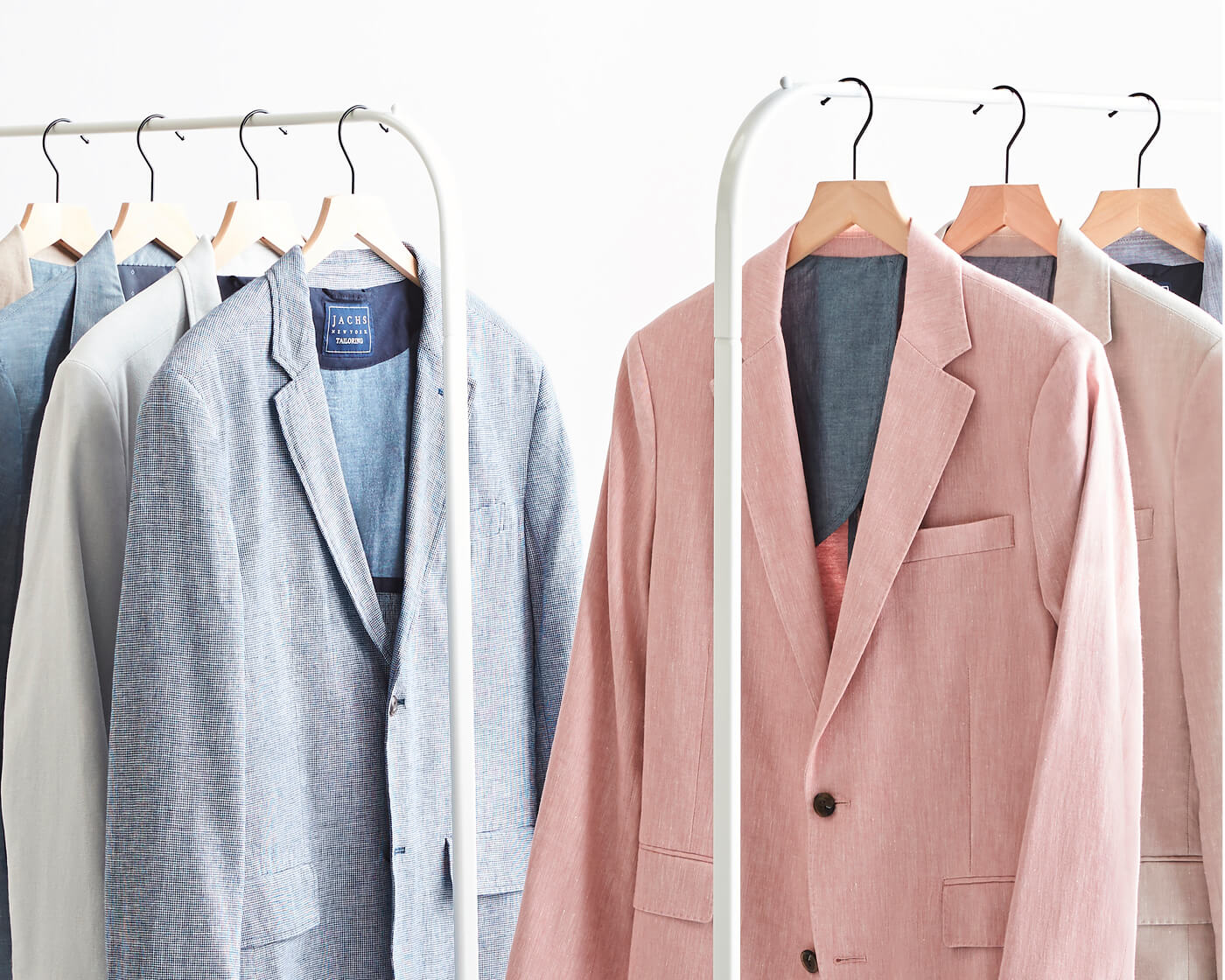 Blazer Style Tips
The perfect fit is essential for every piece in your closet, but even more so for a blazer or suit jacket. The most important fit is in the shoulders—the seam should fit your natural shoulder exactly, and tailoring might be necessary. Since it's summer, you can have a little fun with color. Go for the boldest shade you feel comfortable in, and then use complementary colors to round out your look.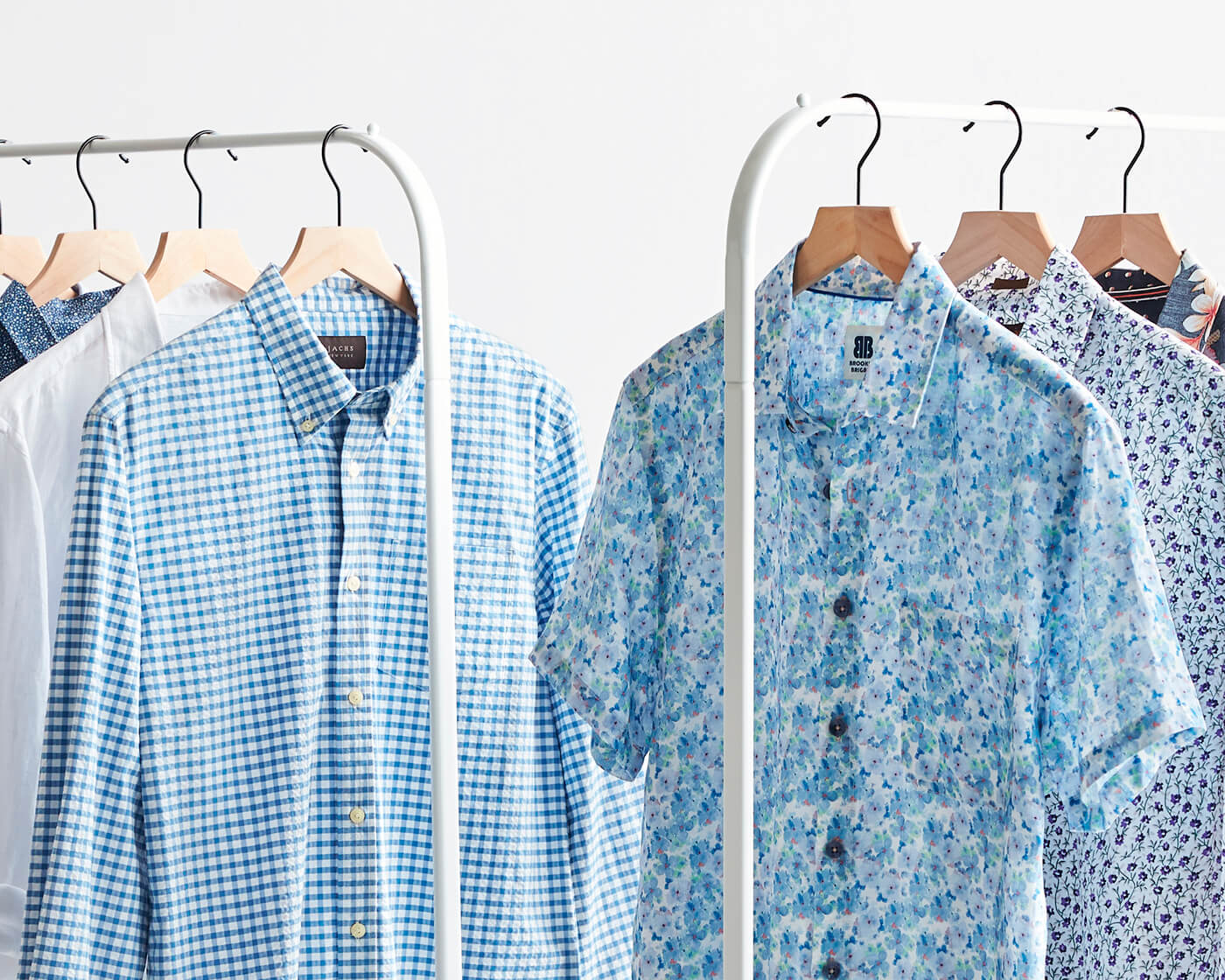 Shirt Style Tips
First, make sure there's no billowing in the midsection or sleeves. Second, raise your arms—if no skin is visible and the bottom of your shirt doesn't go past the middle of your zipper, you've found the right length. If you're dressing all the way up, pick a favorite pattern or go with white. For a more casual vibe, small prints and giant florals are just the thing.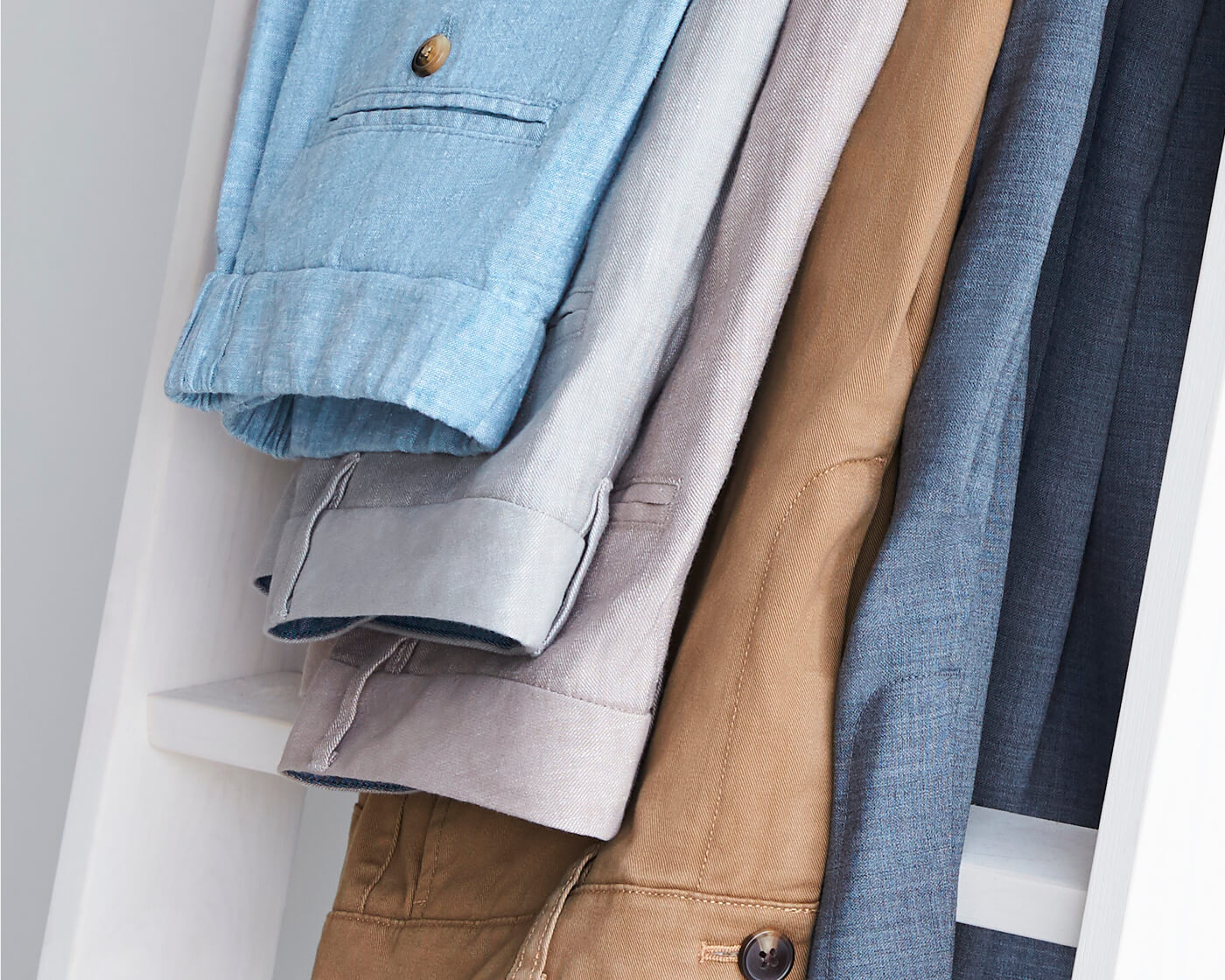 Pant Style Tips
Focus on the fabric, and make sure you're comfortable in them. Fit is important (again), so whatever you prefer—skinny, slim, straight—avoid going too big in size. Your pants should fit without a belt, but you can always add one for visual interest. Since you're trying to beat the heat, a proper cuff or shorter hem will not only show off your shoes, but allow for more air flow.

Accessory Style Tips
Here's where you can play with different textures, colors and prints. If you're going for bold in one area, such as your tie, keep the rest of your accessories and shoes on the neutral side. Again, a solid rule of thumb is to work with complementary colors—blues and browns look great together, as do pinks and grays.
Now that you have the rundown on dressing up for a summer wedding, you'll never be caught saying, "I wish I had something to wear" because with your Stylist's help, you'll already have everything you need.