Read on to get outfit ideas on how to style a floral shirt.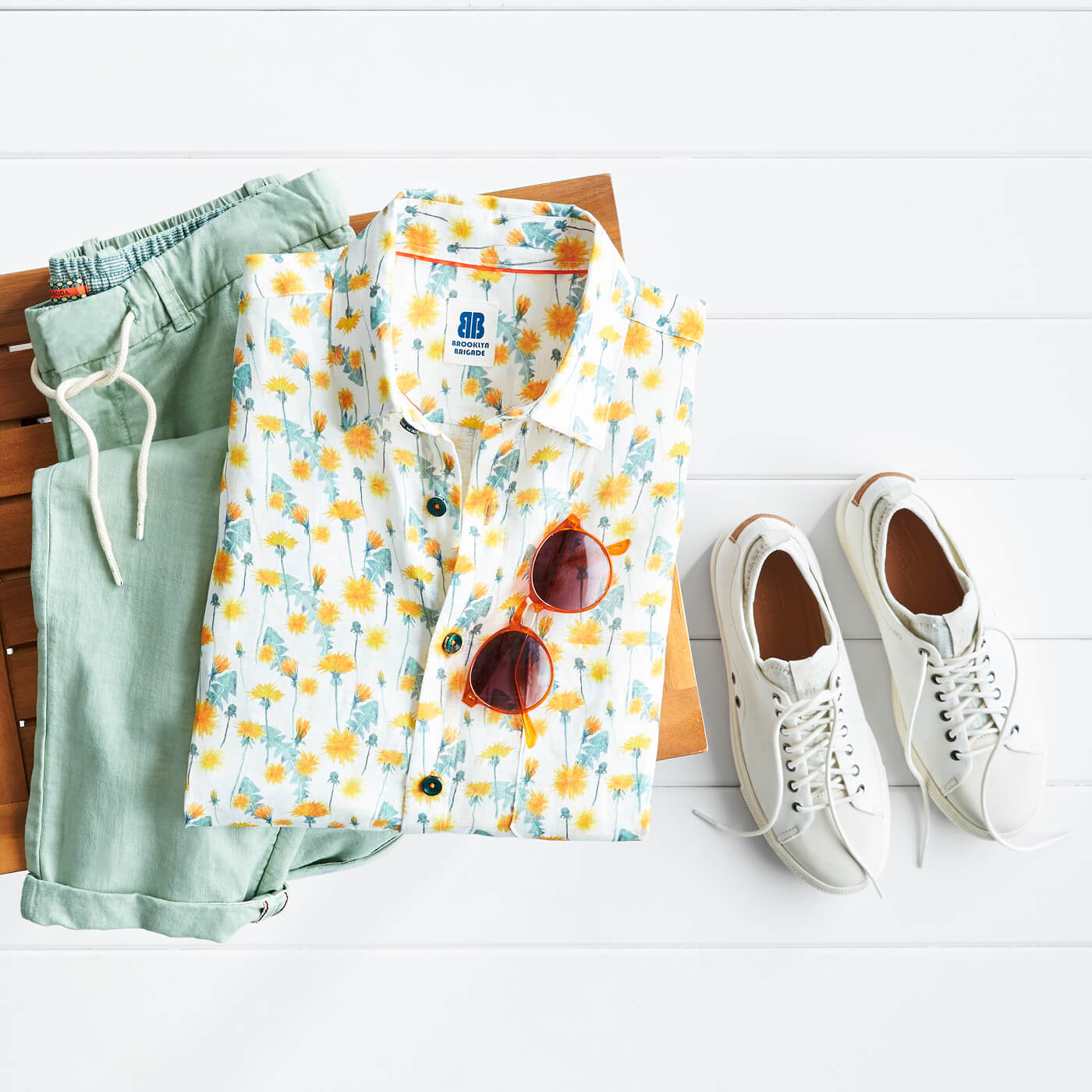 MATCH YOUR PANTS TO YOUR PRINT 
When a shirt is on the busier side, you might be unsure of what color pants to wear, or if you should even go for a colorful pair at all. Rest assured—you can and should. By choosing a color echoed by the print of your shirt, you're already in the matching zone and both pieces will complement each other.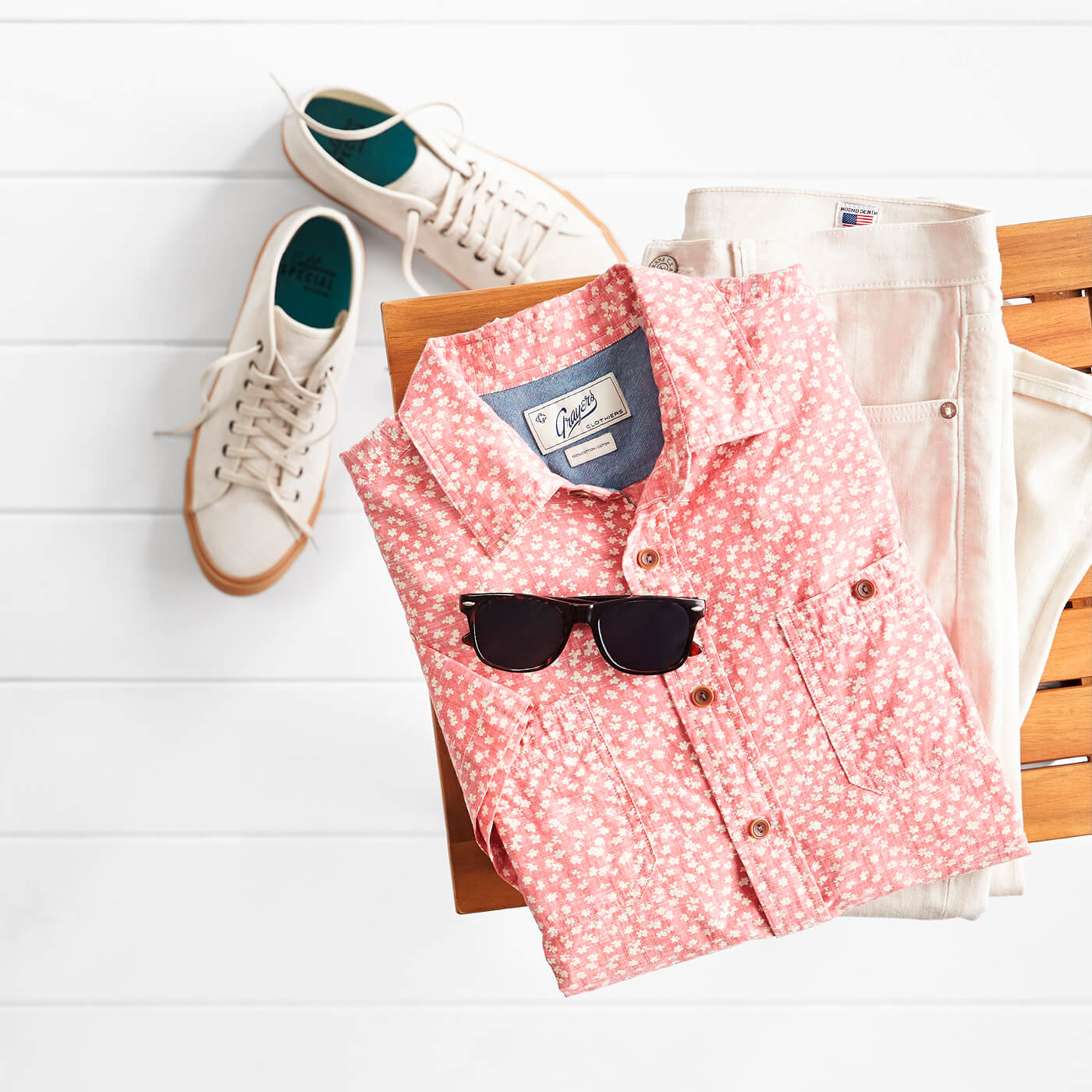 ENTER NEUTRAL TERRITORY
Think you can pull off a red shirt, or (even better) a red floral print shirt? The answer is a definite yes. One of the great things about a floral print is that there's usually another color involved to balance out the main color, be it bold or subtle. Counteract the bright color with neutral counterparts—white or off-white jeans and sneakers will complete your style canvas and go well with summertime weather and activities.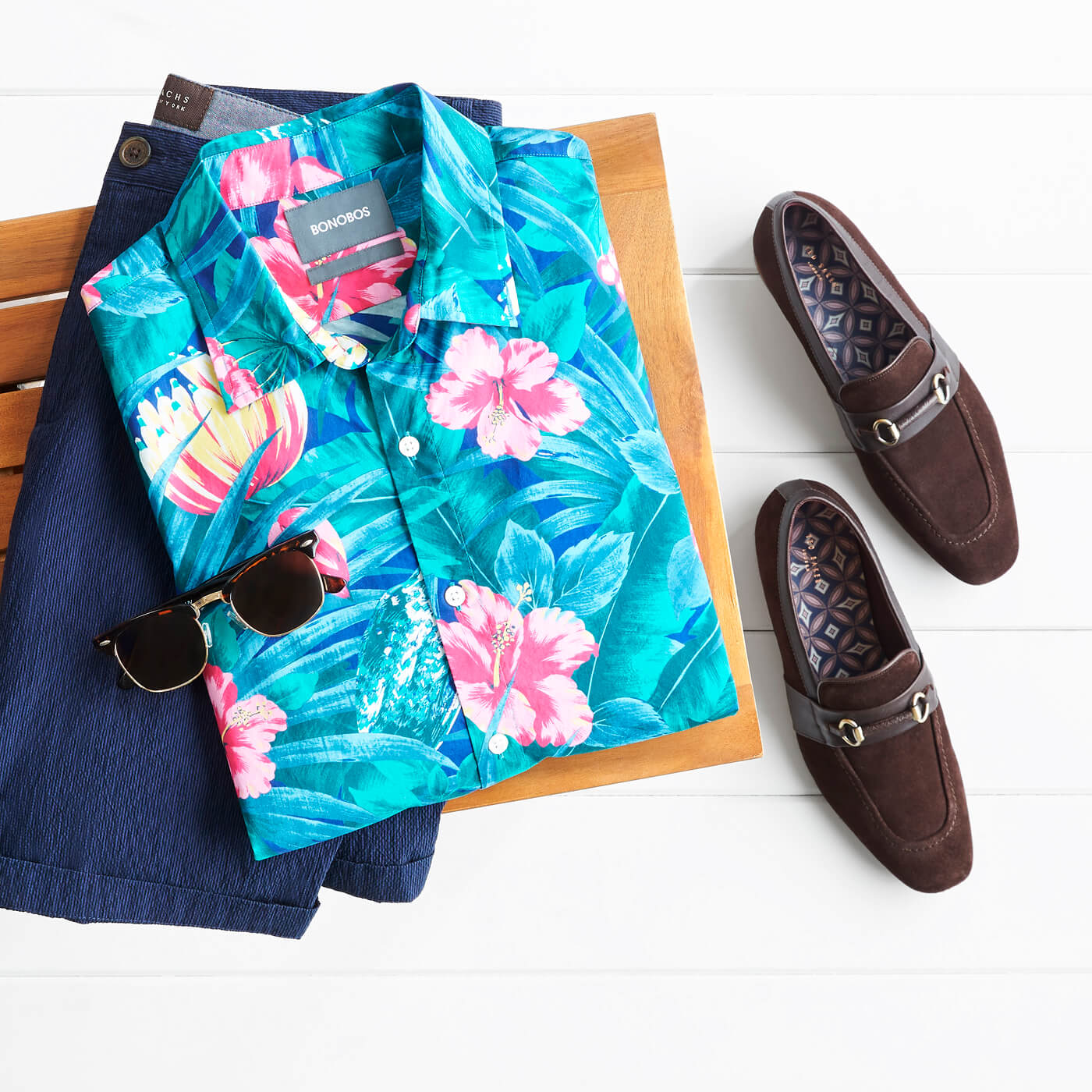 GO BOLD ALL THE WAY
Everyone notices Hawaiian print shirts for a reason—they're loud, fun and make you feel like you're on vacation. If you're going for it with the brightest color combo out there, then the rest of your look should follow suit. A pair of seersucker shorts will add preppy vibes, while your fanciest loafers say you're laid-back, yet refined. Finish off your look with shades to block the sun's rays while you're out and about.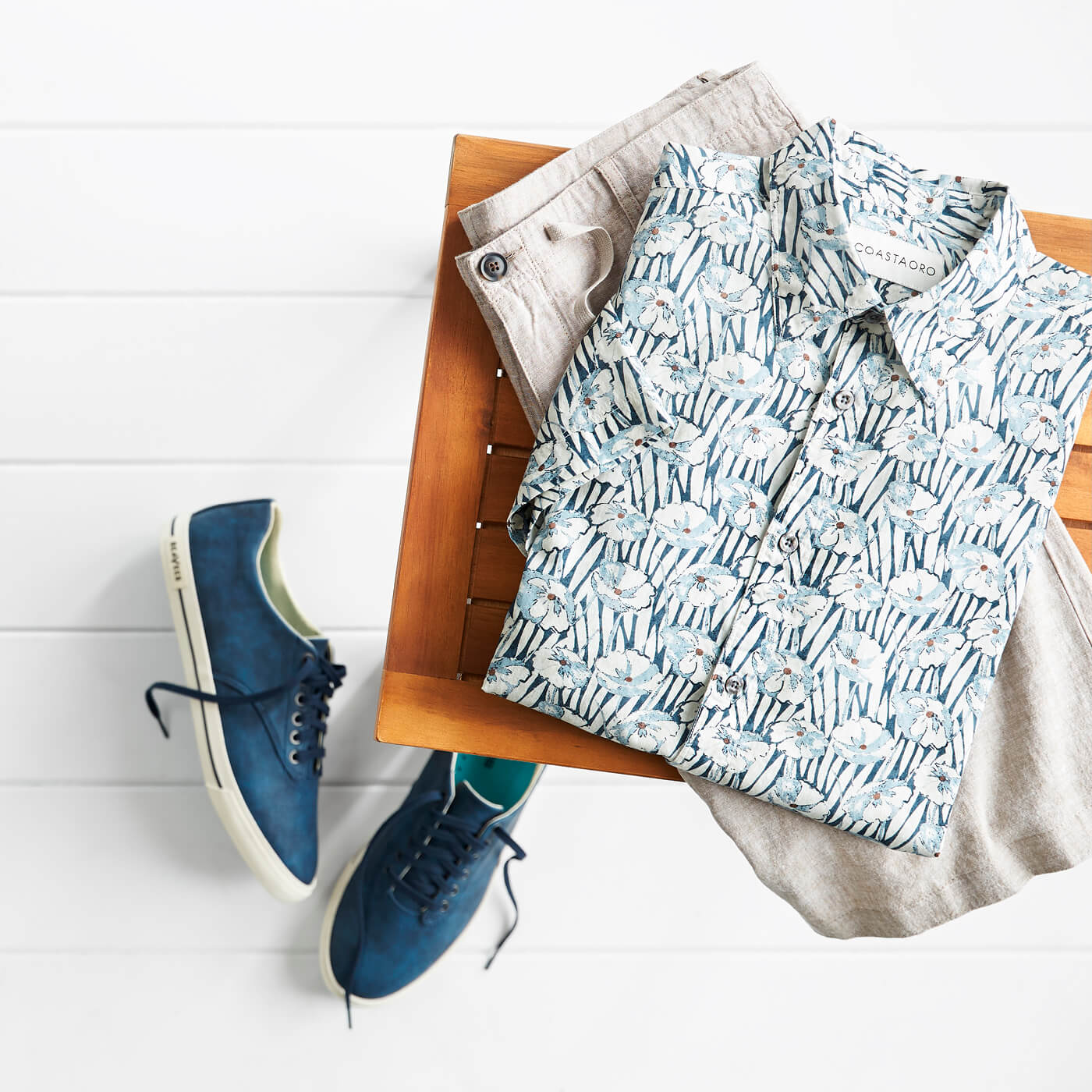 COLOR COORDINATE YOUR SHOES
When in doubt, revert to the ol' match a color within your printed shirt to another item in your outfit trick. When your color palette is in the more universally-flattering range, such as blue tones, match your shoes to one of the colors in your shirt. It's a subtle nod that shows you know what you're doing, won't look like you're trying too hard and allows you to coordinate with any pants or shorts you want.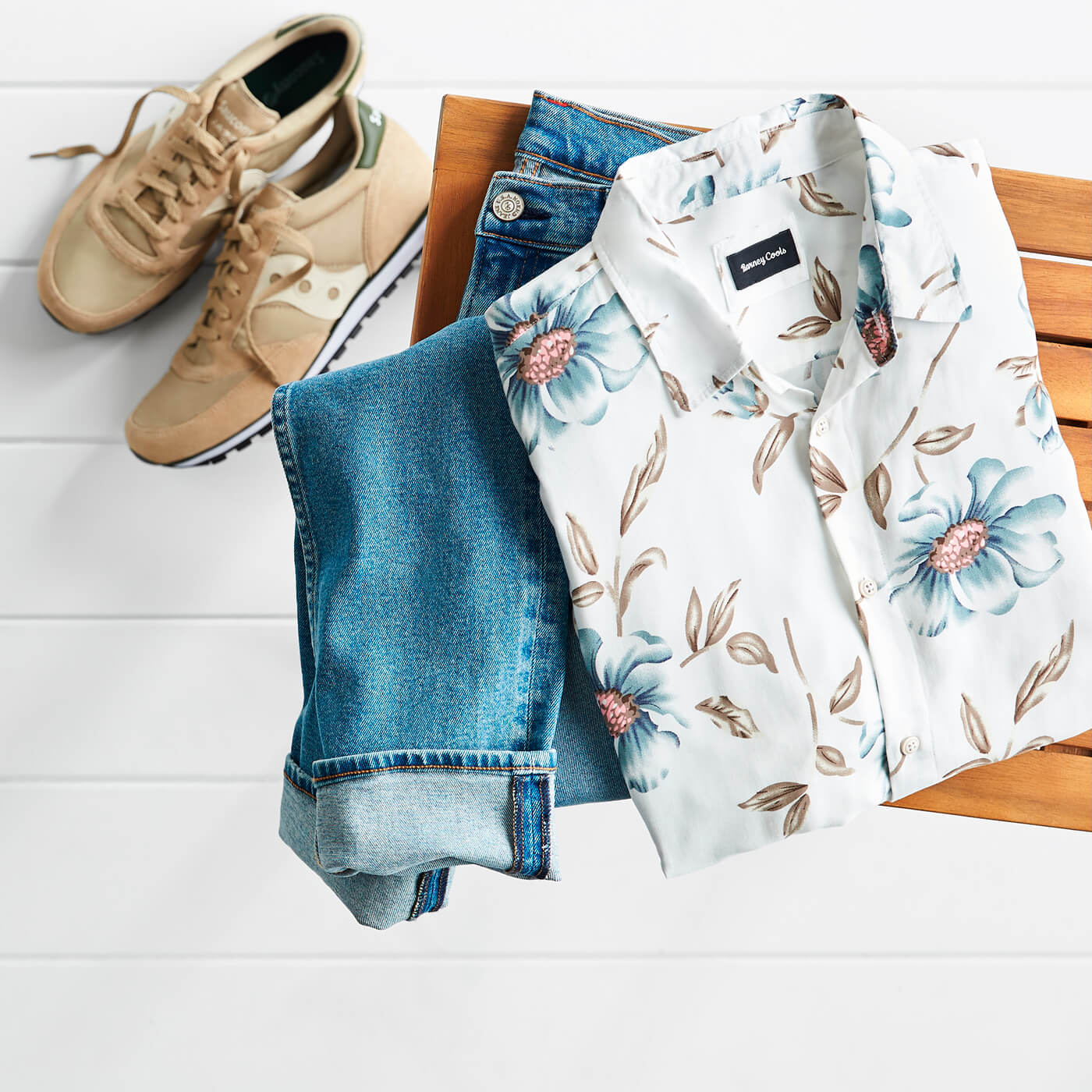 KEEP THINGS CASUAL
Just because you're wearing a  floral pattern doesn't mean it has to look like every other shirt out there. With new designs and prints popping up every day, there's one (or more) that will suit your style and blend in with the rest of your closet. If you're still on the fence, pick a shirt that has fewer flowers and more color—then pair it with your favorite jeans and sneakers. Since more than half of your look is made up of pieces you're already comfortable in, it will feel like an everyday outfit—in a good way.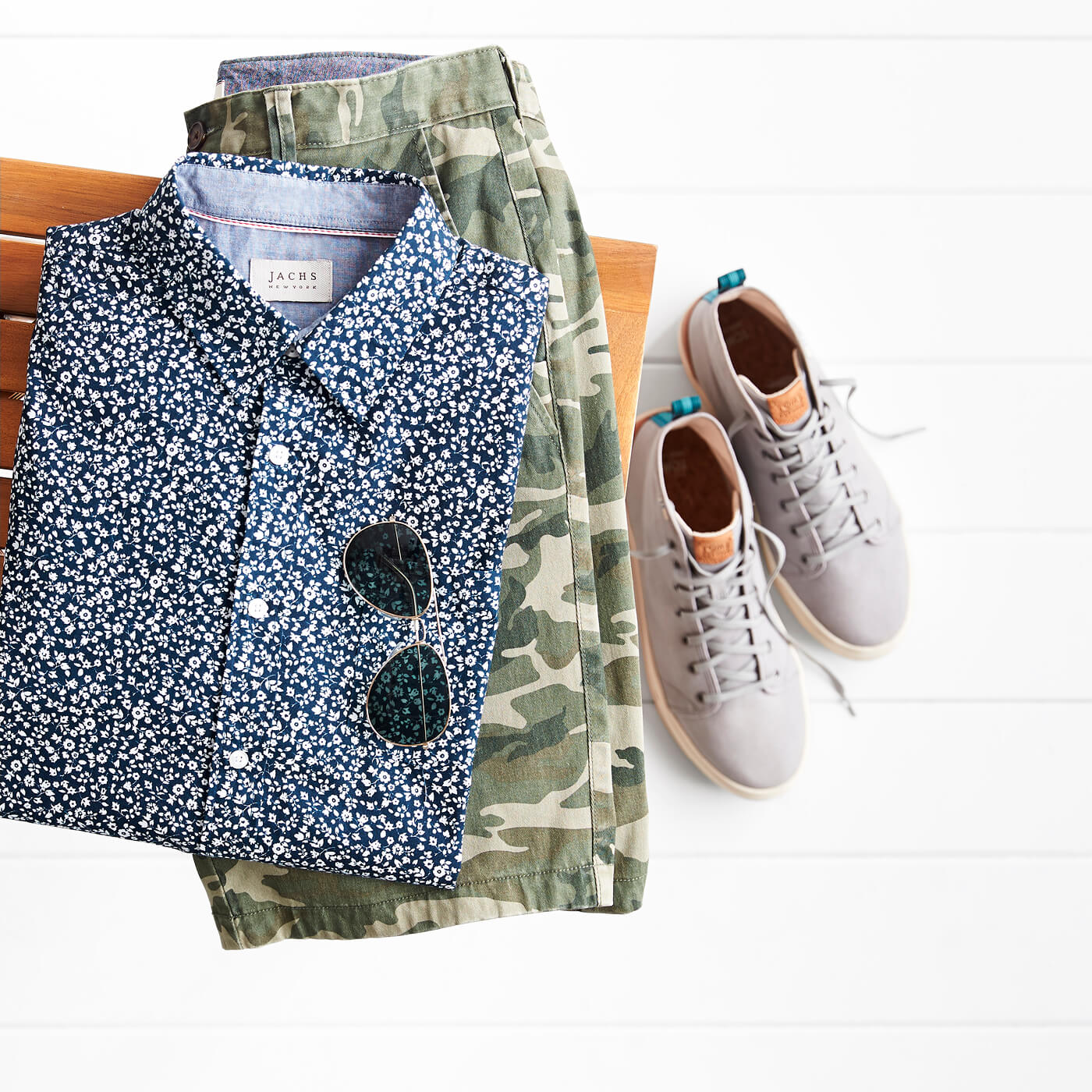 DARE TO MIX PRINTS & PATTERNS
Once you've figured out which floral shirt style best fits your personality, have fun with it. Take liberties with introducing another print or pattern, such as camo, which works because it makes a statement on its own, but still goes with anything it's paired with. One thing to remember is to vary the scale of your prints—if you go for a small floral print, make sure the other print or pattern is larger.
A FEW THINGS TO REMEMBER
Be Selective With Your Fabric Choice
A lot of options come in rayon or polyester, which is thinner and lightweight, and good for dry heat. However, neither of those fabrics are breathable or naturally wick moisture (like linen or cotton do), so if you need a shirt that will work in most climates, natural fibers should be your go-to.
Get The Right Size
Your first inclination might be to go for an oversized look. Treat finding the fit like you do all of your other shirts: make sure the shoulder seams line up to your shoulders exactly, the body of the shirt isn't too billowy and the length hits in the middle of where your pants zipper would be. Feel free to wear it open while on vacation, or tucked in if you're feeling street-style savvy.
Ask Your Stylist to Help
Wearing something out of your comfort zone can be hard. That's why your Stylist is here to find the right size, print and style that fits your lifestyle. From finding the perfect shirt to completing the look, you can ask your Stylist to bring those tropical vibes straight to your closet.
With these styling tips handy, we're confident your shirt style will be blooming in no time. Take your style quiz, sign up for a Fix and your expert stylist will bring the tropical vibes straight to your closet. From the perfect shirt to completing the look, we'll find the right size, print and style to fit your lifestyle. Just like a beach getaway, shipping, returns and exchanges are a breeze. (Bonus: they're also free)