Get one step closer to finding a favorite (or two) with our style guide below.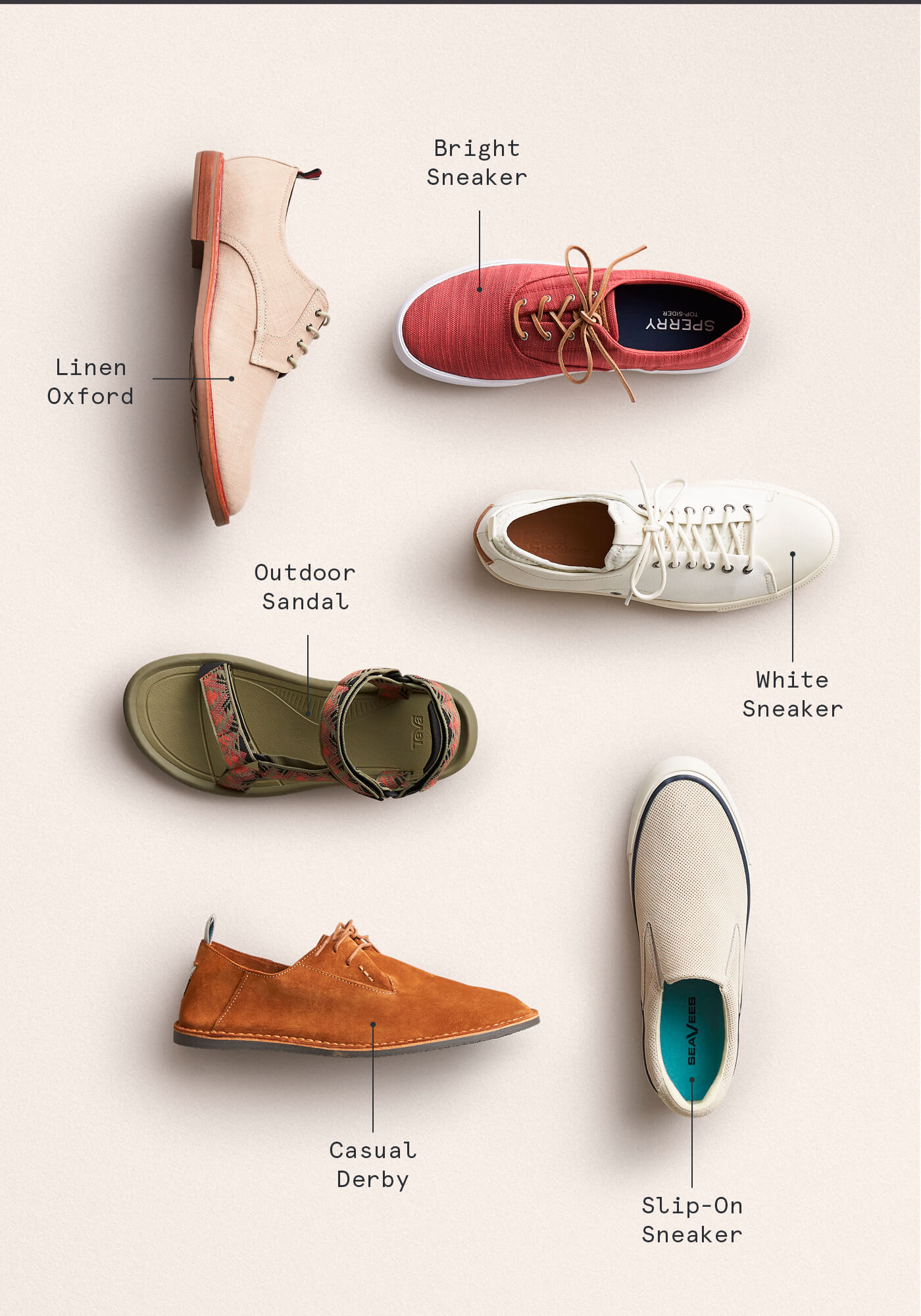 THE BEST SUMMER SHOES FOR MEN
THE BRIGHT SNEAKER
Any kind of summer uniform, whether it's jeans and a T-shirt or a button-down shirt and shorts, can be livened up with a statement shoe. The best part is that a colorful option works with simple outfits in solid shades just as well as it does alongside bold colors and patterns. Just remember to work the color of the sneaker into at least one piece if you're going for a complex look.
THE WHITE SNEAKER
If you're looking for an all-purpose casual shoe that can also go a notch above, this is it. All white shoes are essentially a blank canvas that can take on any identity. Pair them with all of your home-run staples: shorts, T-shirts, chinos, jeans and button-down shirts. For looser dress codes, a clean pair of sneakers with minimal details will complement trousers or even a suit for a low-key street-style vibe. 
THE SLIP-ON SNEAKER
Summer means you're running around town, on vacation or both, and you need a dependable, comfortable pair of shoes that covers it all. Slip-ons fit the bill—they're true to their name, conveniently slipping on and off everywhere you go and working their way into your everyday looks. Since they've become a mainstay in menswear, there are endless options, from materials to colors—so take your pick.
THE CASUAL DERBY
As traditional 9-to-5 style evolves, more hybrids are emerging that successfully walk the fine line of dressy casual. Moccasin-inspired derby shoes are lightweight enough for warm weather, and while they are a step above sneakers, they're just as comfortable. To keep your look on the refined side, pair them with your relaxed yet sharp pieces, such as light-washed jeans without rips or clean-lined chino shorts.
THE OUTDOOR SANDAL
Depending on who you ask, sandals (or mandals) can be quite controversial, but let's face it, they're efficient. With performance gear on the rise, it only makes sense to add a nature-ready, of-the-moment style to your summer rotation. Choose a pair that's not only going to keep your feet cool, but can also handle the outside elements: hills, dirt, rain, mud, lakes and more. Fun printed straps only help reinforce the fact that these are a formidable contender for the hot-weather circuit.
THE LINEN OXFORD
Let's face it—you're going to have to get dressed up when it's sweltering out. On those days, choosing light colors and fabrics is key to survival. This goes for your shoes too. A timeless oxford adds the necessary sharpness, while a lightweight linen fabric fits the weather report. Aside from the summer-appropriate work-to-wedding looks, you can also branch out and take advantage of the casual vibe of this shoe by pairing them with your favorite chinos or light-washed jeans.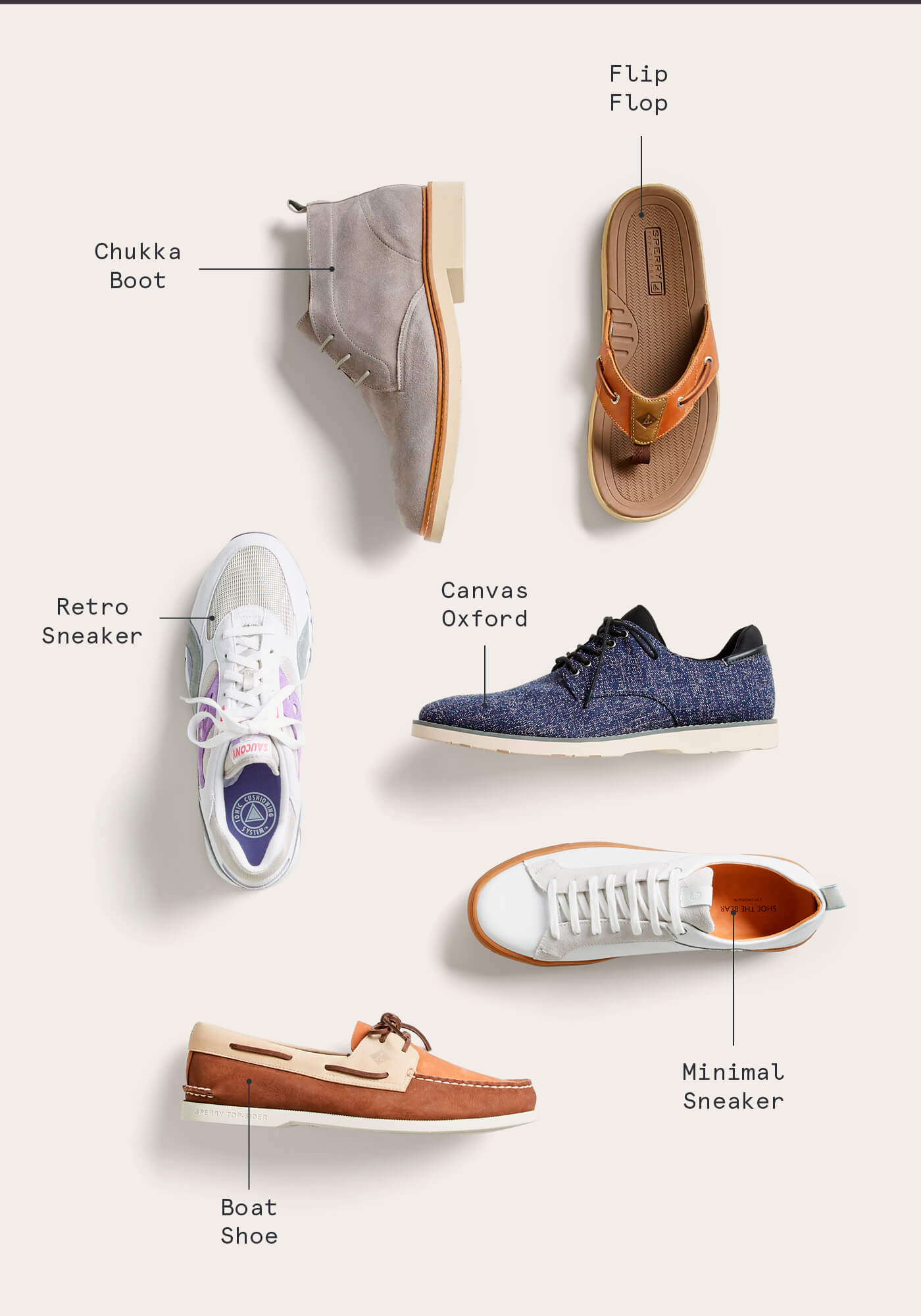 THE BEST SPRING SHOES FOR MEN
THE RETRO SNEAKER
After being indoors for most of winter, you're more than ready to hit the pavement. Take a step back in time with a pair of vintage-inspired sneakers—comfort wrapped in bold colorways. They look just as good with shorts as they do with pants, and their throwback vibe has the power to make a simple outfit interesting.
THE CANVAS OXFORD
There's no better time for a dress-shoe refresh than now. Trade in heavy, leather materials (winter wins) for a lighter-weight canvas in a solid color. Pair them with the usual suspects (slacks, chinos, button-downs) and a few new players (shorts, jeans, t-shirts) for a subtle intro into warmer days ahead.
THE FLIP FLOP
You need something to wear for spring break, weekend getaways, trips to the pool or just getting the mail—enter the sandal. When you slide into this spring-to-summer staple made with durable materials in match-everything earth tones, you can confidently wear them outside knowing they look good. Just make sure their debut is warranted—right time, right place.
THE CHUKKA BOOT
For the guys who wear boots every single day, it's easy to take a spring spin on this year-round favorite by going with a lighter shade. You get the same chameleon status that easily goes from day to night, same all-day comfort and durability in a color that complements pastels as well as neutrals. You can pretty much wear these with everything (even shorts), adding a tinge of refinement to your look.
THE BOAT SHOE
Going iconic comes with legacy style points and is almost always a safe bet. The boat shoe's preppy simplicity, which hasn't changed much (with good reason), makes it a fail-safe option for days when the sun makes an appearance. Top-notch leather in traditional colors will seamlessly fit into your rotation of rolled up pants, shorts and chambray shirts. And don't forget the no-show socks.
THE MINIMAL SNEAKER
There will always be an of-the-moment shoe, jacket or hat that eventually fades away—but a classic will notably stand the test of time. Minimal sneakers with very little flair fit under the timeless umbrella. Pick a style you like that has no logos, comes in neutral colors and has a clean shape, and you can wear it with anything.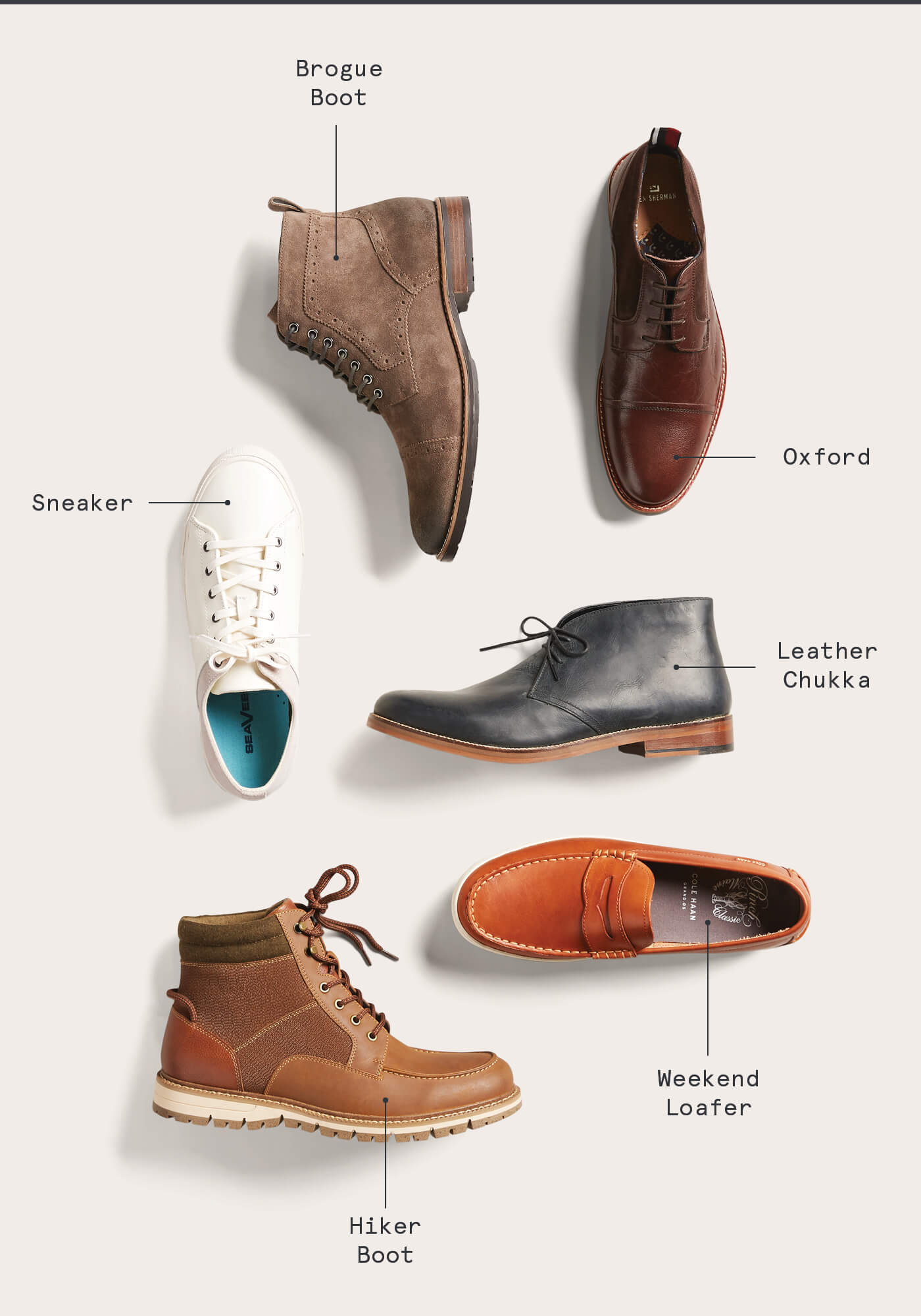 The Best Fall Shoes for Men
The Chukka
A riff off of the desert boot, the Chukka hits the smart-casual sweet spot. The neutral shades work equally well with both jeans and chinos. For something a bit more adventurous, try a dark color or bold hue. Bad boy Steve McQueen wore Chukkas regularly. Nothing wrong with following in his footsteps.
The Hiker Boot
Taking a page from the more rugged hiking boot made for tackling trails, the hiker boot boasts soft leather uppers, cushioned soles and stylish stitching. In essence, an elevated version that pairs nicely with a more casual, outdoorsy outfit (think denim vest layered over a fleece hoodie). The mountain man look, minus the mountain.
The Brogue Boot
The perfect choice for the dapper chap, the Brogue was originally made in Scotland and Ireland in the late 19th century. Since then, the style has evolved from a farmer's functional shoe (complete with holes to drain water when sloshing through wetlands) to a modern fashion staple. We love the plush suede, hip side zips, and decorative perforations. Take these to the street, the office, happy hour. Just skip the bog.
The Sneaker
With athleisure wear front and center on the style stage these days, it's hard not to give the sneaker a starring role. White canvas tennis shoes look sharp and work with just about any casual outfit, including skinny jeans and joggers. Whether you're running laps or running for coffee, sneaks are your sole mate.
The Classic Oxford
When most men think "dress shoe," it's the Oxford that comes to mind. With its English pedigree and sleek silhouette, the Oxford is found more often in boardrooms than barrooms. However, this doesn't mean you can't wear it for a less formal occasion. We suggest sporting a casual pair of pants (dark-wash jeans or chinos) and a knit sweater to balance the dressier vibe.
The Weekend Loafer
Contrary to what the name suggests, these are not the lazy man's go-to shoe. Loafers are simple slip-on shoes, designed without laces to trip you up. Ideal for loafing around town, around the house, even around a yacht if you're so inclined (and don't own a pair of boat shoes). Favored for their sturdy construction, clean, classic lines and Ivy League vibe, loafers pair easily with casual shorts, jeans and chinos. Socks or not? We say not.

The Best Winter Shoes For Men
The Lug Boot
Built for whichever direction the weather swings, the durable lug sole improves traction due to deep indentations and grippy texture (read: no slippin' and slidin'), while an ankle length gives extra support as you trek up and down the street. Try them with straight-leg slacks for an out-of-office meets in-office look or your go-to jeans, cuffed to hit right at the top of the boots.
The Brogue
When a shoe comes from a long lineage of utilitarian use, the detailed craftsmanship, rooted in functionality, tends to carry over. Case in point: Sturdy materials, perforations (that used to drain water) and a sleek aesthetic make up the mix of brogues seen today. With something this well-made, you're going to want to wear them every chance you get—dressed up, down and everything in between.
The Oxford
Everyone needs at least one everyday shoe that isn't a sneaker. A timeless silhouette refreshed in an unexpected texture, like corduroy, fits the bill perfectly. Walking that fine line of smart and relaxed, your supreme comfort will remain a secret as you switch from denim to chinos to suit pants.
The Sneaker
Sneaker culture is at the forefront of menswear with no signs of slowing down. Comfortable, cool factor and possibly a collectible—that's a winning trifecta in our eyes. With endless colorway options, now's your chance to bring the heat with darker, winter-ready hues and rich fabrics (we like suede) as you hit the pavement with a little more pep and style in your step.
The Chelsea Boot
If you're on the hunt for a universally good-looking, slightly edgier shoe, this is it. A sleek shape in an easy, pull-on style with an even easier wearability factor means you can turn the most basic look up a notch. So, whether you're wearing your favorite jeans-and-tee uniform or a skinny-fit suit, there's a pair that will subtly or loudly complement whatever look you're going for.
The Chukka Boot
There are many variants of this classic style but most have the recognizable characteristics: leather or suede, hits right at your ankle, only a few eyelets for laces and that ideal combo of elevated casual. You'll get so much wear out of them: They play well with other pieces in your closet, feel good after you break them in (maybe even before, if you're lucky) and successfully transcend trends.
Now swipe through to see how you can pair these shoes. 
[slideshow_deploy id='4435′]
Now that you've been schooled in shoes for every season, are you ready to add new styles to your closet? Take your style quiz, order a Fix and ask your expert stylist for shoes to expand your outfit options for winter, spring, summer or fall. You're never required to schedule more than one Fix at a time and shipping, exchanges and returns are always free. It's really that simple.