Your mission (should you choose to accept it) is to read on to see how the polo is making style waves.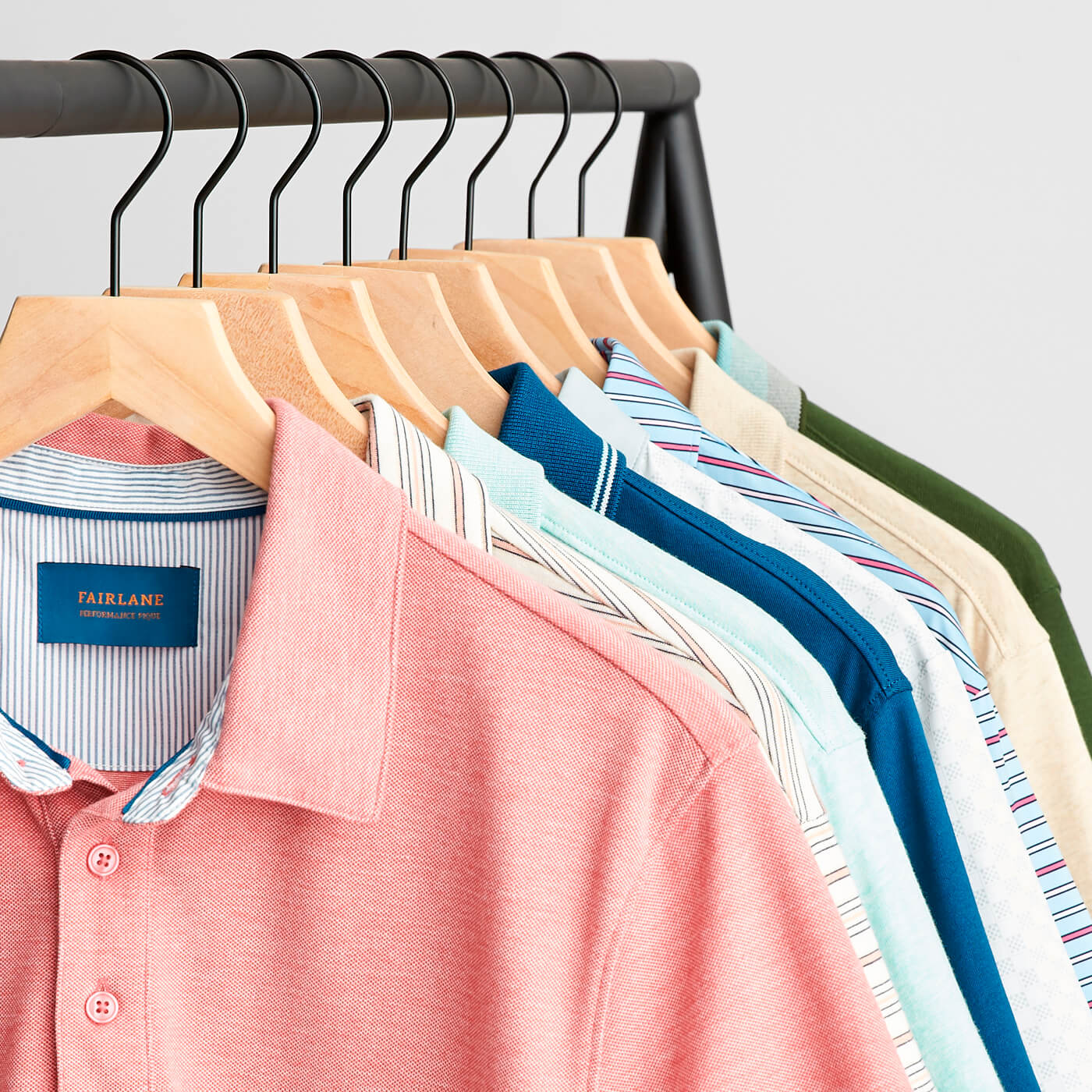 History of the Polo
The polo shirt has an interesting history that can be traced to 19th-century polo players who wore cotton shirts adorned with button-down collars to stay cool, and tennis players who needed uniforms that were both fashionable and functional. Either way, it was born out of a necessity for a sporty yet refined shirt to move in. Fast forward to today, and the evolution of the polo spans multiple menswear styles.
How to Style a Polo
One of the greatest things about a polo shirt is its chameleon-like capabilities. It has come a long way from its preppy roots, and with today's more relaxed dress code, a polo can be worn with pretty much everything in your closet. A few things to consider: choose how bold you go based on location (work vs. pool), opt for performance styles for sporty activities and make sure that you find the right fit. Here's a closer look at how to pull off different looks successfully.
[slideshow_deploy id='8423′]
The Classic Look
A traditional look is always a win when done correctly. Once you own clothes that fit you perfectly (we can help), try this preppy trifecta at work: a navy blazer, a pastel polo and khakis. On days off, play with ivy-league inspired colors and throw in two no-fail staples: boat shoes and a jean jacket. A good tip is to stick to timeless pieces from head to toe since they tend to go well together.
[slideshow_deploy id='8424′]
The Active Look
This is when history comes full circle, and the benefits of the original polos shine. For golf days, you need to hit the green in style but also be prepped to face the elements. Performance features (moisture wicking and stretch) and a classic stripe or pattern will have you focused on your game and not the temperature. When you're running errands this summer, a naturally-breathable cotton polo paired with light wash jeans will keep you cool all day long.
[slideshow_deploy id='8425′]
The Fun Look
The best thing about the progression of the polo is the range of new styles that defy tradition. With unexpected details upping the ante, you can easily take your look outside the box. Switch up your 9-to-5 routine with a slim-cut polo that has a refined detail, such as a contrast piped placket, and then pair it with the usual suspects. On off-duty days, pick one stand-out element: a bright color, bold stripes, fancy fabric—the sky's the limit. Add a few athleisure pieces and hit the streets.
Polo Care: How to Wash a Polo
First, check the care label, and follow the instructions since certain fabrics have different needs. Once you know you can safely wash it yourself, you can always add a little extra care. Wash your polo inside out in cold water on the delicate setting of your washer. Use a mild or gentle detergent, and be sure to only combine it with like colors. Use a low setting if you're putting it in the dryer (defer to the instructions before) to release the wrinkles or air dry it on a hanger or drying rack.
Now that you've learned how to artfully wear a polo (and how to wash one), add a few to your everyday looks. We'll choose the best colors and styles that will stealthily work with your wardrobe.
Now that you've learned how to artfully wear a polo (and how to wash one) add a few to your everyday looks. Take your style quiz and schedule a Fix so your expert stylist can hone in on the perfect fit. They will choose the best colors and styles to work with your wardrobe. Shipping, returns and exchanges are always on us. It's as simple as that.