Trying to fly out the door in five? Try these Editor-approved tips!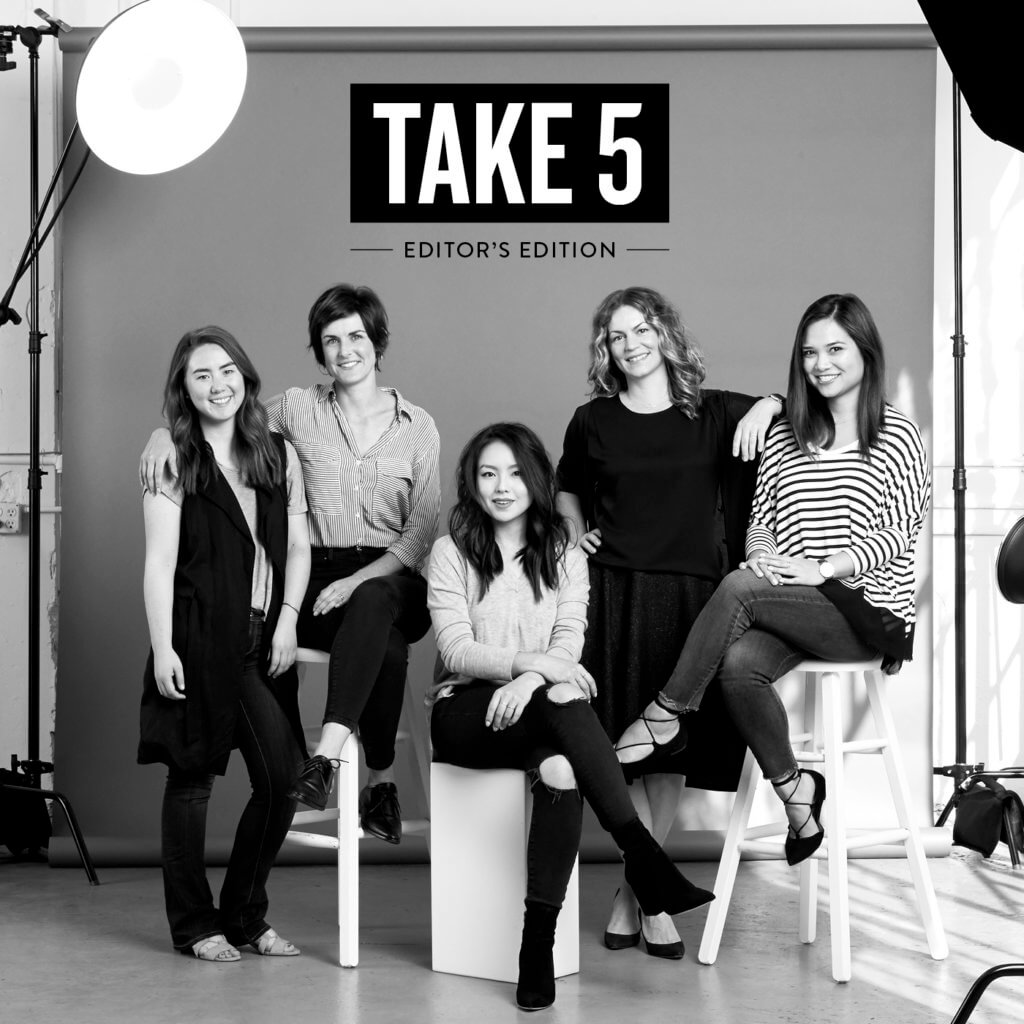 From left to right: Logan Payne, Margaret Murray, Kate Ogata, Meggan Crum, Lily Felder
Meggan Crum
Fashion & Content Director, Women's
As a mom and former fashion editor in NYC, I have some super quick tips to getting ready FAST!
I wear heels to the office.

But, I always have comfy, classic flats in my bag so I can commute and get around town quickly.

Fall in love with a uniform.

Years ago, I established a few uniform silhouettes that are figure flattering and comfortable. When I need to get out the door quickly on weekday mornings, I typically grab a knee length or midi skirt and pair it with a tucked in blouse and a block heel pump.

Stick to a neutral palette.

I stick to navy, grey, black and add colors like browns, deep greens and burgundies. Everything goes together, so it's pretty much a no-brainer to whip an outfit together before my daughter wakes up around 6:30am.

Oribe Dry Texturizing Spray is genius!

Save some time and rock out your 2nd and 3rd day hair. It's a lifesaver.
Editor's Picks:
Lily Felder
Social Media Associate, Stitch Fix intern-turned-employee, ice cream enthusiast.
I'm not a morning person and strongly believe in a good beauty sleep. So, I've got a few tricks up my sleeve to help you walk out the door feeling confident when you've got no time to spare.
Have at least 3 grab-and-go outfits at the ready. Think low-maintenance combos like a shift dress + blazer, lightweight sweater + cropped pants or a striped tee + jeans.
Develop a modified beauty routine.

My go-to: tinted moisturizer (with SPF!), powder foundation, bronzer, mascara and dry shampoo—lots of dry shampoo.

Create a morning playlist to keep you moving

(anything to make mornings feel a little less like mornings #amiright).

Invest in a statement outer layer or swoon-worthy shoes

that instantly up your confidence and take any look to the next level.
Margaret Murray
Content Manager, voted office Class Clown (recently), animal lover (specifically cats).
At Stitch Fix, I've worn a ton of hats (not literally) so that means that I've not only had to adapt my personal style to fit into my hectic work life, but it also means that I think about our client constantly. Here's how I keep my style together—hopefully there's something in here that you can use, too.
K.I.S.S. Keep it simple, silly!

My 8th grade English teacher, Mrs. Pescosolido (hey, Ms. P!) used this acronym to help students edit their work. I'll never forget it! Nowadays, I apply it to my style and my busy life. It's reassuring to know that it's ok to simplify.

Keep your look to 3 pieces + one accessory. I spent many years trying to find the right accessories for me, and I realized that it's ok to

not accessorize

! It fits in well with my anti-clutter and minimally militant lifestyle.

Fall in love with one statement piece!

Whether it's a vintage coat passed down from your grandma (true story) or the shoes you splurged on for the season, this piece not only creates a signature look but is the easiest way to pull together your outfit.

Black jeans

. This might seem weird, but I really only ever wear black skinny jeans. I've tried to make it work with those true blues, but have found over time that black gives the feel of "dressed up" without the added effort. That's a "yes, please!" from me.
Editor's Picks:
Kate Ogata
Content Associate, fashion blogger by day (and night) and lover of James Franco (the dog, that is!)  
My style is constantly evolving—and through trial and (many) error(s), I've learned one thing: stay true to your style and what you feel most comfortable in.
When in doubt, wear all black

… or white! Going monochromatic is the easiest way to look put-together in no-time.

A shirt tuck can go a long way. Being 5'2", I'm always looking for ways to appear taller—the "front tuck" can elongate your legs while adding a little oomph to a basic tee and jeans outfit.
Stock your wardrobe with one-and-done pieces.

Think:

long cardigans or trench coats.  Throw one on to complete

any look

.

Combine 1, 2 & 3 for a fuss-free morning!
Editor's Picks:
Logan Payne
Content Coordinator, food blogger on the side and lover of all things Aubrey Drake Graham.
I've been trying to convince myself that I don't have a uniform, but I can't deny the fact that there are certain pieces that I can't go without (hi, olive green cargo jacket!). What can I say, I'm a creature of habit when it comes to getting dressed.  
Curate your closet based on colors you love. I'm always reaching for a cargo jacket, stripes and denim so my wardrobe relies on olives, navy, white and neutrals.
Reach for pops of color to accessorize.

Since I have my arsenal of go-to colors, I like to accessorize with an unexpected pop of color with a bright bag or a pair of statement shoes.

If it fits and you love it, get one in every color!

If you find something that you just

love,

we're talking a pair of jeans that fit you like a glove, get one in every color. You never know if you'll come across it again.

Pack lunch the night before.

Instead of groggily assembling your lunch minutes after you wake up, have it packed the night before. Just grab it and go the next morning!
Editor's Picks:
How do you get ready in the mornings? Share your 5-minute tricks in the comments!