Here's our take on New Years Eve outfits—whether you're going out or staying in!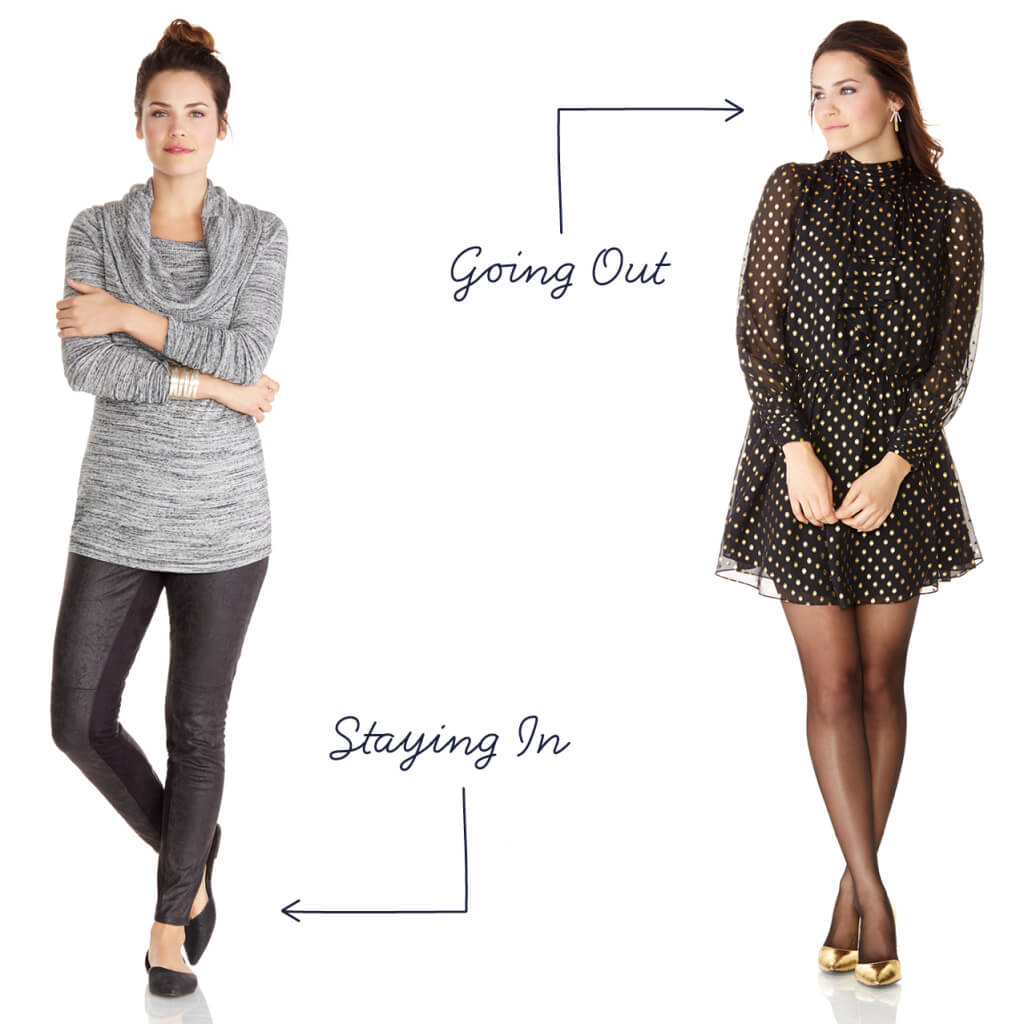 HINT OF GOLD
Staying In
If you're hosting a casual party with friends or watching the ball drop with the fam, you can still get into the spirit with subtle style upgrades & accessories. Instead of your go-to joggers or jeans, opt for a pair of faux-leather leggings—they're just as comfy, but twice as glam. Stick with a warm sweater, but up the ante with a cool cowlneck or lower-cut V. Finally, don't forget the bling! Add just a hint of gold with a bold bangle or some killer statement earrings.
Going Out
Going out? Go all out in gold! NYE is the night not to apologize for excessive sparkle (really). The best out-on-the-town complement to this yellow-toned metal: black! Try a black dress with gold-foil polka dots or details, black pants with a slinky gold top or a metallic skirt with a draped black blouse. Then, finish strong with shiny gold heels—the perfect pump to dance the night away.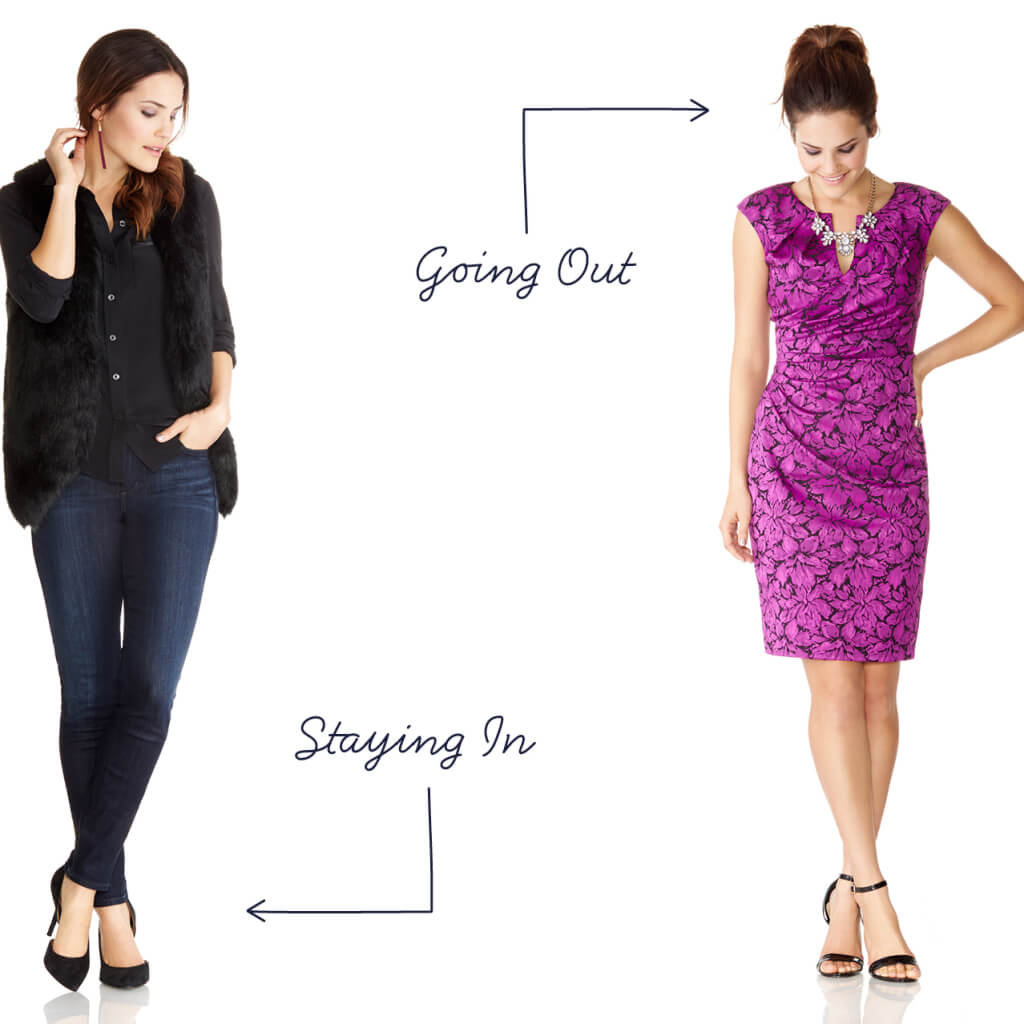 GLAM DETAILS
Staying In
Spending the night in doesn't mean you have to sacrifice glitz & glam—it's all in your choice of accessories. Start with a simple base, like stretchy skinny jeans, a button-up blouse & classic black pumps. Then, go wild with adornments: a faux-fur vest, chin-length dangly earrings and/or chunky vintage rings. For an effortless "I'm still at home" vibe, pull your hair back in a loose ponytail.
Going Out
Headed to a fancier shindig this year? Go big & bold in bright tones. While everyone else in the room will surely be in their go-to LBD, you'll make a statement in color. Try unusual pops like fuchsia, chartreuse or cyan (because you can!) or opt for more traditional cobalt, emerald or burgundy. Whatever the color combo, keep your shoes simple (like nude or black) & be sure to wear appropriate outerwear to take you from cab to curb in the chilly weather.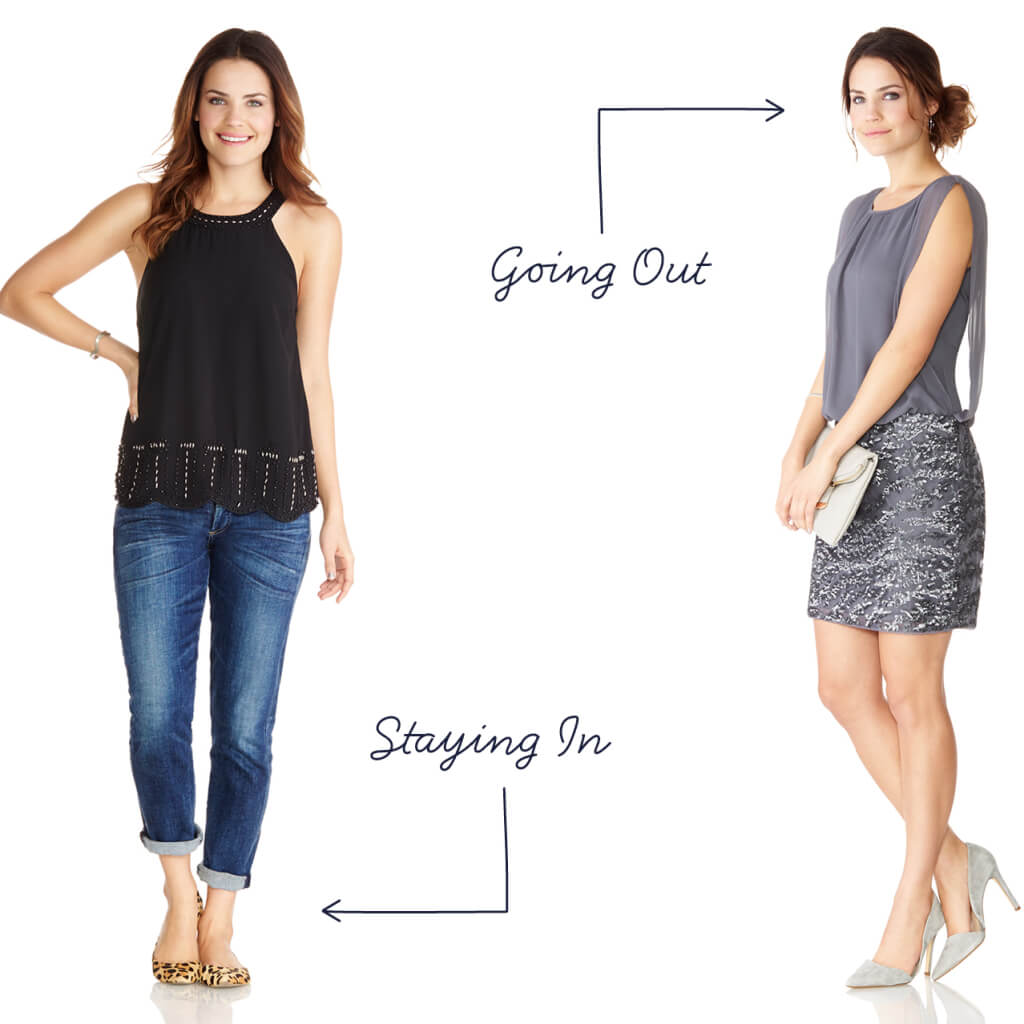 EMBELLISHMENTS
Staying In
The benefit of staying in on NYE? Getting to rock your favorite boyfriend jeans (sans any guilt whatsoever). But instead of throwing on a sweater & slippers, jazz it up just a bit with a sexy, embellished top and printed flats (like leopard!). Not only will the look keep you in the spirit, but whether you're lounging on the couch or scurrying around refilling drinks for guests, you'll look polished and at ease.
Going Out
Sequins & champagne are meant to be together. Up the "wow" factor & leave 2015 in the dust with a glamorous sequin dress. Whether you opt for a more subtle twofer (like this skirt & draped blouse combo) or an all-sequin number, it's always the easiest piece to accessorize. Just add simple earrings, a delicate necklace & a neutral handbag—there's no need to outdo your already-stunning sparkles.
If it's late December and you don't have time for a completely new outfit, check out our last-minute New Year's Eve outfits. What are you wearing this New Year's Eve? Tell us in the comments!