Check out these 5 ways to style your skinny jeans.
Click to view the video transcript

Hi, I'm Alexandra and I'm a styling manager here at Stich Fix. I've been styling for a long time and if there's one thing I could tell you, it's that denim trends come and go but skinny jeans are here to stay. The flattering fit and the streamline silhouette mean that slim fit pantaloons are not just a trend, they are an essential in every woman's closet. I said pantaloons, I did it. All right.
[00:00:30] To dress down your work wear, choose a dark wash pair of skinnies and them pair them with a crisp blouse and a tailored outer layer. Then top off the look with a classic pair of high heels. Depending on your dress code, an edgy moto jacket like this one might take the place of a blazer and can take you from project plans to after work plans in a beat.
Ready to transition from summer to fall? I know I am. For this your tried and [00:01:00] trued blues are going to be your easy base layer for any layered look. Take a crew neck sweater and pair it over a collared shirt like a chambray or maybe a plaid and you have that cozy, chic fall look.
For a leisurely take on the [inaudible 00:01:15] trend, pair a lightweight loose comfy sweatshirt with your slim fit jeans. Then if you're really going for it take an outer layer like a denim jacket or a plaid shirt, tie it around your waist and you have that "I woke [00:01:30] up like this" look.
High waisted skinny jeans are not only comfortable, they are ridiculously flattering. They keep things nice and secure, thank you. Pair your high waisted skinnies with a flowy blouse, some dainty gold jewelry and you have a chic, feminine look ready for day or night.
Basics don't have to be boring. Whether you're an all black, all gray, or maybe all navy with some denim on denim. Wearing a monochromatic [00:02:00] look really creates that street chic vibe.
Are you looking for more style tips? Head to stitchfix.com to see more tips and schedule your fix.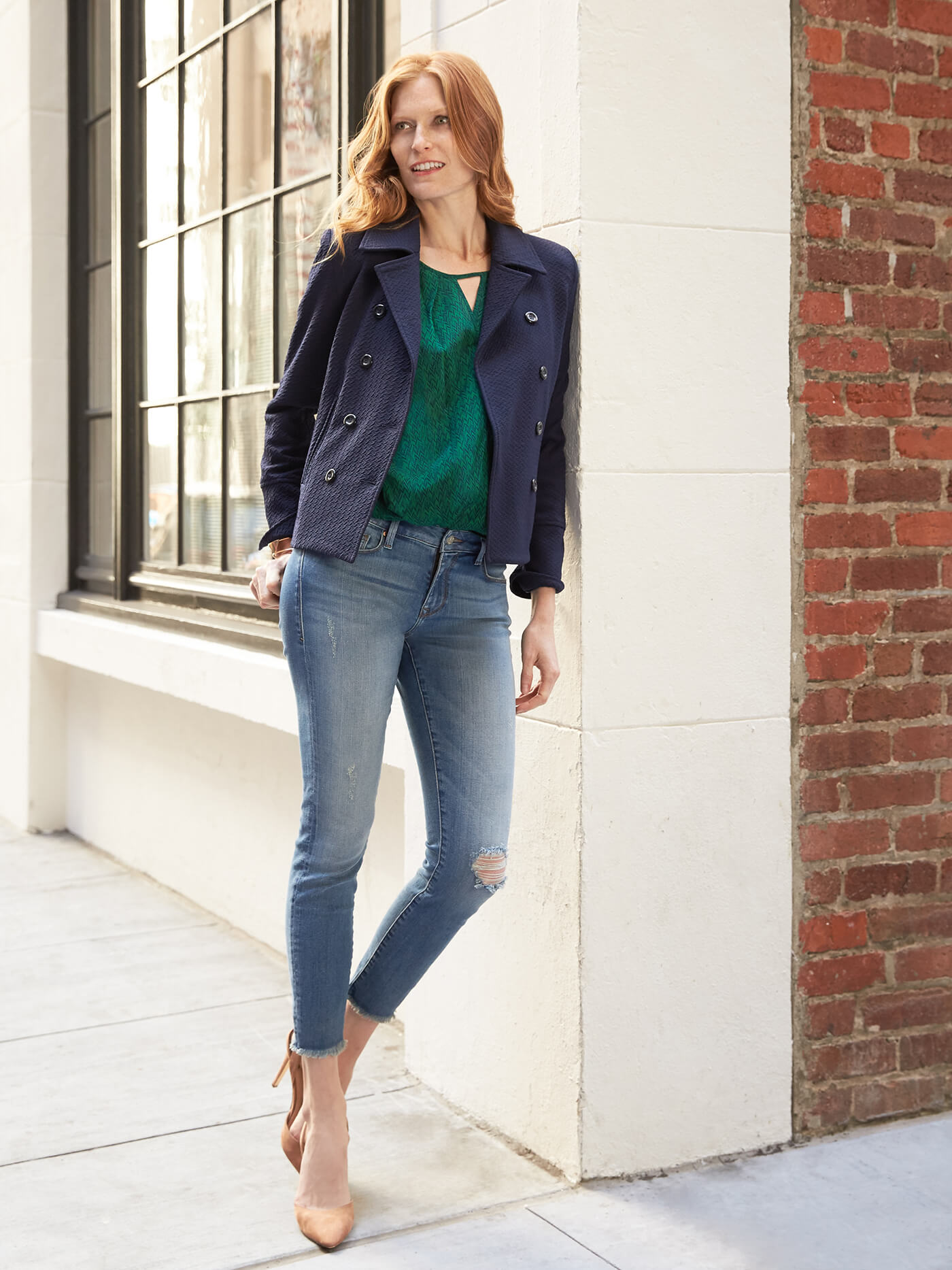 Dress Down Your Workwear
Elevate your ankle skinnies for an office-ready look! A lighter wash will look profesh when paired with a jewel tone tank, cropped outer layer and some classy heels. Depending on your dress code, an edgy moto jacket on top will look stylish and prepare you for those after-work drinks.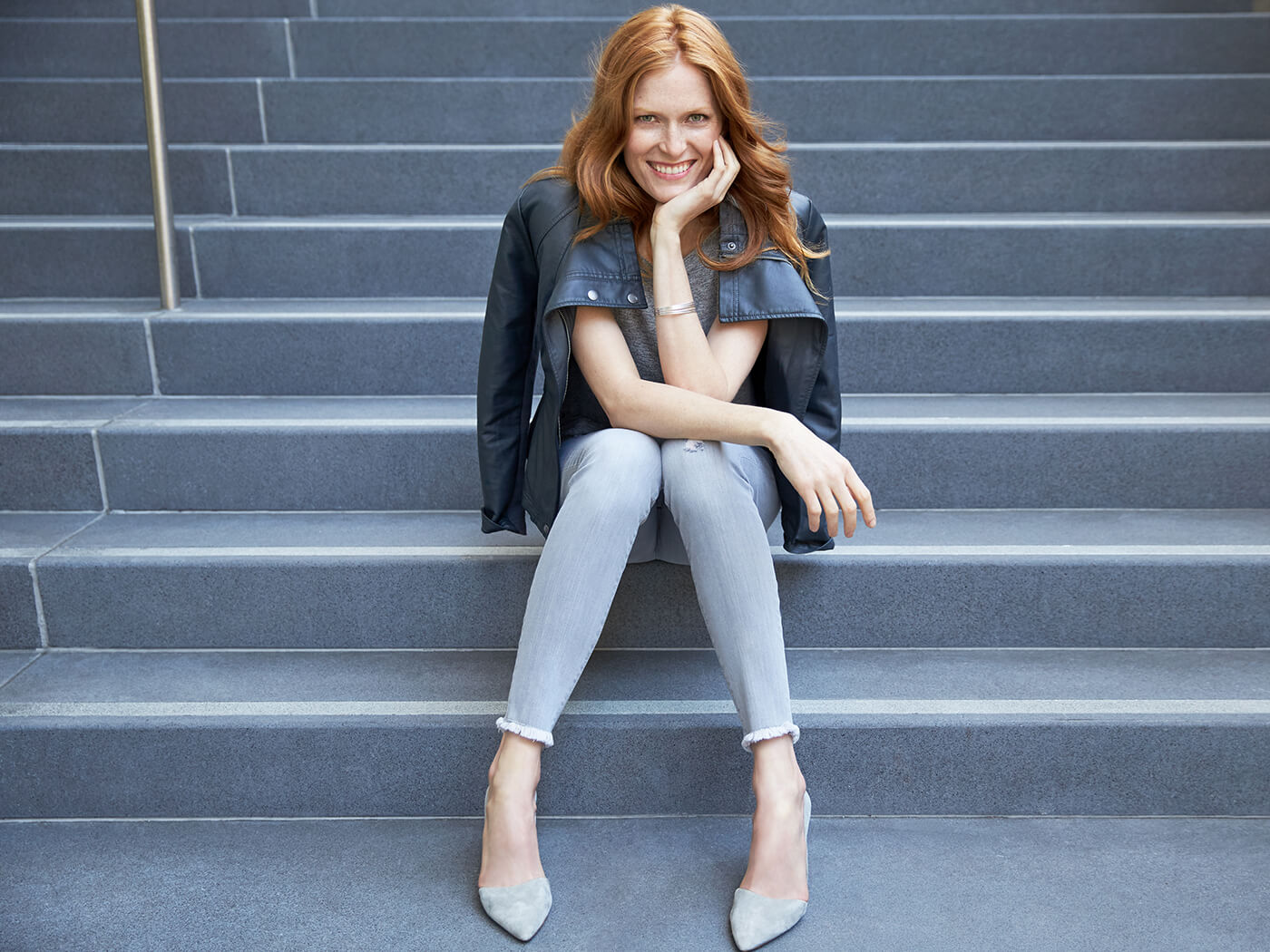 Go Minimal In Monochrome
Basic doesn't have to be boring. Whether you're donning black, white or grey skinny jeans, go head-to-toe in the same hue for an easy street-chic vibe. For a complete the city girl look, add a leather jacket that screams boss.
Stylist Tip: To create the illusion of mile-long legs, wear pumps with a pointed toe in nude or in the same color as your skinny jeans.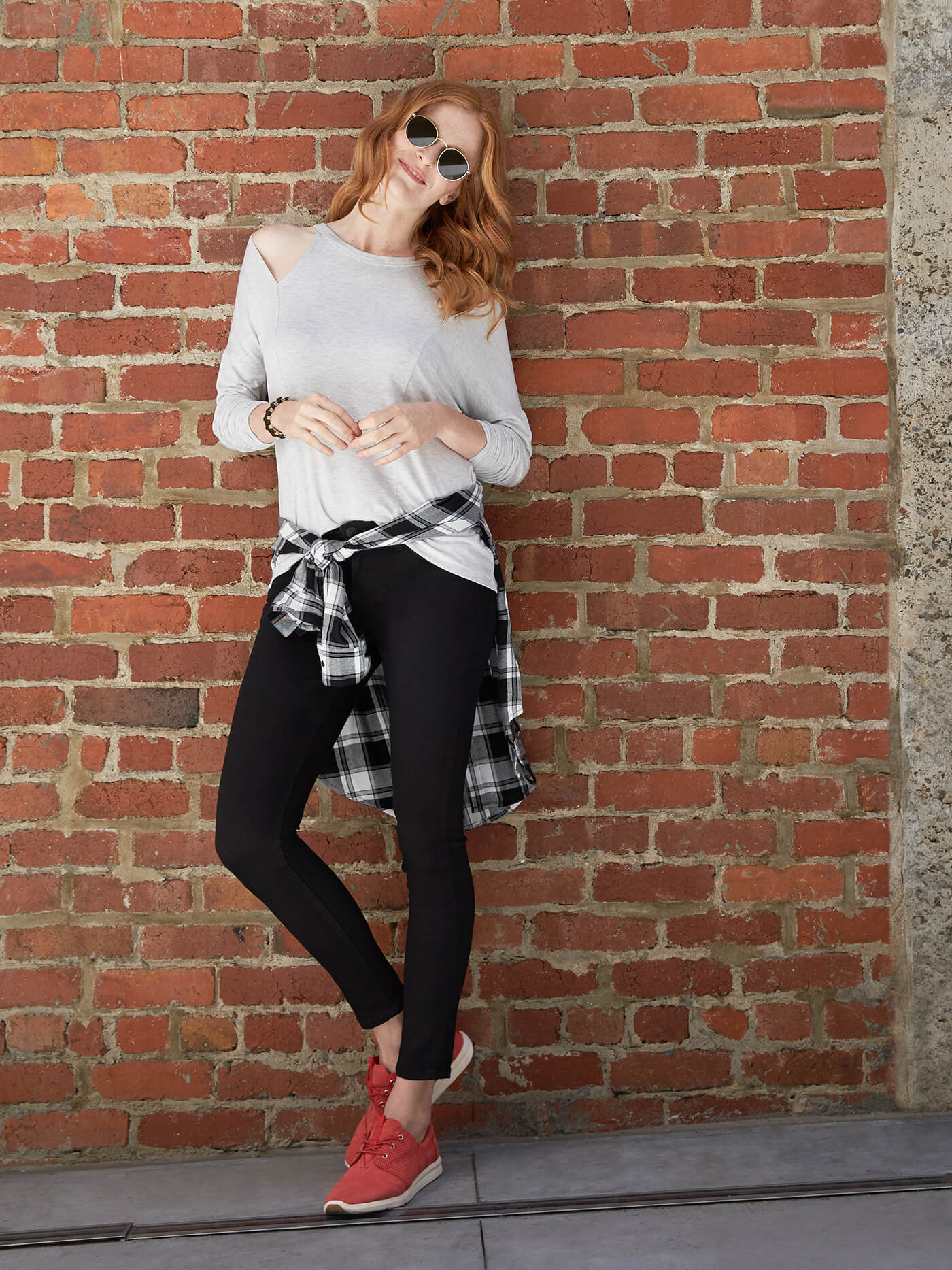 Leisurely Try Athleisure
Dress down those those skin-tight jeans with a comfy, lightweight sweatshirt. Tie an extra layer, like a denim jacket or plaid shirt, around your waist for an "I woke up like this" feel. As you head out the door to tackle weekend errands, lace up in your favorite sneakers or simply slide into slip-on kicks.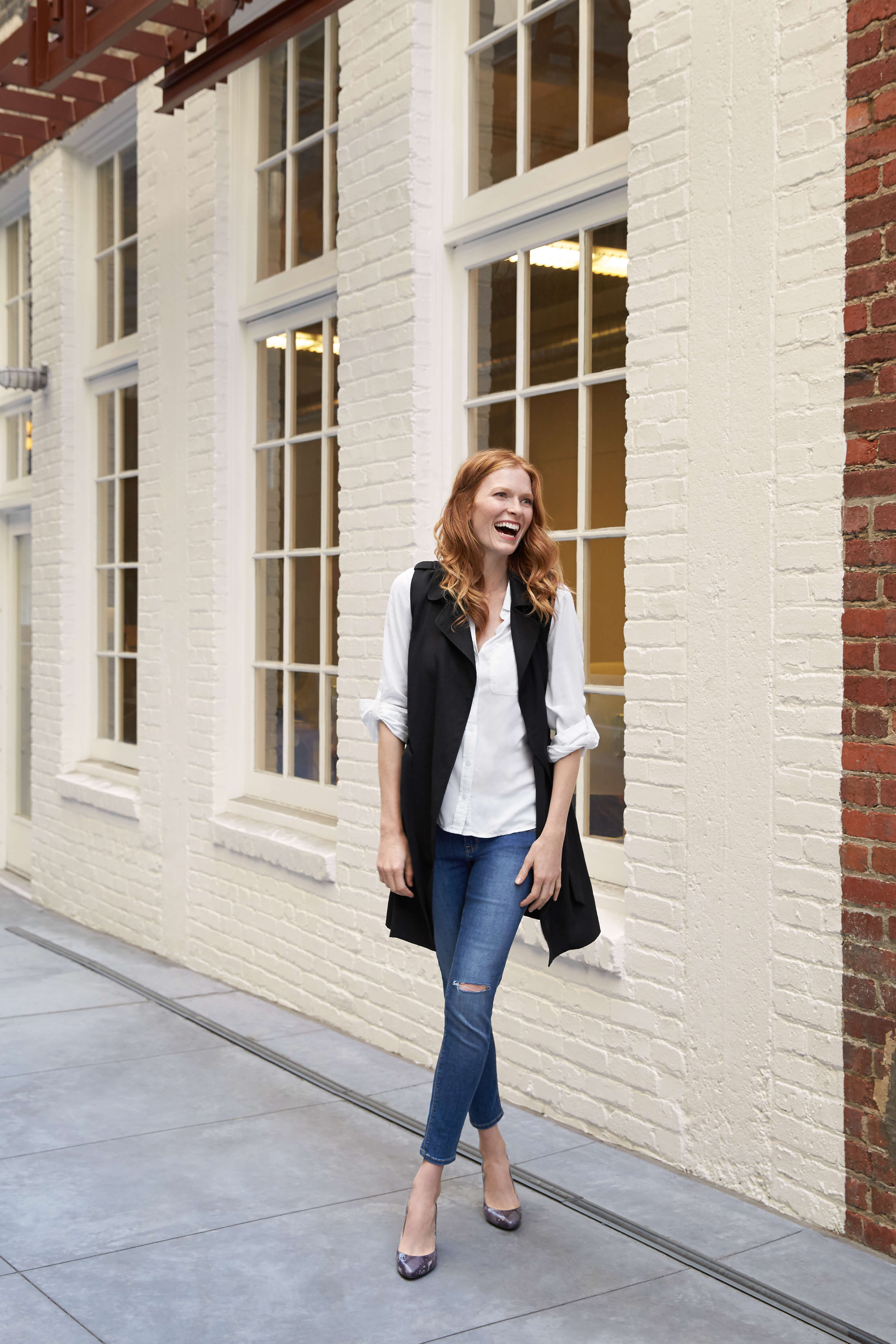 Create A Base For New Styles
Experimenting with a new style but not quite sure how to pull it off? Try it with your tried and true blue jeans! This long vest looks great paired with closet classics like a tee or button-up, and snakeskin heels.
Stylist Tip: When wearing long sleeves under a vest, roll them up to your elbows for an instantly polished look.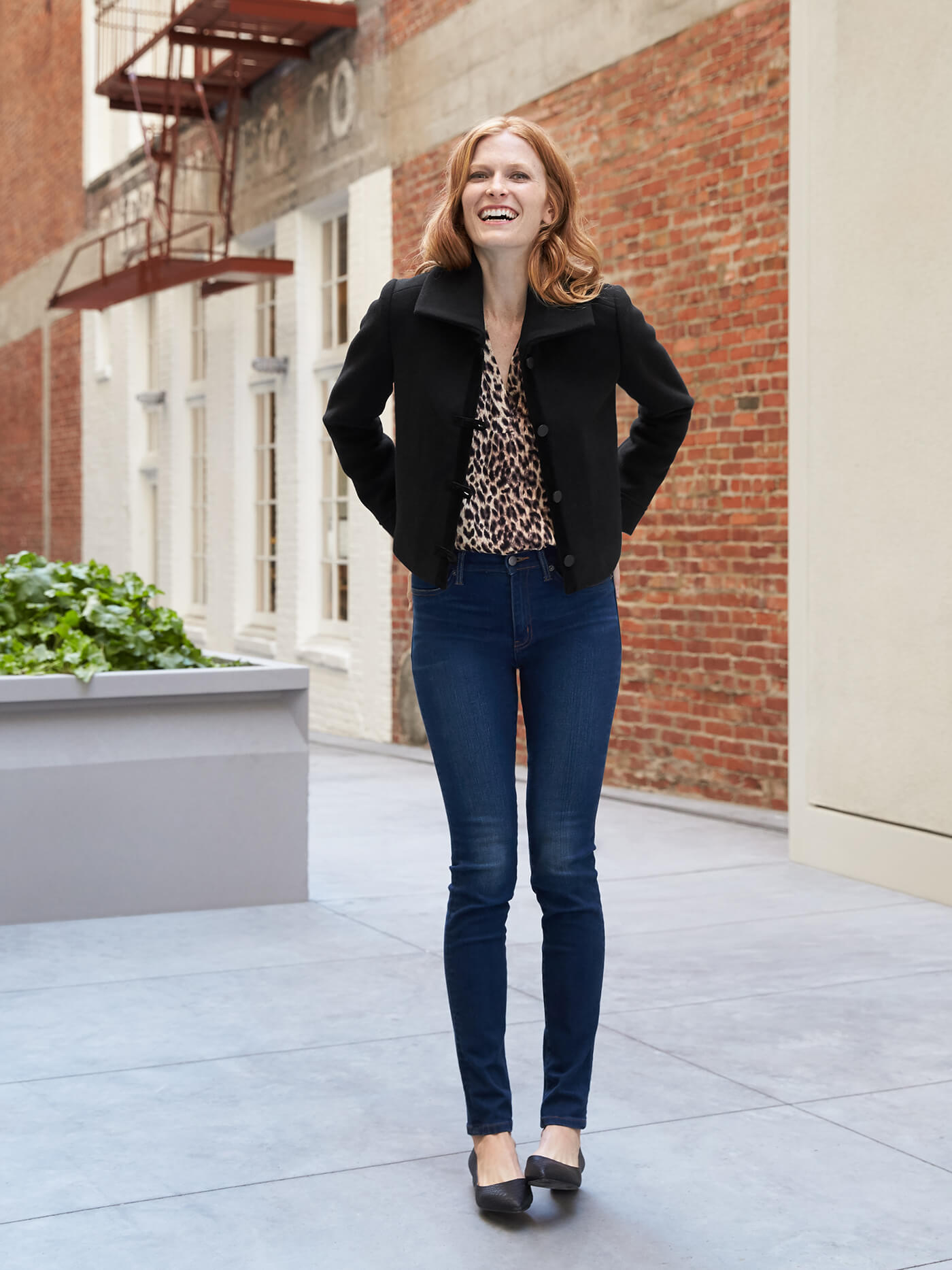 Re-Introduce Retro Trends
High-waisted skinnies are not only comfortable, but they're ridiculously flattering. They keep things secure, while giving the appearance of a lean frame. For a playful, '60s-inspired look, tuck in a printed blouse into your skinnies. Top off your outfit with a cropped jacket—a swing or bell shaped one for a Twiggy vibe.
Which look would you want to try? Let us know in the comments below!