Did you know that we carry styles and brands that are exclusive to Stitch Fix? This means that you're less likely to spot someone else in the same piece on the sidewalk or at a party (phew!). We have Jena Wang to thank for this, our buyer who leads the development of exclusive brands at Stitch Fix.
Learn more about the lovely Jena below: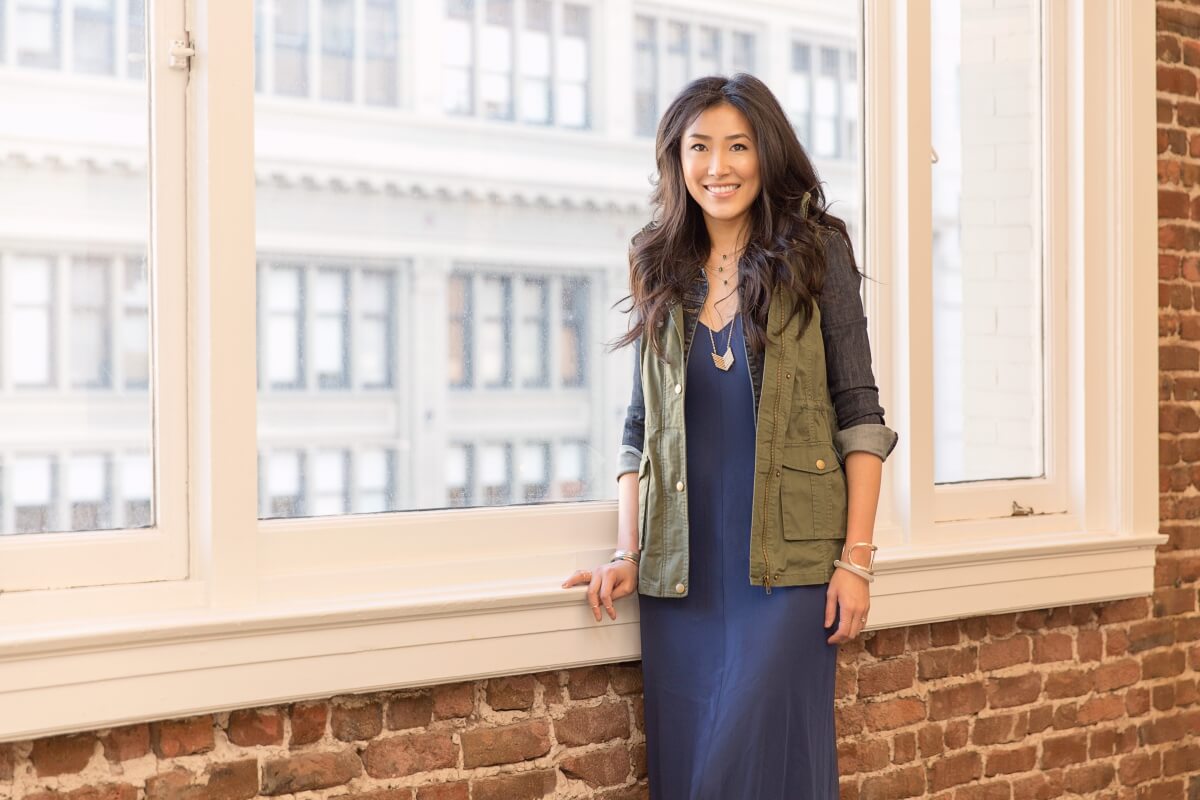 So just what does 'Exclusive Brands' mean?
"Exclusive Brands are labels that are only offered at Stitch Fix. All Exclusive Brands are created and developed in-house with our vendor partners and customized to best fit our clients."
What lead you to Stitch Fix's Exclusive Brands team?
"I started as a selling specialist for DKNY and then became a Buyer at Macy's. After my Macy's experience, I started a company with my friend where we crowd-sourced design sketches and produced the winners. It was one of the toughest and best experiences of my life because it really challenged me to fully grasp all aspects of a product. It was more than just picking a beautiful design, it was about the understanding of fabrics/trims, garment constructions and how to bring all of those elements together to be able to produce a finished design. My entrepreneurial adventure eventually lead me to ModCloth, where I helped launch and manage their Private Label lines. All of those experiences have now come with me to Stitch Fix and I couldn't be happier!"
What's your favorite part of your job?
"I have two favorite parts. One is the product. I just love developing merchandise and constantly looking forward to producing the next piece that everyone will love. Second favorite part is the people. I love all the human interactions in this job! I get to work with the greatest internal and external partners and these relationships keep me going everyday."
How would you describe a typical day in the life of Jena Wang?
"It's going to sound cliche, but there really isn't a 'typical' day in my life. The short and simple answer would be that I spend part of my time working on identifying new products and an even larger part trying to bring the products to life and on time."
How would you describe your personal style? 
"I have such a difficult time answering this question because I'd like to think I am a little of everything, but I tend to gravitate toward edgy more than anything. I love the ripped skinnies that we carry and am really digging all of our vest options. But I'd be lying if I didn't disclose my all-time favorite for any piece: the Sam tee!"
What advice would you give for finding your personal style?
"Snap a photo of your best outfits! When you look back on the collection of photos, you're sure to see your personal style come through, and when you do, the spin-off outfits will be that much easier to create. Not to mention, documenting these images makes it a lot easier for me to get dressed on days when I just can't pull together the right outfit."
Give us a fun fact about yourself​!
"I really disliked shopping and didn't care much about clothes when I was a kid. In fact, I wore the same Fila jacket every day all throughout junior high school. Funny how things change."
Want exclusive brands in your Fixes? Schedule a Fix and let your Stylist know to include in-house designs.