Read on to learn how to get the most out of your casual pieces.
Summer Wardrobe Essentials
Most casual outfits revolve around a set of basics. Once you have a pretty solid foundation, you can push the boundaries with fabrics, prints and colors. We're breaking down the styles, what they look good with and a few expert tips to help you get the most out of each piece.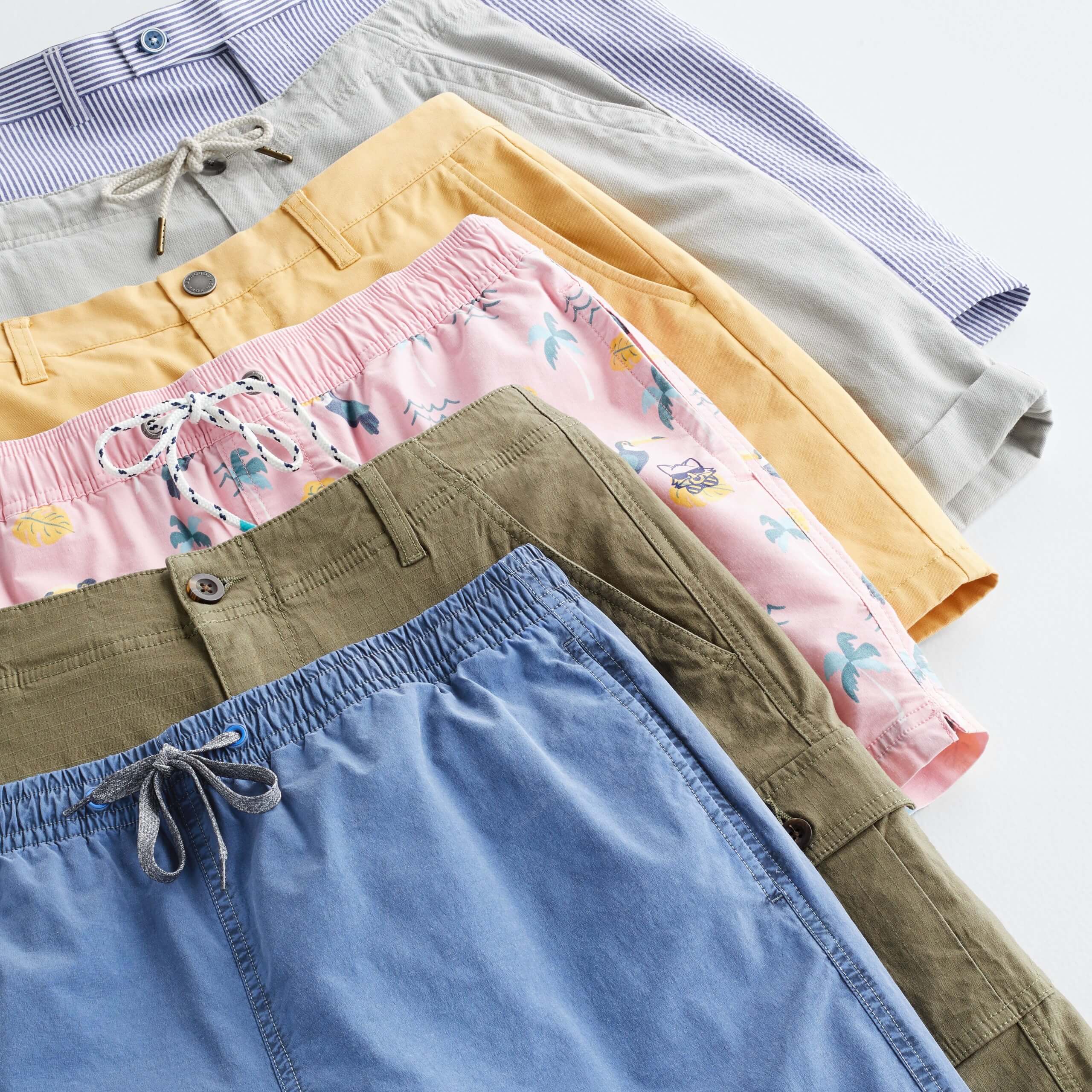 Shorts
This casual staple is one of the star players of the summer uniform. Shorts allow for air flow when it's hot out, are really comfortable (in the right fit) and come in a lot of different styles. They are best paired with the usual suspects such as T-shirts, hoodies, sneakers and boat shoes.
Stylist Tip: Finding the perfect short length is up to you, but striking a perfect middle ground that isn't too short (less than a 5" inseam) or too long (below the knee) will look good on most body types or heights.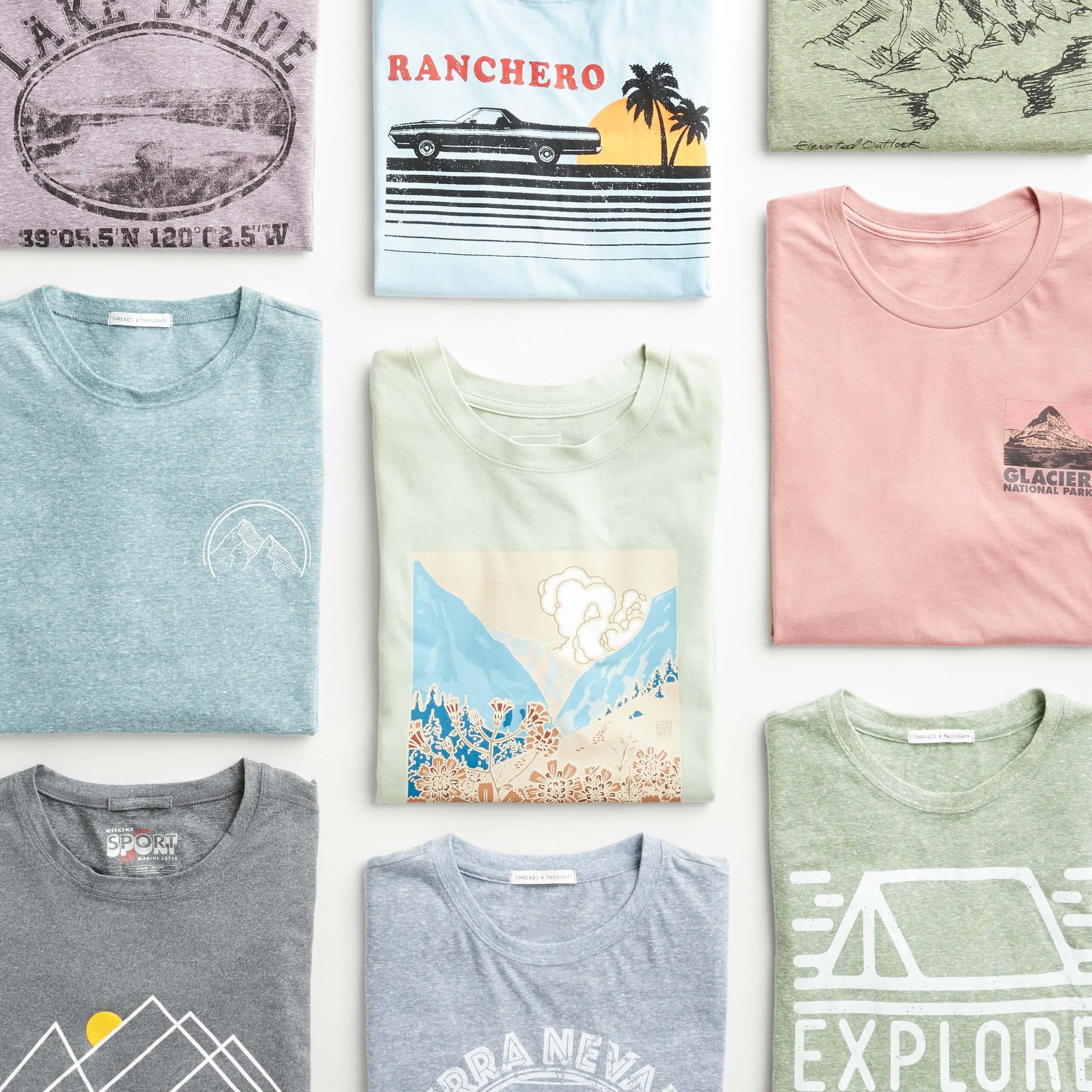 T-Shirts
The backbone of the casual outfit, a classic T-shirt can be worn alone, doubled-up, as an undershirt—the list goes on. Whether it's made from natural fibers or moisture-wicking fabric, the comfort and ease of a T-shirt can't be beat. It can be worn with pretty much anything, especially with today's more relaxed dress code.
Stylist Tip: There are endless color, style and pattern options for T-shirts, but the most important step is to find the right fit for your body type.

Short-Sleeved Shirts
You might think a shirt with a collar and a button-front feels formal, but with relaxed fits, fun prints and bold colors, you can smartly delve into the laid-back zone. Pair one with a fun print under a lightweight blazer with stretch (this does exist) for a dressed-down look that is slightly more refined than just wearing a T-shirt. You'll look sharp, and no one will know just how comfortable you are.
Stylist Tip: Short-sleeved button-down shirts with tropical patterns are a great way to add personality to your outfit.

Lightweight Hoodies
You never know when there will be a light breeze or if your tropical vacation suddenly has a chilly day. It's smart to keep a colder-weather option in your rotation—a lightweight hoodie is that hero layering piece. Treat this like a jacket when you add it to your casual outfits—if you're wearing a lot of patterns or prints, choose a solid color and vice versa.
Stylist Tip: Keep cool as you switch up your looks with summer colors, linen blends and zip-up styles.

Sneakers
A pair of minimal sneakers is fail-safe for a casual outfit. They go with almost everything, and can usually slide into places with nicer dress codes. You can wear them with different types of outfits from slighter dressier (summer weddings, relaxed offices, dates) to beachwear.
Stylist Tip: Pick light colors in the same shades for an elevated look that's easy to pull off.
Men's Summer Outfit Ideas & Tips
The most important thing to remember is to make sure you're dressed for the right occasion—there's nothing worse than being underdressed. Once you've determined that you are good to go in your favorite laid-back looks, here are a few simple tips to pulling it all together.
Be Comfortable
First and foremost, your outfit needs to make you feel at ease. Try not to overthink your casual look—style is personal, and if you like it, that's what matters most. If you feel good, you'll look way more relaxed than if you don't.
Layering Is Key
You never know what the evening (or even daytime) temperatures will be, so it's smart to always be prepared. Case in point: a T-shirt under a printed button-down shirt will not only give your outfit dimension, but it'll add warmth too.
Keep It Simple
Sticking to the basics is the easiest way to master something new and get used to it. A T-shirt or short-sleeved button-down shirt paired with shorts and sneakers fits the bill for the majority of your casual outfit needs. You know what they say, if it ain't broke, don't fix it.
Try Subtle Patterns
Stripes, check patterns and geo prints are fun ways to add a little personality to your look. As a general rule of thumb, it's a good idea to limit the number of patterned pieces to not have too much going on at once (unless you feel advanced—then go for it).
When it comes to men's casual clothing, you don't have to sacrifice style for comfort. Using the tips in this guide, you can follow the fundamentals of dressing comfortably while we get you set up with the tools to do so.
Ready to beat the heat in on-trend casual summer outfits? Let an expert stylist do the work for you. Take your style quiz, order a Fix and ask your stylist to send you an array of summer styles. You'll receive five pieces based on your unique style, fit and price preferences. Buy what you like and send back the rest. Shipping, returns and exchanges are always free.