A Brief History of the Classic White Tee
The T-shirt started as underwear. In the late 19th century, navy sailors would slice their "union suits" at the equator, adapting them for summer wear. The more comfortable tops were easy to wear―and in 1913, the US military formally adopted an evolved short-sleeved version, in cotton, as an official undergarment.
Two factors turned the T-shirt from an "unmentionable" to near ubiquity. The first were soldiers. Having gotten used to wearing just T-shirts with their uniform pants, men continued the habit when they returned from World War II. The July 13, 1942 issue of LIFE Magazine might just be the first photo of a printed tee in popular culture.
The second factor was star power. In 1951's A Streetcar Named Desire, Marlon Brando spent most of the film in a white undershirt. Audiences swooned and the plain white tee went from underthing to "overthing", overnight.
T-shirt Fact: F. Scott Fitzgerald was the first writer to use the term "T-shirt" in his novel, This Side Of Paradise.
Types of T-Shirts
For a seemingly simple garment, the T-shirt comes in a variety of styles, fabrics, designs and fits. Let's start with one distinguishing feature—neck type.
The Crewneck
A homage to the T-shirt's nautical origins, the crewneck is the universal style almost everyone defaults to. It features a round, sometimes ribbed, neckline that fits tightly around the base of the neck.
Crewnecks are good for:
Wearing under nice

dress shirts

(like it's original intent)

Layering with each other

Letting other busier pieces shine

Standing out on its own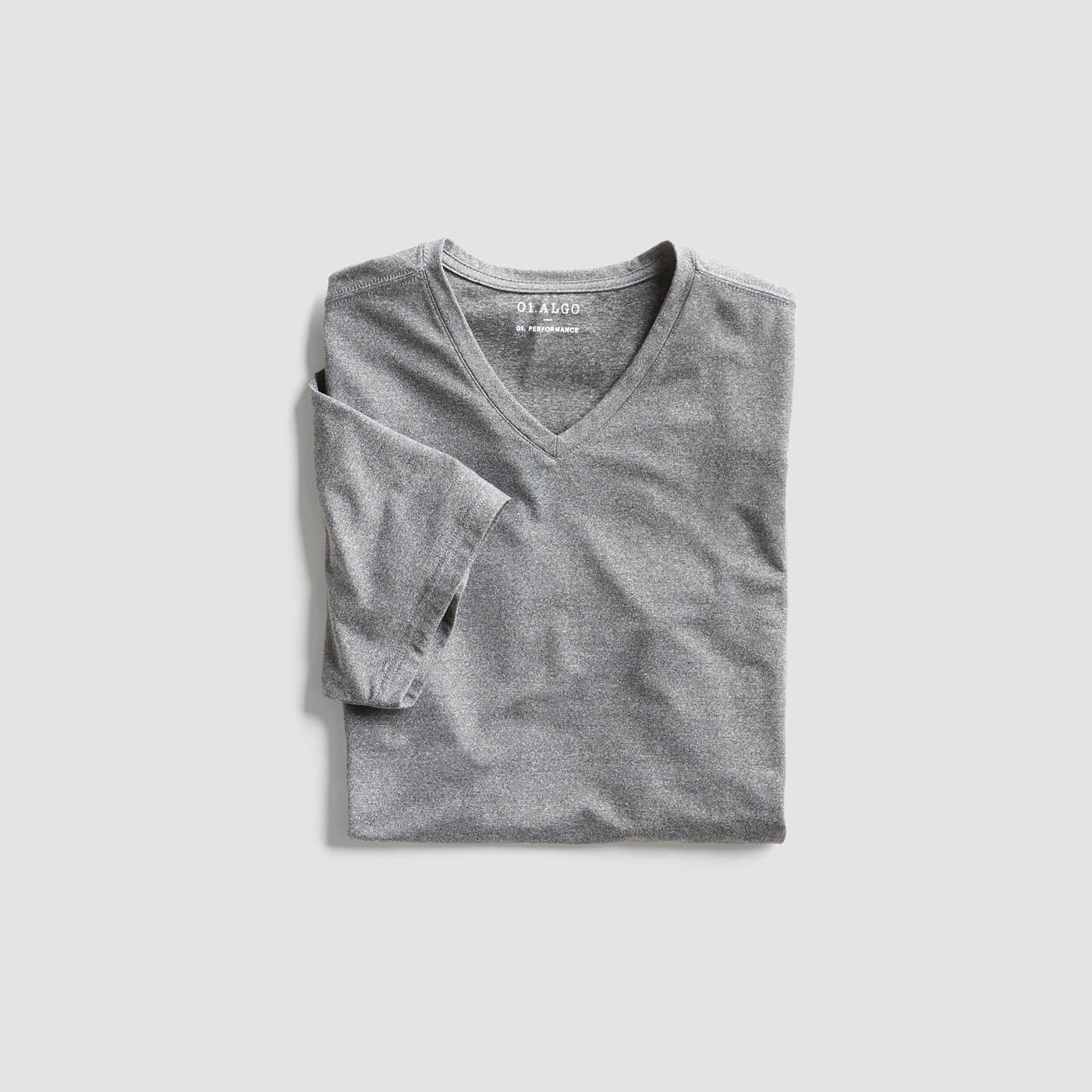 The V-Neck
Originally introduced to hide the neck of an undershirt if the first few buttons on an overshirt were undone, the V-neck has come to hold its own as a staple worn to add visual interest.
V-necks are good for:
Wearing under dress shirts & polos

Wearing alone on warm days for extra ventilation

The Henley
With roots that supposedly tie back to underwear (yes, again), a henley is a mix between a basic T-shirt and a polo. The button placket is a subtle, yet noticeable difference and although it's still considered casual, can take a look up a notch.
Henleys are good for:
Switching up your T-shirt rotation

A sneak peek at muscle definition (hey, if you've been at the gym, why not?)
T-SHIRT SLEEVE LENGTHS
When it comes to t-shirt sleeve lengths, it's relatively easy when you base your choices on the weather (or vice versa). Rules were made to be broken, however, so if the occasion calls for it, wear something you're comfortable in as long as it fits in with the theme of where you're going.

Sleeveless
This can be a little trickier than it looks. With options that run from edgy (think really skinny straps) to basketball jerseys, aim for the closest twin of your favorite type of T-shirt to have the highest success rate, aesthetically speaking. Keep it simple with a fit that's not too baggy or tight and average size straps and arm holes.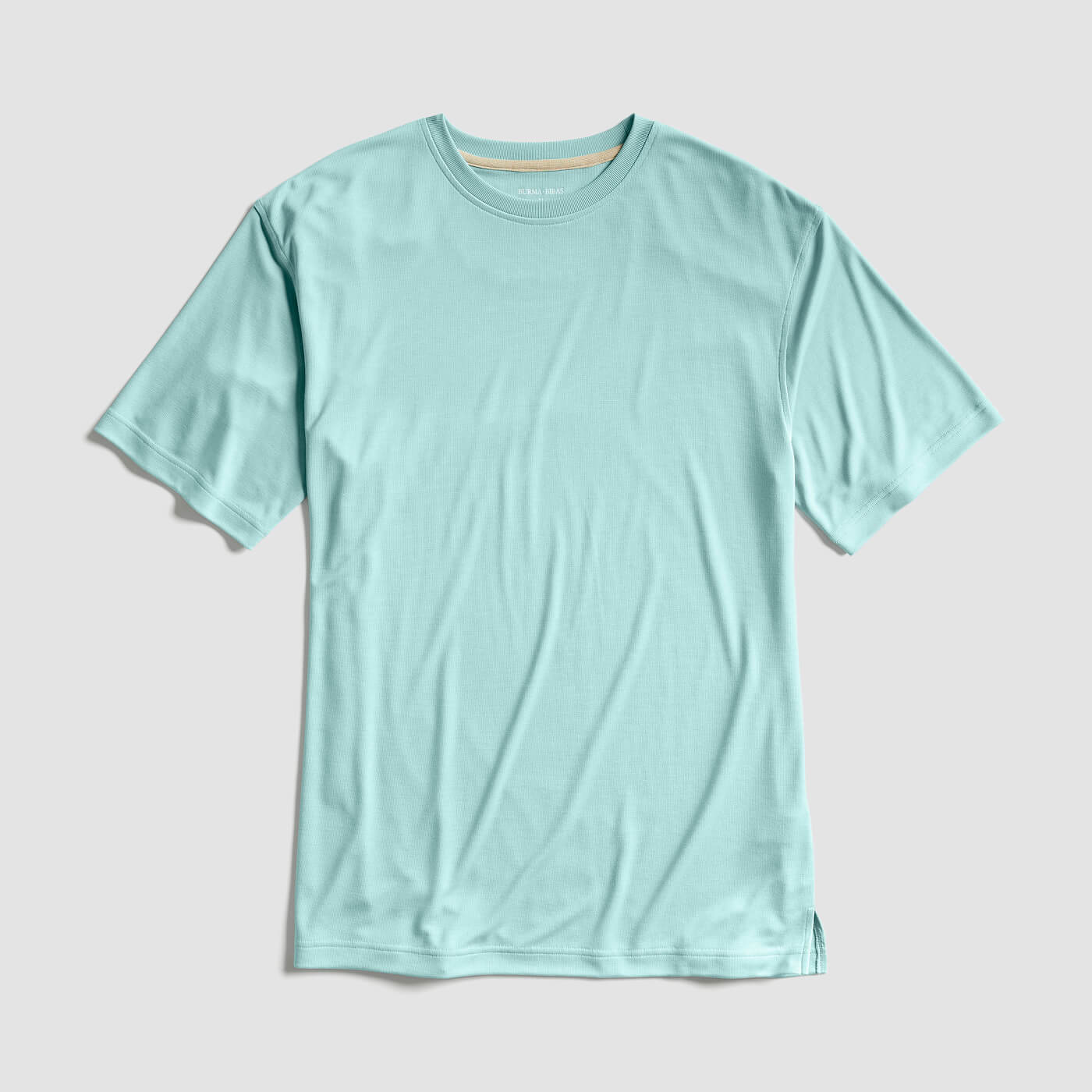 Short Sleeves
This is the easiest of the bunch, and the style that's probably taking up the most space in your wardrobe. Short sleeves are great year round and show up everywhere: on vacations, at the gym, under work shirts and on weekends. A nice sleeve length that hits between your shoulder and elbow looks best on almost every build and if you invest in a quality material, you'll get a lot more wear out of every T-shirt.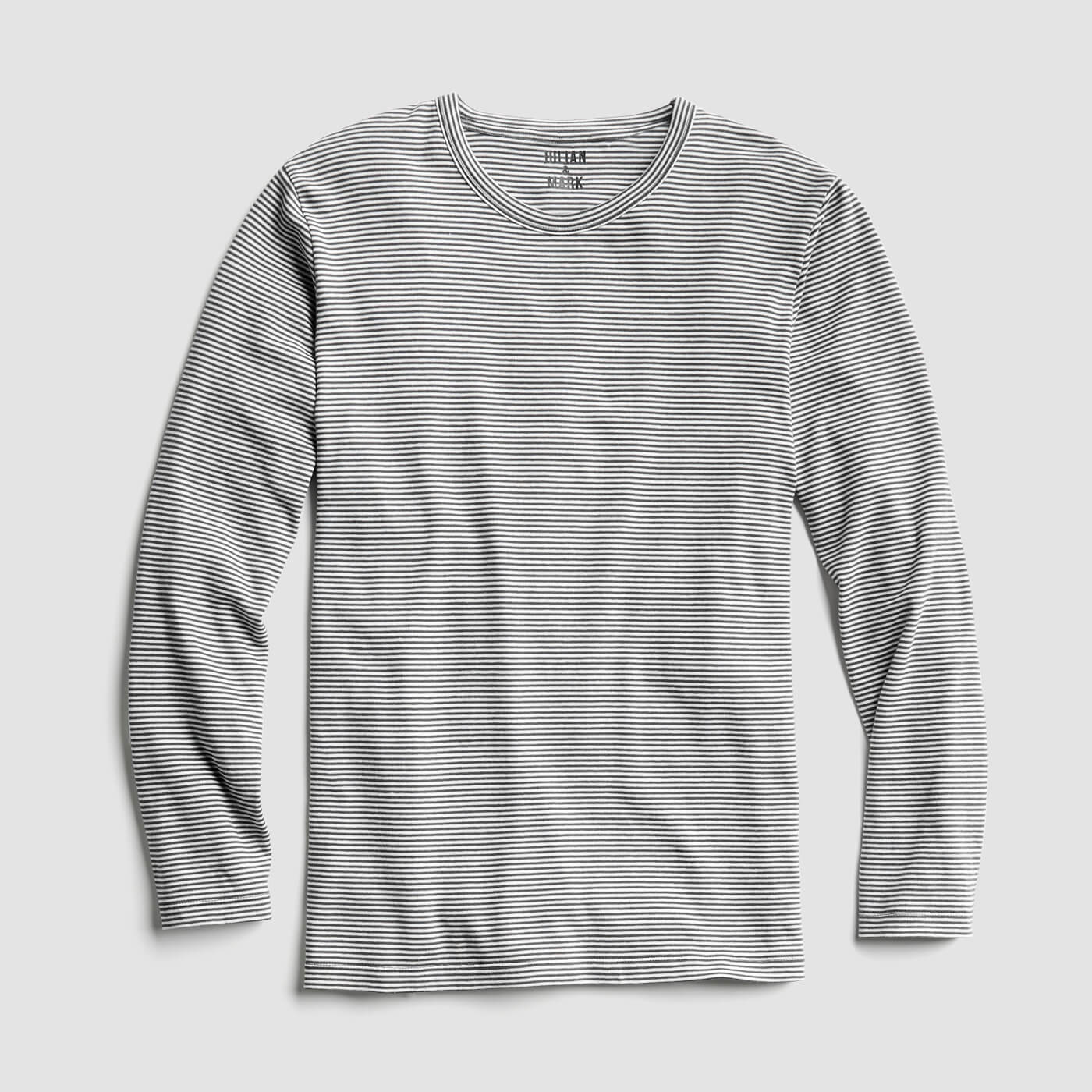 Long Sleeves
Ready for cooler weather? This style is. The key to owning your long-sleeve T-shirt look is to get the right fit. You don't want the sleeves to go over your wrists or the hem of the shirt to hang lower than your belt line. If it unexpectedly warms up, just push up the sleeves.
HOW YOUR T-SHIRT SHOULD FIT
This easy-to-wear basic could also be the most challenging item in your closet when it comes to fit. If it's too tight, it will cling to you and emphasize parts of your body you might not want it to—too loose, and it will replicate a night shirt. Here are the parts—your parts—where fit matters most.
Arms
Your T-shirt's sleeves should hit at the midpoint of your upper arm between your shoulder and elbow without the sleeves billowing or hugging too tight. If you have more athletic biceps, it will fit a bit more snug, but the same rule applies.
Torso
The length of your T-shirt should fall just above your belt line. If it touches the end of your fly, it's probably too long. On the taller side? Look for a longer but not wider option.
Shoulders
The key is to make sure the seams of your T-shirt line up with your actual shoulder line. If it goes over, it will look sloppy and if it doesn't, it will be too small.
Stomach
The midsection is the hardest to tackle because the natural inclination is to go bigger in size if you're not walking around with a six-pack. If your T-shirt fits everywhere but the middle, choose a size up, but in a slim cut.
HOW TO WEAR A NEUTRAL COLOR T-SHIRT
Thanks to pioneers like Marlon Brando and James Dean, you can wear an undershirt out in the open and look good doing so. The true original is the white T-shirt. It will coordinate with just about anything you pair it with—except stains, so watch out for drips.
Other neutral all-stars:
Navy
Navy always looks sharp, and isn't as bold or imposing as black. Pair a charcoal blazer over a navy T-shirt for a smart casual look.
Gray
Gray is usually flattering, but remember: there are many shades of gray. Light gray can telegraph sweat stains, but matches easily with other colors. Darker grays look sleeker but are harder to match, especially with other dark colors. A heathered gray can be your happy medium.
Black
Black comes across as sleek, smart and modern. A black T-shirt can turn up an otherwise casual outfit, but try sticking to just one piece since it's hard to match different shades of black.
Stylist Tip: A blue T-shirt and khakis is the perfect color combo.
HOW TO WEAR A GRAPHIC T-SHIRT
From faded band logos to your favorite restaurant back home, graphic T-shirts have an undisputed place in casual style for men. Upgrade your rotation with the latest designs and be sure to debut them at an appropriate time and place. Since they almost always read as casual, opt for the no-fail jeans and T-shirt duo.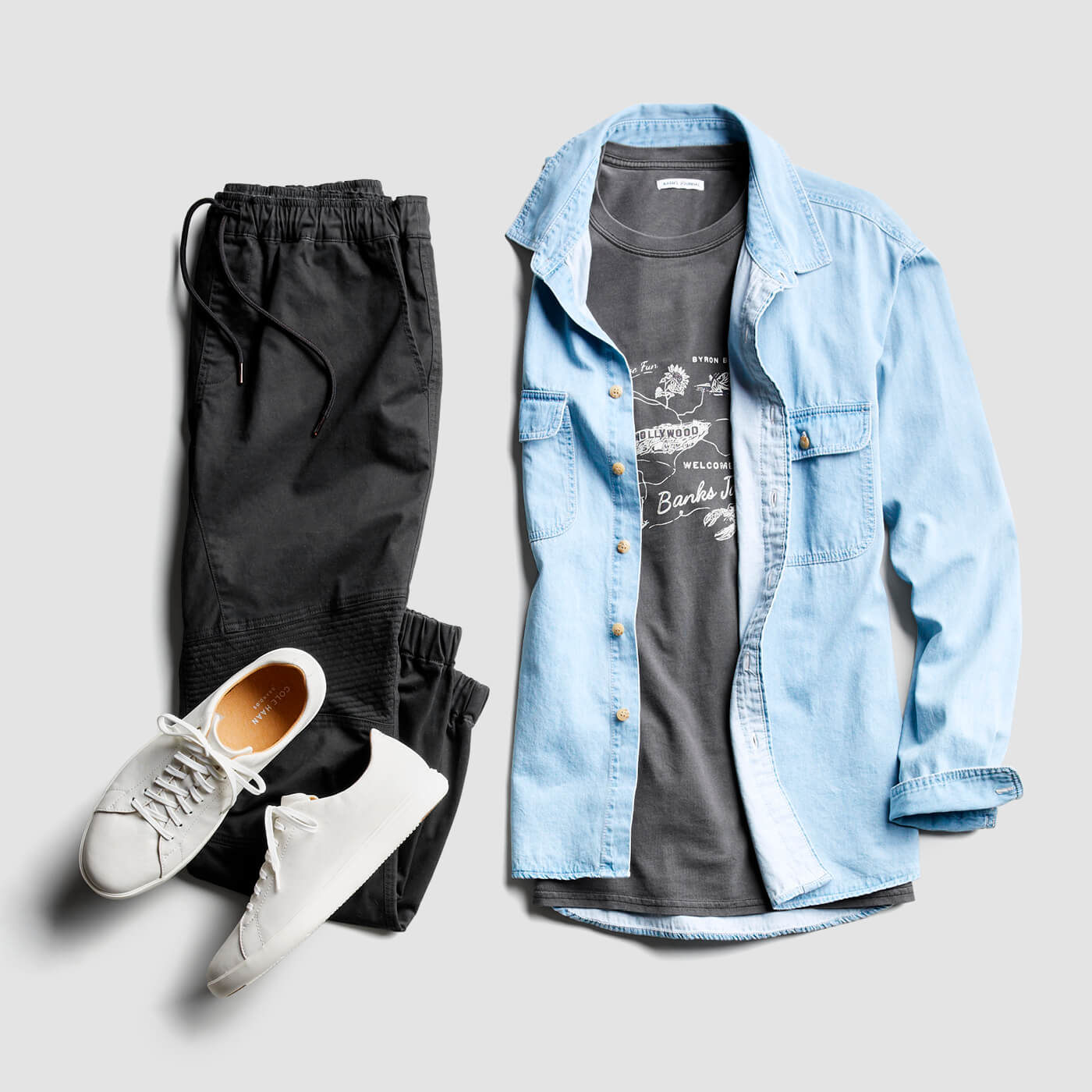 Logo
The classic. When most people think about a typical graphic T-shirt, they automatically go to a place filled with vintage rock band logos. It doesn't have to be this if it's not your style. Go for what you like: favorite college, sports team, clothing label, restaurant, bar and even a band. These shirts will only get softer with time as they fade. Add your favorite jeans, throw on a button-up shirt as a lightweight jacket and you're good to go.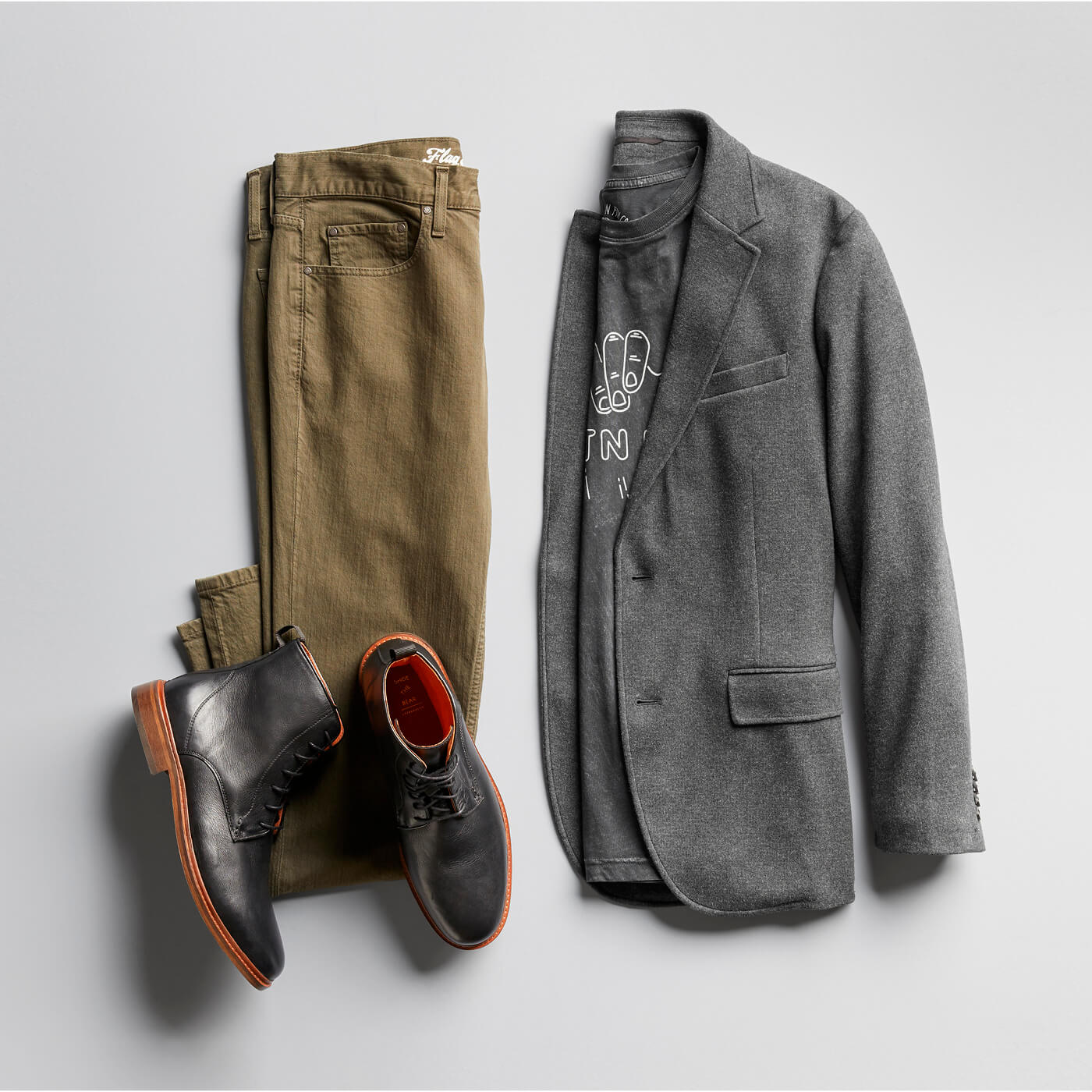 Design
T-shirts with a graphic on them give you a chance to express your interests. From a colorful print or ironic artwork, try to find a design you feel a connection with. With the amount of pop-culture options available today, you're sure to find the graphic that fits your personality. Depending on how iconic or artsy your shirt is, you can vary your look with colorful chinos, black jeans or even suit pants if you're a street style master.
HOW TO WEAR A PATTERNED T-SHIRT
Patterns add visual interest to a shirt, but that's not all they do. They can change the shape and texture of your clothing and give your look personality.

Stripes
Another trip down memory lane, as stripes were represented by the navy back in the day, and are one of the many staples in menswear today. Wearing stripes adds personality to an otherwise simple look and they fit in, day or night. Make sure your outfit is balanced by sticking to solids and neutrals.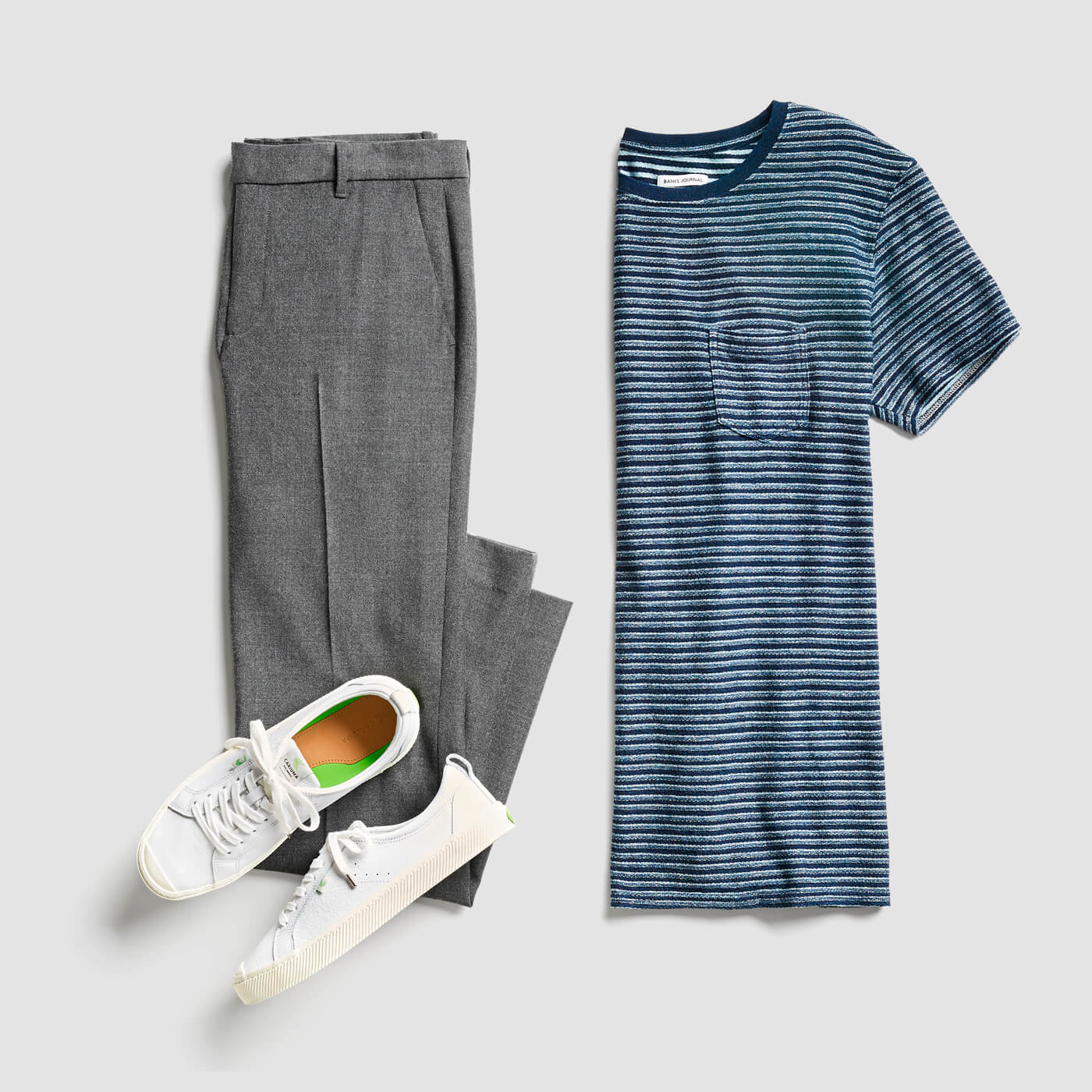 Repeating print
A repeated print or emblem is an easy way to dress up a bit. A neutral all-over print on a black or white T-shirt can work with a blazer, cardigan or peek out under a crewneck sweater. To add an unexpected turn, choose a colorful option to show that you're an expert at bold moves.
Unstructured pattern
Free-flowing designs, florals or motifs, will make your T-shirt a statement piece that can hold its own. Pair these with jeans, neutral chinos and shorts to allow the pattern to shine.
The world is your oyster when it comes to T-shirt styles. We have expert stylists waiting to help find your best fit. Take your style quiz, schedule a Fix and let your expert stylist know you are looking to elevate your T-shirt rotation. Shipping and returns are always free. It's that simple.