Styling your slender figure doesn't have to be a chore and you don't need to be buxom to achieve a flirty, feminine look. The key to creating the illusion of curves on your lean figure is to find necklines and hemlines that hit you in just the right spot.
Here's how to create more shape in the bust: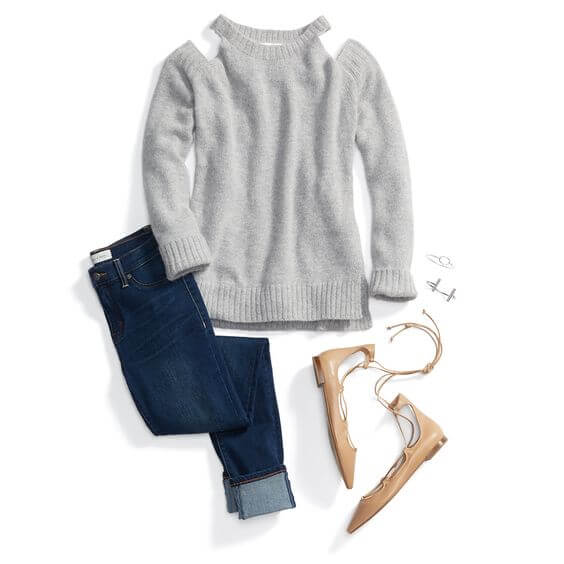 Emphasize Your Neckline
Use necklines to your advantage. By selecting a sweetheart, scoop or high neckline you'll balance your proportions and round out your figure.
Draw attention to your upper half. Off the shoulder tops are perfect for drawing attention to your upper half to create more shape. If you prefer more classic cuts, flaunt your shoulders and arms with skinny straps and racerback tops.

Emphasize Your Waist
Define your waist. Layer your ensembles for added depth with outerwear tailored through the waistline such as a tie-waist jackets, blazers and trench coats. These will elongate your appearance and give you the look of gentle curves and more shape at your bust. Apparel with details at the waist and hemline (you should also try peplum tops!) will soften you, while giving the appearance of shape.
Wear dresses with a cinched waist. Shirts or dresses with a cinched waist will automatically help you appear bigger at the bust. A-line or fit-and-flare skirts and dresses will lend a flirty flounce to your look, creating just the right amount volume to feature your leggy limbs.
Accessorize in All the Right Places
Don an infinity scarf. Infinity scarves will strategically enhance the look of your bust and draw attention toward your face and create more shape at your chest.
Wear embellishments. Ruffles, beaded necklines, or cowl necks will add instant volume without the use of padding or a push-up bra.
Finally, flaunt your favorite features! Take advantage of styles that show off your back or your arms, such as tank tops or open back tops. This will take the attention off of your bust and highlight other parts of your body. A top that shows off your arms or back and also has a high neckline will do double duty.
—Baylee
What are your tricks to creating more shape? Tell us below!