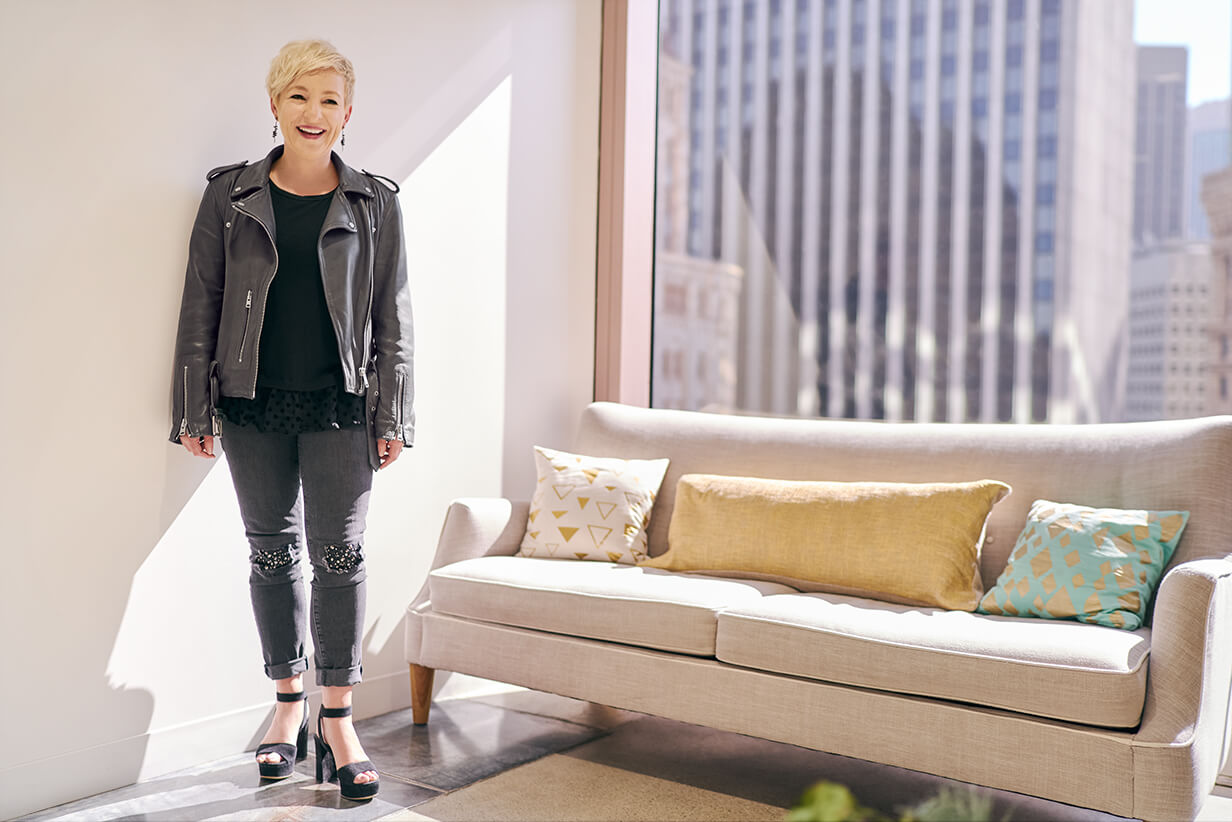 First things first, can you give us a little bit about your job and what you do at Stitch Fix?
"My job as the Director of Channel Marketing is to find new ways to bring fun and inspiring content to our clients via email and other marketing channels. I really focus on bringing more personalization to our service. During my days, I work with designers, engineers and data scientist to make this dream a reality. My favorite part of this job is leading a team of super talented marketers. Plus Stitch Fix is such a fresh approach to the same old industry. I can't help but be inspired seeing fashion through a new lens. It's exciting!"
SNAPSHOT OF A DAY
But first…some peace & quiet
"It's all about balance for me. My family, my job, my dog—all find a way into my day. Oh, and my shoes definitely play a role."
5:30 AM: I get up and walk my dog. That's one of my favorite things because he doesn't talk to me! Just a nice quiet time playing fetch in the park.
6:00 AM: Wake up my 12-year-old daughter, Emma—that takes about an hour! Then I choose shoes. That's how I dress…from the shoes up. Rush to school. Rush to work.
9:00 AM: My day consists of collaborating with a lot of very different people from data scientists to designers. I love this part of my job. What I am trying to solve every day is how to make email marketing to be more interesting, relevant and inspiring to our clients.
5:30 PM: I try to always leave on time so I can go home and do homework with my daughter or practice the piano together.
7:00 PM: Emma and I watch a girly show together like Gilmore Girls. After she goes to bed, then I indulge in Orange Is The New Black or Jane The Virgin. They're just so funny and light.
AND SO IT BEGINS
What's a typical day for you at Stitch Fix? Or is that an oxymoron?
"In a company like this, there is always change so it's never really the same day twice. Brainstorming about how to make things, not just better, but amazing is always exciting to me. I spend a lot of time thinking about how we can bring the art and science of what we're doing together. And that looks different every day."
THOSE THREE LITTLE WORDS
If you could describe three words that help you succeed what would they be?
Learning: I have to learn something new every day. Like, today I learned a lot about gift card sales. I never knew anything about them—and now I know a lot. Success!
Passion: This is just as important to me as learning. It could be as simple as making our email work better—if I feel passion, I'm all in.
People: Surrounding yourself with people who share your passion and are eager to learn will always be important to me. I enjoy everyone on my team and learn something from them daily.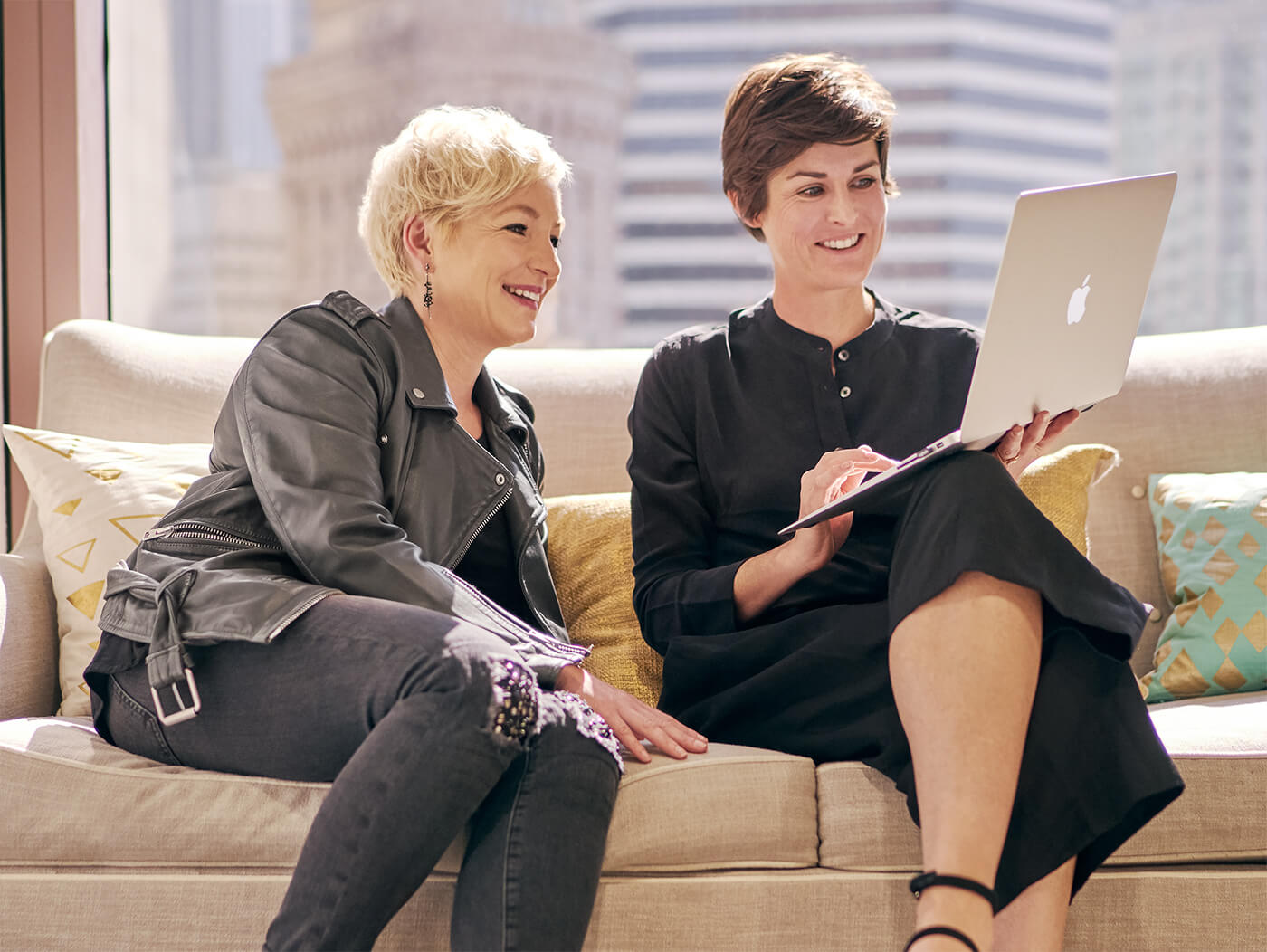 ON LIFE & CAREER
From Flowers to Fixes…
"I was a political refugee from the former Soviet Union. And before I moved to the states I studied what you would consider very classical mathematics. Today it translates to what we consider more of the data science function. But my first job in this country was selling flowers on a street corner on Thanksgiving. How's that for a fresh start?
Eventually, I started going to school full time and working full time….however, the minute I tried to tutor American teenagers, I was over it! So I switched to IS (Information systems) which put my math background to great use. I moved to the Bay Area after grad school during the DotCom boom for my first job in coding. But when I moved to e-commerce, I was instantly hooked because it combined technology, data and creativity."
ON STYLE
Whichever mood strikes…
We always love to see what you're wearing and how you rock it. Your style is very unique. How would you describe it?
"My style has definitely changed over the years as I've gotten older. You know, I see myself differently and my style has evolved with my vision. It has a lot to do with how I'm feeling. If I'm a bit down and feel like some girl power I'll wear something edgier. If I'm happy and it's sunny outside, then I wear something feminine like a girly dress."
ON ACCESSORIZING
A Cinderella Story
We love your shoes…we'll have what you're having.
"If I could spend all my money on one thing, it would be on shoes. I love them. I don't know why—I just always have. I think it started when I worked at Sephora, because you could still wear any color shoes even with their all-black dress code. And, I think shoes are something that aren't such a victim of trends. If they're cool, they'll stay cool. So my advice? Shoes are a great investment. At least that's what I tell my husband."
What are your favorite shoes you've ever bought? And, do you still have them?
"Of course I still have them and probably always will. I bought them for one of my first dates with my husband. We were going to New York and I bought these shoes that made me feel like Cinderella. They were so beautiful and made me feel really dainty – and also, tall!"
A LITTLE MORE ABOUT ALBINA
1. My favorite family vacation is a week every year spent riding horses on a dude ranch in Colorado. And yes, I wear all cowgirl attire ;). Some of my boho Stitch Fix items come in very handy.
2. What I'm reading now: "The Knockoff." It's all about disruptive fashion. But, I don't just read chic lit. One of my favorite books ever is "Emma" by Jane Austen. It even inspired my daughter Emma's name.
3. When I need to tune everything out and work, I listen to podcasts instead of music. My favorite podcasts at the moment are "Dear Sugars" because I have the biggest girl crush on Cheryl Strayed and "How I Built This" because I am inspired by people who just go for it.
4. When I dress in the morning, I most often start with the shoes I want to wear and go from there. I think we've covered that.
5. Lipstick vs. mascara—Definitely mascara. My mascara of the moment is Bobbi Brown Blackout and Giorgio Armani Eccentrico.
6. My favorite food is cheese because—what's not to love?
7. I have climbed Half Dome in Yosemite twice in the middle of night to watch the sunrise. Once was not enough.
8. I was born and raised in the former Soviet Union.