Keep reading to learn more about our team's summer must-haves!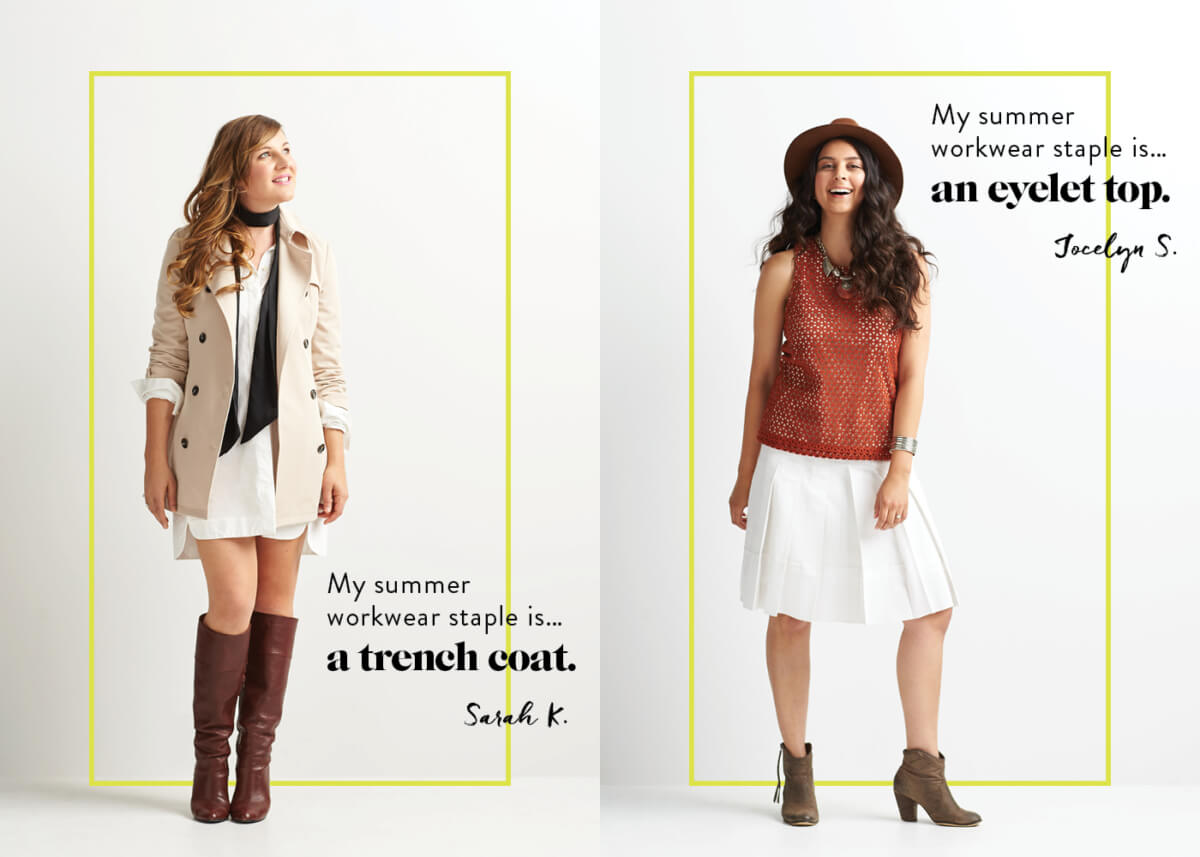 A trench transitions from outdoor to indoor.
"My lightweight trench is a favorite staple because I can wear it over dresses, jeans and blouse combos, and skirt looks too. My trench makes me feel instantly chic and is perfect if I need an extra layer indoors." —Sarah K. Senior Editorial Stylist
Try an statement top! "The geometric pattern and the rust orange color make this eyelet top feel modern. I love to style more interesting pieces with clean, simple basics (like a white skirt) to highlight my staple piece." —Jocelyn S., Editorial Stylist

Skinny jeans act as your foundation piece.
"My summer workwear staple is skinny jeans! They are a classic silhouette that acts as a foundation—just add personal flare for the office. " —Addie S., Editorial Stylist
Don a duster for a breezy layer.
"A duster vest is the perfect piece to morph my summer items into workday ready looks. You can disguise cut-outs or back details with a vest and then transition easily to happy hour when it's 5 o'clock."- Brittany M., Assistant Producer

Black jeans can be a year-round staple.
"Black jeans are a staple for me year around. I love wearing them in the summer with a knit tank or a woven shoulder-less top to work." —Courtney H., Creative Director
Tunics are a must-have!
"I love a tunic. It's easy, (literally) breezy and pairs perfectly over my skinny jeans. I usually buy more than one so that I can alternate them throughout the week."—Chelsea E., Photo Retoucher

Keep it cool in culottes.
"I know culottes are a hard trend to try, but I took the plunge and realized that they work well as a trouser substitute for summer. I love them in solid black (so classic!) to pair with stripes and silk blouses." —Dani K. Assistant Photographer
Have elevated basics on-hand—always.
"I love wearing an elevated V-neck to work on those hot summer days. They are such a great alternative to a basic tee with fun detailing like this laser cut! Dress them up with a great pair of boot leg jeans and wedges for a more work appropriate outfit." —Erika S. Editorial Styling Coordinator

A bright color (or two!) brightens your mood.
"Summer is when I love to finally wear more color. Every year I promise myself that I'm going to wear one color that pushes me out of my comfort zone. This year it's yellow and I'm wearing it with turquoise and orange for some serious vibrancy."—Muriel S., Producer
All-black is the easiest way to stay chic.
"I know that it seems counter intuitive to summer, but I love to wear all-black even when it's warm out. When I'm having a busy week, it's the easiest way to get dressed and keeps my style focused and chic. " Sara D., Head Photographer"
What are you wearing to work this summer? Will you incorporate any of these tips?