Learn how to add a white oxford shirt into your daily mix.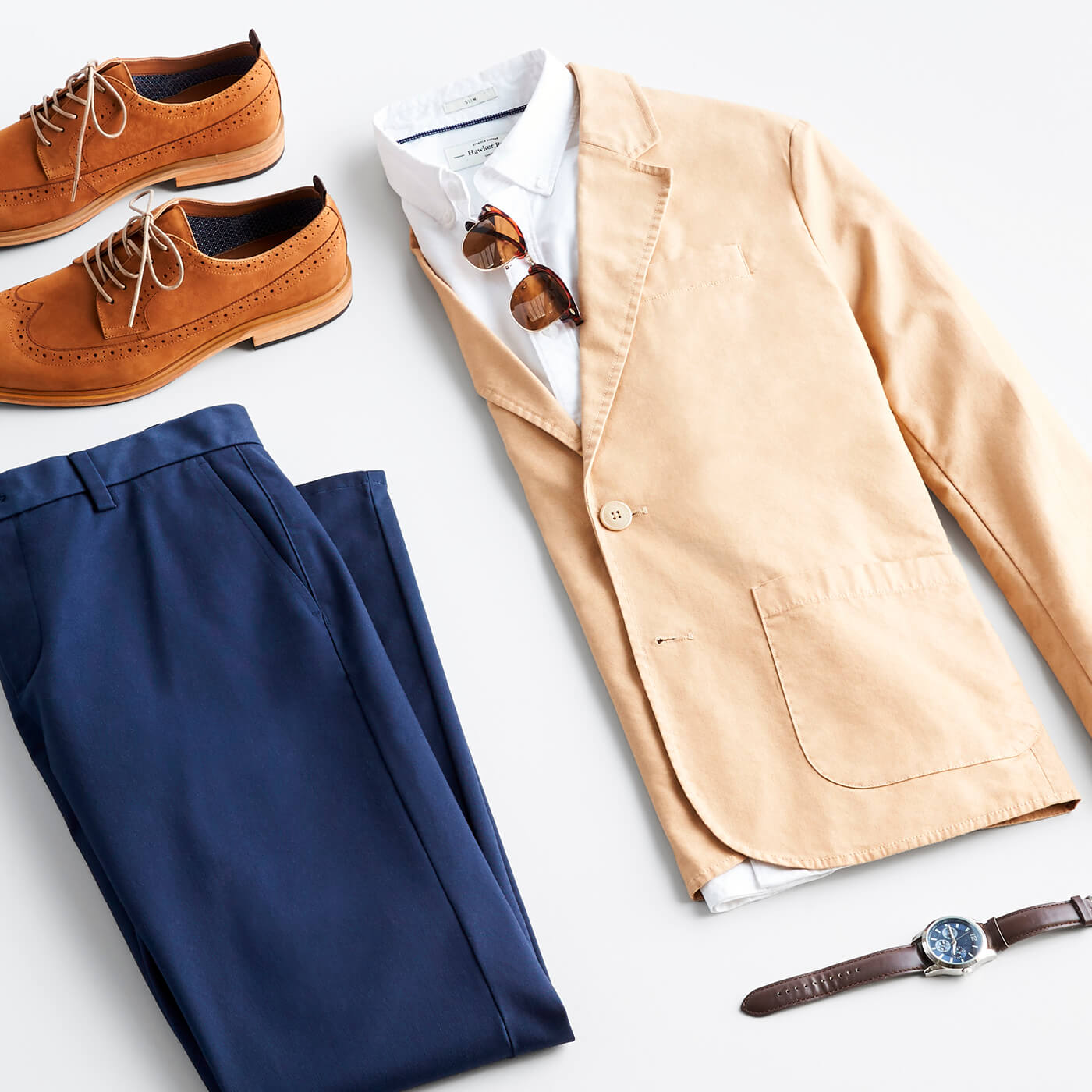 How to Wear an Oxford Shirt With a Blazer
Dress up an oxford shirt up with a blazer (go unlined for spring/summer) and your favorite chinos in a complementary color. Browns and blues are a go-to combo, and can work for the office, casual weddings and dates. The best thing about white is that it can act as a neutral, so you can take a few risks with your color pairings.

How to Wear an Oxford Shirt With Jeans
Layer an oxford shirt over another essential, such as a striped T-shirt, to break up solid colors. Since the oxford is made with a slighter thicker material than a typical dress shirt, it'll keep you warm when you need it while adding extra style points. All-star pieces naturally go together, so add your best pair of jeans and minimal sneakers for a little-effort look with maximum payoff.

How to Wear an Oxford Shirt With a Jean Jacket
Channel your inner surfer (everyone wants that inherent chill vibe, right?) with a grown-up curveball by pairing relaxed pants (linen is an ideal fabric for the beach) with your white oxford shirt. Undo a few buttons at the top, throw on a forever-cool denim jacket and lace-up a pair of bright sneakers, and you'll be capturing the best mix of laid-back meets refined.

How to Wear an Oxford Shirt With Shorts
Play up the Ivy-league inspired look with your color choices. You're already checking off one of the key players with the white oxford, so keep the collegiate theme going with a bright sweater (popped collar optional) in a traditional shade and shorts within the same color family. Complete the look with a bona fide classic—leather or suede boat shoes.

How to Wear an Oxford Shirt With Swim Trunks
One easy tip to remember is that when going for a typical casual outfit, you can replace a T-shirt with a white oxford shirt. Heading to the beach or pool wearing swim trunks? Grab the oxford, roll up the sleeves, button half the buttons and your done. You'll feel comfortable and look like you're on vacation (and maybe you are). Add all-purpose sneakers for those out of water journeys.
Now that you've seen the endless ways you can wear an oxford shirt, are you ready to add one to your wardrobe? We have an expert stylist ready to help. Take your style quiz, schedule a Fix and leave a note that you're looking for an oxford shirt. Shipping and returns are always free, it's that simple.