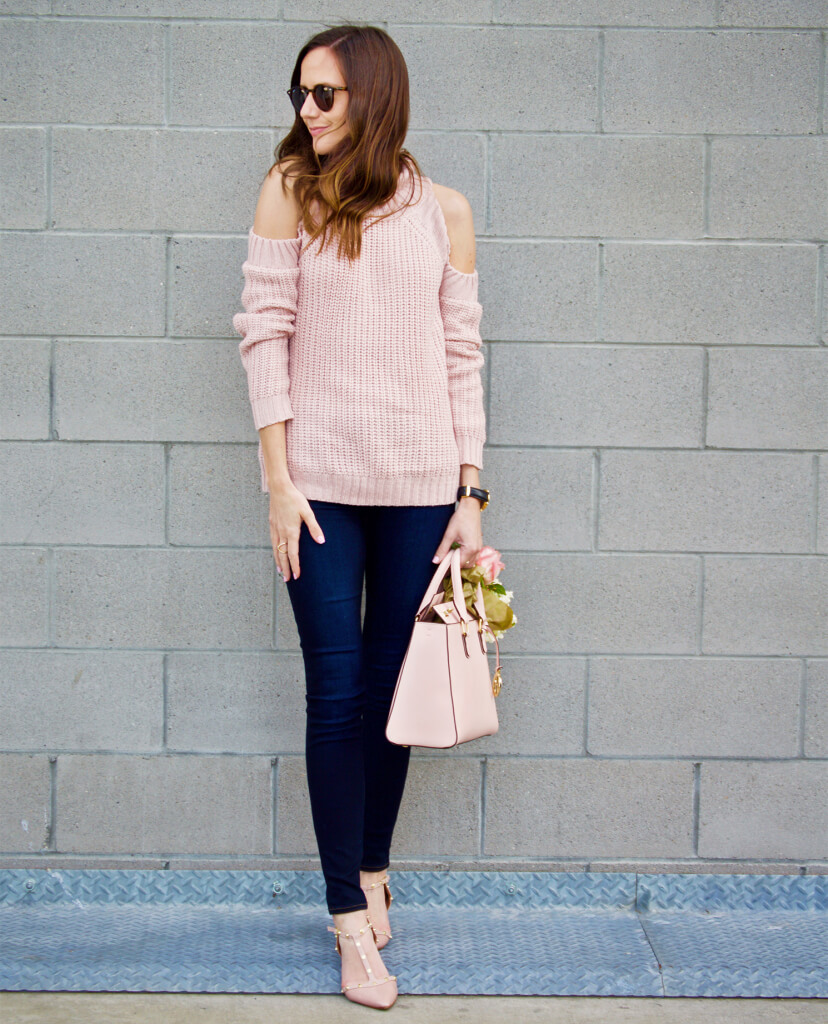 1. What are you listening to these days?
"I'm really eclectic with my taste in music, and it all comes down to my mood at that particular moment. I'm a big fan of songs that give you all the feels, whether that's a slow & powerful ballad or one that gives you energy. Currently on repeat? Rihanna."
2. What trend are you obsessing over right now?
"Cold-shoulders! If I'm going to flaunt something, it's going to be my back or shoulders. There's something so sexy & playful about showing a little shoulder—plus it's an easy way to dress up a pair of jeans. I'm also so glad Rose Quartz is trending this year, because I love how it pairs so perfectly with my favorite neutrals: white and grey."
3. What's the last book you read?
"My sister & I decided to start a book club (a club can be two people right?), and wanted to focus on re-reading the classics. We started with The Catcher in the Rye; next up are The Great Gatsby and The Grapes of Wrath. I'm always on the hunt for new favorites & love a good page-turner, but the last book I actually read outside of the book club was Not That Kind of Girl by Lena Dunham."
4. What inspired you to start a style blog? Who are your favorite style bloggers?
"I actually started blogging while I was at a place in my life where I wasn't following my own career path or desires. I felt like I wasn't being true to myself and I craved a creative outlet. I feel so incredibly thankful to have met & discovered so many amazing blogging beauties. Julia Engel of Gal Meets Glam is another Bay Area blogger I admire. My celebrity crush is Olivia Palermo (who always looks amazing) & Christine Andrew of Hello Fashion hits the casual-chic nail on the head every single day. I'm such a huge proponent of doing what makes you happy & following your bliss. It can be a scary thing, but ultimately, the most rewarding."
5. Lipstick or mascara?
"Mascara! And, my eyelash curler. It's the quickest way to brighter, bigger eyes. If you don't curl your lashes—just do it. While I can't go totally bare-lipped, I've never been a huge fan of lipstick. Instead, I opt for a perfectly pink tinted lip balm like Dior Lip Glow to keep me feeling feminine & fresh."
Have more questions for Tyler? Ask her in the comments!